What a week of football we just witnessed. Everything we thought we knew about the NFL in 2017 after Week 2 was completely flipped on its head in Week 3, where we saw half the games won by underdogs. Tom Brady and his Pats jumped up into the top 5, the Baltimore Ravens fell out of the top 10, and the Jets gave way to a knew last place squad. Here are the full power rankings.
1. Kansas City Chiefs (3-0) (–) — Another win means another week in the top spot for Kareem the Dream and his Kansas City team. Kareem Hunt continued his unprecedented start against the Chargers, going for 170+ rushing yards and scoring a touchdown from 50+ yards for the third straight game. The Chiefs are third in the league in points for and eighth in points against, but expect them to have to work a little harder for their W next week against Washington.
2. Atlanta Falcons (3-0) (▲1) — The Falcons beat the Lions on a pretty bullshit call this week, but they won nonetheless and as the only other undefeated team in the league had to be plugged in at no. 2 this week. The Falcons haven't been very impressive so far however, barely squeaking out a win over the Bears in Week 1 and winning this week on a reffing blunder in Detroit. Atlanta will find itself hard-pressed to find points next week against the Bills defence, who've given up the least points in the league through three weeks.
3. New England Patriots (2-1) (▲4) — Tommy Boy really seemed like he was gonna lose to DeShaun Watson's Texans there for a minute, but we all knew in the back of our minds that he'd come up big in the end of course. Tom Brady is having no trouble without top receiver Julian Edelman, and proved it once again with a five touchdown performance in New England's tight 36-33 win over Houston.
4. Denver Broncos (2-1) (▼2) — The Broncos—along with many other teams—were stunned in Week 3. They went into Buffalo expecting to handle their business after a resounding win over the Cowboys in Week 2, but instead Trevor Siemian and the offence were stopped dead in their tracks. Siemian is evidently not the maestro we thought him to be, but he can still prove he's a decent starter with a solid start against the Raiders this week.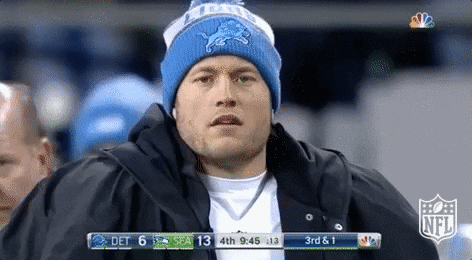 5. Detroit Lions (2-1) (–) — I couldn't bring myself to let the Lions drop after the way they lost in Week 3. It was a loss, but they certainly deserved the W against the Falcons. Unfortunately there are no do-overs, so the Lions will have to deal with the heartbreak, I'm sure they and their fans are used to it by now. The division rival Vikings lay waiting for Matty Stafford and the Lions this week.
6. Pittsburgh Steelers (2-1) (▼2) — The Steelers have looked to be in complete disarray through the first three weeks of the season—their supposedly potent offence in particular. Though Antonio Brown is leading the league in receiving as expected, nothing else has gone according to plan for Pittsburgh. I'm sure losing to the Bears wasn't a part of their master plan for 2017. So the Steelers will look to get back on track this week when they renew the best rivalry in sports with the Baltimore Ravens.
7. Philadelphia Eagles (2-1) (▲3) — After losing to the hottest team in the league in Week 2, the Eagles got back on track with a slim win over the struggling Giants. They just barely got the 27-24 W thanks to a 61-yard field goal from kicker Jake Elliott in the waning moments of the game. Carson Wentz looks great and is leading a top ten offence backed by a characteristically opportunistic Eagles defence. Look out for Philly.
8. Green Bay Packers (2-1) (▲4) — The Packers jumped four spots this week, but that was only because so many other top teams lost. Aaron Rodgers and the Packers barely squeaked out a win against Andy Dalton and the Bengals. They had to go to OT for fuckssakes. C'mon Aaron, you're better than that. They'll hopefully learn from their mistakes and handle the Bears on TNF tonight like they should've handled the Bengals last week.
9. D.C. Football Team (2-1) (▲5) —  Kirk Cousins and the boys had their best showing of the season against an Oakland Raiders team that had looked very strong through two weeks. Cousins finally broke out this week with 365 yards and three touchdown tosses while scat back Chris Thompson continued to do amazing things out of the backfield. That defence looked none too bad either. The Eagles have competition at the top of the NFC East.
10. Oakland Raiders (2-1) (▼2) — They looked really strong to start the season, but that high-powered offence was completely stifled by a sup-bar Washington defence. Oakland QB Derek Carr threw two picks and had a passer rating of 53 in the game, and it won't get any easier for him this week against the Denver Broncos defence.
11. Baltimore Ravens (2-1) (▼5) — Call it jet lag, call it the London Effect or the Wembley Effect. Call it whatever you want. Whatever the reason, the Ravens were not ready to play a football game this week. The shellacking they suffered at the hands of the Jags was hard to watch even for people that don't care much for the Ravens. Like the rival Steelers, who also lost in embarrassing fashion this week, they'll look to get back on track when they renew their rivalry in Week 4.
12. Tennessee Titans (2-1) (▲3) — After a tough loss to the Raiders in Week 1, the Titans have looked much better in winning two in a row, including their 33-27 win over the Seahawks this past Sunday. The Titans showed their big play ability last week, as they scored from 50+ yards out twice on the day. In what seems to be a weaker than expected division, a win over the division-rival Texans this week would definitely make them the early front runners for the AFC South.
13. Carolina Panthers (2-1) (▼4) — The Panthers do not look good and more importantly Cam Newton does not look good. At all. Carolina couldn't score a touchdown in Week 2 and only managed 13 points against a porous Saints defence last week in a 34-13 loss. Cam's lost Greg Olsen but no. 1 wideout Kelvin Benjamin should be back this week as the Panthers try not to embarrass themselves against the Patriots.
14. Minnesota Vikings (2-1) (▲2) — Sam who? Case Keenum looked every bit the part of a starting quarterback this week as he and his offence—Stefon Diggs in particular, who's about to become a big star—exploded for 34 points against a supposedly good Buccaneers team. Xavier Rhodes has been absolutely shutting people down (above) and the rest of the defence looks better than ever, forcing five turnovers last week.
15. Jacksonville Jaguars (2-1) (▲2) — The Jags seem to love it out in the UK. They're now 3-0 in their last three trips, but this last one was somethin' else. The 44-7 win would've been much more of a statement if not for all this talk of the London Effect and blah blah blah but it was impressive nonetheless. I guess Blake Bortles isn't a completely lost cause.
16. Tampa Bay Buccaneers (1-1) (▼3) — I knew the Vikings defence was good, but I didn't think they were this good. Or maybe Jameis Winston just isn't that good. Who knows. Either way, the Bucs got slapped last week and probably don't feel too pleased about it. Expect them to come out firing against a floundering Giants team.
17. Buffalo Bills (2-1) (▲4)  — I have to say I'm really fuckin' impressed with the Bills defence. They're the best in the league right now, allowing just 37 points through two weeks. The offence meanwhile had no problem putting up 26 points on the Broncos vaunted defence last week. Can the Bills upstart defence hold the Falcons potent attack this week though?
18. Dallas Cowboys (2-1) (▲1)  — The Cowboys got back on track with a 28-17 win over the Cardinals last week, but it wasn't as resounding a defeat as I'm sure they would've liked after what they suffered in Week 2. Nonetheless, they stand tied with Philly and D.C. at the top of the NFC East and will look to take sole possession when they take on the Rams this week.
19. Miami Dolphins (1-1) (▼8) — Who knew the Jets could win a game, much less by a score of 20-6 as they held Smokin' Jay Cutler and the boys out of the end zone until the final seconds of the game. After that loss the Fins have some real soul searching to do. A matchup with the Saints' terrible defence is a good way for the offence to get back on it's feet this week though.
20. Los Angeles Rams (2-1) (▲3) — Is Jared Goff for real? I actually thought the 49ers defence was pretty good, but Goff'n'Gurley proved otherwise in a thrilling 41-39 win last week. That win also showed how bad their defence is though. If a guy like Brian Hoyer can hang 39 on you, what will Dak Prescott and Ezekiel Elliott do to them this week?
21. New Orleans Saints (1-2) (▲5) — Drew Brees finally got some defensive support last week, and he did not let it go to waste as his high-powered offence continued to soar in the Saints' 34-13 win over the Panthers. The Saints will take on the Dolphins this week, and if Josh McCown can hang 20 on their defence, I can't imagine what Brees and the boys will do.
22. Seattle Seahawks (1-2) (▼4) —  Russell Wilson did his best but unfortunately did not have enough magic in his sock (though he did have some) this week to pull his team out of the gutter as he did in Week 2 against the Niners. Thankfully the Seahawks are in a very weak division, so the slow start isn't too worrisome. They'll get back in the win column this week against the Colts.
23. Houston Texans (1-2) (▼1) — I really believed (and hoped) the Texans would take down the Patriots to bring the defending champs to 1-2, but the supposed best front seven in the game couldn't get enough pressure—though they did get a lot—to stop Brady from completing a 36-33 comeback for New England. DeShaun Watson looked good though, and that's big for the Texans.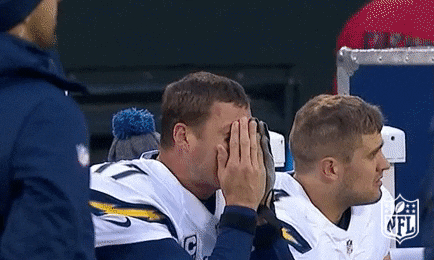 24. Los Angeles Chargers (0-3) (▼4) — The Chargers lost again last week, this time not because of a kicking blunder, just because they were playing the hottest team in football. They're definitely not making the playoffs this year, but Ranger Phil Rivers and his Chargers will never be an easy out.
25. Arizona Cardinals (1-2) (▼1) — The Cardinals lost 28-17 to the Cowboys last week in a surprisingly competitive game. They play division-rival San Francisco this week, and in a weak division, HC Bruce Arians could be thinking playoffs even without the team's best player.
26. San Francisco 49ers (0-3) (▼1) — The Niners showed they can score big when they need to, but they also showed that they can't really stop anything either in a 41-39 loss to the Rams last week on TNF. They'll play another intra-division game this week against the Cardinals as they look for their first win of the season.
27. Chicago Bears (1-2) (▲3)  — The Bears stunned everyone except maybe themselves—but probably themselves too—when they took down the Steelers 23-17 last week in OT. The running game looked superb and Mike Glennon didn't look like a liability. We'll see tonight when they take on the Packers if the Bears are as good as that win against Pittsburgh suggested.
When the defense constantly throws 8 in the box, you MUST take these one-on-one shots downfield. TD Josh McCown to Robby Anderson. #Jets pic.twitter.com/n1MNQm1LzW

— Elite Sports NY (@EliteSportsNY) September 24, 2017
28. New York Jets (1-2) (▲4) — Hallelujah ring the church bells, the Jets have won a fuckin' game. Not just won either, they dominated the Dolphins in a near-shutout 20-6 win last week. They can just call it a season at this point because they've already done way more than anyone expected. Props to you Jets.
29. New York Giants (0-3) (▼2) — If someone could explain how the Giants have started 0-3 that'd be great. With the talent on that roster there is no way they should be winless right now. And though they did lose on a field goal in the dying seconds this week, they have not looked impressive on either side of the ball so far. In a strong NFC East, it may be hard for them to climb out of this early hole.
30. Cincinnati Bengals (0-3) (▼1)  — It looked like the Andy Dalton was gonna be able to swing a surprise win during the Week of the Upset, but alas, the Packers took them down 27-24 in OT. Oh and three. Oh well. They can still look forward to two meetings with the Browns this year.
31. Indianapolis Colts (1-2) (–) — Jacoby Brissett looked pretty solid in Week 3 and though it was against the Browns, he has definitely made a connection with wideout T.Y. Hilton, who exploded for 153 yards in the win. Brissett and the Colts will have it a lot tougher against the Seahawks this week though.
Duke Johnson with a LEAP into the end zone!

Touchdown #Browns! pic.twitter.com/MLm3AihADe

— Cleveland Browns (@Browns) September 24, 2017
32. Cleveland Browns (0-3) (▼4) — The Browns couldn't even beat the Colts, so I'm not sure who they think they can beat this year. Duke Johnson Jr.'s flying abilities will have to keep Cleveland entertained in the meantime. And at least they'll get a ton of early picks in next year's draft. Trust the process.