It's been a long 213 days, but la familia football has collectively made it to the other side of the tunnel. Football is back people. Well, technically there's been CFL raging up here in Canada all summer to the excitement of dozens, while college football started last Saturday. But real football is back people. NFL football. Is back. Hallelujah. The offseason has been doing its best to distract us from the sad fact that there would be no football until September 7th, and some of those distractions (such as draft picks, trades, injuries, relocations, free agent signings, trends and more) will lead to some very compelling storylines throughout the 2017 season. Finally Fournette & Co. — Let's talk about the rookie running raid going on this year in the NFL. The 2017 NFL Draft featured one of the strongest classes of rookie runners in recent memory, as five have already secured starting spots on their teams to start the season, with a few more looking to make an impact in smaller roles.
After a positively jaw-dropping three-year career at LSU in which he was touted as 'the next Adrian Peterson' as early as his freshman season, Leonard Fournette (who's 1995 birth date really makes me, a fellow '95er, feel a lot less pumped about my current lot in life) has finally arrived for the NFL and its bright lights. Well, Jacksonville drafted him so technically he'll be playing under the regular bright lights of the sun for every game he plays in this season—the Jags aren't scheduled for any primetime action. Nonetheless, all eyes in Jacksonville will be on Fournette when they're not staring helplessly at the trainwreck that is Blake Bortles (and his eight hairs). I believe Fournette will mostly impress this year, but don't forget that this is a guy that played just seven games his junior year and should technically be in his senior year: he's got a lot of room to grow and with a subpar offensive line, it'll be tough to find that room.
Look for Fournette to snag that OROY award unless Dalvin Cook or Kareem Hunt—who were drafted in the second and third round, respectively—overachieve like a motherfucker. Cook and Hunt have secured Week 1 starting roles with the Vikings and Chiefs, respectively, both of which will run very run-heavy offences in 2017. Hunt has already completely exploded onto the NFL scene with his 246 scrimmage yards and three trips to pay-dirt in the Chiefs' win over the Pats on Thursday night (that performance was also the greatest fantasy debut of all time). Did I mention he did all of that after fumbling his first career carry. Talk about a short memory.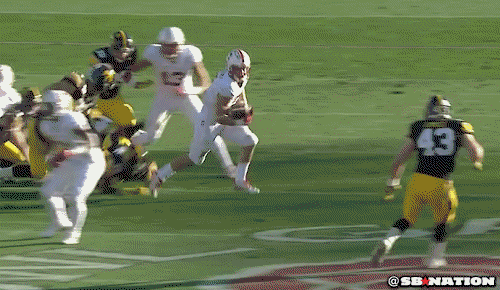 Same goes for white boy Christian McCaffrey—who went number 8 to the Panthers in this year's draft—who I've heard will benefit from a package of plays designed just for him by the Panthers, an arrangement I can only imagine applies to one other super player in Carolina. 
Rookie Joe Mixon is the starting running back for the Bengals but with both starters from last season (speedster Gio Bernard and bruiser Jeremy Hill) still in the mix it might be tougher for Mixon to secure the lead back role in Cincy. Oh yeah, and there's that whole thing with that video of him punching a girl in the face, but the NFL seems to be choosing their battles carefully on that front. Honorable mention to Samaje Perine in D.C., Joe Williams down by the bay, Jamaal Williams in Cheeseland and Marlon Mack in Indy.
Running Renaissance — It's not just rookies runners trying to swing the pendulum of power back to the running game, there are several big name running backs that are keeping the position relevant and financially viable by using several different skillsets. It's not a secret but it's nonetheless surprising to hear considering how essential a good running back used to be: they are by far the lowest-paid position group in the league while they take arguably the most brutal beatings. The position groups for wide receivers, quarterbacks (obviously), o-linemen, d-linemen and defensive backs all feature at least 12 guys getting paid $10 million or more, while of the linebackers—the second lowest-paid position group—cashing checks from the NFL, there are 23 who make at least $5 million a year.
What of the guys who sign on to take the biggest beating from the biggest men on the field? Running backs surely get paid at least as well as linebackers, who are the ones looking drive them into the ground on each play? Nay. The only running back getting paid over $10 million is Le'Veon Bell, and his $12 million pay check this season is only coming because he held out and was forced to sign a franchise tender. While there are 23 LBs who make at least five million a year, there are only 11 who make that kind of bank and call themselves running backs. Or tailbacks. Or halfbacks. You get the point. These dudes are underpaid.
Bell tried to change that this season during his contract negotiations with the Steelers. Though the Steelers offered him by far the most lucrative RB contract out there, he turned it down, knowing he was worth more. Bell has always been a gifted pass-catcher—his 6.3 receptions per game last year tied Odell Beckham's rate, good for fifth in the league—and is representative of the shift the running back position has made over recent years. Of the top ten running backs of 2016 (as measured by rushing yards per game), not one had less than 25 receptions, the first time that's happened in NFL history. In fact, only one back in the top 15 didn't snag at least 25 balls last season. Even Frank Gore had 38 grabs at age 34 for the Colts while during his last three seasons in San Fran he had only 55 combined.
David Johnson, DeMarco Murray, Bell, Melvin Gordon, Mark Ingram, LeSean McCoy and Devonta Freeman all grabbed at least 40 balls last year. Ingram, who rushed the ball 205 times and caught 46 passes, saw the least touches of these seven. That means these guys all piled up 250+ touches, which to me, makes them seem pretty important compared to a wideout with say, 83 receptions. Four of those seven guys were either second or third on their teams in receptions last season. All they ask is that they're paid their proper value: RB1 + WR2 or WR3. They're helping teams in two major ways and should be paid double, not half, for those services.
Stop The Pats — One team that doesn't need a do-it-all back like Bell or Johnson is the New England Patriots. Remember how all but one of the backs in the top 15 had at least 25 receptions last season? That one back was LeGarrette Blount, who's now in Philly. But last season Bill Belichick did what he's almost always done since Corey Dillon left town: work with a backfield committee. Blount went between the tackles while James White and Dion Lewis (when healthy) handled the passing situations. The formula's success is a testament to the intelligence and talent of Tom Brady and Belichick more than anything else though. It pains me to admit it, but that duo could win with anyone playing the skill positions. Anyone. All Tommy needs is a decent line to keep him upright and the Pats are good to go.
New England was also oddly busy this summer, very odd when you consider their passive track record during free agency in the past and even more odd still when you consider the fact they won the Super Bowl last year. Though it may seem strange, there's no question the Pats are a better team than they were last year. They lost Blount and TE Martellus Bennett, but that was really it. They replaced those two with Mike Gillislee (who's already scored a trio of TDs in his debut) from Buffalo and Dwayne Allen from Indy. Then they added speedy WR Brandin Cooks from the Saints, shifty RB Rex Burkhead from the Bengals and clingy CB Stephon Gillmore from the Bills. Two of which came through trades, which are even rarer for the Pats. Not only that, but they were able to re-sign the most important pieces of the defence in MLB Donta Hightower and CB Malcolm Butler.
Brady seemed at the height of his powers last year—at age 39. Who's to say he won't improve again in his age 40 season? If Brady avoids injuries and all things related to the amount of air pumped into a football, his squad shouldn't have any problem getting back to the Super Bowl. But they might. As we saw on Thursday, enough injuries to the Pats' defence can allow for it to be picked apart by the likes of Alex Smith, a guy who's six career 300-yard games are only one more than Trent Dilfer's five. Yuck.
Out west, Derek Carr has shown a knack for late-game magic and is healthy again for the up-and-coming Oakla- I mean Las Vegas Raiders. If the Broncos can ever figure out their QB situation, Von Miller and the lads have shown in the past that they know how to get under Tommy boy's skin.
The Steelers finally have all four of their Killa Bees sober and healthy for the first time since 2014, when they went 8-2 and averaged a whopping 31.2 points in the 10 games when Big Ben, Antonio Brown, Le'Veon Bell and Martavis Bryant all played together. Brown is always healthy, always focused and always productive. But when he has Bryant across from him, he does truly amazing things. Consider, in the 19 full games Brown has played with Bryant while Big Ben has been healthy, the All-Pro has averages of 118 yards and 9.4 receptions per game, averages that when applied to a 16-game season, result in the greatest receiving season ever. Now the attention that was all focused on him last year will be split with Bryant and Bell, who will both be out there trying to prove something: Bryant—who hits pay-dirt about every fifth time he catches a pass—wants to prove that he can be an effective weapon while keeping his eye on the prize off the field and Bell—who's averaged a whopping 143 yards from scrimmage since 2014—that he deserves both RB1 and WR2 money next offseason. If they can all stay healthy they will give Brady and co. a  real challenge. Nonetheless, I must begrudgingly admit that there's a pretty low chance you don't see the Pats in the Super Bowl once again, barring any Tommy injury of course.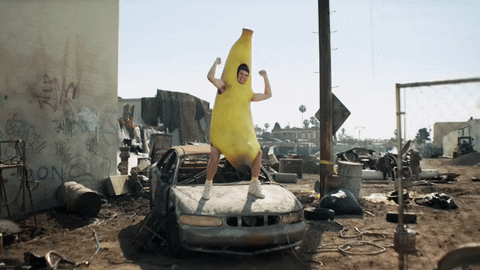 The NFC BEast — Across the hall in the NFC, Tommy and the gang should be looking east because boy does that division look strong coming into this season. The team that won the division last year—the Cowboys—are arguably the worst looking team in the division now, and they still look solid. The Cowboys will have Dak Prescott, Cole Beasley and Dez Bryant back and the chemistry will continue to grow between all three of them. The offensive line however did lose a couple of key pieces in Ron Leary and Doug Freethis offseason. This means that whoever's running behind that line will have to work a little harder than they did last year, when Ezekiel Elliott enjoyed the most yards before contact of any back in the league. They also lost several key pieces on defence as both their starting safeties departed for greener pastures. Big D will have a lot of trouble figuring out how to stop the juggernaut offences playing in their division.
In Philly expectations will be higher than last year but measured nonetheless. Carson Wentz will continue to improve and outperform Jared Goff, who was chosen one pick before him at last season's draft. The Eagles also went out and picked up Blount at RB to shore up their disastrous running game and take some focus off of Wentz' air attack. They also bolstered said air attack by giving Wentz a huge weapon to toss the rock to in Alshon Jeffery, a huge upgrade over their no. 1 last year, the departed Jordan Matthews. The Eagles didn't let Matthews go though, they traded him for some sorely needed help on the back end in the form of former Bills corner Ronald Darby. Malcolm Jenkins will continue to be a playmaker in the secondary as well, while Fletcher Cox and new arrival Chris Long will shore up the front seven. The Eagles will be better than you thought this season.
The DC Football team still rocks a disgrace of a logo and team name which is a negative, but they also kept Kirk Cousins, which is a positive. You definitely like that in DC. Kirk will have a monster season throwing to the likes of Terrelle Pryor, Jamison Crowder, Jordan Reed (for now) and Josh Doctson. The running game is a bit more of question mark but Kirk doesn't really need that much from Fat Rob and the backfield boys anyway. Washington's defence is definitely nothing to write home about though—they'll battle with the Cowboys for NFC East futility.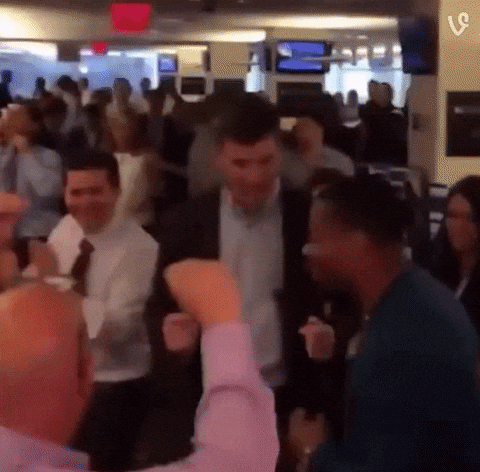 The team that is going to blow everyone's expectations out of the water though, are the New York Football Giants. Eli will be Eli as always. ODB will be ODB if he can avoid anymore confrontations with the kicking nets. But add Brandon Marshall into that mix, a guy who somehow managed to rack up 2,300 receiving yards over his last two seasons with the Jets? That's gonna be tough to stop. No more doubling Odell Beckham Jr. because if you do, Marshall still has the size, speed and hands to take over a game. Paul Perkins will be a stud for them in the running game as well since no one will ever be able to stack the box against a team with both Marshall and ODB on the outside. This will be a very, very, very good offence this year.
And what impresses me even more, is that their defence seems up to the task as well. They boast DPOY-hopeful Landon Collins at safety, Janoris Jenkins and Eli Apple (who's become a good young player) locking it down on the outside, the seven fingered wonder (Jason Pierre-Paul) and Olivier Vernon causing havoc on the edges and Damon Snacks Harrison clogging up the running holes in the middle. Their linebacking core could use some work but being sandwiched in between a secondary and a D-line of that caliber, it won't be hard to look good. The Packers are always a good NFC pick with Aaron Rodgers sitting back there throwing Hail Marys, but I think Eli has the best supporting cast around him that he's had in a while. It is a little worrisome to see Geno Smith on the roster, but even so, don't be surprised to see the Giants make a deep playoff run this year.
Move Over Browns, There's a New Sheriff in Town — Thats at least one thing the Jets don't have to worry about anymore: they don't have Geno Smith, a guy who's earned a qb rating of zero twice in his career. They have pretty much everything else to worry about however. The Jets have without a doubt the worst outlook for the 2017 season of any team. They just traded for their top wideout, Jermaine Kearse, who would be a WR4 on most teams, and they still have no idea who their quarterback will be. Josh McCown will start sure, but how long will that last before he throws four picks in a game and is yanked for Christian Hackenberg, who then tosses another two INTs? The only records this team is in danger of breaking this season are maybe least points scored in a 16-game season, or maybe Matt Schaub's supposedly untouchable four straight games with a pick-six. McCown and Hackenberg are comin' for your fuckin' glory Matty boy. Oh, did I mention their OC, QBs coach, RBs coach, DL coach, OLBs coach, DBs coach and Senior Director of College Scouting all had to be replaced for this season? A mass exodus of coaches always means you're running things the right way, right Mr. Bowles?  The Jets are really the new Browns of the NFL, because over in Cleveland, Hue is really running things the right way.
Have Hope, Browns Fans – Praise God (aka Hue Jackson) Browns fans! Your team has seen its last year in the bowels of the NFL. The Browns are gonna be good this year. Well, no, let me rephrase that. The Browns are gonna be good this year, by Browns standards. Consider last year, when they won just one game but lost five by less than a score, two of which went into OT. Last year's Browns and fantasy juggernaut Terrelle Pryor Sr. is gone but the Browns are definitely better off as a team this year. Better than they've been since Braylon Edwards and Kellen Winslow led a six-man Cleveland contingent to the Pro Bowl a decade ago. First off they have Jackson, who's been given the reins to the team and has shown himself to be quite astute in his first two years at the helm.
Through about 17 quarterback changes and the Josh Gordon dilemma, Hue still managed to make his Browns semi-competitive last season. They'll be full-on competitive this year. Hue basically cleaned house, replacing six minor coaches while re-signing key players such as RB Isaiah Crowell and LB Jamie Collins, while somehow managing to actually lure players such as WR Kenny Britt from the Rams and CB Jason McCourty of the Titans to come to Cleveland and play for the Browns. Convincing free agents to come to Cleveland has got to be some sort of magical gift Hue was given on his journey with the Browns to more success.
Draft day was where the real magic happened for the Browns though. Through clever and deft maneuvering, Jackson was able to snag five of the first 65 picks of the draft (more than any other team) while stacking ammo in the form of a first- and second-round pick in next season's draft. Expect DE Myles Garrett (No. 1 overall), S Jabrill Peppers (25th) and QB DeShone Kizer—who has impressed greatly in camp—to have big impacts on what will be an impressively mediocre Cleveland Browns team in 2017.
Who's On the Come Up — I predict this year's iteration of the Brownies will go something like 5-11 or 6-10, maybe even finishing ahead of the Bengals in the rough and tumble AFC North. You should also be looking out for Marcus Mariota's Titans, who will make the leap to playoff team this season and likely take the AFC South division crown in the process.
The Chargers, much like the Browns, lost many a tight matchup in 2016. To be exact, nine of the Bolts' 11 losses last season came by less than a score. Talk about heartbreak. They've now got a healthy Melvin Gordon and Keenan Allen back to help Ranger Phil keep that offence humming. Joey Bosa is looking like a major stud at defensive end for the newest team in LA as well. The Chargers won't make the playoffs, but expect them to hang around at 9-7 this season.
Expect to see a lot of improvement from Wentz and his squad up in Philly as well, as the young QB now has a bonafide no. 1 target and a running game to take the pressure off. They will need to look for a wild card spot however, because the Giants and their amazingly well-balanced team will be running roughshod through the NFC on their way to an NFC East title thanks to an emerging defence jam-packed with playmakers and a receiving corps to make any QB drool—especially Eli Manning. The Vikings added a real running game to a solid cast of receivers in drafting Cook and signing Latavius Murray. The defence will look to replicate its success in the first five weeks of 2016 as all of the key defenders in the twin cities are a year older, wiser and more experienced. Look for Minnesota to put real pressure on the Cheese Factory for that NFC North crown and snagging a Wild Card spot while their at it.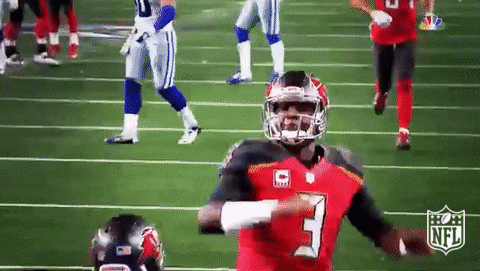 The NFC South crown will be going to Famous Jameis and his fellow Hard Knocks stars. The Winston-Mike Evans connection will be deadlier than ever and when you add burner Desean Jackson to the mix, it's not hard to see Winston having a truly breakout season. The Falcons will be on their Super Bowl hangover, but I do believe the Panthers will bounce back this season, just not enough so as to take back their crown from the new Kings in the South.
Heavy Weighs the Crown — In the AFC East you can expect the Patriots to win the crown once again as they have in 14 of the 16 seasons during the Brady/Belichick era. The Steelers and their quartet of healthy, happy and definitely-not-hazy Killa Bees will take the crown in the North thanks also in small part to their young, improving defence and in large part to their overachieving O-line. Mariota will bring the AFC South crown back to the Music City for the first time since CJ2K and Lendale White ran all over the NFL in 2008. The only way Tennessee doesn't succeed in this, is if the Texans unleash Deshaun Watson on the South within the first week or two because that guy is gonna be very good very soon. Out West if the Broncos' premiere defence doesn't get help in the form of consistent play from their QBs, then the division will have to go to Derek Carr and his boys out in Sin City. Nothing personal, Mr. Siemian.
In the NFC East, a division that will be a fantasy football feeding frenzy, the Giants will come out on top. They might even take the no. 1 spot in the conference. The Cowboys will falter but expect the Skins and Eagles to put pressure on Eli with their own high-powered offences. Though Minnesota will push them, Aaron Rodgers and his Hail of all Marys will take the cake in the NFC North and challenge for a spot in the big show. As I said earlier, Jameis Winston will turn his Hard Knocks fame into a career year on the field and bring Tampa their first division title since '07. And unfortunately, out west in the NFC the Seahawks will still reign supreme, even if they never really figured out Jeff Fisher's Rams.
Spread Picks are Back — The first week is always the toughest when it comes to picking games: all the changes by all the teams in the offseason have yet to be tested in real game action—but that doesn't mean you shouldn't try.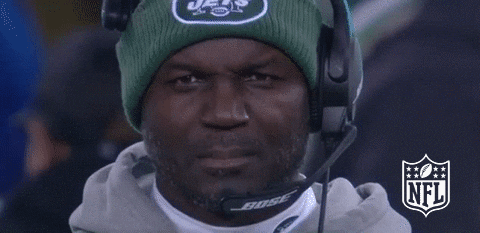 New York Jets @ Buffalo Bills (-10.0) on Sunday @ 1:00pm — There won't be many weeks this season in which I don't choose the team the Jets are playing. They will be historically bad. The only worry is that they'll be so bad that the spreads will become just as ridiculous. For now though, even the Bills should be able to beat the Jets by at least a couple of scores. Expect T-Mobile and Shady McCoy to have monster performances on Opening Sunday.
Oakland Raiders (+1.5) @ Tennessee Titans on Sunday @ 1:00pm — This one is a tough call but I'm very surprised that the Raiders are the underdogs, even if they're the visiting team. These teams will likely both end the season with division crowns, but in this week 1 battle I believe Derek Carr will be out looking to prove something after he went down late last season and was subsequently forced to watch his team get ravaged by the Texans in the playoffs. I'm taking Oakland and the points in this one, but I expect them to win outright anyway.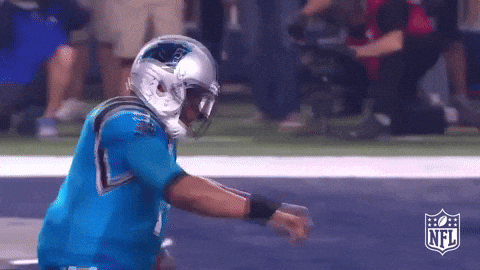 Carolina Panthers (-6.5) @ San Francisco 49ers on Sunday  @ 4:15pm — The only team that comes close to the Jets in terms of being a sure thing are the Niners. Both their offence and defence are both littered with no names and busts forced into starting spots. I expect Cam Newton and his squad to bounce back in a big way after last year's Super Bowl hangover, so 6.5 points on the road is nothing. Expect Killa Cam and the Dab crew to turn into a demolition crew down in South Bay on Sunday.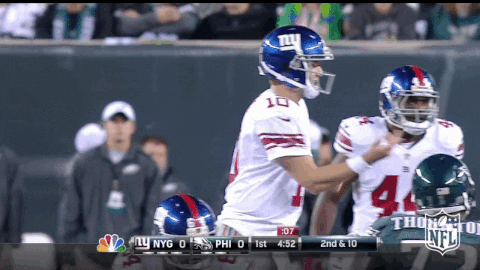 New York Giants (+4.0) @ Dallas Cowboys on Sunday @ 8:30pm — The Cowboys were nearly unstoppable in the regular season last year—except when they played the New York Football Giants, who swept the Big D in a couple of close games last season. The Giants have only improved since then and the Cowboys have lost two pieces of its already legendary offensive line. Ezekiel Elliott will play in this game, but as I'm sure we'll see when the former Buckeye sits out six games after this week, it still doesn't matter much who's running behind the Milennial Hogs. The Giants will win this game in nail-biting fashion again, so of course I'm taking them with the points.