There's no doubt about it: the level of play this week was far and away better than that of the first two weeks of NFL football in 2017. I don't know whether it was because the league as a whole had a chip on its shoulder after being called out by President Trump earlier this week—Trump's comments included calling a player who knelt during the anthem a "son of a bitch"—or whether the players were simply emboldened by the huge number of protests exhibited by themselves, their teammates and team execs (huge shoutout to Jags owner Shahid Khan, who locked arms with his players during the anthem) all over the league on Sunday.
These guys were BALLIN' on Sunday: we saw a whopping 24 40+ yard plays this week, 14 100-yard receiving games and five 100-yard rushing games, all of which are weekly season highs for this season. We also saw half the matchups won by the point spread underdog while we also witnessed eight games decided by one score or less—compared with a combined 11 such games throughout the first two weeks. This week wasn't totally different from the first two though because guess who played out of his damn mind, AGAIN.
Kareem the Dream (and Other Rookie Runners) Part II — Holy fuck he did it again ladies and gentlemen. But should we even be surprised anymore? Yes. Definitely yes. Not only is this guy Kareem Hunt a rookie two months younger than I am, he was just the 86th one chosen in this year's draft too. Not to mention that if it wasn't for Spencer Ware's season-ending injury in August, we may have never even been treated to this Hunt onslaught. But the stars aligned for Kareem the Dream, and he is certainly living his dream right now. After racking up 355 scrimmage yards and five touchdowns in his first two career games, Hunt continued to up the ante this week. The rookie from Toledo finished his third game with 183 scrimmage yards, including a 69-yard touchdown dash that showcased his now-trademark wheels, but also sealed the deal for his 3-0 Chiefs in their 24-10 win over the Chargers on Sunday.
I swear to god Kareem Hunt made like 6 tacklers miss on one play. pic.twitter.com/8OYq3vVKNr

— Clay Wendler (@ClayWendler) September 24, 2017
The Dream has now soared to new heights. He has amassed more yards (538) from scrimmage than any other back since Billy Sims and his karate feet went for 562 in his first three games back in 1980. With that 69-yard sprint against the Chargers he also became the first player to ever score a touchdown from 50+ yards out in each of his first three games. Not only is he challenging old legends like Sims in his third game, he's also handling business compared to his contemporaries too: Hunt's 401 yards on the ground this season lead the next closest player by 113, yet he's only 12th in the league in carries (47), numbers that compute an absolutely absurd 8.5 yards a carry through nearly a quarter of the season. His quintet of 20+ yard runs and his trio of 40-yarders are also both league leading as well. This guy's the bell of the ball right now, but how are all those other highly-touted rookie runners doing?
Remember when I mentioned that Hunt was so far ahead of the pack that he was 113 yards in front of the next closest man? The guy sitting at 288 yards is, like Hunt, also a rookie. The Minnesota Vikings' 2017 second round pick is looking like quite the steal through three games. During the Vikings' stunning upset of the Bucs on Sunday, Dalvin Cook carved up Tampa's defence to the tune of 169 yards from scrimmage while finding pay-dirt for the first time in his young career. Cook isn't the home run hitter Hunt has turned out to be, but he's looking sturdy as fuck, as he's pounded the rock 61 times this season already, second in the league behind only Todd Gurley. In Week 3 he also showed great catching ability, taking one of his five grabs for 36 yards during the Vikings' 34-17 rout. Looks like that Latavius Murray signing was pretty useless. Sorry big guy, looks like you'll have to settle for the pine this season.
While Hunt and Cook have been absolutely off the charts as the top two backs so far this season, the most highly anticipated rookie runner has been playing at a more reasonable, yet still impressive rate than his peers. Leonard Fournette took his talents to the UK this week where he and his Jaguars engaged in unspeakable acts in the murder of the Baltimore Ravens. While the Jags' defence was serving as the Freddy Krueger to Joe Flacco's dreaming youngster, Lenny was chugging right along. The former Tiger put 80 yards on Baltimore's D and found his way to the promised land for the third straight week in Jacksonville's 44-7 win over the Ravens. Fournette is a little further back than his freshmen peers, sitting at seventh in the league in rushing. He's also managed nearly 100 yards less than Cook on just four less carries, translating to a subpar per carry clip of 3.5. He's still finding his footing—and in Jacksonville's offence, let's give him a minute—but Fournette has been just what the doctor ordered for the Jags so far, it's only a matter of time until he busts out big time.
VIDEO: Every touch for CHRISTIAN MCCAFFREY in week 3 vs the Saints.#KeepPounding

4 rushes, 16 yards
11 targets, 9 catches, 101 yards pic.twitter.com/cykzy9g4tA

— PirateLife Football (@PirateLifeFF) September 25, 2017
As for the rest of the rookie runners in the league, Marlon Mack has fallen off the face of the earth, but most of the others are starting to find their footing. Chris Carson never really got a chance to build on his Week 2 performance because the Seahawks were down big nearly all game, but Joe Mixon looks like he's finally been handed the reigns to Cincinnati's backfield, Tarik Cohen nearly busted off a game-winning 70+-yard touchdown in OT for the Bears and Christian McCaffrey notched his first career 100-yard game for the Panthers, it came through the air instead of on the ground, but still. Pretty cool for the kid, right.
Time for the Big Time — This week was also one of big plays and big performances from some of the games most familiar faces. In the Toilet Bowl of the week between the Browns and Colts, we were treated to a couple of gems. First we saw Duke Johnson Jr. amaze us for the second week in a row, this time with his soaring abilities on a 19-yard touchdown. Secondly, we saw the resurgence of T.Y. Hilton, who went for 153 yards on seven receptions, including a 61-yard touchdown (above) for which he strapped on his turbo boots.
WATCH: @sterl_shep3 knows how to YAC!!#NYGiants on top 21-14! pic.twitter.com/fpkeLZacaH

— New York Giants (@Giants) September 24, 2017
The Giants woke up this week, but unfortunately still lost to the rival Eagles. Nonetheless, ODB is definitely back as the controversial star went for 79 yards, two scores and one fake-dog-urinating celebration. Fellow receiver Sterling Shepard got in the on the act too, showing some impressive jets on a 77-yard catch and run on a perfectly thrown slant ball from Eli Manning.
While Shepard and Hilton just put on the jets and simply sprinted by their opponents, more plodding players had to get more creative. In Green Bay wideout Geronimo Allison used the weave technique to near-perfection on a 72-yard gain late in the Packers' eventual 27-24 OT win. Meanwhile in Tennessee, another plodder used it to actual perfection, as Titans back Demarco Murray bobbed and weaved his way for about 50 yards of his 75 yard touchdown run (above) in his team's 33-27 win over the Raiders.
Stefon Diggs almost Marcus Cooper'd pic.twitter.com/lhsdKEAIpg

— Cameron DaSilva (@camdasilva) September 24, 2017
Meanwhile second-year man DC wideout Josh Doctson showed his 'Mossing' ability by sonning up a defender on a 52-yard touchdown grab during his squad's 27-10 win on SNF. The previous Mossing champion of 2017, Minnesota's Stefon Diggs, did it again this week on one of his touchdown grabs, while also finding the time to nearly make the mistake of his career (above) on his other TD, a 59-yarder.
Screening Time — You don't have to throw it deep to go the distance though. Washington's Chris Thompson continues to be living proof of that, as he followed up his six-touch, 106-yard performance last week with 188 yards this week, 74 of which came on a simple screen play (above) that Thompson was able to stretch using his amazing vision.
Make 'em MISS!@_RMatthews with the 55-yard @Titans TOUCHDOWN! #TitanUp pic.twitter.com/asCjOwZr7F

— NFL (@NFL) September 24, 2017
The king of screens, Atlanta's Taylor Gabriel, continued to live up to his name, as he connected with Matt Ryan for a 40-yard screen play during the Falcons' controversial 30-26 win over the Lions on Sunday. He may have been one-upped by Tennessee's Rishard Matthews on this day however, as the Titans wideout went 55 yards to pay-dirt on a screen (above) after a long sprint and a flourish at the end that sent three Seahawks to the ground. That's the way to finish. It wasn't technically a screen, but Houston defensive end Jadeveon Clowney's 22-yard pick-six/scoop'n'score (above) started in the backfield like a screen. Clowney nearly scored on a similar play last week but was cut down much to his dismay. He was not letting that happen this week. Clowney snatched that ball out the air and rumbled—all 6'5″, 270 lbs of him—untouched to the end-zone, holding the football how an average human like me or you would hold a golf ball.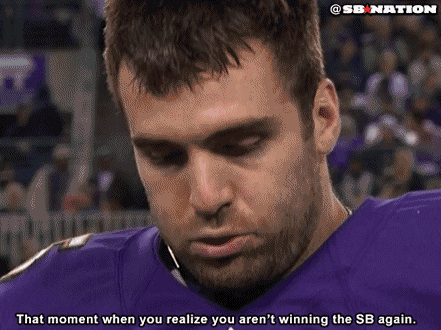 The Week of the Upset — Raise your hand if you called all the games this week and won that jackpot. Yeah didn't think so. I don't know what the fuck these teams got into over the past few days, but they were on some voodoo shit in Week 3 because… What the fuck. First off, the Jags smacked me and the Ravens awake early on Sunday with the ass-kicking of a lifetime across the pond at Wembley Stadium. They were so good on defence they actually chased Joe Flacco's 'elite' ass off the field. To be fair however, the Jags did benefit somewhat from the 'Wembley Effect'. That is, the fact that the Jags play in the UK every year and so have grown more accustomed to that atmosphere than other teams: they were 0-2 in their first trips to the Queen's realm but have since found their British rhythm, going 3-0 in their last three trips. But I digress, the thieving of the Ravens' innocence wasn't the only surprise this weekend.
Not only did the London Jaguars get an unexpected W, but teams that could've already been demoted from the league—if only the NFL ran things like the EPL—got wins as well. Two of the weakest rosters in the league, the Jets and the Bears, found a way to win this week. The Bears for their part still looked like the Bears, as they botched a blocked field goal as only the Bears could (though they were jinxed by Greg Gumble on the play). But they took the Steelers to OT nonetheless, largely on the back of their young two-headed rushing, RBs Jordan Howard and Tarik Cohen. The two youngsters also combined to finish off the Steelers in the extra period, handing a loaded Steelers their first loss of the season, 23-17.
When the defense constantly throws 8 in the box, you MUST take these one-on-one shots downfield. TD Josh McCown to Robby Anderson. #Jets pic.twitter.com/n1MNQm1LzW

— Elite Sports NY (@EliteSportsNY) September 24, 2017
The Jets for their part.. Wow. I just, still can't believe the Jets won a game. And in Week 3 already!? And it wasn't against the Browns or Colts!? What the fuck happened in South Beach between the impressive performance they gave in Week 2 and the stinkiest of stinkers they laid down in Week 3. Smokin' Jay must've smoked a carton after a nightmarish performance in which he went 26 for 44 for 220 yards (64 of which came on his meaningless last-minute touchdown drive) with a touchdown toss and a pick. The Jets were propelled by three sacks from their d-line, two picks from Buster Skrine, and a 69-yard catch and run, Robby, run touchdown from Robby Anderson. If the Jets can win like this, there's no doubt in my mind now, nothing is certain the NFL.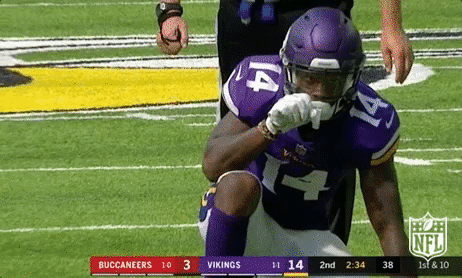 After torching Dallas at home in Week 2, I expected to see the Broncos come out and dump all over the Bills in sweltering Buffalo. Not so. The Bills shutdown Dreamin' Trevor Siemian and brought the Denver QB and his team back down to earth as they beat the Broncos 26-16 on Sunday. Case Keenum instead took Siemian's mantle as 'that random quarterback guy who went the fuck off this week'. I and many others expected the young Bucs to pounce all over the Bradford-less Vikings. Instead, Dalvin Cook (second in rushing), Adam Thielen (second in receiving) and Stefon Diggs (third in receiving) all helped Keenum to the greatest start of his illustrious career (368 yards, three TDs, 77 completion %). The Vikings defence also forced Famous Jameis into five turnovers during the 34-17 drubbing, but you already knew they were good. I guess this year the Viks' don't need ol' Sammy B to get the Ws.
Sammy Watkins… WOW!pic.twitter.com/zMilGLm3ET

— Football Is Life (@FBIsLife) September 22, 2017
Turn Up Thursday — Not only were we surprised by all the upsets this week, but we were surprised by the Dusty Matchup of the Week brought to you by Thursday Night Football. This week it was Niners and Rams (yawn), but the game turned out to be a 41-39 thriller of a victory for Los Angeles. The Rams jumped out to a 27-13 lead on the backs of Jared Goff, Sammy Watkins and Todd Gurley, who all had monster weeks for the Rams. Watkins (106 yards, two scores) joined fellow offseason acquisition Robert Woods (108 yards) in racking up over 100 yards on six receptions apiece from what seems to be a blossoming Goff, who tossed the rock with a 79 completion rate for 292 yards and three scores.
The Niners were, also surprisingly, up to the challenge however. There was a point in the third quarter where the two teams scored touchdowns on four straight drives. Brian Hoyer more than held his own against Goff, throwing mostly to Pierre Garcon (seven receptions, 149 yards) for 332 yards and a couple of TDs. San Fran tailback Carlos Hyde couldn't quite match Gurley's three scores, but he did plunge into the end-zone twice for his squad while rumbling for 84 yards on the night. The Niners really seemed like they were gonna complete the comeback there for a minute even though they'd missed an extra point earlier and so were down eight instead of seven. They proceeded to recover a fumble on their kickoff to the Rams down 41-33. They then scored a touchdown, but missed the two-point conversion, then recovered a perfect onside kick, but failed to gain any yards thereafter. Hopefully this won't be the last time this season TNF is worth tuning into.