Week Eight is upon us and we finally have ourselves a new sheriff in town. His name's Carson Wentz, and he's North Dakota Strong. Wentzy and his Eagles finally flew on up to the top spot and they're joined in the top ten this week by the Saints and the Rams who both jumped seven spots this week, while the Aaron Rodgers-less Packers dropped right out of the top ten. The Browns lost their best player Joe Thomas to a season-ending injury, but they couldn't go any lower than 32nd, and neither could the Niners at 31 or the Colts at 30. At least we know who the really shitty teams are by now, but that's  it.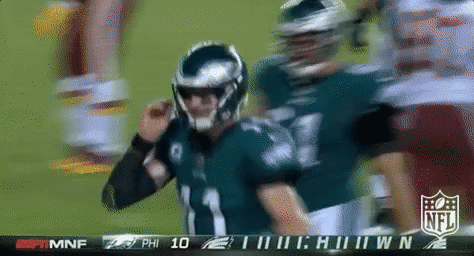 1. Philadelphia Eagles (6-1) (▲1) — It only took eight weeks, but we finally have ourselves a new current king of football. The Eagles have now won five straight (their only loss came against the former no. 1 team, the Chiefs) and Carson Wentz had one of the most impressive games of his young career against a division-rival in primetime last week. Wentz led the team in passing, rushing and David Copperfield-inspired-scrambling against a pretty solid Washington defence. Imagine what the sophomore QB will do to the Niners that just lost 40-10 to the Cowboys. The kid really is, as Jon Gruden said about 17 times on Monday night, North Dakota Strong.
2. New England Patriots (5-2) (▲1) — The Patriots seem to have found their footing here in 2017 after handily doing away with the Falcons in a rematch of last year's epic Super Bowl. No comeback was needed this time, as the Patriots porous-but-improving defence was shutting out last year's best offence until the final five minutes. If that defence starts stopping teams, we may be in for another wild (not really) ride to the Super Bowl with Tom Brady and co. Brady's been Brady, throwing for 15 TDs against just two picks through seven games, though he has been sacked 18 times, which bodes well for sack-happy AFC contenders in Pittsburgh and Denver.
3. Pittsburgh Steelers (5-2) (▲2) — Like their nemesis in Boston, the Steelers seem to have found their groove, leaning on Le'Veon Bell all day long to lull the defence to sleep before hitting Antonio Brown or Juju Smith-Schuster for big gainers. Big Ben Roethlisberger definitely still has some gas left in the tank, and I'm a firm believer that Martavis Bryant will be a big contributor when he comes back from suspension. Did I mention the Steel Curtain is back? Pittsburgh's D currently sits at 1st in passing defence, 2nd in total defence, 2nd in sacks and 3rd in scoring defence. Giving this offence a defence of that caliber could be potentially explosive. Use caution.
4. Kansas City Chiefs (5-2) (▼3) — Talk about a rough fuckin' week. Life comes at you fast and the Chiefs learned that the hard way last week, as they lost twice in a five day span after going lossless for the first five weeks. Alex Smith, Tyreek Hill and Kareem Hunt still looked good in the Chiefs' stunning loss to the Raiders on TNF, but that defence is truly atrocious. If they're gonna be a real contender they'll have to get that in order quickly. This week's a good time to start, with the severely offensively challenged Broncos coming into town on Monday night.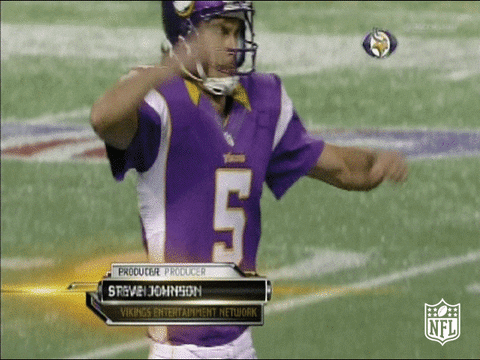 5. Minnesota Vikings (5-2) (▲5) —  With Aaron Rodgers out for the foreseeable future, the NFC North is Case Keenum's for the taking. I know, sounds weird right. But that's 2017 for ya. The Vikings defence continues to be dominant as fuck and Xavier Rhodes continues to incite road closures for star wideouts wherever he goes. They handled a relatively easy matchup with the Ravens very well last week and should give us more of the same against the winless Browns this week. Watch for that battle in the Minnesota backfield too now that Jerick McKinnon and Latavius Murray have both shown what they can do when given a full menu. Stefon Diggs should be back to help Case out in any way he can as well.
6. Denver Broncos (3-3) (▼2) — I still can't believe Brock Osweiler is a quarterback in Denver again after last year's debacle. I can't believe he's a quarterback anywhere in the NFL to be honest, but John Elway's the last guy I expected to bring in the 64-million-dollar-scrub. He played a couple of weeks ago but thankfully they didn't turn to him last week, even though they got blanked by the now 3-win Chargers. They'll have their work cut out for them dealing with a potent Kansas City attack on Monday night this week. A few vintage big plays from the defence wouldn't hurt I'm sure. Von Miller where ya at?
Todd Gurley. Ask about him… pic.twitter.com/pz7CkrC0ni

— Brandon Bate (@NoPlanB_) October 22, 2017
7. Los Angeles Rams (5-2) (▲7) — These Rams don't seem to be going away. They still lead the league in scoring at 30.3 points per contest after their 33-0 shutout victory over the Cardinals last week. Jared Goff and Todd Gurley continue to be very impressive in the City of Angels and will get a chance to enjoy some of the sights this week as they take a well-deserved bye week.
8. New Orleans Saints (4-2) (▲7) — After starting 0-2 the Saints have now won four straight games, taking down the lifeless Packers 26-17 last week. The Saints rushed for 150+ yards and Drew Brees tossed the rock for over 300 yards. That's a tough combo to beat. Expect Drew to show the Chicago kid Mitchell Trubisky a thing or two this week when they meet in the Big Easy.
9. Seattle Seahawks (4-2) (▲4) — The Seahawks put the Giants back in their place last week, handing the Giants their sixth loss of the season 24-7 on the strength of 334 yards and three touchdowns from Russell Wilson. A big showdown in Seattle looms with the rookie sensation DeShaun Watson and his Texans. Don't be surprised if the Seahawks can't stop Watson and this becomes a shootout.
10. Carolina Panthers (4-3) (▼3) — Good Cam, bad Cam. You never know which Cam you'll get. Last week the Panthers got the very, very bad Cam Newton, as the QB committed three turnovers on his way to a 17-3 loss to the Bears. And this is a game in which his Bears counterpart completed just four passes. That's straight up embarrassing Cam. Him and his cats will look to get back on track this week against the struggling Buccaneers.
11. Detroit Lions (3-3) (–) — The Lions took a week off to lick their wounds, but will be thrown right back into the fray for a primetime Sunday night date with the Steelers, who have really found their rhythm on both defence and offence. The Lions are at home though, so they've that going for them.
12. Atlanta Falcons (3-3) (▼4) — Three straight losses for the Falcons now. Granted this week it was the defending champs that beat them, but the Falcons didn't even look like a team in the same tier as the Patriots. Hopefully the Falcons will be able to get back on track this week against the Jets. But the Jets have proven they're not quite the pushovers we thought. Don't be surprised if they give Matt Ryan and Atlanta all they can handle.
13. Green Bay Packers (4-3) (▼7) — The Packers are but a shell of themselves with just one personnel change. It's one hell of a change though, as Brett Hundley looks to navigate his way through this season in place of Aaron Rodgers, who's collar is still popped. Luckily the Pack get their bye this week, so Hundley can start figuring some stuff out without having to worry about playing on Sunday. Aaron Jones looks to be a stud at running back as well.
14. D.C. Football Team (3-3) (▼5) — Kirk Cousins and the boys were no match for the onslaught of Carson Wentz and his many birds on Monday night. Washington lost the game 34-24 and fell further behind the streaking Eagles in the NFC East. Chris Thompson deserves more touches with what he's shown, even if it is at the expense of the legend Fat Rob. A battle for second in the East goes down this weekend between Kirk's squad and the Cowboys in the nation's capital.
15. Buffalo Bills (4-2) (▲1)  — The Bills came away with another impressive last second win in Week 7, taking down the reeling Buccaneers 30-27. Tyrod Taylor has been passable and Shady McCoy finally scored his first touchdown of the season, actually reaching the end zone twice against Tampa Bay. The Bills will look to keep pace with the Patriots (yup) next week when they host the Raiders.
16. Oakland Raiders (3-4) (▲2) — So first we were all surprised at how bad the Raiders were, now after a win against the Chiefs in which they got 17 tries at a final play, we're surprised they're good again. How about that Amari Cooper exploding for 200+ and two scores after the droppable season he's had. Hopefully AC/DC can keep their resurgent connection going against a very tough Bills defence this week during a visit to Buffalo. And is Marshawn Lynch not the biggest beauty of all time? Guy gets ejected, goes to the stands and hypes with the fans then takes the subway home through his old hood with his cousin (Marcus Peters of the losing Chiefs) and gets some Fuck the Chiefs chants goin'. Gotta love it.
17. Houston Texans (3-3) (–) — Presumptive Offensive Rookie of the Year DeShaun Watson took a week off to hone his skills, like he really needed it, but will be back this week in what looks to be a great matchup against the Seahawks. The Seahawks supposedly have a great defence, but it's a shell of what it once it was. Another three TDs from Watson wouldn't be surprising.
Proceed with caution when kicking to @TravisBenjamin3. #DENvsLAC #Chargers pic.twitter.com/SwT4gqzQgl

— NFL (@NFL) October 22, 2017
18. Los Angeles Chargers (3-4) (▲1) — Yeeeeehawww! Philip Rivers is livin' life and lovin' every minute of it after his team mangled the Broncos in a 21-0 win, the Bolts' third straight and their first in their new LA home. Melvin Gordon was quiet on the day, but Travis Benjamin made up for it with a punt return TD to go with a big touchdown grab. Melvin Ingram and Joey Bosa are a nightmare on the edges for any team as well. The Bolts will look to make it four straight when they go into Foxboro this week.
19. Baltimore Ravens (3-4) (▼7) — Joe Flacco has gone from subpar, to bad, to terrible, to a failure in his father's eyes. And he's taken the Baltimore offence down with him. To be fair there have been some injuries to some wideouts, but its not like those guys were doing much in terms of production before that.
20. Miami Dolphins (4-2) (–) — The Dolphins have gone 4-2 against literally all the odds. They had Jay Cutler as their QB. Their coaches are going on coke binges. Thank god Matt Moore will always be there to right the South Beach ship whenever it begins to veer off course. Look for a big performance from Moore tonight on TNF against the Ravens.
21. Dallas Cowboys (3-3) (▲1) — Ezekiel Elliott is unsuspended again—for now. I really have no idea how something like this is possible or how long it will continue to drag the fuck on, but at least Zeke's giving us some good highlights while he's doing his thing. He's here for a good time, not a long time ya'll. A showdown for NFC East mediocrity against Washington awaits them this week.
22. Jacksonville Jaguars (4-3) (▲1) — This defence is no joke, as I laid out earlier this week, and even though it was against the Colts, a 10-sack shutout is impressive in pretty much any situation. It's almost unbelievable how good this defence has been, ranking first in both sacks and takeaways among top five rankings in all the other major categories. Carrying Blake Bortles' bum-ass to 27-0 wins like this is the sign of a truly great defence, and I think that's what we may have on our hands here. Hopefully Leonard Fournette is doing better too, the D needs Lenny to at least do a little something so that they're not on the field for the entire game.
23. Tennessee Titans (4-3) (▲2) — Wow, was that fuckin' close or what. Sheesh. Marcus Mariota couldn't get anything going against the Browns, failing to lead a touchdown drive all day and barely sneaking by the winless Browns with a last-ditch field goal to win the game 12-9 very, very late in overtime. They're lucky they pulled that one out, because stewing in the shame of losing to the Browns for your entire bye week would not be fun. At all.
24. Tampa Bay Buccaneers (2-4) (▼3) — The Bucs got Famous Jameis back this week but the team didn't fare any better than it did without him last week, as Tampa lost for the third straight time, 30-27 to the Bills. The Bucs don't look as promising as they did before the season, so they better hope they get the bad Cam Newton when he comes to town this week.
25. Chicago Bears (3-4) (▲5)  — I don't know when the last time was that a team won a game with its quarterback completing just four passes, but I bet it's pretty damn far. Like Red Grange, Bronco Nagurski and George Halas as a player far. But Halas' Bears did it this week, supplying rookie QB Mitch Trubisky with all the help he needed (two defensive touchdowns courtesy of another rook, DB Eddie Jackson) to get the 17-3 win over Cam Newton and the Panthers. There's a reason teams never win when their quarterback throws only four completions though, and the Bears will be smacked with that reality soon enough. Unless this defence turns out to be the '06 version reincarnated.
26. Cincinnati Bengals (2-4) (▼2)  — The Bengals looked like they were gonna be able to bang with the Steelers early on this past Sunday, but that wishful thinking ended at half, as the Bengals managed just 19 measly yards in the second half as the Steelers pulled away. Hopefully the Bengals can get back on track this week when they host the porous Colts and play through AJ Green, the All-World wideout whom the Bengals have grossly underused this season.
27. Arizona Cardinals (3-4) (▼1) — One week you're snapping for 38 points, the next you're getting shutout by the Rams. Football's a funny thing sometimes. After the second coming of Adrian Peterson was declared after his big game a couple weeks ago, the second second coming was a lot less impressive. Carson Palmer is out for the season and should really just give the fuck up and retire. You're not gonna win a ship Carson, it's okay, we didn't expect you to.
28. New York Jets (3-4) (▼1) — The Jets took the L this week, but they played a solid game against an improved Miami team with Matt Moore at their helm. I still can't believe they're 3-4 but at some point I'm going to have to reconcile with that reality. If the Jets can pull out another shocker against the floundering Falcons I might even start rooting for the Jets here and there. Fuck it, you know. Let's go ya goddamn Jets.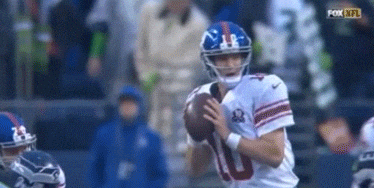 29. New York Giants (1-6) (▼1) — After a quick respite from the Giants' shameless sucking, they went right back to it during a 24-7 loss to the Seahawks last week. With no weapons left to really speak of except an up-and-coming tight end (Evan Engram) and an injured Sterling Shepard, Eli Manning doesn't really have much chance out there now does he. Looks like thanksgiving came early in New York because you can stick a fork in em, these New York Football Giants are done.
30. Indianapolis Colts (2-5) (–) — The third member of the NFL's shittiest trio, the Colts were completely shutout against the Jaguars wily and dominant defence, which sacked poor Jacoby Brissett 10 damn times last week. C'mon guys, give the young man a chance at least. Rookie back Marlon Mack should start seeing more time as well with this looking more and more like a lost season. Also would love to hear from you TY Hilton, even just a postcard to let us know you're okay wherever you are.
Hello, Reuben Foster. #49ers pic.twitter.com/zYlzCQQuau

— Ikaika Valeria (@ikaikavaleria) October 22, 2017
31. San Francisco 49ers (0-7) (–) — Well then. After a string of excruciatingly close losses, the Niners decided, fuck it, if we're not even gonna win, why even make it close. And it was not. The 44-10 shellacking the Cowboys laid on the Niners—at home no less—was an embarrassment. Hopefully their coaches can whip them into shape in time for an even tougher matchup this week—the Eagles are a lot better than the Cowboys. At least rookie Cody Beathard can get some reps in the meantime. And though Ezekiel Elliott shit all over the Niners, linebacker Rueben Foster laid the wood on em during at least one play on Sunday.
32. Cleveland Browns (0-7) (–) — So goddamn close, but still so fucking far. The Browns lost yet again, this time taking the Titans all the way to OT (and holding Tennessee without a TD, Cleveland didn't score one either but still) before losing on a game-winning field goal from Ryan Succop, who was saved by the two-minute warning. Expect the Browns to have a lot more trouble keeping even the Minnesota defence out of the end zone this week.