Week 7 in the NFL brought yet another slate of head-scratchers. We got only four upsets this week but the Bears' and Raiders' upset wins were wild and shocking enough by themselves. Another theme that continues to persist is the importance of rushing. Once again teams rode their workhorse backs to wins, as six of the seven 100-yard rushers were on the winning side in Week 7. We saw the Bears score two defensive touchdowns, the Chargers got their first win in LA, the Browns almost got their first win for the boys this season and we may have seen Smokin' Jay Cutler take his last snap for the fish.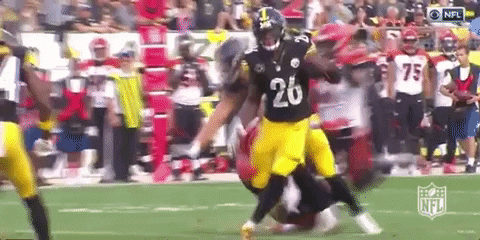 You Gotta See This Shit — After handing the Chiefs their first loss of the season in Week 6, Le'Veon Bell and the Steelers kept on rolling in Week 7, beating the Bengals 29-14 on the strength of 192 yards from Bell. Bell's 127.5 yards from scrimmage per game for his career now sit as the top mark of all-time. Those kinds of records fly under the radar when you're hitting a 42-yard catch and run, mixin' it with a little shake and bake and toppin' it off with a stiff arm that showed not regard for human life. I mean, that boy 27 doesn't know where the fuck he is after that one. Bell's got more patience than anybody but even he doesn't have time for weak-ass tackles like this shit. Panthers rookie back Christian McCaffrey had only 46 yards for the entire game on Sunday, as him and Killa Cam could find no answer for a Bears defence that looked like itself circa 2006. Though he didn't find much success on, McCaffrey did come up with possibly the best catch of the weekend, a grimey one-handed stab in the flat that he turned into a three-yard gain. Maybe they should turn this guy into a Carolina-style Wes Welker or something because he is way too damn small to run between the tackles.
Can you name all the QBs who have started for the Browns over the last decade? Joe Thomas, the guy who's protected all 18, gave it a shot. pic.twitter.com/7dlnHxezlt

— E:60 (@E60) August 17, 2017
The next man I'm gonna talk about has never made a spectacular one-handed catch or dished out a savage stiff arm, but he's definitely laid more than a few 300-pounders on their rumps. The only good player the Browns have had for the past ten years finally missed a snap this past Sunday. 10,363 fucking snaps. In a row. At offensive line. For the Browns… That's fuckin' mind-boggling isn't it? For the past decade, left tackle Joe Thomas has been the epitome of excellence and consistency for a team that has equally been the epitome of disaster and failure over that time. Thomas has been in the league ten years and has gone to the Pro Bowl every season, usually riding solo dolo as the only Cleveland representative in Honolulu. He's also been named an All-Pro seven times and will undoubtedly be inducted into the Hall of Fame when he's done, despite playing for some of the worst teams this league has ever seen. You have to be really fucking good to be an offensive lineman for the fucking Browns and get the amount of recognition Joe Thomas has gotten. Kudos to you big dog. Get well soon, 'cause you know you're team won't. I've been wondering where Julio Jones and the Falcons' mighty offence of 2016 has been hiding all season and after a 23-7 loss to the Patriots on SNF in Week 7, I still have no idea when I'll find em—they're 16th in the league in scoring now. Julio's a big motherfucker though, we found him. The big man didn't make it to 100 yards for what would've been just the second time this season (9 receptions, 99 yards) but he made up for it by mossing a young boy on a big boy touchdown in garbage time. On the goal-line, you know they're tossing it up to a man like Julio, standing at 6'3″, 220-lbs with a 39-inch vertical. And you know he's gonna absolutely embarrass Malcolm Butler's overrated ass for foolishly trying to fight him for it. Take a seat young fella, you ain't in Seattle anymore.
Eddie Jackson has now returned a Fumble and INT for a Touchdown today #BuiltByBama pic.twitter.com/xxOK5fIKDB

— Alabama DieHards (@AlabamaDieHards) October 22, 2017
Cam Newton can play football too, but it seems like some weeks he just doesn't quite feel like it. Man, was this week one of those weeks. The Panthers got slapped by the Bears 17-3 and Killa Cam had three fucking turnovers. Three. And two of them were returned for touchdowns by the same Bears defender, rookie safety Eddie Jackson. I mean this kid Jackson already had like 150 yards and two TDs before Cam even really knew what hit em. Are the Bears winning these games because they're actually good or because the good teams they're playing are having bad weeks? Right now I think I can confidently say that the Bears are a trash team, just not as trash as I thought.
I think Brandon Scherff is not happy pic.twitter.com/7Kb3Do29L2

— Jim Larrison (@jlarrison) October 24, 2017
Though Carson Wentz was able to make the Great Escape on Monday night, he may find tougher sledding ahead without stud LT Jason Peters watching his six. Peters will be out for the remainder of the season, as will Joe Thomas of the Browns, Carson Palmer of the Cardinals (just retire already dude) and his teammate Jordan Hicks, who suffered an ankle injury on Monday. Washington got a scare on Monday too when guard Brandon Scherff went down with a knee injury, but he's now considered day-to-day after further testing was done. You would've thought he'd be gonezo for the season the way he reacted to his injury though. Even with Smokin' Jay lurkin' around the building and staff members doing lines to impress hookers, the Dolphins sit at 4-2. I'm seriously impressed. Cutler may not be lurkin' for much longer either after he went down with an injury in the Dolphins' 31-28 win over the 3-4 Jets, which is also an impressive if not astonishing record. Matt Moore has been laying in the cut, and he did not disappoint when he got his chance. DeVante Parker may be hurt but Moore's still got a guy he can throw 27 passes a game to in Jarvis Landry. Landry had a light serving this week with just seven catches, but took them for 93 yards and a touchdown while casually hopping over a sorry-ass Jets defender in the process.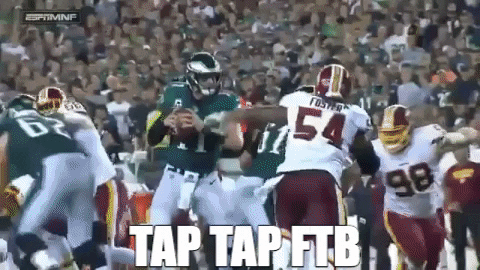 While the AFC East is still an enigma, it looks like the NFC East has an early favourite in the 6-1 Philadelphia Eagles. Philly won 34-24 against division-rival Washington in Week 7 in another masterclass performance by sophomore pivot Carson Wentz. The kid was scramblin' around, breakin' tackles, throwin' long bombs and tossin' tender fades. The latter of which was in full effect on a third-quarter touchdown toss to rookie running back Corey Clement. Not only did Wentz display soft touch on the ball after escaping a sack, but the running back Clement showed some beautiful twinkle toes in the back of the end zone. The kid's got toe drag swag amiright Nate Burleson. Carson Wentz not only threw for 268 yards and four touchdowns in his team's divisional victory, he led his team in rushing as well, going for 64 yards on eight carries, including a beautiful 21-yarder on a perfect option play. The true gem though, came early in the fourth quarter on a 3rd and 8 with the Eagles up just a touchdown. Wentzy dropped back to pass and was almost instantly swarmed by what seemed like a dozen Washington defenders before scootin' right outta there into the open field for 17 yards. It was shades of Eli Manning in the Super Bowl. It was shades of Big Ben Roethlisberger at his scramblin', slippery finest. It was greatness. Carson Wentz and the Eagles are the real deal ya feel.
Ezekiel Elliott after all the eating he's done today against the 49ers pic.twitter.com/71qPPkvZJ8

— RJ Ochoa (@rjochoa) October 22, 2017
Cowboys fans may have their panties all up in a knot after all that Eagles love, but its for good reason. The Cowboys are just 3-3 after that ass-whooping they handed the Niners—well it most mostly Ezekiel Elliott and the Texas Hogs but its a team game so we'll give em all credit for the 40-10 spanking. Jason Witten actually pitched in with a dirty fuckin' one-hander too. The old dude's still got it after all these years. Meanwhile Elliott's suspension still looms over the Cowboys like a dark cloud that doesn't bring any rain so instead of being suspended (will he ever be?) Elliott was running loose in the Bay, duckin' and dodgin' and tight-rope-walkin' his way to 219 yards on the day, including a trio of trips to pay-dirt. He may be a scumbag, but that man can definitely play football.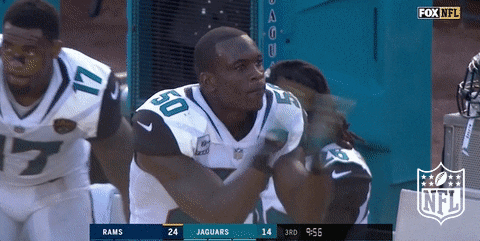 Jolly Jaguars Come January? — So yeah, that Jaguars defence is really no fuckin' joke. After spending several years building the unit through huge free agent signings and very early draft picks, what many thought were bad investments have coalesced into something beautiful that'll throat-punch you the first chance it gets. The Jags have sacked the QB more times than any team in the NFL (33) and employ the no. 1 (Calais Campbell, 10.0 sacks), the no. 8 (Yannick Ngakoue, 6.5) and the no. 12 (Dante Fowler, 5.5) sackers in football. The Jags D have snared more interceptions (10) than any defence and employ one guy tied for 3rd (Tashuan Gipson, 3 INTs) and three guys tied for 12th (Telvin Smith, Jalen Ramsey, AJ Bouye, 2) in the league in picks.
They've forced and recovered more fumbles than any defence (nine and six, respectively) and therefore have more takeaways than any team too, with 16 in seven games. The four times they've found pay-dirt as a defence are almost half as many as the nine touchdowns they've given up to opposing offences for fuck's sakes. They're allowing less points than any other defence in the league while allowing the sixth-least yards by any defence. Campbell, Smith, Fowler, Ramsey and Bouye all seem like easy choices for the Pro Bowl this season, and have been playing so well they might just carry a guy like Blake fuckin' Bottles to the damn playoffs too. Now that's a fuckin' defence right there. Fuck the 2000 Ravens D taking Trent Dilfer to the Super Bowl, if this D takes Bortles' ass to the postseason, they're up there with the all-time greats.
The Martavis Bryant Situation — What are we gonna do with you Martavis Bryant. You score eight touchdowns in 10 games your first year. You puff a doob, hit a bong and miss the first four games of your second year, but you still score eight times in 12 games. Then you just hot box the shit out ya house and you're suspended for the full year in 2016. But you got ya mind right for 2017 and you're gonna be a factor right? Gonna score 14 in 16 games or some shit this year right? Or nah. Everything doesn't always work out as planned. The Steelers offence sputtered out of the gate, and Le'Veon Bell has proven much more important and profitable for the Steelers offence than expected, relegating the passing attack to the backseat. The lack of passing hasn't affected rookie wideout Juju Smith-Schuster's mood though, as the youngest player in the league has been an absolute delight while Bryant's been a mopey fuck. Juju hasn't even seen that many balls (just 17 on the year), but he's made the most of them, scoring thrice and already perpetrating three of the best TD celebrations of the season with his dice game, his Kamehama and this past week's Hide-N-Seek with Bell, my personal favourite.
After the game Martavis could be seen on Instagram replying to some duster commenting on how Juju is better than him. What is this amateur hour? At least he deleted it right away but people definitely noticed the snafu. Then on Monday the wideout missed mandatory Monday meetings for a supposed doctor's appointment. Amid swirling rumours that he's not happy in Pittsburgh and wants to be traded, Mike Tomlin came out and said on Tuesday that there's not a chance in hell Martavis Bryant is available via trade. But he also said that Bryant would have to be responsible for his actions, which meant suspending him for the Steelers' Week 8 matchup with the Lions. With Bryant sitting and Juju expected to play despite going through the concussion protocol this week, Bryant could fall even further behind the eight ball this week. I think Mike Tomlin takes care of his guys though, I don't think Bryant will be a forgotten man for the whole season, he'll get his chances. And when he does, boy he better snag those motherfuckers with two hands and squeeze.
Rookies Running Roughshod —Despite the constant injuries to the strong rookie running back class (Dalvin Cook and Chris Carson on IR, Leonard Fournette inactive this week with an ankle injury) the rest of the lads picked up the slack for the big names in Week 7. Though the Chiefs lost their second straight game in five days on TNF, Kareem Hunt kept his 100-yards from scrimmage streak going with a 117-yard effort—including a 34-yard gallop—for KC during their second heartbreaking loss in five days. Wake up on Sunday you're undefeated, try to go to sleep on Thursday but can't 'cause you're 5-2. Life comes at you fast man.
Look at what Aaron Jones did to this poor, poor man. #GoPackGo pic.twitter.com/9bRdtYUhhW

— Dusty All 22 (@All22Talk) October 24, 2017
The rookie who stole the show this weekend though was Aaron Jones of the Green Bay Packers, who took 17 carries for 131  yards and a 46-yard touchdown sprint. But like, he kinda had to go off right. There was no Aaron Rodgers and he knew he wasn't getting any help from Brett—no, not that Brett—Hundley, so the 5th-round pick out of the University of Texas at El Paso tried to put the team on his back. And he kinda did, he just didn't make it very far, as the Packers lost their second straight 26-17 sans the Discount Double Check.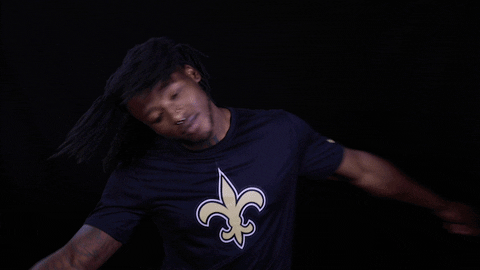 Jones could only do so much on his own, as Mark Ingram (105 yards, one touchdown) and another rookie running back were pounding away on the other end for the Saints while Drew Brees casually tossed for 300+ yards for the 73rd time (now just six back of Peyton Manning's record 79). 2017 third-rounder Alvin Kamara put up 107 yards from scrimmage in the Saints' win, the first 100+ yard day of his career, but certainly not his last. Did you notice that MP has two nose piercings too? Crazy. In other rookie running back news: Christian McCaffrey certainly did not reach 100 yards or score a touchdown, but he may have had the catch of the week so we'll give him a pass this time; Colts fourth-rounder Marlon Mack began filling in for Robert Turbin (who was just placed on IR) and responded well with 66 scrimmage yards on the day, expect a lot more from him, coming soon to a stadium near you; and undrafted Eagles halfback Corey Clement showed off his receiving skills on a lovely nine-yard touchdown catch in the back of the end zone during the Eagles' win. These rookies ain't goin' nowhere folks.