It wasn't the politically and offensively charged rash of upsets we saw in Week 3, but Week 4 continued to bring us quality football, including a few big upsets that had about 95% of the league cheering together in unison. Donald Trump's not the only one that can unite people against him in this league, Tom Brady and Jerry Jones can do it too. Not only did the universally-hated Cowboys and Patriots both lose to teams that didn't reach the postseason last year, but the Falcons—who lost against the Pats in last year's Super Bowl, which made them a much-hated team in turn—also took an L from a team who watched the playoffs from home last season.
There were also another two games that went into overtime, but it wasn't all tootsies and daisies in Week 4 as we saw some  injuries that once again reminded us that while football can be an amazing showcase of athleticism, speed and strength, it can also be gladiatorial and brutal. With that said, here are some of the best displays of that aforementioned athleticism from around the NFL this week.
You Gotta See This Shit — This week, there were a few plays you just had to see. The most ridiculous one came in the late afternoon when Broncos tight end AJ Derby seemingly skewered the football with one hand before gliding into the end zone. He obviously didn't literally skewer it, but Derby snared that ball with ODB-esque minimalism, using three, maybe four fingers to get the job done. Derby actually led the Broncos in receiving on this day, taking four grabs for 75 yards and his first touchdown. Bravo AJ, truly, Bravo. After last week's TNF thrills, we got a unicorn sighting on Thursday night this week. Jordy Nelson's combination of speedy big play ability and red-zone prowess truly make him unique in the realms of the NFL—not to mention that speed on a white farm-boy like Nelson is unique on its own. The Unicorn scored twice and also made defenders look like damn toddlers on a 58-yard gain on Thursday. Nelson is back, so the NFL better get ready for Jordy's robot unicorn attack.
Larry Fitzgerald walkoff alert 🚨🚨🚨

— The Sports Quotient (@SportsQuotient) October 1, 2017
We saw some pretty cool shit this week, not only was there a unicorn sighting, but we were also treated to the return of a legend. Larry Legend to be exact. After quiet games in the first two weeks, Larry Fitzgerald snagged 13 balls in Week 3. We thought he was back, but then going into OT of the Cards' game this week, Fitzy had just three grabs for 13 yards. Larry's a legend for a reason though. He's clutch as fuck. And the 34-year-old showed that clutch gene with an acrobatic 19-yard touchdown grab for the walk-off win in OT. Gotta love Larry Legend. You can go a while watching NFL football without seeing a Dragon Ball Z reference. Maybe even a whole lifetime. We were treated to one this week though, courtesy of Steelers rookie wideout and the youngest player in the league, Juju Smith-Schuster. After scoring from ten yards out, the rookie wideout celebrated his trip to pay-dirt by paying homage to his favourite superhero, Goku of Dragon Ball Z fame. Juju's Kamehama was on point, and we give the guy bare ratings for that celly.
UNTOUCHED.@G_Bernard25 goes 61 yards to the house! #CINvsCLE pic.twitter.com/GN5Q0XTB2M

— NFL (@NFL) October 1, 2017
Surprisingly enough the Toilet Bowl of the week, Browns-Bengals, gave us a couple of crazy moments as well. First there was Cincinnati RB Gio Bernard's 61-yard touchdown on a screen pass. The dude literally ran straight at full speed for 60 yards, untouched. Easiest touchdown ever. Facts. On the other hand, Tyler Kroft showed what it looks like to actually work for your touchdowns, as the Bengals tight end was sandwiched between two defenders and bounced on his noggin before jumping back up in the end zone somehow completely uninhibited. I don't know how the fuck he was okay after that, but all the power to him, he had a great game. The SNF game between the Colts and Seahawks was a blowout win for Seattle, but still provided us with several must-see moments. First there was Seahawks fill-in running back JD McKissic showing amazing catching ability on a 26-yard touchdown grab in double coverage (above). He also showed he can grind it out on the ground, with a gritty 30-yard touchdown scamper on the night as well.
Though the Colts lost, they still picked off Russell Wilson twice. The first pick was a beautiful self-tip play from Colts DB Matthias Farley as he tip-toed the boundary. The second pick was perpetrated by Malik Hooker—the third in as many weeks for the Colts' first-round pick—but it was the stiff-arm Hooker laid on a Seahawk (above) right after the one-handed pick that really made me do a double-take. LT would be proud of that truly, truly filthy stiff arm young Malik.
Vernon Davis is still in the league and still doing things like thispic.twitter.com/iGADqGDlGY

— NFL Retweet (@NFLRT) October 3, 2017
While SNF was a predictable game with a few wow plays, MNF was a thrilling game with a few wow plays of its own. Kirk Cousins and the boys started off fast with a 44-yard bomb to Terrelle Pryor. DC's other regular playmakers were quiet for most of this game, but backup tight end Vernon Davis came with a 69-yard spark on a redonculous catch and run (above) in the third quarter. Unfortunately after Cousins drove down for the game-tying field goal, the Chiefs then drove down themselves in under a minute, this time for the game-winner. Washington then proceeded to give up a defensive touchdown to Justin Houston on a brutal attempted hail-mary/lateral play.
Back to Basics — It was really only a matter of time before the big boys came back to dominate the running game. David Johnson may be out, but Le'Veon Bell certainly isn't. He was just hibernating or some shit. Either way. Bell was back in a big fuckin' way against the Ravens in Week 4, taking 35 carries for 144 yards and a couple of touchdowns in a big 26-9 win for the Steelers. Not to mention Bell led the team in receptions, with four grabs for 42 yards. The 39 touches for Bell were a single-game season-high for the league in 2017 as well. While Ryan Shazier was busy becoming a star on the Steelers defence, Pittsburgh's offence was humming right along with Bell as its motor. Is it any coincidence that Bell's and Shazier's breakout games this season occurred during Pittsburgh's best showing of 2017? I think not.
Attempt to tackle LeGarrette Blount at your own peril pic.twitter.com/A0Fe4UHu5h

— Barstool Sports (@barstooltweetss) October 1, 2017
Bell wasn't the only sleeping giant to awaken this week though, as LeGarrette Blount bounced back in a huge way, putting up 156 scrimmage yards and a touchdown in a 26-24 Eagles win. It was classic Blount for Philly in Week 4 as he had five runs of 10+ yards on the day, including a vintage Blount 68-yard run in which he broke a tackle from damn near every Chargers defender (and emasculated one of them with a disgusting stiff arm, above). Blount is still a bowling ball, and he's just starting to get the hang of this Philly offence. Once him and wideout Alshon Jeffery really get the hang of it, the Eagles will be even scarier than they already are.
The crown's gotta go to this guy Todd Gurley this week though. Wow. Is this guy fuckin' back or what. Whoever thought his rookie season was a fluke must feel like a dumbass right now. After going off last week, Gurley followed up that monster performance with an even more monstruous one: he took 21 carries for 121 yards while also leading his team in receiving with seven grabs for 93 yards, including a 53-yard touchdown catch for which he strapped on the jetpack. Gurley is leading a rushing resurgence of the game's top running backs just as the rookie running onslaught came to a bit of a stop this week, though it wasn't a complete halt.
Rookie Runner Report — Kareem the Dream cooled off to the tune of 121 scrimmage yards on MNF this week in a wild 29-20 win over Washington. So Kareem Hunt's cooling off, but he's still hot as fuck. Though Hunt slowed up a bit this week, at least he didn't suffer the fate of his next closest competitor. Vikings rookie Dalvin Cook had already run for 66 yards and scored a touchdown before he completely tore his ACL as he was cutting on a first-down run during the Viks's 14-7 loss to the Lions. Even after the injury Cook still sits at third in the league in rushing through one quarter of the season. What a damn shame we won't be able to see him for the final three.
Cook wasn't the only workhorse rook at halfback to go down this week though, Seattle's seventh-round pick Chris Carson, who the Seahawks believe suffered a high-ankle sprain as well as a broken leg, will be out for a while as well. Fuck that's gotta hurt. Stay strong buddy. Don't fear though people, there were some positives for this breakout rookie running back class: we still got Lennyyy! Leonard Fournette continued to chug along while chaos occurs all around him on the Jacksonville offence. Though the Jags lost to the damn Jets this week, Lenny still performed, going for 145 scrimmage yards while finding pay-dirt for the fourth consecutive game. Though he hasn't averaged over four yards per carry in a game yet, he's shown some great burst as well as consistency.
Some additions to this stellar rookie running back class have been made with the big injuries to Cook and Carson. Apparently for Saints scatback Alvin Kamara, a third-rounder this year, all it took was a nice flight across the Atlantic to get his mind right and find his breakout. Kamara exploded with 10 catches out of the backfield for 71 yards and a touchdown to go with 25 yards on the ground in the Saints' surprising shutout win. Jets rookie RB Elijah McGuire, a sixth-round pick, proved why the Jets took a flier on him with a 69-yard touchdown sprint in New York's OT win on Sunday. They're 2-2 guys. This is real. Honorable Mention goes to Wayne Gallman, the Giants fourth-round pick who scored the first touchdown of his career (on his birthday and in his NFL debut) and may have finally supplanted the increasingly irrelevant Paul Perkins alongside Eli in that backfield.
Five-Seven — Yeah you saw that right, the score was 57-14. The Texans whupped the Titans so hard they tried to go back to being the Houston Oilers, but the Texans were in Houston so they kicked their asses back to Tennessee where they belong. They got whupped from Timbuktu to Albuquerque because DeShaun Watson has officially arrived in the league. Watson set a rookie single-game record with five total touchdowns in a stellar performance, which included a string of five straight scoring drives. Texans fans must be elated the Tom Savage experiment only last three quarters. Watson is a damn good football player, and with playmakers like Lamar Miller, DeAndre Hopkins and Will Fuller at his disposal, the sky's the limit. On defence, that guy Watt's not bad either.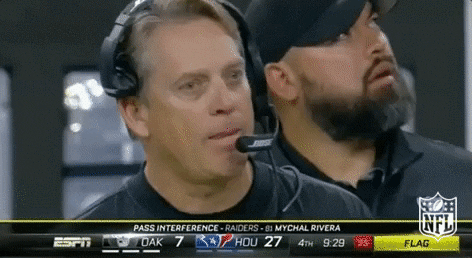 Trouble in QB Paradise — Tennessee and Oakland though they were in QB paradise as they both boasted young signal callers with great physical gifts and sky-high ceilings. Unfortunately, nothing lasts. The Titans had been keeping up early this week, but after Marcus Mariota suffered a hamstring injury, he didn't come back for the second half and his team ended up in shambles. He's day-to-day right now but the Titans are in big doodoo if Mariota misses any significant time considering what we've been seeing from DeShaun Watson in Houston. The Titans could be fine, as Mariota might not miss any time, but the Raiders are in a black hole again this year with QB Derek Carr now out for 2-6 weeks after suffering a back injury during their 16-10 loss to the Broncos on Sunday. If they go with Matt McGloin again this year they've got no chance in the best division in football. Colin Kaepernick or nah? He's still out there Black Jack Del Rio, just pick up the phone, baby.
More Life, More Upsets — So yeah the Jets are 2-2 now. Let that shit sink the fuck in for a second. They have the same record as Tom Brady's team and the Cowboys. And the Seahawks. And the Raiders. We all thought those teams would win their divisions this season and that the Jets might not even win a game. I sure as shit didn't think they'd win one. But the Jets have now won two in a row after taking down the landed Jaguars (no London Effect this week) 23-20 on Sunday. It was a Jets-Jags game, so it gave us some great Jets-esque moments: a somehow successful fake punt conversion on 4th and 21 during which the Jets guy carrying the ball runs full on into his own player, a 75-yard touchdown run from Bilal Powell during which he fell and everyone thought he was down (he wasn't) and of course the J-E-T-S Jets gave up an 81-yard defensive touchdown to Myles Jack on a dropped backwards pass. They may have won, but they're still the Jets.
.@MYLESJACK. WOW.

82-yard fumble return TD! 🏃💨💨💨 #JAXvsNYJ pic.twitter.com/MBo9v9P0T8

— NFL (@NFL) October 1, 2017
The Rams just barely came out alive against the Niners last week, and this week was a real nail-biter too—but they did get another win, this time 35-30 over the Cowboys. The Rams gave up 21 points to the 'Boys in the second quarter but then secured the win by outscoring Dallas 19-6 in the second half. Jared Goff continued to improve on a weekly basis and so did Todd Gurley. But I already told you about what kind of day he had. The Rams relied almost as heavily on kicker Greg Zuerlein in this one as they did on Gurley: Big Z's boot accounted for 23 of those 35 points; seven field goals and a couple of extra points. Now that's what I call a boot young man. All this without missing a kick either. Hats off to ya bud.
Can we just talk about @micah_hyde? #GoBills pic.twitter.com/4QbE4q9ldh

— Buffalo Bills (@buffalobills) October 2, 2017
We also had the defending NFC Champs fall to the Bills as well. After shocking the Broncos in Buffalo last week, the Bills came back just as strong this week on the road in the Georgia Dome, taking down Matt Ryan's Falcons 23-17 in Week 4. The Bills. Lead. The AFC East. At 3-1. Yeah way, dude. Although the Falcons kind of shot themselves in the foot by not giving Tevin Coleman the ball more (he was averaging 11.1 yards per touch on just 13 touches) but they were also unfortunate in losing both Julio Jones and Mohammed Sanu to injuries during the game. The Bills defence is no joke though, they sacked Ryan just once, but they also forced the reigning MVP into three turnovers in the win. Big shoutout to tight end Charles Clay as well, who quietly put up 112 yards in the win. They probably can't stay atop that division, but who's down for a wild card spot in Buffalo?
With a raised fist, Cam Newton takes NFL's protest conversation in different direction https://t.co/V5uRRJSBtJ via @usatoday

— Mihidini Silva (@MihidiniS) October 3, 2017
NFL: Not Fuckin' Likely — Those weren't the only upsets of the week of course, as this season is shaping up to be a good one for the underdog. (Unless you're the Browns apparently.) Cam Newton and the Panthers looked great against the defending champion Patriots, and even staved off a late surge by Tom Brady and co. to get a shocking 33-30 win. Newton, who's now 2-0 against the Pats, bounced back beautifully this week with 316 yards and a trio of touchdown tosses through the air while rumbling for another 44 yards and TD on the ground. It was classic Killa Cam. You know who else was in classic form? Julius Peppers. The 37-year-old defensive end continued his resurgent season with his original team, taking Brady down twice on the day to bring his season total to 4.5 sacks in his 16th season.
Despite all the talk of Brady's immortality, this game proved the NFL still has a great parity level. Consider: in Week 2, the Patriots obliterated the Saints 36-20 in the Big Easy; the Saints then turned around and dusted Cam and the Panthers 34-13 in Charlotte in Week 3 and now the Panthers have squeaked out a 33-30 win against the Patriots in Foxboro. So the team the Patriots killed in Week 2, the Saints, is the same team that took a dump on the Panthers, who turned out to be the team that beat those same Pats this past week. If you tell me you know what's gonna happen in any given NFL game, you're shittin' me, Roger and yourself. There's no way to predict this shit.
Do It Again — Another day, another dollar, another Chargers loss in the dying minutes. That's just how they do. They lost to the Eagles 26-24 this week after being unable to get a stop in the last seven minutes of the game to give Ranger Phil Rivers and the crew a chance to drive for the game-winner. Phil threw for 347 yards, two scores and no picks. The top two receivers in the NFL this week were both his: Keenan Allen took five receptions for 138 yards, including three 20+ yard grabs, while Tyrell Williams took his five grabs for 115 yards, including a 75-yard bomb (above).
The Chargers even got a 35-yard touchdown scamper from a nobody at running back, Austin Ekeler, since Melvin Gordon was ineffective all day against the Eagles D. The Chargers played a great game but just could not finish. It's really a Chargers epidemic, and it's been happening since 2015. Since that season, the Chargers have lost 28 times. It's almost unbelievable, but 22 of those losses have come by one score or less. 79% of Phil and the gang's heartbreak has occurred in the final moments, and they still haven't found an answer. Here's to hoping they find their special sauce sooner rather than later.