Now about halfway through the season, I think we've found ourselves a pretty solid top few teams (Pats, Eagles, Steelers, Vikings, Chiefs) and a very solid bottom four (Browns, Niners, Colts and Giants) but there's still a ton of speculating in the middle of the pack. Is the Saints defence for real? Is DeShaun Watson capable of a division crown in his rookie season? Will the Broncos ever figure it out at QB? Not to mention all the trades that went down, trades that made good teams better and mediocre teams worse in my opinion. One thing there can mercifully be no more speculation on is Zeke's suspension though. That fucking guy is serving his six-game suspension and he's gonna like it. Another one not up for debate is the Texans' owner's status as a fuckin' scumbag. That's intact. If we could get an Adam Silver-type reaction to Robert McNair's comments from commissioner Donald Tr— I mean Roger Goodell that would be lovely.
1. Philadelphia Eagles (7-1) (–) — The Eagles continued to dominate in Week 8, this time taking down the tough-luck Niners 33-10 on the strength of a couple more TD tosses from MVP candidate Carson Wentz, as well as a 37-yard pick six courtesy of Jalen Mills and the Philly D. The passing game has been phenomenal for the Eagles, as Wentzy has tossed a league-high 19 touchdown passes so far while sporting a sparkling 101.6 passer rating. Not to mention Zach Ertz has finally become a star, ranking second among tight ends in catches and yards and ranking first in touchdown grabs with six. The kid's gonna go from touchdown collector to touchdown machine by the end of this season. Mark my works. As if that wasn't enough, that potent passing attack will now have a matching rushing attack: before the deadline the Eagles were able to acquire former Dolphins bell-cow Jay Ajayi for their backfield for nothing but a fourth-rounder. The J-Train will join LeGarrette Blount in a crowded but talented committee. As if Wentz needed anymore weapons.
2. New England Patriots (6-2) (–) —  Tom Brady and the boys pulled out another close victory in Week 8, this time a 21-13 dub against the Chargers during which a Chargers player ran into his own end zone to give New England a safety. It's like Bill Belichick is the queen bee and the rest of the league is his hive. Whenever they come against him, he uses the hive mind to make his opponents fuck up. Another explanation could be found with his QB, who I begrudgingly admit is the goat. With pretty boy Tommy back there the Patriots have a chance every single week. Except this week. They don't play this week. But I'm sure Tom could put the boots to Mr. Bye Week too if he wanted.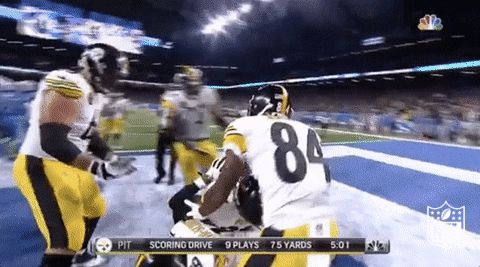 3. Pittsburgh Steelers (6-2) (–) — Martavis Bryant served his suspension and was not traded at the deadline so you can believe he'll be back starting when the Steelers return from their bye in Week 10. In the meantime the youngest man in the league, rookie wideout Juju Smith-Schuster, was having the best week of his life: the man got his stolen bike back on Thursday , then caught seven balls for 193 yards, including a 97-yard touchdown, on Sunday. And he came up with yet another dope TD celebration, getting a bench press going after Le'Veon Bell's TD. Not a bad week for a 20-year-old huh. The Steelers really needed that big game from Juju too, because Bell and Antonio Brown were very quiet all night against the Lions. The Steelers second-ranked scoring defence showed us why again in Week 8 as well, as they bent and gave up 482 yards but refused to break, forcing the Lions to kick five field goals, while reaching pay-dirt a big fat zero times. If the offence can stop its quarrelling, it will pair with this top five defence to become perhaps the NFL's most complete team.
4. Kansas City Chiefs (6-2) (–) — The Chiefs got back in the groove on Monday night, bullying the reeling Broncos during a 29-19 win over their division rivals. Kareem Hunt's 100-yard streak finally came to an end and Alex Smith completed less than 50 percent of his passes on the night, but thankfully the Broncos' fucking brutal offence gave them the ball five extra times (three picks, two fumbles) to help em out. Travis Kelce continues to be the most dominant tight end not named Gronk, posting 133 yards and a score in the Chiefs' MNF win. The Chiefs will travel to Jerry's House (he bought it back from a broken Aaron Rodgers) this week where they'll clash with the Ezekiel Elliott-less Cowboys.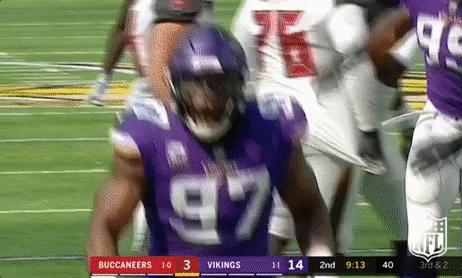 5. Minnesota Vikings (6-2) (–) —  The Viks looked like they were having some trouble with the Browns early on during their game in the UK this past Sunday, but they were able to buckle down and finish off the winless Browns for a 33-16 win. The Vikings defence continues to be stellar, allowing the third least yards in the league while racking up 24 QB sacks already this season (led by Everson Griffen, who grabbed a sack in his eighth straight game on Sunday, which ties him with Jim Marshall for the team record) good for 6th in the league. The void left by Dalvin Cook on offence hasn't been a problem either, as both Jerick McKinnon and Latavius Murray have stepped in and had big games for Minnesota since the rookie went down. Jet McKinnon has been the more consistent of the two thanks to his dual threat ability as a pass catcher, but the running game is definitely not hurting. The passing game is solid as well, with Adam Thielen emerging as Case Keenum's favorite target. Stefon Diggs has been very quiet lately but expect him to bounce back soon enough. Don't expect the same of Sam Bradford though, who may have taken his last snap in purple as we've started hearing rumblings of Teddy Bridgewater's nearly healthy ass finally coming back into the fold.
6. New Orleans Saints (5-2) (▲2) — Who forgot about Drew Brees and the Saints? After three seasons of mediocrity I certainly had, but they are very much back in 2017. The Saints have been impressing everywhere they go, both with the vintage high-flying passing game of Brees and with the thunder and lightning combo of Mark Ingram and rookie Alvin Kamara on the ground. The defence is also vastly improved, allowing the 12th-least points in the league while also sitting at 12th in the league in takeaways. The last time Brees had such a complete team surrounding him, the Saints won the Super Bowl. I'm not saying they will this season, but we're gonna have to start taking these Saints seriously soon enough. Another divisional win, this week at home against the Bucs, will make their road back to the NFC South division crown that much easier.
7. Los Angeles Rams (5-2) (–) — The Rams took the week off in Week 8 but still lost their top spot in the NFC West to the Seahawks, who are coalescing very nicely up in Seattle. The Rams will have no problem finding their groove again though when they go up against the one-win Giants this week.
8. Seattle Seahawks (5-2) (▲1) — The Seahawks are finally back in first in the NFC West after one helluva shootout between Russell Wilson and rookie DeShaun Watson. This one was an instant classic. You know, one of those rare  games that you'll actually stay and watch when it inevitably comes on ESPN Classic in five years. The two QBs accounted for over 850 yards and eight touchdowns in the 41-38 win for the Seahawks. Truly remarkable. But Wilson was the better of the two, leading his team on a last-minute, game-winning touchdown and making it look easy as fuck in the process. Watson will get there, but for now, Russ remains the man. And now he has Duane Brown, one of the top tackles in the league, watching his six too. I think it's safe to lay the Legion of Boom in its grave though: this Seahawks defence couldn't stop shit though the air all game. We'll see how they do against Kirk and his receiving weapons when they come to town this Sunday.
9. Carolina Panthers (5-3) (▲1) — The Panthers kept pace with the Saints this week, managing a 17-3 win over the underachieving Bucs despite the offence barely scraping past 250 yards total. Killa Cam Newton couldn't even manage 200 total yards himself and that rushing attack isn't doing him any favours either, as the QB led his team in rushing on the day once again. Inexplicably, the Panthers then traded number 1 wideout Kelvin Benjamin to the Bills for 3rd and 7th round picks. Another head-scratcher of a trade that leaves me, Average Joe and Cam Newton all blind-sided. A Panthers offence that was already pretty devoid of playmakers now finds itself with even less talent. Killa Cam cannot be happy with this move from the Carolina brass, especially since they're just a half-game out of first in their division right now. Cam and his cats will need to get over the loss of their brother quickly, as they host the Falcons this week with a chance to give themselves an even bigger divisional lead over the defending NFC champs.
10. Buffalo Bills (5-2) (▲5)  — It seems like the Buffalo Bills may be for real people. After their dominant 34-14 win over the Raiders on Sunday, I wouldn't be surprised to see this team in the fight for a wild card spot come the end of the season. Shady McCoy has finally checked in for the 2017 season, as the shifty and elusive back has now gone for 241 yards and a trio of scores over his past two games. The Bills' D also continues to be the class of the NFL, allowing the second-least points, while leading the league in takeaways (17) and turnover differential (+14). When you win the turnover battle, you nearly always win the game. Josh McCown has played well for the Jets, but expect the Bills D to get to him for a turnover or two during their TNF tilt tonight. Did I mention they just acquired Kelvin Benjamin too? Yeah, they've got that Sammy Watkins replacement already.
11. Atlanta Falcons (4-3) (▲1) — The Falcons got the win this week, but it was definitely not a satisfying one, as the defending NFC Champs could barely squeak by the Jets. This Falcons team could easily be 2-5 if not for a couple late-game surges against a couple of cellar-dwelling teams this season. Julio Jones had only 74 yards and continues to be embarrassingly underused in the 2017 Falcons offence. Matt Ryan has been mediocre to say the least, putting up a weak 9-6 TD-INT ratio through the first seven games. Though Tevin Coleman broke off a 52-yard sprint in the Week 8 win, both him and Devonta Freeman have been underachieving this season as well. This offence is going to need to find its nitrous switch before they fall too far behind in a crowded NFC South. They have a great chance to get back in the mix when they visit Killa Cam and his Panthers this week.
12. Denver Broncos (3-4) (▼6) — Denver has a big fuckin' problem. Such a big problem that they named the guy the Texans are paying NOT to play in Houston as their starting QB going forward. I have truly never seen a team that is so complete with such a brutal problem at the quarterback position. Trevor Siemian is done after another three-pick game, and Brock Osweiler is the guy that's supposed to come in and make them feel better. The Browns didn't even want this duster. The defence is still a top unit, allowing the least yards per game to opponents. The Wizard of Osweiler is certainly not the answer, so the Broncos should just sign Colin Kaepernick or call it a season so they can draft a new QB before all their top flight defenders start getting old. Next up for the Broncos, losers of three straight, is the class of the NFL out in Philly.
13. Detroit Lions (3-4) (▼2) — Don't you love it when you throw for 423 yards and lay a big fat goose egg in the touchdown department? Matty Stafford did just that against the Steelers in a 20-15 loss on SNF in Week 8. But he seemed none too pleased about it. The Lions were able to neautralize both Antonio Brown and Le'Veon Bell all night, but unfortunately forgot about the kid Juju, who burned them for 193 yards. Matt Prater is a fuckin' beaut and a fantasy darling, but the Lions won't win many games where he's the only one scoring for them. The Lions play the State Farm-life-insurance-less Packers in another primetime game this Monday, so you can expect Matty to make it to pay-dirt more than once on MNF.
14. Green Bay Packers (4-3) (▼1) — The Packers took their bye this week, but it really doesn't matter because this team only goes as far as Aaron Rodgers takes them. And he's not taking them anywhere but the couch for this year's playoffs. Aaron Jones was a nice find for them at running back, but other than that this will be a wasted and lost season for the Packers. They'll look to keep face against the division-rival Lions this week.
15. Baltimore Ravens (4-4) (▲4) — I did not see that one coming. I guess the Ravens can only do blowouts. They lost 44-7 to the Jags in London, now they win 40-0 against a Cutler-less Dolphins team. I'm as confused as you are. What's not surprising is that Joe Flacco's shitty-ass offence was supplemented by two defensive touchdowns. And did you see that hit he took from Kiko Alonso? Jesus, the guy had Flacco calling for the check in the second quarter. Flacco has not been good this season, posting the lowest pass yards per game mark in the league and unfortunately for the Ravens, he'll be back under center in Week 9 against the Titans. On the bright side, the defence has been solid and rookie Alex Collins looked superb in rushing for 118 yards on the night. Collins will look to keep rolling against the Titans' 23rd-ranked rush defence this week.
16. Dallas Cowboys (4-3) (▲5) — Ezekiel Elliott dominated for the Cowboys once again in Week 8, putting up 150 yards and a pair of scores in the Cowboys' 33-19 rout over Washington this past Sunday. He's out for the next six weeks though as he will finally be forced to accept his suspension from the league. Alfred Morris, Darren McFadden and Rod Smith will take over rushing duties in a committee approach, but altogether they should match Zeke's production. The Cowboys play host to the high-powered Chiefs in their first game without Zeke. It'll be a tall task for Dak Prescott to match blows with the explosive Chiefs offence alone. And if he can't, I don't see the Cowboys being able to make a run and leapfrog the Eagles for the division crown.
17. D.C. Football Team (3-4) (▼3) — While the Cowboys are trending up even while losing Elliott, Washington is trending down as it has now lost two divisional games in a row. The 33-19 loss to the Cowboys left them even further behind the upstart Eagles, leaving little chance of for the DC boys to snag that division crown. They finally got a Jamison Crowder sighting on Sunday (seven receptions, 123 yards), but whether he was just passing through or staying for a week or two is still up in the air. Kirk Cousins continues to be great for DC, putting up a 103.3 passer rating through seven games this season that's good for third in the league. And as I say every week, Chris Thompson could always use some more touches. Good things happen when he touches the football. They'll look to get back in the groove this week when they visit the Seahawks.
18. Houston Texans (3-4) (▼1) — How sad do you think the Browns are right now that they didn't draft DeShaun Watson. I mean sure, he has some pretty sick toys in Houston—DeAndre Hopkins (224 yards and a TD) and Will Fuller (125 yards and two TDs)—but Watson has to be given most of the credit for the Texans' offensive come-up. The former Clemson Tiger is running away with the OROY award and we're barely at the halfway point of the season. Not only is this mf leading the league with 21 touchdowns (19 through the air, two on the ground) he's also boasting a 103.0 passer rating that's better than Russell Wilson's, Drew Brees' and Carson Wentz'. Forget Rookie of the Year, could Watson win the fucking MVP award in his first season? Expect another offensive explosion from DeShaun and the dudes when the Colts come to town this Sunday. Breaking News: scratch all dat. DeShaun Watson just tore his ACL in practice. RIP Texans.
19. Los Angeles Chargers (3-5) (▼1) — Despite the emotional high of three straight wins and an 87-yard touchdown sprint by Melvin Gordon to start the game, the Bolts were unable to top the Patriots in a hard-fought 21-13 loss this past Sunday. Gordon finished with 132 yards but I think that 87-yarder really took it outta the kid. I mean watch the end of that run. That boy is gassed. Melzinho's got stamina like I got stamina. Which is to say, he's got none. Phil Rivers wasn't so hot either, as he barely completed half of his passes in losing badly to Tom Brady in their little QB duel. Travis Benjamin running his dumb fuckin' ass into his own end zone on a punt return didn't help matters either. It seems like teams always do the stupidest shit against the Patriots doesn't it? Phil and the Bolo Boys will take their bye week to think about just how close they came to toppling the Pats.
20. Jacksonville Jaguars (4-3) (▲2) — The Jags and their next-level defence had a whole extra week to prepare for their Week 9 matchup. And it just so happens to be with the Bengals and Andy Dalton's dumb-ass. Expect Lenny to go for 100+ on the ground, Blake Bortles to complete 54 percent of his passes and the Jags' defence to grab at least three turnovers in an easy win for Shahid Khan's mustache's team.
21. Oakland Raiders (3-5) (▼5) — Who knows what to make of the Raiders. They win a thrilling game over the powerhouse Chiefs then turn around and get blown out by the Bills? I don't think Marshawn Lynch's suspension could've affected that offence this much. Lynch doesn't give a fuck anyway, he spent his week knocking teenagers on their asses at his old high school. That dude knows how to have a good time. The 2017 Raiders do not, as they've now gone 1-5 since their 2-0 start to the season. Seems like that explosion for Amari Cooper against the Chiefs was just an anomaly as well, as the AC/DC connection went back to its quiet ways in Week 8. The Raiders have a primetime date with the reeling Dolphins coming up this week, so hopefully they can get a couple kicks in while the Fins are down to give themselves a little more confidence going forward.
22. Cincinnati Bengals (3-4) (▲4)  — The Bengals got a win, but it was a one-pointer over the Colts, so it was really nothing to celebrate. AJ Green continues to be grossly underused, grabbing just three passes for the second straight week. I get that they want to force-feed Joe Mixon the ball for no reason I'll ever comprehend, but if Green ain't producing, this offence ain't rolling. And this defence is nothing to write home about either, especially with that POS scumbag Vontaze Burfict lurking around. A guy who's managed to be fined 10 times for $2.65 million for dangerous and illegal hits through his career. They should really consider a lifetime ban for that lowlife. Expect the Bengals to struggle greatly on offence when they visit the Jaguars' ferocious and swarming defence this week. Good luck, with that Andy Dalton.
23. Tennessee Titans (4-3) (–) — The Titans are coming off a much-needed bye, but they're also going up against a pretty hot Ravens team that won its last game 40-0. Marcus Mariota has been better than his draft-mate Jameis Winston this season, but that's not saying much. The Titans need their two-headed running attack to catch fire if they expect to win DeShaun Watson's division.
24. Miami Dolphins (4-3) (▼3) — The Dolphins should really have dropped further down the rankings this week but there are just too many other terrible teams to contend with. Matt Moore was so bad that they might actually give Jay Cutler the ball back in Week 9 for their primetime matchup with the Raiders. (That game should definitely be flexed to 1pm in favour of the Cowboys/Chiefs matchup in my opinion.) The 40-0 loss was so jarring for the kids down in South Beach that they shipped out one of their only consistent players in running back Jay Ajayi, whom they sent to Philly for pennies (a fourth-rounder). The Dolphins are an absolute mess this season, they can't get good QB play from Smokin' Jay or Matt Moore, their coaches are doing lines and trading dollars for dimes and their starting a tank while they're still above .500. You gotta feel for Jarvis Landry, DeVante Parker and Kenny Stills, who could be the best receiving corps in the league if only they had someone to throw to them.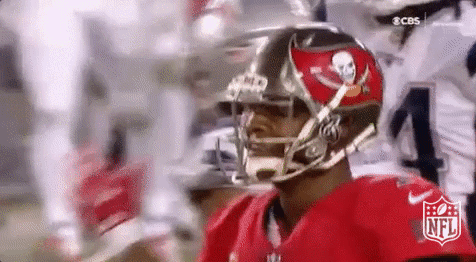 25. Tampa Bay Buccaneers (2-5) (▼1) — So I guess it turns out the Winston-Evans Express will not be headed for the playoffs for at least another season. The Bucs have underachieved greatly this year while the Panthers and Saints both boast as many wins as the Bucs have losses. Mike Evans has been doing what he can, ranking 12th in the league in yards while finding pay-dirt four times so far this season. Jameis Winston on the other hand, has eight turnovers in seven games and an 88.3 passer rating that is not going to cut it. If the Bucs can't find a way to get a win in the Big Easy against the Saints this week, they can kiss their playoff hopes goodbye for good. With the weapons he has at his disposal, there's really no reason for Winston to be playing this bad. If he doesn't right this ship, he won't be able to fend off the thoughts of 'bust' that will begin creeping into our minds and the minds of the Buccaneers brass alike.
26. Chicago Bears (3-5) (▼1)  — In his first game throwing over 20 passes, Mitchell Trubisky looked like a guy who'd never thrown 20 passes in an NFL game. That is to say, he was tentative with questionable decision-making. To put it mildly. Thankfully he still has Jordan Howard churning away in his backfield to keep the pressure off him and the mediocre passing game. Howard put up yet another 100-yard game, his third of the season. The Bears never really put a scare in the impressive Saints during the 20-12 loss, but they didn't let them run away with it either. Trubisky and his wideouts will get a much needed bye week to get some extra studying and extra reps in so they can try and find some semblance of a chemistry when they return in Week 10. I doubt they will though, I think Turbisky is a next-year kinda guy.
27. Arizona Cardinals (3-4) (–) — Adrian Peterson had another week to get familiar with the playbook, and he'll need it now that Carson Palmer is out for the year. The Cardinals will be riding Adrian Peterson for the rest of the season, so don't be surprised when he tops his Cardinals debut this week when his squad heads to the Bay to take on the winless Niners.
28. New York Jets (3-5) (–) — After nearly beating the Pats, the Jets nearly put the moves on New England's Super Bowl opponent in Week 8, taking a lead into the fourth against the Falcons but ultimately succumbing in a 25-20 loss to Matt Ryan's crew. Josh McCown continues to impress at QB for the Jets, while Robby Anderson and Austin Seferian-Jenkins have emerged as solid producers both for the Jets and for fantasy owners. The Jets aren't fooling themselves with playoff aspirations, but they are not an easy out by any means. They're a team completely devoid of stars, but this band of misfits is finding ways to give top teams a run for their money week in and week out. They turn around quick this week for a big divisional matchup with the upstart Bills tonight on TNF.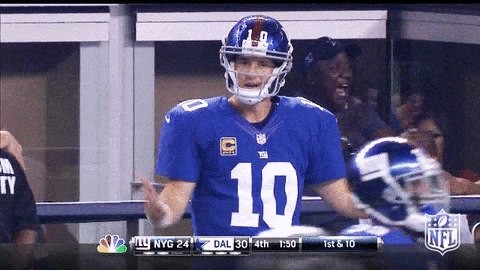 29. New York Giants (1-6) (–) — The Giants enjoyed a week where they didn't have to play a game and embarrass themselves further. They'll be back in the mix this week though, as Eli Manning tries to match wits with Jared Goff and the Rams' high-powered offence. Expect another big game from tight end Evan Engram, but other than him the Giants really have no other options on offence these days.
30. Indianapolis Colts (2-6) (–) — The Colts stayed put at no. 30 this week even though they nearly got their third win of the season against the Bengals this past Sunday. They lost 24-23 though, and have now placed Andrew Luck on the injured reserver list, so it's all in for Jacoby Brissett this season. That likely means maybe one or two more wins for the Colts during this lost season. Look for rookie back Marlon Mack to come out of the season as the undisputed starter though, the kid's got a ton of upside and the inconvenient truth about ol' Frank Gore is that he's old as fuck. Mover over for Marlon.
31. San Francisco 49ers (0-8) (–) — The Niners once again weren't even close in Week 8, losing 33-10 to the Eagles for their second-straight 20+-point loss. So they decided to do something about it in the front offices over there on the Bay: they traded a second-round pick for Tom Brady prodigy Jimmy Garoppolo. Kyle Shanahan's offence is notoriously tough to learn and the HC said he's not even going to guarantee Jimmy G gets in the game this season. With Cody Beathard stinking up the place though, I wouldn't be surprised to see Jimmy in there within the month.
32. Cleveland Browns (0-8) (–) — The Browns actually seemed like they were rocking with the Vikings early on at Twickenham Rugby Stadium in the UK. They converted a couple of Minnesota miscues into points, and even got a turnover-less performance from DeShone Kizer. Unfortunately Isaiah Crowell and Bryce Treggs were there to take over that role with a fumble apiece during the game. The 33-16 loss comes amid many rumours of just how many fucks the Browns' front office gives. And the answer is maybe half a fuck on a good day. No fucks shall be given about the Browns after 5pm though. Not only were they unable to secure Jimmy G like the Niners did, they couldn't even manage to get a supposed deal for the Bengals' AJ McCarron done before their time was up. I mean it's nice to spend time with the family Sashi Brown, but the Browns need a 100-hour work week kinda guy to change the fortunes of this cursed franchise. Just do the Browns and their poor, ridiculed fans a favour and step down my man. Your family would appreciate it, and so would the rest of Cleveland.