In the NFL Week 13 ended on a very rough note as the Steelers-Bengals matchup on Monday Night turned into an absolute bloodbath. The Steelers-Ravens rivalry is considered the biggest but Steelers-Bengals has arguably been worse in recent memory, with no less than three players leaving the game with head or back injuries. Steelers LB Ryan Shazier, who suffered a lower back injury, who was feared to have lost feeling in his lower half, has regained some feeling in his lower half. There has been very little information about the situation over the past day or so however, which is very disconcerting. If you showed someone who doesn't know what football is that Monday Night game, I'm sure they'd have a hard time understanding why anyone would play.
I know Colin Kaepernick won't play this season or maybe ever again in the NFL, but thank god he got his chance so that he was able to acquire the means with which he's been able to help so many people around the world. He was also honoured this week with Sports Illustrated's Muhammad Ali Legacy Award. And it was more than well-deserved. Kudos to you Kaepernick.
Elsewhere in the league the Eagles finally lost, which finally gave Tom Brady and the Pats the chance to hop into the top spot after eight straight wins. Running the ball is still leading to victory, as five of the six backs to top 100 yards this week also grabbed wins as well. The Vikings beat another impressive opponent, Jimmy G made his first start in the Bay and ate a W, Butch Cassidy and the Sundance Kid are still givin' err down in the Big Easy backfield and the Browns finally got their first win of the season.. Just kidding.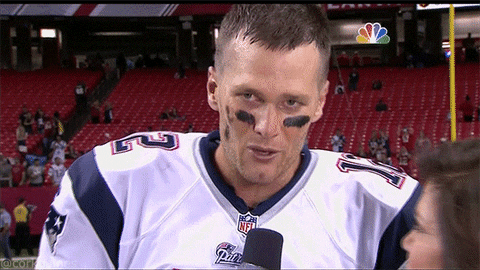 1. New England Patriots (10-2) (▲1) — The long wait is over and Tom Brady and the Patriots are back at the top of the power rankings after the Eagles' surprising loss to the Seahawks on Sunday night. Tommy Boy has been taking care of bidness this season. He's really dominating the QB field this season, no matter how depleted it is: Brady is sitting first in the league in passing yards (3,632), completions (300), average yards per pass (8.3), first down completions (182), first down percentage (41.6) and passer rating (109.7). He's also thrown the least interceptions of any full time starter (4) and sits second in both completion percentage (68.5) and passing touchdowns (26). I think we've found a pretty clear cut favourite for this year's MVP wouldn't you say? The fucking guy's 40 too eh. Fuck.
2. Minnesota Vikings (10-2) (▲2) — The Patriots sit at the top of the rankings because they have Tom Brady and he's so annoyingly great that you just can't not put them at no. 1 now that they're tied for the best record in football. But the team they're tied to, the good ol' Purple People Eaters, have been winning against much more impressive opponents: they've beaten both the Falcons and the Rams handily in two of their last three games, allowing a combined 16 points in those two contests to teams that usually average 52.9 points per game combined. That's what you call shut down defence. Xavier Rhodes, Harrison Smith and Everson Griffen continue to anchor a stellar defensive unit, but they're expected to be a top defence (they're no. 2 currently). It's Case Keenum's unit's appearance in the NFL's offensive top 5 (5th, 370.4 ypg) that has propelled Minnesota to new heights. Keenum's 17-5 touchdown to turnover ratio has been a boon for a Vikings defence that barely got five minutes to relax between series last season. Keenum is not only keeping the offence humming, he's allowing the defence extra rest so they can be even more dominant late into games when it counts the most. Make no mistake, these Vikings are legit contenders for the Super Bowl this season. And that shit is being held IN Minnesota too. A little extra incentive for the boys? I think so. Another tough matchup looms this week when they'll head to Killa Cam's den in Carolina to take on him and his cats.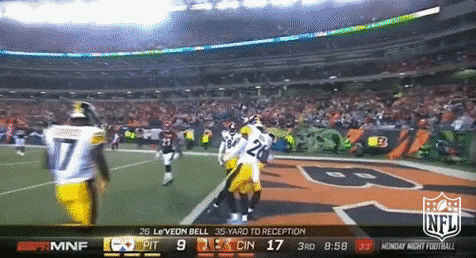 3. Pittsburgh Steelers (10-2) (–) — I really don't know what it is about sub-.500 teams, but the Steelers just can't seem to get in a groove against em. They lost to the damn Bears and barely beat the Browns, Colts and the Rodgers-less Packers this year. The Bengals aren't as bad as those teams but the Steelers really should've handled business better than they did, 17-3 halftime deficits are never ideal. Pittsburgh came out of the half and scored 20 points in the second half to Cincy's 3, including a wacky 35-yard touchdown catch for Le'Veon Bell and a very tough touchdown catch by Antonio Brown in which he was blatantly speared in the noggin. But you know that beauty Brown held on and celebrated the fuck outta that. The Steelers got it done in the end thanks to the boot of Chris Boswell once again, beating what seems to have become their arch-nemesis 23-20. This Monday nighter was one of the roughest, most vicious games I've ever seen in my nearly two decades of football-watching. Two players were carted off the field: first it was Steelers star backer Ryan Shazier who suffered a lower back injury on a tackle where he hit the runner straight on with his head, he has some movement in his lower extremities as this is written but it's been somewhat quiet on that front over the past day or two; and second was Vontaze Burfict, after Steelers rookie Juju Smith-Schuster absolutely crunched him on a crack-back block and proceeded to stand over Burfict after the hit. Burfict is going through concussion protocol and should be fine while Juju has been fined and suspended for the hit (Antonio Brown, who has been a victim of Burfict before, intimated that Juju's hit was karma and has offered to pay his teammate's fine). That's not even mentioning the handful of other players who were injured during the game. Either way, the Steelers came out with a win, but with the huge loss of Ryan Shazier, it was definitely a Pyrrhic victory. And don't look now Steelers, here come the Ravens for you on Sunday night. Great.
4. Philadelphia Eagles (10-2) (▼3) — I guess it had to end sometime right, no streak lasts forever. The Eagles have been beating up on lesser teams for a few weeks now but the Seahawks bitch-slapped them back to reality with their dominant 24-10 win over Philly. Carson Wentz threw for a lot more yards than usual on Sunday night, but also threw a lot less touchdowns and committed a lot more turnovers than usual as well. Wentz' fumble through the end zone—which turned Philly's chance inside the five to a touchback and the Seahawks' ball on the 25—really hurt the Eagles but it's good to go through some adversity. This is a young team with limited playoff experience outside of LeGarrette Blount so it'll be very interesting to see how they come off this loss and respond in their next game this week when they go to the City of Angels to take on Goff n Gurley and their gang of Rams. In a battle of the top two picks from last season (Goff no.1, Wentz no.2), there will be more than a win at stake, there'll be bragging rights for the young pivots, even if they don't admit it. I thought the Eagles had too many weapons to be stopped, but an old and battered Seahawks defence held them to just 10 points, so they're not as invincible as we may have thought. While the Eagles (along with the Viks) are the only teams to sit in the top 5 in both offence and defence, I still think the Rams will put up a lot of points on the Eagles. Wentzy will have to match him every step of the way.
5. Los Angeles Rams (9-3) (–) — The Rams topped 30 points for the seventh time this season last week when they dismantled the Cardinals 32-16. It was an easy one for the Rams after a very disappointing showing in a big loss to the Vikings the week before, but it was also an important one. Because the Seahawks ended up upsetting the Eagles on SNF, this win keeps the Rams' one-game cushion over Russell and the boys before they take on those same Eagles. I said the Seahawks defence is old, and it is, but it's still much better than what the Rams have back there, so expect this one to be a shootout between the California Golden Boy Jared Goff and North Dakota Strong Carson Wentz. While Wentz boasts an innumerable number of weapons though, Goff's war chest is comparably empty, with the notable exception of co-NFL touchdown leader Todd Gurley (11 total TDs). Robert Woods will most likely be out again and Sammy Watkins hasn't been stellar in his absence. The Rams would do well to win this one, but don't be surprised if both they and the Seahawks (@ Jacksonville) both lose this week, keeping LA at the top of the NFC West for at least one more week.
6. New Orleans Saints (9-3) (–) — Talk about a two-headed monster. Goddamn. Mark Ingram and Alvin Kamara are defying the laws of physics with their recent onslaught, as New Orleans' one-two punch out of the backfield has combined for seven touchdowns and 248 combined scrimmage yards per game over their past three. These dudes just cannot be stopped. Ingram has been playing great but it's the Offensive Rookie of the Year favourite Kamara that has really been a revelation: the kid's now tied with Todd Gurley for most touchdowns in the league, and leads all non kickers in points thanks to a two-point convert on top of that. The slippery and shifty third-round pick out of Tennessee is even the priciest back on daily fantasy sites like FanDuel. Both backs are on pace for 1,500+ yards from scrimmage, and they'd be the first teammates to do that in NFL history if they manage it. That Saints rushing attack has been something else in short, sitting at third in the league now with 142.6 yards per game on the ground. But you know what else the Saints are third-best in the league in? Passing yards per game, with 266.0. With all this talk about the running game it's almost forgivable to forget New Orleans still has a future Hall of Famer at QB in Drew Brees, who's sitting in the top five in damn near every relevant quarterbacking category except touchdowns. Those have been all Alvin Kamara. This guy can score from literally anywhere at any time. He's scored on a 74-yard touchdown run off tackle, a 33-yard screen pass, he's scored many a touchdown from inside the ten and just this week he burst up the middle and trucked a man on the way to pay-dirt for a 20-yard score. The Falcons defensive coaches probably haven't slept all week, they're almost lucky the torture of trying to prepare for this offence only lasts until Thursday Night Football.
7. Seattle Seahawks (8-4) (▲1) — The Seahawks surprised everyone with their convincing 24-10 win over the red-hot Eagles last week. They forced Carson Wentz into his first multi-turnover game of the season and held one of the best offences in the game to just 10 points, their lowest total of the season. This doesn't convince me the Legion of Boom is back, but it does confirm that Seattle still has a solid defence that can ball out when they really need it. Having Russell the Magic back there doesn't hurt your chances either, as the Seahawks' lone bright spot on offence once played out of his mind to get his team the win, tossing all three scores and accounting for 79 percent of the yardage accrued by the Seahawks in the game. Russell will have his work cut out for him this week though, as the Magician finally goes up against the best defence in the league. These guys in Jacksonville aren't just talented but they're disciplined as well, it'll be tough for Russ to be as creative as he usually is with such a well-rounded defence on the other side. If the defence could take advantage of the fact that the Jacksonville quarterback is Blake Bortles, that should likely give Wilson enough ammo against the Jags' stellar defence.
8. Carolina Panthers (8-4) (▼1) — Killa Cam and his cats were unable to withstand the onslaught of the Big Easy's Jambalaya backfield, as they fell 31-21 to the Saints last week, which also gave the Saints a one-game cushion in the division. Luckily the Falcons also fell this week, so the Panthers themselves maintained a one-game cushion over them in turn. It won't get any easier this week though. Carolina got caught in the inexplicable tornado that is the Saints' offence, but this week they'll go up against the even more inexplicable success of Case Keenum and the Vikings offence. It's tough for me to see the Vikings not forcing at least one turnover in the game while harassing Cam Newton all day. Cam don't like that much.
9. Jacksonville Jaguars (8-4) (▲1) — The Jags did what they were supposed to in beating the hapless Colts 30-10 in their last game, but they'll need to get serious this week with Russell Wilson and his bag of tricks coming to town. The Jags' D continues to be the class of the NFL, carrying a paltry offence to several wins throughout this season. Last week Blake Bortles actually balled out though. I know right, weird thing to read. It felt just as weird writing it, trust me. Blakey tossed for over 300 yards, two scores, a nearly 120 passer rating and best of all, committed zero turnovers. That deserves a pat on the back Blake, good shit out there. Somehow I doubt he'll replicate that performance this week when they welcome a Seahawks defence to town that just held one of the best offences in the league to 10 points. Since the Jags usually just ride Leonard Fournette on offence, it must be disconcerting for them to see that the Seattle D sits at seventh in the league in stopping the run, allowing just 3.8 yards per carry. Lenny could be in for a tough one this week, unless the Jags fall behind early, in which case we've seen a lot more TJ Yeldon than Fournette.
10. Atlanta Falcons (7-5) (▼1) — The Falcons really let a great opportunity slide last week. With the Saints and Panthers squaring off it guaranteed one of them had to lose which meant Atlanta could jump into a tie with the loser for that final NFC playoff spot. Unfortunately the Vikings continued to roll, winning 14-9 over Atlanta, which ended the little roll the Falcons had found themselves on. Coming off one of the best single-game performances by a receiver of all time, Julio Jones was unfortunately completely and utterly shut the fuck down by Xavier Rhodes, managing just two grabs on six targets for 24 yards. The Julio road to victory was definitely closed for business with Xavier in town. Unfortunately the only player that was finding room on the Falcons talented offence was Devonta Freeman, who was just coming off a two-week absence because of multiple concussions. The Falcons might need to find a route other than the Julio one again this week, as Atlanta's greyhound draws another tough matchup with Saints rookie corner Marshon Lattimore, who the new football bible, Pro Football Focus, ranks as the best corner this season. Hopefully the Falcons can get their two-headed running attack to match the onslaught that their counterpart with the Saints will undoubtedly unleash on the Falcons defence on TNF.
11. Los Angeles Chargers (6-6) (▲4) — It's almost as if the Chargers and the Chiefs can't win at the same time, as the Bolts have gone the tortoise route, starting slow and going from 1-4 to 6-6 while the Chiefs took the hare route, starting off 5-0 before free-falling into a tie with the Chargers at 6-6 as well. Philip Rivers has been slinging the rock left, right and centre to Keenan Allen, who's been catching everything recently. The fifth-year wideout has caught 33 passes for 436 yards and four touchdowns over the past three games. If that's not domination I don't know what is. This guy Keenan is really doing his best Antonio Brown impression right now, but with a sicker beard. Joey Bosa and Melvin Ingram continue to be among the best pass-rushing duos in the league, combining for 20 sacks so far this season, including Bosa's game-sealing strip-sack of DeShone Kizer late last week with the Browns threatening in the red zone. The Chargers will look to keep the home crowd happy this week when Kirk Cousins and the DC boys come to town.
12. Tennessee Titans (8-4) (▲1) — I really don't know how the Titans are 8-4 right now. I guess it makes sense because they have an easy schedule so they can beat shitty teams like they did last week against Tom Savage's Texans, but still. They still lead the division, tied with a team that boasts the best defence in the league by a wide margin. It just doesn't make sense. With any other 8-4 team I'd bet the house that they would win in the desert against the Cardinals this week, but I just can't bring myself to do it with the Titans. Even when they play a team like Arizona with zero playoff aspirations and a litany of injuries all over. I'm gonna call them the favourite this week out west, but it's a very, very tentative call.
13. Baltimore Ravens (7-5) (▲1) — The Ravens just won't quit. Every time Joe Flacco tries to end their season, that defence just finds a way to keep them in the playoff race. Just kidding, Flacco actually played well last week in the Ravens' 44-20 win over the Lions, but without the defence's three takeaways (one of which Eric Weddle took home for a score) and constant pressure on Matt Stafford (they sacked him thrice and chased him from the game before picking off his replacement as well) they surely wouldn't have won as handily. This week one of the NFL's best rivalries is renewed when the Ravens head to Pittsburgh to take on their arch-nemesis: the Steelers, winners of seven straight. Any kind of prediction you wanna make about this week's Sunday Night Football matchup is irrelevant: when the Steelers and Ravens play there's no telling what the fuck is gonna happen. Hines Ward could knock out Ed Reed, the Ravens could absolutely embarrass the Steelers like they did on opening day a couple years ago, Troy Polamalu could get a game-sealing pick-six or strip-sack, Ray Lewis could shatter a man's collarbone or Byron Leftwich could score with his feet from 31 yards out. Yeah, that really happened, look it up. I told you anything could happen. If the Ravens can get the win they could find themselves all of a sudden just two games back of the Steelers and in the driver's seat in the Wild Card race. If they lose they're still in the Wild Card race but they'll have a tougher road to the playoffs. Plus no Raven wants to lose to a damn Steeler. C'man.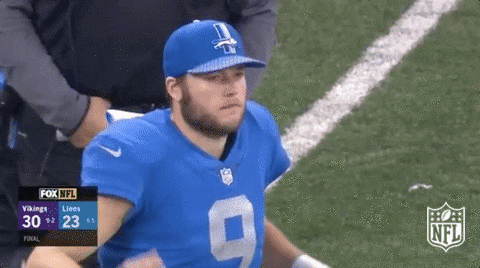 14. Detroit Lions (6-6) (▼3) — So there go the Lions' playoff chances yet again. They really looked good to make a run at a Wild Card spot in a competitive NFC field, but after getting fucking skulled by Joe Flacco and the Ravens they're mathematically pretty much out of it. Plus no one who loses 44-20 should be allowed in the playoffs anyway. Matt Stafford should play this week despite a hand injury, but don't expect him to be anything too impressive, even against the porous Buccaneers. All run, no pass with Barry Sanders in the 90s. All pass, no run with Matty Stafford in the 2010s. Detroit just can't win, can it. Except in hockey, the Red Wings are still good right? Haha, joking, all Detroit teams suck balls right now, sorry boys. I'm sure it'll get better soon.
15. Dallas Cowboys (6-6) (▲1) — The Cowboys were back in a big way on Thursday when they hung 38 points on a middling Washington defence. 'Zeke is still gone, but Alfred Morris and the o-line were able to pick up both his and Dak Prescott's slack in this one, piling up 212 yards and two scores on the ground in the divisional matchup. The Cowboys probably aren't seeing the playoffs this season, but they can still make the race interesting and finish with a respectable record. They'll start with possibly the easiest matchup they could think of as they get the Giants as they come off a Geno Smith start, an Eli Manning benching, a head coach firing and a general manager firing. That shit spells disarray. The Giants are all over the place, they're down. And who better than the Cowboys to kick someone while they're down? 16. Kansas City Chiefs (6-6) (▼4) — The Chiefs' season since Week 6 can really be summed up in the gif above. Since that week, the Chiefs can't seem to do anything right, as they've dropped six of their last seven games and now sit in a tie with the Chargers, who conversely started the season off 1-4. Where once stood a Super Bowl contender now sits a stretch for even a Wild Card spot in the weak AFC playoff field. All-Pro cornerback Marcus Peters was suspended by Andy the Walrus for his flag antics, which is admirable, but really won't help your team in the long run if you really still believe you can make the playoffs. Alex Smith is evidently no longer an MVP candidate, but he's still having an impressive season. Smith has really found something with Tyreek Hill, as the veteran game manager has been able to nearly transcend that label thanks to Hill's game-breaking speed. If the Chiefs lose to the Raiders again when the Black and Silver come to town this week, they're really done. Andy's seat might start getting a little warm too. By the way, anyone seen Kareem Hunt? I've got a bone to pick with him.
17. Green Bay Packers (6-6) (▲2) —  Could we have another prodigy in the making at Lambeau? I doubt it, but Brett Hundley has been a lot better than I and I'm sure a lot of others thought he'd be filling in for one of the best quarterbacks ever. He nearly engineered a HUGE upset win over the Steelers a couple of weeks ago and this week led the Pack down the field in overtime to set up the game-winning score. He's shown a lot more savvy and confidence as the weeks have gone on. I personally doubt the Packers are in position for a playoff spot when Rodgers is eligible to return, so I'd like to see Hundley close out the season and maybe set himself up for a big payday in the next couple of years. Not to mention the rookie running backs: Jamaal Williams ran all over the Bucs for 113 yards and a touchdown before fellow rookie Aaron Jones subbed in to finish the game off with a 20-yard touchdown scamper in OT. The Pack will look to make it two straight this week when they head to Ohio to take on the winless but slightly competitive Browns.
18. D.C. Football Team (5-7) (▼1) — Divisional games are always hard to call, but after seeing the Cowboys shit the bed the previous two weeks, their 38-14 win over Washington was still surprising. After nearly beating the Saints and putting up 30 against a tough Vikings defence, Kirk Cousins and the boys were unable to get anything going against a subpar Dallas defence. Kirk's been having a rough go of it lately, committing four turnovers over his past two games, including three in the Thursday night loss to Dallas. Terrelle Pryor hasn't done shit all season and Jamison Crowder was nowhere to be found early either. Crowder has been turning up lately though. The slot-back out of Duke has caught 32 balls for 479 yards over the past five weeks as Kirk gets him back involved in the offence. It's likely too late for D.C. to make a run at the playoffs in the crowded NFC but they'll look to get back in the win column this week when they head to LA to take on the upstart Chargers. Beware of Bosa, Kirk, beware of Bosa.
19. Oakland Raiders (6-6) (▲1) — The Raiders won again last week, 24-17 over the Giants, but other than that whole chain-snatching business a couple weeks back, their games are still yawns. Other than that fuckin' beauty Marshawn Lynch of course, who's 50-yard touchdown run was his longest since joining his hometown team. Derek Carr has actually been decent the last couple of weeks, and with the Chargers rough start and the Chiefs rough finish, the Raiders are somehow tied for a division lead right now. Ridiculous I know but that's where we are now in the uber-disappointing AFC West. The Raiders will look to jump into just a two-way tie for first place as they head to Kansas City to take on the reeling Chiefs, who will be without suspended All-Pro corner Marcus Peters. That should actually be a good game, but whether it'll be better than No Script is still very questionable.
20. Buffalo Bills (6-6) (▼2)  — The Bills actually did pretty well in holding the Patriots to just 23 points but it was still way more than enough to top the 3 points T-Mobile was able to put up with the Bills offence. They had Tom Brady somewhat frustrated on the day, and Rob Gronkowski was so rattled that for some reason he decided to nail a Bills player in the head after the play, antics which have earned him a one-game suspension from the league. The Bills couldn't get any touchdowns on the field but they did get another dildo. So that's somethin'. Bills Mafia will be expecting a big bounce back win this week at home against the crummy Colts though. The Bills would do well to make it happen: they're actually still in the race for a playoff spot in the weak AFC.
21. New York Jets (5-7) (▲3) — Robby Anderson continues to ball out week in and week out. He'll line up outside or in the slot. He'll catch screens, passes over the middle or deep balls. Anderson has been a top ten wideout over the past month, putting up 338 yards with a trio of trips to pay-dirt in his past three games. Fortunately, he was joined in topping 100 yards by fellow wideout Jermaine Kearse this week, as the Jets offence balled all over the Chiefs in a surprising 38-31 win. Josh McCown has been stellar for the Jets lately too, tossing for 300 yards per game over the past three while tossing five TDs against just two turnovers. Don't look now but the Jets are creeping back toward .500 as they follow up their big win at Arrowhead with a trip to Mile High to play the only team with a worse losing streak than the Chiefs (other than the Browns, obviously), the Broncos.
22. Cincinnati Bengals (5-7) (▼1) — The rivalry between the Steelers and the Bengals has really been taken to the next level over the past couple of years, and Vontaze Burfict always seems to be somewhere in the middle of it. He's considered the dirtiest player the league's ever seen, having been forced to pay the league a league-record $805k in fines over the course of his illustrious career. In 2015 he made the tackle that tore Le'Veon Bell's ACL then laid possibly the dirtiest hit in recent memory on Antonio Brown in their subsequent playoff matchup, earning a penalty that essentially sealed the game for the Steelers. This week Burfict found himself with the shoe on the other foot after the youngest player in the league, Steelers wideout Juju Smith-Schuster, laid a crunching crack-back block on him during their Monday Night Football matchup. No doubt that one was a longtime coming for Burfict, as Antonio Brown could be heard screaming 'karma' in the background while Juju answered questions about the hit after the game. It wasn't over there though, because safety George Iloka felt the need to get the Steelers back for getting Burfict back for his many grievances. Iloka's dirty hit to the head of Antonio Brown didn't dislodge the ball (which was secured by a very hyped Brown for the game-tying TD) and earned the safety a suspension this week alongside Juju. That sequence took centre stage with this game, but the Bengals also saw rookie running back Joe Mixon go down with a concussion and Andy Dalton and AJ Green absolutely disappear in the second half of a 23-20 loss after putting up 17 points in the first half. Cincy will look to right the ship this week when they welcome the Bears to town.
23. Houston Texans (4-8) (▼1) —  It's really a goddamn shame. Every time I watch or think about these Texans I can't help but think what if. What if any combination of DeShaun Watson, Whitney Mercilus, JJ Watt and Donte Foreman didn't suffer season-ending injuries? Or even just one of them. The skeleton crew those injured few left behind are doing their best to stay relevant but they're really not doing a great job. DeAndre Hopkins is DeAndre Hopkins but other than him, there's really nothing impressive about this team. Their 24-13 loss to the Titans last week was really quite dull. Don't be surprised to see Jimmy G and the Niners ball out against the depleted Texans this week when they host San Francisco.
That's a 42 yd rush for Kenyan Drake…#FinsUp 26#BroncosCountry 9#DENvsMIA pic.twitter.com/VLxWiJscao

— Renegade Denver (@R_DenverSports) December 3, 2017
24. Miami Dolphins (5-7) (▲3) — I really thought when I saw a team score two defensive touchdowns and two safeties in a game it would be against the Dolphins. But instead, the Dolphins did it themselves, with more than a little help from their neighborhood shit-baller Trevor Siemian. The Dolphins should enjoy that drubbing of the coldest team in football because this week they have to head up north into the cold, dark cave that is Gilette Stadium to take on the hottest team in football, the Patriots. I think it goes without saying that Tom Brady will be a lot less help to the Dolphins than good ol' Trev was last week. The only thing I can say with confidence and positivity about the Dolphins for this week is that Jarvis Landry will have at least five catches. Whether those go for 27 or 146 yards I don't know, but that boy gonna get his looks.
25. Arizona Cardinals (5-7) (▲1) — The Cardinals really didn't deserve to jump up a spot but hey, sometimes there are victims of circumstance and sometimes there are benefactors of circumstance. This week the Cards are the latter. They didn't have Adrian Peterson (neck) and lost handily to the high-powered offence of the Rams last week and they're now starting Blaine Gabbert at quarterback. I mean, the guy's a good fill-in but the Cardinals have five wins already, so they're not getting a top pick or a top quarterback in the draft. I guess they can hope Carson Palmer comes back, but he was pretty brutal before he went down anyway. It might be time for Palmer to retire and the Cardinals to move on from him and Drew Stanton, who also went down like a house of cards this season. They'll host the Titans in the desert this week, most likely without Adrian Peterson, who continues to miss practice with a neck injury. Neck injuries are one of those ones you really don't wanna mess with, so don't be surprised to see him sidelined again this week.
26. San Francisco 49ers (2-10) (▲5) — Jimmy G is finally in the game, and the Bay could not be more pumped if they were at a Warriors game. Well, yeah they probably could, those dudes can ball. But hey, Jimmy G is exciting too guys. The Messiah has finally arrived and he played.. solid in his Niners debut. He did throw a pick without throwing a touchdown, but he still had a solid game, completing 70.3 percent of his passes (a stellar mark) for 293 yards while also leading his squad down the field late in the game for the game-winning field goal. The Niners aren't contenders now but they're not gonna roll over either. The Texans should expect an even better Jimmy Garoppolo this week when he heads to Texas with another week of playbook study and his first start as #theguy under his belt now. This is probably the only team near the bottom of the rankings that shouldn't be tanking right now. Sure they could use an early pick, but they would also do well to unleash Jimmy G and see what they really have in the young prodigy. I can't lie, I'm excited to see what they've got down there.
27. Tampa Bay Buccaneers (4-8) (▼2) — So Jameis Winston came back this week but the Bucs played arguably worse with their 'star' QB back in. I don't know how but the Buccaneers somehow managed to lose to the Rodgers-less Packers, allowing Green Bay rookie Jamaal Williams to run all over them and then back again. If the Bucs can't beat a Packers team without Aaron Rodgers, I doubt they can beat the Matt Stafford-led Lions this week. The Lions did just get slapped by the Ravens though, so, I guess you never know. I can't help but be disappointed in the Winston-Evans Express this season, which turned into a dud instead of the iconic duo they have the potential to become.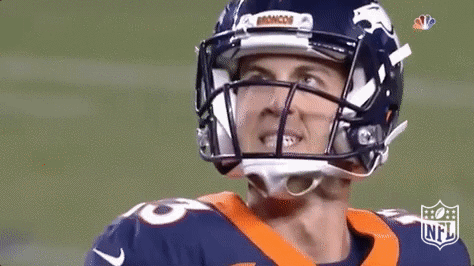 28. Denver Broncos (3-9) (▼5) — The Broncos have finally made it to the bottom section of the rankings after a couple months of consistent free-falling. They were honestly one of my top teams in the first four weeks. I thought the Trevor Siemian era had started in Denver and they were gonna continue to have success like Peyton Manning never left. Unfortunately, they have instead hit rock bottom. They've been so damn bad, that Trevor Siemian was benched for Brock Osweiler (who the Texans are essentially paying not to play for them) who was in turn benched for Paxton Lynch. Lynch, who brought with him some semblance of hope, was promptly injured and replaced by none other than Siemian, who tossed a trio of INTs and gave up two safeties this past week during an embarrassing 35-9 loss to the similarly quarterback-challenged Dolphins. You see, it all comes full circle. At the start of the season, could you have imagined that the Broncos would end up underdogs to the Jets in their matchup this week? You never know with the NFL, man. Shit gets crazy out there.
29. Chicago Bears (3-9) (▼1) — I know this was something of a lost season for the Bears but damn man. They lost this past week to the previously one-win Niners as Mitchell Trubisky continues to be the picture of mediocrity and Jordan Howard continues to slumber. Howard's only managed 44 yards the past two games, which is not nearly enough if the Bears expect opposing defences to load the box to stop him and give Trubisky has an easier go reading the coverage. Trubisky has now thrown five touchdowns against seven turnovers and has only managed over 200 yards once in eight games. For a team that's usually playing from behind, the lack of even garbage time production is somewhat concerning. The Bears would benefit greatly from a high draft pick in this year's upcoming draft, so they might want to start playing their younger players in the hopes of finding some diamonds in the rough as well as snagging an earlier draft pick. The tank would be in full effect in Cincinnati this week if I were John Fox (thank god I'm not).
Here is your monthly TY Hilton big play : pic.twitter.com/J8Zj41sFtm

— TheCoachAndColeShow (@CoachAndCole) December 3, 2017
30. Indianapolis Colts (3-9) (▼1) — So the Colts lost again, this time 30-10 to the Jaguars, which isn't surprising. But they let Blake Bortles carve their asses UP. The guy threw for 309 yards and two touchdowns with a 119.8 passer rating. I know the Colts are terrible and all but to allow Bortles to do that to your team just shows a lack of self-respect. The Colts did get some good news during the game though. Firstly, we finally found TY Hilton are many weeks of searching. We don't know where he was hiding out in November, but he's back for holidays and presents and a 40-yard touchdown now and then. Meanwhile, old reliable Frank Gore just kept on chugging and chugging and finally passed both the Bus and LaDainian Tomlinson for 5th on the all-time rushing list with 13,697 yards throughout his 13 year career. He's a surefire Hall of Famer but here's the Inconvenient Truth: only Emmitt, Barry, Walter and Curtis have more yards than he does now. Just think about how impressive that is for a guy that has toiled on absolutely brutal Niners and Colts teams his entire career a la Barry Sanders. Bravo on an amazing career Frankie, you will be missed when you're gone. Expect him to give way to rookie Marlon Mack even more after passing that milestone as well, since this could very well be Gore's final season, he's past all the milestones he's gonna pass and the Colts have nothing left to play for. Why not give the kid some added looks to get him ready for next season? We'll see how they handle the backfield situation this week when they head to snowy Buffalo to take on the Bills.
31. New York Giants (2-10) (▼1) — Am I glad that fuckin' fail of a Ben McAdoo experiment is over. And yeah, might as well throw the general manager Mike Reese on the dumpster fire too, it's getting cold in New York. To LITERALLY no one's surprise, like literally zero people, Geno Smith lost two fumbles and lost yet another game for a New York team. It don't matter what jersey green, white red or blue, the guy's a shit-baller. Plain and simple. And McAdoo's creepy old ass had to ruin a perfectly good streak by Eli Manning just to stir the pot and 'see what they had' in Geno. The fact that you didn't know what you had in Geno Smith should've been grounds for dismissal right on the spot. But I guess the streak had to suffer for the greater good of the Giants. Eli will be back under centre for the New York Football Giants this week when they host the Cowboys in a divisional matchup which I'm sure I have no idea how it will play out. When AFC North teams meet, there's bloodshed, when NFC East teams meet, I don't know what the hell's gonna happen. I think Dallas wins though yeah? No offence there Eli.
32. Cleveland Browns (0-12) (–) — Even though they haven't won a game all season and the Chargers are red-hot, I still thought the Browns had a very real chance at winning this past week. I mean, their only win came against the Bolts last year, why not this year too? Plus Flash Gordon was back in the mix with 85 yards, it seemed like the stars were all aligning—kinda. Down 19-10 with about five minutes left DeShone Kizer drove the Brownies down into the red zone, threatening to make it a one score game. But what did you expect, the Browns to score? Nah. What they did is commit another red zone turnover. As Kizer rolled to his left looking downfield he was somehow completely oblivious to last year's Defensive Rookie of the Year bearing down on him at full speed, so Joey Bosa sacked the shit outta that kid and forced a fumble too, which the Chargers recovered. I just wonder how loud is it in that stadium really, can those linemen that just got dusted by Bosa not try to scream at their QB that he's about to get eaten up in one, great big, QB-sized bite? Either way, the Chargers ran the clock out after that and the Browns fell to 0-12. But you know what the Browns did? They covered the motherfucking spread and yours truly had just enough balls to put money on Cleveland losing by less than 15 points. Crazy right? But I believed the Browns could put up a fight and by golly those Browns didn't let me down.. You think anyone's ever said that sentence before? They'll try again next week when they host the Packers in what I believe is another very winnable game for these lovable losers. Oh yeah, and that dust Sashi Brown is finally out of the front office after a 1-27 record.