The Pro Bowl is over and done with, Alex Smith has been shipped out to DC for a dude that might still not even know what happened, Tom Brady is a great QB but a very weird father and Von Miller's got the most expensive flatulence in the land. Now, we're in the midst of the Super Bowl Week festivities and you know what that means: let's hand out some fuckin' hardware boys!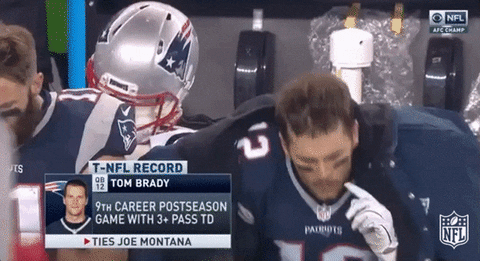 Most Valuable Player — There's been a photo going around lately that seems to give away who the league MVP will be this season, but really, I don't think most of us needed that picture to be pretty damn sure Tom Brady the son-smoocher is gonna win another league MVP award this season, giving him a trifecta for his career. Carson Wentz had a very strong case and likely would've won had he played out the full season, but he didn't, so it's Tommy time again. Brady had a classic Brady season as he sprinkled top five finishes all across the board, topping the league in passing yards and first down passes, finishing runner-up in completions and 20+ yard passes, third in touchdown passes and passer rating, fourth in yards per completion and fifth in completion percentage. Not only did he dominate in every way possible on the stat sheet, he also engineered three fourth-quarterback comebacks, one of which came against no. 2 seed Pittsburgh and the other coming a couple weeks ago against the Jags in the championship. At 40 and despite some very, very questionable lip-to-lip contact with his son (questionable for two reasons: one, what the fuck? and two, why the fuck did the kid have to come back and give him more than "just a peck", Spidey-styles no less. Barstool Sports has come up with a theory that I definitely subscribe to), Tommy Gun will become the oldest MVP in league history—even while being sacked 35 times, ninth most in the league this season and fourth most in his career. I hate it, but it's inevitable.
Pick: Tom Brady, QB, New England Patriots
Offensive Player of the Year — The only player other than Wentz that really has any kind of shot at the MVP is LA Rams tailback Todd Gurley, who had the fucking resurrection of resurgences this season after putting up a real stinker during the 2016 campaign. But I guess you can't blame him for 2016, when he was under the dark rule of Mr. 7-9 himself, Jeff Fisher. With a new coach and a rejuvenated passing game, defences were no longer able to stack the box to stop Gurley like they did in 2016. Gurley responded with his best season to date, topping the league in scrimmage yards (2,093) and total touchdowns (19). If you're talking about straight-up offensive production, which is essentially what the OPOY is all about, you can't ask for more than the league leader in both yards and touchdowns. A case can be made for Tom Brady considering his statistical dominance in the passing game: the same player that won the MVP also won the OPOY in five of the last ten seasons, two of which were Brady. Brady wasn't absolutely bonkers this season though, so I think the NFL is gonna do something it hates and spread the wealth at the NFL Honors ceremony and send young Gurley home with some hardware.
Pick: Todd Gurley, RB, Los Angeles Rams
Defensive Player of the Year — This is the only award of the night that's somewhat up in the air: either Los Angeles DT Aaron Donald or Jacksonville DE Calais Campbell will be taking the award home. My pick (as well as the popular pick) is Campbell. The stats are all very similar, but the overall success of Jacksonville and specifically its defence will definitely improve Campbell's chances at winning the award and the fact that the rest of the Jags defensive line also had all-star caliber seasons adds to Campbell's argument. Campbell topped Donald in sacks (14.5 to 11.5) as well as QB hits, tackles for losses and passes swatted while Donald holds the edge in forced fumbles, 5 to 2. The argument can be made that Donald deserves the award because he was able to put up numbers like that despite having no help from the rest of his defence, but I think that Campbell's spot as the top sacker in the AFC along with the fact that he played in, and was an integral part of, arguably the best defence in the league will give him the slight edge he needs to take home the hardware that's been eluding him throughout his 10-year career.
Pick: Calais Campbell, DE, Jacksonville Jaguars
Offensive Rookie of the Year — This is really the only other award on the night where any thought needs to be put into who will take home the hardware—but not really though. Chiefs running back Kareem Hunt seemed like a shoe-in after he busted all over the Patriots slumbering defence on opening day, but now on the eve of the Super Bowl, it's evident which rookie back deserves the honor: the Saintss Alvin Kamara. Kamara has become a bonafide run or pass threat, as he finished in the top 30 in both receiving (826, 29th) and rushing (728, 25th) yardage, the only player in the league to achieve that this season. He led all running backs and all rookies in receptions (81) and ranked second in the league in total touchdowns, with 14 (eight rushing, five receiving and one kickoff return). Kamara displayed nearly unprecedented burst and elusiveness in putting up 16 20+ yard plays and racking up 1,554 yards from scrimmage, good for sixth in the league. While Hunt did lead the league in rushing, there's no doubt in my mind that Kamara, the slipperiest fuck in the league and a guy who mind-bogglingly slipped to the third round of this year's draft, will be taking home the OROY award.
Pick: Alvin Kamara, RB, New Orleans Saints Defensive Rookie of the Year — This is probably the most obvious award of the evening, as it seems as though the Saints' no. 11 overall pick this season has been running away with this award since the jump. Cornerback Marshon Lattimore's win in this category will likely give the surprising 2017 Saints a clean sweep in the rookie categories. When you watch these rookies play, the Saints' success this season becomes a lot less surprising though. Lattimore was a beast from the start this season, locking down his side of the field and anchoring a revamped secondary that saw two rookies earn starting roles during the season. Tre'Davious White of the Bills deserves honorable mention for filling in the gap left by Stephon Gilmore quite seamlessly, but this award was Lattimore's to lose all season—and he sure as shit did not lose it. The former Buckeye led all rookies with 23 passes defended and five interceptions over the course of the season (including a mind-boggling pick against the Falcons he secured via his derriere), one of which he returned to pay-dirt for his first career touchdown. Lattimore didn't shy away either, as he also put up 52 tackles and forced a fumble during his 13-game rookie year. The Cleveland native was downright disrespectful to opposing offences this season, not allowing even one measly touchdown in his coverage all year-long while also holding opponents to the third-lowest passer rating (45.3) in the league and earning the seventh-best cornerback rating (89.9) from football analytics elitists Pro Football Focus. These days, if those fuckers say you're good, you're fucking good bro.
Pick: Marshon Lattimore, CB, New Orleans Saints
Comeback Player of the Year — Who else was absolutely pumped up that Keenan Allen played this whole season. Whether or not you're a fan of him, the Chargers or even of football for that matter, you can't deny the guy's got a feel-good story going this season—even if it did end in a funny fuckin' fail at the Pro Bowl Best Hands competition last week. I was thinking maybe Todd Gurley could win this award because of what a big jump his game made from his Jeff Fisher-shackled 2016 campaign, but we're pretty much looking at guys coming back off injuries. In 2013 Allen burst onto the scene with 1,046 yards and eight TDs as a rookie for the San Diego Chargers but the next season he had a 700-yard dud. For the first half of his third season though, Allen was legitimately in the conversation for best receiver in the league with 67 grabs for 725 yards and four scores through eight games before he suffered a kidney injury that would end his season. Allen's return the next season was highly anticipated, and he delivered right away, catching six balls for 63 yards before the half of the Chargers' season opener before, waddya know, Allen went down with another season-ending injury, this one a torn ACL. His return was met with tentative excitement this time, but Chargers fans can relax because evidently he left that old injury-prone, balding Keenan back in San Diego and replaced him with the fifth-year vet we saw this year in LA who was healthy, fully bald, rocking a dope-ass beard and putting up his best season yet, finishing fourth in catches (102), third in receiving yards (1,393) and topping the league with 74 of his snags being converted into first downs. It is truly a goddamn pleasure to have you back in the mix Mr. Allen, go on and work on those one hand catches this offseason and come back to that Best Hands contest next Pro Bowl ready to win the fuckin' thing.
Pick: Keenan Allen, WR, Los Angeles Chargers
Coach of the Year — Like most of the other awards, Coach of the Year is pretty much a cakewalk in terms of predicting a winner. There's no doubt in my mind that the man that inherited the Jeff Fisher's sorry outfit is the man to win it: Los Angeles Rams HC Sean McVay. Last season it looked as though they may have missed and drafted a bust in Jared Goff while prized sophomore tailback Todd Gurley looked to have regressed so heavily that people weren't sure if his rookie season wasn't just a case of beginner's luck. McVay took a trash 2016 Rams team with a ton of young talent and finally converted that talent into Ws. 11 of them in fact, good for first in the NFC West. They were the NFC West champions this season, a title the Rams haven't been able to claim since 2003, in the dire times of the Marc Bulger era. In Los Angeles Goff flourished during a resurgent season under McVay's shrewd play-calling and tutelage while Gurley disproved the fuck out of the theory that he was a one-hit wonder, likely playing himself into OPOY honors. Sure there wasn't much playoff success, but you gotta learn to crawl before you can walk.
Pick: Sean McVay, Los Angeles Rams