What a way to start off the 2018 season. Good lord have mercy was this weekend a wild ride. From the first tie on opening day in 47 years, to the surprisingly wild ride that lightning-delayed Dolphins-Titans game turned out to be (Two kickoff returns and a 75-yard touchdown pretty much in a row), to Aaron Rodgers leading the Cheeseheads to what seemed like a routine comeback on just one bionic leg, it was one helluva way to start the season off. WTF Play of the Week — There were several very worthy nominees for this title after Sunday's action was all said and done, namely a trio of eye-popping plays from some guy that's pretty fast out in Kansas City, but Chris Carson of the Seahawks definitely came away with the wildest, most WTF play of the day no doubt. I'm telling you now, Chris Carson will be the guy in the Seahawks backfield, forget this rookie Rashard Nickel or whatever his name is. Carson finished the day with three receptions for 28 yards and seven rushes for 51 yards, including the 24-yarder during which he had one of the cleanest hurdles I've ever seen—both in terms of takeoff and landing—before scampering and dragging defenders for another 20 yards. Bradley Roby is no slouch and he didn't even catch a whiff of Carson's jockstrap on that hop. Trifecta for Tyreek the Speed Freak — Just when you thought you'd seen it all with this guy he goes and scores a trifecta of touchdowns in every different way possible. The Chiefs divisive gadget guy Tyreek Hill and his mind-numbing speed were once again on full display on Sunday as he recorded the two fastest times of the day—21.78 and 21.95 mph—while even finding time to fit a back-flip in there for us. The Kansas City Comet scored on a punt return from 91 yards out, a blazing 58-yard catch-and-run and a little 2-yard pitch play that he capped with the aforementioned back-flip which was somehow still surprising despite what this guy's already done in his career. Hill finished with seven receptions for 169 yards and those three scores, and with a cannon arm like Patty Mahomes launching rockets to him all season (just check out this absolute DIME he laid on his fullback of all people), this definitely won't be the last time you see the Comet chucking the deuces up at helpless defenders this year.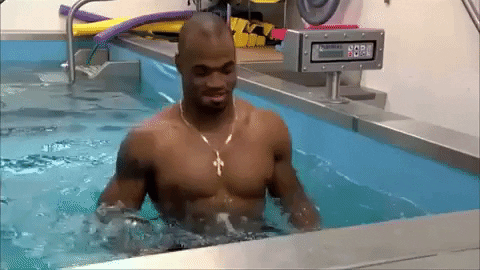 Far From Finished — This guy just won't quit. Playing for his fourth different franchise in two years (!!??), NFL legend Adrian Peterson suited up for the D.C. Football team on Sunday as his squad mopped the Senate floor with possibly the worst team in football, the Arizona Cardinals. (Side note: Sam Bradford sucks at football. I mean, this guy really can't do anything out there anymore. He looks pale, frail and afraid. Get him out.) All Day Adrian saw quite a hefty workload, carrying the ball 26 times (second most on Sunday) for 96 yards and a touchdown, his 100th trip to pay-dirt, to be exact.
His century-mark score moves him out of a tie with the slipperiest and shiftiest of all-time, Barry Sanders, and into a tie with Shaun Alexander and Marshall Faulk for 7th on the all-time rushing touchdowns list. That leaves him just 10 scores behind Sweetness himself, Walter Payton, at no. 4. AD's Week 1 performance also helped him leapfrog that dual-threat legend of questionable character, Marshall Faulk, as well as the greatest to ever do it, Jim Brown, on the all-time rushing yards list. Peterson's 12,372 career rushing yards move him into the top 10 and within striking distance of both Tony Dorsett (12,739) and Eric Dickerson (13,259) if he can keep his starting job all season. Who doesn't love to see a guy busting down milestones right in front of your eyes?
Sunday Night Insanity — This game seemed like a gimme in the return of Aaron Rodgers after his extended absence due to a broken collarbone. Rodgers was indeed the main story of the night, but not how anyone expected him to be. It was in fact, much-maligned sophomore QB Mitchell Trubisky of the Bears who was the story early on, not Rodgers. Mitchy was hitting receivers all over the field on his way to leading the Bears to a 20-0 halftime lead. During that first half the Bears dominated on both sides of the ball as new hire Khalil Mack wreaked havoc in the backfield, grabbing a 27-yard pick 6 and a sack-strip-scoop combo all in his debut as the highest paid defensive player in football. Trubisky for his part had looked like he'd truly taken the next step, he seemed confident and comfortable in the pocket in leading three three 60+-yard scoring drives. Bears first round pick, linebacker Roquan Smith, also made his debut on Sunday and took down Packers backup QB DeShone Kizer on his very first NFL snap. But that was almost all with Rodgers in the locker room, the former MVP having taken a nasty hit and been carted off the field under a very dark cloud.
Fortunately the cloud brought only flash rain and the bionic man returned to the game for the Packers with the use of essentially only one leg. The fact that he returned this year, much less in the same game, was surprising to many after watching the hit. And boy did he return. This man returned like the prodigal son and the messiah all wrapped into one. Only with one leg. The highest paid player in football history led the Pack on a wild comeback, going on a 24-3 run to finish and win the game 24-23. The Alpha of this Pack went 17-for-24 for 273 yards through the air with a trio of touchdown tosses on a peg leg. That dime he dropped into Geronimo Allison was a work of art in itself, and even more so when you consider that Rodgers was slinging that thing 40 yards downfield into the bread basket off his back leg. That shit's impressive. Randall Cobb and Davante Adams surely helped their general out a big deal on their respective touchdowns, as the wideouts either broke tackles or ran a helluva long way to score their team the touchdowns they needed to get the W. Rodgers' future for this season is still up in the air, so Packers fans should temper expectations, but I'm sure it'll be hard after witnessing what they just witnessed. What else can you do, hats off to him.
Rookie of the Week — There were a few rookies who showed out in their NFL debuts on Sunday. Number 4 overall pick Denzel Ward, a corner for the Browns, was in the right place at the right time to secure two picks during his defence's turnover fest against the Steelers. A guy the Seahawks drafted to block, tight end Will Dissly, somehow came away with three grabs for 105 yards, one of which was a crazy 66-yard scamper and the other, his first touchdown. Rookie pivots Lamar Jackson and Josh Allen both got in for their respective teams during the 47-3 spanking Jackson's Ravens put on Allen's Bills.
The best rookie debut though has to go to no. 2 overall pick Saquon Barkley, who overcame a very rough start to eventually awe us with possibly the finest first touchdown anyone's ever scored. The rook had to overcome a start which saw Barkley take 15 carries for just 34 yards while only catching one of the five balls Eli Manning threw his way, one of which resulted in a pick six for the Jags. Barkley didn't get down on himself as many a young gun would though, and proceeded to bust off right tackle on a 4th-quarter 2nd and 3, breaking three tackles before bubbling out to the sidelines to show some very impressive speed (for a 233-pounder especially) in beating the defender to the corner, rumbling the last 40 yards to complete his first NFL trip to pay-dirt. Welcome to the NFL Saquon.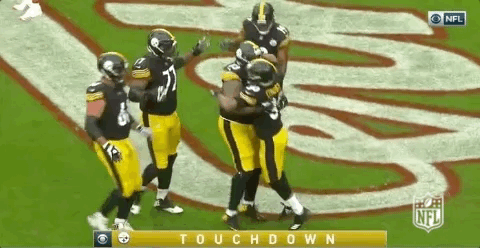 'The Guy' This Week in Fantasy Football — There were more than a few options for the honour of being named 'The Guy' for Week 1 in Fantasy Football. 'The Guy' does not only impress on the field, but in your fantasy box score as well. 'The Guy' cannot be an established superstar from years past, because that means he's already gone through his phase as 'The Guy'. 'The Guy' is an unexpected or up-and-coming lad who balls out more than his pay-check suggests he should. With that in mind, triple-TD performances by Alvin Kamara and Tyreek Hill will be passed over for a dramatic two-touchdown performance from new Steelers workhorse RB James Conner.
Conner stepped seamlessly into the hefty role left open by absentee Le'Veon Bell, who continues to seek an enormous contract. A contract that seems less likely for him after Todd Gurley and David Johnson, two backs of very similar skill sets, signed for less than he's asking. But no matter, Mr. Conner is present and he's ready for the whole workload. Conner took a league-leading 31 carries for a league-leading 135 yards and a pair of scores in the Steelers season-opening disappointment against the Browns. Conner did his best Bell impression on Sunday, taking five receptions for another 57 yards on top of that. With all the shade Bell has been throwing his teammates' way and vice versa, expect Conner to become a household name soon enough. He won't be 'The Guy' for much longer that's for sure. Kid's gonna be a star ya hear.
The Return of Fitzmagic — Another guy who could've been 'The Guy' this week was journeyman magician/quarterback Ryan Fitzpatrick, or as he shall be henceforth known here, Ryan Fitzmagic. While many thought the Bucs would be horrid without their enigmatic QB Jameis Winston and the Saints would be Super Bowl contenders now that Drew Brees 'finally had a solid defence', just the opposite of those two theories occurred when the Saints and Bucs met on Sunday. Not only does Brees not finally have a solid defence, judging off the way Fitzmagic carved them up like an excited poppa on Thanksgiving Day, this may be one of the worst ones the maestro has had to work with in his career. Still, old reliable Brees led the week with 439 passing yards to go with a trio of touchdown tosses (one of which went to Michael Thomas, who was near-on unstoppable with 16 receptions for 180 yards on the day).
Fitzmagic was better though. He completed 75% of his 28 tosses, sported a 156.2 passer rating, tossed for 400+ yards and four scores and took it himself 12 times for another 36 yards and a fifth score on the ground. The guy led the Buccaneers (that's right, the Buccaneers) to scores on every possession except three: one punt, one kneel to end the half, one kneel to end the game. He launched touchdown bombs of 58, 50, 36 and 9 yards and he had two wideouts at 140+ yards on the day (DeSean Jackson and Mike Evans). The 48-40 shootout saw absolutely no defence. All in all, the score nearly reached 100 and both teams put up over 1,000 yards of offence combined. The Saints will have to hope that their defence (especially supposedly elite corner Marshon Lattimore, who was BURNT like you rarely see Pro Bowlers burnt by Mike Evans on a long TD catch, above) snaps out of the spell Fitzmagic put them under on Sunday if they intend to contend in this year's strong NFC. Fitzy and the Bucs on the other hand are partying after that W. They won't eat it though, Jaboo.
Man, Was That Ugly — Oh boy, was this an ugly one to watch. Whether you were a Browns fan, a Steelers fan or whatever, this rainy, muddy eyesore of a game was a rough one. Other than Josh Gordon's ballerina touchdown catch, Jarvis Landry's sure hands (7 catches for 106 yards) and James Conner's brilliant debut, there was not much positive about the Steelers-Browns Week 1 matchup. It ended in a freaking tie for crying out loud. No one likes that. I know Browns fans say they like it. But they don't like it. The game featured 11 sloppy sacks, four fumbles and four interceptions. It wasn't even a defensive battle though, as both teams combined for nearly 800 net yards.
Bad defence, bad offence and very, very bad discipline, as the two teams combined for 23 penalties for 203 yards. Just writing those numbers makes me queasy from the wind sprints those guys will be running in practice to atone for that excessive number of penalties. Teams are rusty coming out of the summer I get it but that game was a poor excuse for football, even if the ending of regulation was hella heart-pumping. And you just know Le'Veon Bell is having himself a nice chuckle over the fact that his "team" started off the season by tying a team that hasn't won since December 2016. Hue's happy it's not a loss, but the sloppy performance was far from encouraging: when you get six turnovers, you should win that game every damn time.