1 – Los Angeles Rams (2-0) (–) — The Rams have by far the best scoring differential, 67-13, in the league through two weeks as their high-powered offence has been just that while their brand new defence has been gelling well, even grabbing a shutout against the worst team in the league last week. Todd Gurley continues to be a bloodhound when it comes to sniffing out pay-dirt, as he leads all players in the league with 28 points (four TDs, two 2-point converts). New addition Brandin Cooks has been fitting in well on the Rams as well, putting up 246 receiving yards on just 12 receptions through the first two games. They face a tougher test in the Chargers in Week 3, but I have no doubt this squad can pass that test.
2 – Kansas City Chiefs (2-0) (–) — So I guess the Chiefs really knew what they were doing when they sent Alex Smith packing in the offseason: this new guy's pretty damn good. Second year man Patty Mahomes II has tossed an NFL-record 10 touchdown passes through the first two games of the season. The young rocket launcher has been spreading it out to every weapon he can find too, finding seven different receivers for those 10 scores. On the other hand, the Chiefs are giving up 508.0 yards of offence per game (most in the league) and have also given up 65 points already, behind only four teams that all sit at the bottom of their respective divisions. They'll have to plug that leaky defence up soon if they want to be true contenders this season.
3 – Tampa Bay Buccaneers (2-0) (–) — No doubt the Cinderella story of the early season, Ryan Fitzmagic has been a revelation in relief of suspended Jameis Winston, so much so that veteran wideout DeSean Jackson—who has benefitted the most from Fitzmagic's dazzling start, leading the league with 276 receiving yards on just NINE receptions—has told the media he thinks they should continue going with the hot hand after Winston's return. Fitzmagic is leading the league in passing yards (819), yards per completion (a whopping 13.4) and passer rating (a near-perfect 151.5) through two weeks. This week he gets the Steelers, who are giving up the fifth most points in the league, not to mention six TDs through the air to burgeoning star Patrick Mahomes. Think Fitzy can match that?
4 – Jacksonville Jaguars (2-0) (–) — Blake Bortles actually looked solid in the Jaguars Week 2 upset win over the Patriots. Blakey B out-duelled Tom Brady in tossing for 377 yards and four scores while putting up a 111.1 passer rating in the process. Even without the engine that keeps the Jags offence rolling (RB Leonard Fournette, out with a hamstring injury), new playmakers stepped up such as wideout Keelan Cole, who not only lit up the scoreboard but who also earned himself a spot on every football highlight reel for years to come. If the Jags offence can put up 31 points, much less without their best offensive player, they're going to be a big problem in a weak AFC field.
5 – Denver Broncos (2-0) (–) — The Broncos are still the same old Broncos, always finding some odd or unexpected way to get the W week in and week out. In 2018 they have won both of their games with their scoring differential at a minuscule +4, the lowest of any 2-0 team by a wide margin. The emergence of Phillip Lindsay out of the backfield (and out of thin air) has helped as new QB Case Keenum continues to figure out his new offence. He's got one of the most talented pairs of wideouts out there though, so he really doesn't need to try too hard, and that defence has only lost a step or two since its prime a few years ago—if that.
6 – Minnesota Vikings (1-0-1) (–) — I don't think there is another team in the recent memory that has lost as much as the Vikings have lost because of their kickers. Gary Anderson and Blair Walsh, two of the most accurate kickers the Vikings ever had, also handed Minnesota and its fans two of their greatest heartbreaks in the 1998 and 2015 postseasons, respectively. This guy Carlson though. My god man. You miss in regular time. Kirk Cousins and the offence (which has looked superb through two games, a great rapport between Cousins and his receivers a big reason why) bring the ball down in OT and you miss again. Both were from near 50. Then Kirk, against all odds, gives you a third, nay, final, chance. And you blow that one too. The Viks shouldn't be worried but that one tie will remind them of Week 2 and Carlson every time they look at their record.
7 – Green Bay Packers (1-0-1) (–) — Same goes for the Cheeseheads in Green Bay. A tie is definitely not what you want, and it happens so rarely that some players have copped to not even knowing they were possible. It's not worse than a loss—but almost. Aaron Rodgers looked great again and seemed like he could actually use both his legs. Mostly. The Packers abysmal running attack will get an injection when sophomore Aaron Jones returns from a two-game suspension this week as the Packers head to D.C. to take on new signal-caller Alex Smith and their number 1 defence. You read that right, Washington has the top defence (247 yards per game), but don't expect that to be the case when Discount Double-Check and the gang leave the capital on Sunday.
8 – Los Angeles Chargers (1-1) (–) — The Chargers should feel a lot better about how their defence fared against the Chiefs after Patrick Mahomes II chopped the Steelers defence up for nearly 50 points this week. They should also feel good about their first win of the season, though an 11-point win against a team like the Bills almost seems like it was too close. Is that just me? The Chargers are in the top 10 in both offence and defence right now, so they've had a good balance through two weeks. Bolo Tie Philip Rivers and the boys will have some tough tests in the next couple of weeks across town at the Rams and hosting the upstart 49ers the week after.
9 – New England Patriots (1-1) (–) — Just when you thought maybe the Patriots were on their way out as the best team in the AFC, they go out and trade a bag of peanuts and some pocket lint for one of the best athletes in the game in wideout Josh Gordon. It may be true though, that Tom Brady really needed him, as the Pats receiving corps without Julian Edelman has barely been serviceable. New England was dominated pretty thoroughly by the Jaguars this past week as Blakey B balled out all over their defence. If that offence sans Fournette can put up 31 points on the Patriots defence it may not matter how many points Gordon helps the offence put up. The Pats get a relatively light matchup this week against a struggling Lions team, a great game for Gordon to get acclimated to his new digs.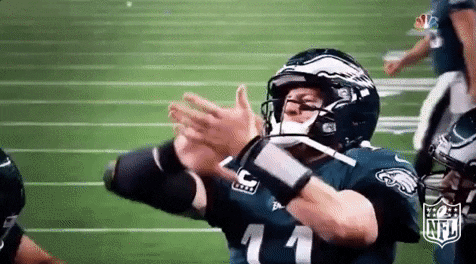 10 – Philadelphia Eagles (1-1) (–) — The defending champs followed up a very sloppy win in Week 1 with a loss to the surprise of this young season; the Tampa Bay Buccaneers. The Eagles gave up a 75-yard touchdown to former Philly employee DeSean Jackson on the first play of the game and could never quite claw their way back into it after that. The Bucs and their QB are red-hot right now though, so no need for too much alarm for the Eagles, especially with MVP-candidate Carson Wentz returning to action this week against the Colts. Wentz will start the season against the Colts and Titans before facing his first real test against Minnesota in three weeks time. Until then, the Eagles should roll.
11 – Atlanta Falcons (1-1) (–) — After a sloppy showing in Week 1 Matt Ryan and the birds got back on their feet in a tough game against a divisional opponent. Ryan tossed the rock well enough, but it was his two TDs on the ground, including one that could almost be labeled 'Elway-esque', that really made the difference for the Falcons. Tevin Coleman got a full workload with Devonta Freeman out and the fourth-year man responded with 107 yards on the ground. The Falcons will need all hands on deck for a matchup with the Saints this Sunday that will no doubt turn into a good ol' fashioned NFC South shootout. Tune into that one if you can.
The 101 yard kickoff return by Jakeem Grantpic.twitter.com/VXWXtZ5Msl

— Dov Kleiman (@NFL_DovKleiman) September 9, 2018
12 – Miami Dolphins (2-0) (–) — The Dolphins haven't been all that impressive to start the season, but they've found a way to win their first two games through hours of lightning delays in Week 1 and rookie QB Sam Darnold and his Jets in Week 2. Fantasy darling Kenyan Drake has been disappointing for the Dolphins at running back and the offence in general hasn't done much apart from Kenny Stills' big Week 1 performance. On the other hand the defence has looked solid, albeit against less than difficult opponents, giving up just 16 points per game so far, good for fourth in the league. Don't be surprised to see the Dolphins at 3-0 after their matchup with a Raiders team still yearning for what they lost in Khalil Mack this Sunday.
13 – San Francisco 49ers (1-1) (–) — Through two games this season, Jimmy G has looked far from worth his price tag. It has only been two games so it's still early, but it was really Matt Breida and the running game that made the difference in Week 2 against the Lions. Garoppolo has tossed as many picks as TDs and completed just under 56 percent of his throws. Garoppolo will have a couple of good chances to get into a groove as he'll go up against two teams with high-powered offences and comparatively mediocre defences from the AFC West. First the Chiefs, then the Chargers. If Jimmy G can't get going against those suspect secondaries the Niners may have a problem. We'll wait and see.
14 – Cincinnati Bengals (2-0) (–) — The Bengals strangely won both of their games by the score of 34-23, over the Colts and Ravens, respectively. These opponents are far from the cream of the crop, but the domination the Bengals exhibited over the Ravens last Thursday was still a big surprise. The Bengals have the 19th best offence and 6th worst defence in terms of yards, so their perch atop the AFC North at 2-0 is strange. Andy Dalton has been his usual mediocre self, relying heavily on the athletic specimen that is A.J. Green in the process. Dalton has only one interception on the season though, which is a positive for that fiery-haired duster. The Bengals go up against a couple of NFC South heavyweights in the Panthers and Falcons in the next couple of weeks. Don't be surprised to see Cincy at .500 after that stretch.
15 – New Orleans Saints (1-1) (–) — The Saints have been one of the biggest surprises of this young season, loosing Fitzmagic on the league in Week 1 and barely scraping by the Browns in Week 2. And let's be honest: the Browns should have won that game. Cleveland's kicker screwed them in the worst way—the Saints got lucky. Even Alvin Kamara was held out of the endzone, something that has happened very rarely over the past year. The Saints face arguably their toughest test of the season so far this Sunday when New Orleans sends their contingent over to Atlanta for a date with the Falcons that promises to be one of the most entertaining games of the season.
16 – New York Jets (1-1) (–) — I can't imagine how you come back from tossing a pick-six on your very first throw of your NFL career, but Jets first-round pick Sam Darnold did just that in coming back in Week 1 from his worst nightmare to throw a pair of touchdowns while completing an impressive 76 percent of his throws in that 48-17 win. Darnold has a tougher go in a divisional loss to the Dolphins in Week 2 and will face another stifling defence when the Jets fly to Cleveland to take on a decent but hard-luck Browns team this week.
17 -Chicago Bears (1-1) (–) — Khalil Mack is something else man. This guy is on a mission to make Jon Gruden and the Raiders look as bad as possible for trading him away. The guy is out-playing the entire Raiders defence statistically through two games (above). Meanwhile second-year QB Mitchell Trubisky has looked solid for the Bears despite some middle-of-the-pack stats, showing a solid rapport with pricey new wideout Allen Robinson, connecting with the former Jag 14 times on 21 targets through two games. Chicago gets a juicy matchup against the worst team in football, the Cardinals, this week in the desert.
18 – Baltimore Ravens (1-1) (–) — After dominating a pretty bad Bills team in Week 1 the Ravens went back to their old selves, allowing four sacks as Joe Flacco turned the ball over thrice during a very surprising 34-23 loss to the division rival Bengals. The Ravens will face off with a couple of tough opponents in the Broncos and Steelers in the coming weeks, so the Ravens should see about putting that defence back together after Andy Dalton sliced it up on TNF. If I'm Baltimore I'm also thinking seriously about getting Lamar Jackson in at QB sooner rather than later. 19 – Pittsburgh Steelers (0-1-1) (–) — The Steelers have been the hot topic in the NFL for the past couple of weeks, what with their tie to the Browns, their six touchdown passes allowed to Patty Mahomes, and oh yeah, the continued absence of their best player, Le'Veon Bell. On Monday Antonio Brown sent out a shady tweet regarding a trade and missed meetings because of a personal matter. Of course theories abounded. Brown's agent had to send a tweet out assuaging any worries about Brown, who returned to practice the next day. The Steelers' offence has been playing very well, it's the defence that can't stop anything. Don't expect that to change when the Steelers head to Tampa this week where they'll try to keep up with Fitzmagic and his ilk.
20 – Carolina Panthers (1-1) (–) — The Panthers are still an enigma after the first two games. They barely beat an unimpressive Cowboys team in Week 1 and lost a close one to a solid Falcons team in Week 2. Cam Newton took a pretty brutal (not to mention illegal) hit against the Falcons but looked fine afterwards so it shouldn't be any cause for alarm. The Panthers will get a nice chance to bounce back when the Bengals come to town this Sunday.
21 – Houston Texans (0-2) (–) — Well this certainly isn't the DeShaun Watson we saw last season, but there's no doubt that he will get back to or near that level soon enough. Houston lost to the Pats in Week 1, hardly something to scold a team over, but then they lost to an inferior Titans team which also happens to be a divisional opponent. Watson and his boys have a couple of lighter matchups coming when the Giants come to town this week and the Texans head to Indy the week after. Expect the Texans big-time defensive line to have themselves a day against a questionable Giants front line on Sunday.
22 – D.C. Football Team (1-1) (–) — Washington has the top defence in the league in terms of yards allowed, but they really haven't looked all that impressive in any aspect. Adrian Peterson passed the legend of all legends, Jim Brown, on the all-time rushing list, but other than that there hasn't been much to write home about concerning Washington through two weeks. Aaron Rodgers might have something to say about that no. 1 defensive rank when the Cheeseheads roll into the nation's capital this Sunday too.
23 – Dallas Cowboys (1-1) (–) — The Cowboys have to be one of the most unexciting teams in the league right now. Dak Prescott hasn't looked like a solid QB since 2016 and his receiving corps is probably the weakest in the whole league. The defence has looked decent on the other hand, allowing just three total touchdowns through the first two weeks of the season. The Cowboys offence will try to mesh along with its defence this week when the 'Boys head to the Pacific Northwest to face-off with a surprisingly disorganized and disoriented Seahawks team.
24 – Indianapolis Colts (1-1) (–) — Andrew Luck is back after an extended absence and to be honest, the Colts don't look that much better than when they had Matt Hasselbeck and Jacoby Brissett under center. Luck has tossed just four touchdowns against three picks so far, though he has been completing a solid 71.4 percent of his tosses. The Colts will face a much tougher test than the Washington team they beat 21-9 last week when Luck and the lads head to Philly to take on the defending champs in the long-awaited return of the prodigal son, Carson Wentz. Don't be surprised if we get a blowout.
25 – Tennessee Titans (1-1) (–) — The Titans' starting QB Marcus Mariota is out with an elbow injury (a pretty worrisome body part for a QB), but honestly, backup Blainey Gabbert is not that much worse. That is to say, they're both mediocre at best. The Titans were supposed to lean on a Thunder and Lightning offensive attack anchored by the huge Derrick Henry and the more light and spry Dion Lewis. So far though, the Titans rank 15th in rushing offence while scoring just once on the ground and gaining a paltry 3.4 yards per carry, the 29th-best mark in the league. The Jaguars defence should have a field day against the Titans this week whether it's Mariota or Gabbert at the helm.
26 – New York Giants (0-2) (–) — Saquon Barkley and Odell Beckham have been good for the Giants to open the season, but that's about it. Their offensive line is terrible, their defence is quintessential mediocre, giving up 20 points in both losses and Eli Manning has thrown but one measly touchdown pass through the first two weeks. The Giants have a lot of talent, but that's been true nearly every year and in the end it doesn't help their chances come December and January. Eli needs to find his Brady-slaying form of days past and his O-line needs to give him and Barkley time to do what they need to do. Next up, the G-men head to Texas to take on another surprisingly winless team in Houston.
27 – Seattle Seahawks (0-2) (–) — The Seahawks are a mess. The Vikings swooped in and signed Sheldon Richardson from them in the offseason and now, after they cut Richardson's replacement, Tom Johnson, to make space for a special-teamer, the Vikings have taken Johnson away too. Oh, and they have to pay Johnson since they cut him after Week 1. Nice. Pete Carroll also kind of benched their best back in Chris Carson on Monday night, citing Carson's involvement on special teams and him being 'gassed' as the reason. He then back-pedalled after a reporter told him Carson played only two special teams snaps. Petey, spit that gob of gum out ya mouth and get your goddamn house in order before Russell Wilson decides he wants to follow the rest of the scraps of the Legion of Boom out the door.
28 – Cleveland Browns (0-1-1) (–) — You've really got to feel for the Browns and their fans at this point. First they tie in their opening game with all their fancy new additions. Then they hold a tentative lead throughout the second half over the Saints before blowing it in the end as they always do. But this time the blame can be laid almost entirely at the feet of kicker Zane Gonzalez, who went 2-for-6 including PATs against New Orleans. At least he can take solace in the fact that he wasn't the only kicker to be booted on Monday, joined by former Viking Daniel Carlson. What a week to be a kicker huh? The Browns will continue on what will be a 635-day quest for a win when they play the Jets on another enthralling edition of Thursday Night Football this week.
29 – Oakland Raiders (0-2) (–) — Did Jon Gruden make a whoopsy? I think Jon Gruden may have made a whoopsy you guys, and I don't mean the matching haircut he let his owner Mark Davis give him. Gruden let the Raiders best player go mere days before the season and now Khalil Mack's new team (the Bears) are first in the league in sacks (10) while the Raiders are second to last (2). Not to mention the Raiders are 0-2 and lost their second straight game in large part because of a coaching gaffe when Gruden decided to go for it on 4th down instead of kicking a field goal to make it a two possession game. They ended up not making the first down, and the Broncos would come back to win 20-19 with the final seconds ticking away and Raiders fans wishing they'd taken that field goal. The Raiders will get the Dolphins and Browns in the next two weeks. Those games both seem winnable, but for the Raiders those squads will definitely be tough to conquer for their first W of the season.
Kenny Golladay w/ the "WOO HIT" pic.twitter.com/vdVhk5CJxd

— Tank Williams (@TankWilliams13) September 11, 2018
30 – Detroit Lions (0-2) (–) — I'm sure this isn't what the Lions brass had in mind when they hired a defensive coordinator to take the helm in Detroit. Matt Patricia's Lions are giving up 39 points per game so far and their defence doesn't seem like it's going to be able to plug any of those holes up soon. The only shot the Lions have, is if Matty Stafford decides to get his shit together. His offensive line is not doing him any favours to be sure, but five turnovers in two games is not what you wanna see from the leader of your team. How about that Kenny Golladay though?
31 – Buffalo Bills (0-2) (–) — The Bills had a guy literally retire on them at half-time while another player got speared right in the skull whilst helmet-less. These guys just can't catch a break. Josh Allen has looked 'meh' at best and LeSean McCoy has been running on thin ice as it seems his off-field issues may be hurting him on the field too. The Bills are also giving up 39 points per game. It's been only two weeks granted, but the Vikings and the Packers, who they have coming up next, are not going to be the coolest customers for a Buffalo team in complete shambles right now.
32 – Arizona Cardinals (0-2) (–) — Thank god they ditched that train-wreck of a football player Sam Bradford for their first round pick Josh Rosen. The Cardinals are still terrible though. Other than David Johnson and Larry Legend, there's no one on this team worth talking about, and an RB-WR duo has never done anything of note without at least a decent QB to to help them along. Rosen seems like he maybe, might, could, possibly be that guy. I'm far from sold on him though. Expect a long season in the desert.