1 – Los Angeles Rams (4-0) (–) — The Rams are one of only two undefeated teams, their +73 point differential leads the league, Pro Football Focus named their offensive line the best in the league, they're scoring the second most points while allowing the fifth least points and they've got two potential MVP candidates. Touchdown machine Todd Gurley has scored six times in four games while QB Jared Goff's five-touchdown performance against the supposedly stout Vikings defence has thrown him to the front of the MVP conversation. The Rams will head up the coast to take on the Seahawks in Seattle in Week Five but I honestly don't see any team challenging these guys until they go to New Orleans in Week Nine.
Me watching Patrick Mahomes pic.twitter.com/MCqkupUKwy

— Bryce Wood (@woodymlb4) October 2, 2018
2 – Kansas City Chiefs (4-0) (–) — At half of the Chiefs' Monday night affair with the Broncos it really seemed like Patrick Mahomes had finally been figured out. But alas, it was only a hiccup as the Human Rocket Launcher would come out in the second half and lead three scoring drives while displaying a very rare skill-set. Mahomes barely threw for 300 yards and tossed only one score but thankfully Kareem Hunt, the reigning rushing champ, finally had his breakout game in 2018, going for 121 yards and a touchdown in Kansas City's 27-23 come-from-behind win. The Broncos slowed Mahomes down considerably, but they couldn't stop him. Could the Jaguars be the only antidote for this Mahomian onslaught? Find out next week when they head to Kansas City to take on the Chiefs.
3 – Jacksonville Jaguars (3-1) (↑2) — Leonard Fournette played in Jacksonville's Week Four win, but he didn't last long and will now be out several more weeks. His absence was no big deal for Jacksonville because they were playing the hapless Jets, but next week when the Jags have to head out to Kansas City, I have a feeling they might be sorely missing the heart of their offence. The number one scoring offence going up against the number one scoring defence. Does Sacksonville finally give Mahomes a proper welcome to the NFL, or does the Human Rocket Launcher blow up the 'defence wins championships' notion?
kamara long TD
4 – New Orleans Saints (3-1) (↑5) — Even when Drew Brees has an off day these Saints still get it done, slapping the Giants 33-18 in Week Four. That's because sophomore stunner Alvin Kamara has picked up right where he left off in 2017. He's already scored six times and his 611 yards from scrimmage lead the league by over 60. Brees and Michael Thomas have often been writing their names in the record books but the 2018 Saints will live and die by the hand of Kamara, even after Ingram returns this week when Washington comes to town. Nearly every Saints game will have to be a shootout as that whole 'the Saints finally have a good defence' thing didn't really work out with the unit sitting in the bottom 10 in both yards and points allowed through one quarter of the season.
5 – New England Patriots (2-2) (↑6) — After a rare two-game losing streak, there was really no doubt the Patriots would come back and get a W. Since it was against their perpetual thorn-in-the-side (the Dolphins) I thought it might be a closer contest, but the Pats were not messing around. New England nearly shut the Fins out but for a last minute garbage time touchdown that left the final score at 38-7. New England's running game was going at full bore with rookie Sony Michel topping 100 yards and scatback James White scoring twice while topping 100 yards from scrimmage. And this all while the Gronk lays dormant, Julian Edelman has yet to play a snap and Flash Gordon still getting acclimated to his new digs. This Patriots offence is getting real scary, real fast. The Colts' visit to Foxboro this Thursday should be another classic TNF dud thanks to a highly likely Patriot blowout.
6 – Green Bay Packers (2-1-1) (↑2) — The Packers shutout the Bills 22-0 in Week Four but Green Bay didn't dominate as much as that score would have you believe. One-legged Aaron Rodgers was sacked twice and forced into two turnovers, a rare occurrence for the future Hall of Famer. The defence was stout on the other hand, forcing rookie Josh Allen into four turnovers one week after he made headlines for shredding a much more talented Vikings defence. Second-year back Aaron Jones is back from suspension and has added a dynamic element to an otherwise dormant Packers running game. Rodgers and the rest of the offensive unit will look to get back on track with Jones this week when they head to the motor city to take on the 1-3 Lions.
7 – Philadelphia Eagles (2-2) (↓4) —  Carson Wentz and Alshon Jeffery and Jay Ajayi were all healthy together for the first time this season and still Philly was unable to come away with a convincing win. They couldn't even get a win period. Their 26-23 overtime loss to the surprising Titans wasn't all bad but if Marcus Mariota can throw for 300+ against your defence with a bum elbow, it's going to be tough sledding in an NFC playoff picture full of potent attacks. Wentz and his birds will get a much tougher test this week with the Vikings in town.
8 – Los Angeles Chargers (2-2) (↑4) — The Bolts were 12-point favourites in their matchup with the Jimmy G-less Niners but ended up barely escaping with a two-point win. Bolo tie Phil's offensive group is a top 10 unit but unfortunately the defence has yet to gel and are currently a bottom 10 unit. Melvin Ingram has registered only 1.5 sacks on the season while the other half of the Chargers supposed QB dementors duo, Joey Bosa, remains sidelined with injury. You would think this week against the Raiders would be a foregone conclusion, but nothing ever is with these Chargers.
9 – Miami Dolphins (3-1) (↓3) — The Dolphins finally got a taste of reality in the form of a 38-7 smack from the Patriots on Sunday. No gadget plays or special teams touchdowns came for Miami this week as they tried to do it the old-fashioned way and failed miserably. Just when we thought the door might be closing on Tom Brady, Miami opens it back up for him. The Fins will head to Cincinnati to take on another surprising 3-1 team this week.
10 – Baltimore Ravens (3-1) (↑4) — So I guess Joe Flacco still isn't done yet. The veteran QB steered his squad to a solid 23-14 win over their bitter rivals in Pittsburgh, a win that will no doubt carry heavy playoff implications later in the season. Flacco has improved over the last few weeks, finding a great rapport with shifty speedster John 'Smokey' Brown, who had 100+ yards against the Steelers including a long touchdown and a 71-yard catch-and-run. The Ravens' defence remains stout, giving up the second-least yards per game (275.8) and the third-least points per game (16.2). The 89 rushing yards a game and the 10 sacks allowed are two points where Baltimore could definitely improve however. They'll look to do just that when they visit the Browns in the Dawg Pound this week.
11 – Denver Broncos (2-2) (↓4) — It really seemed as if the Broncos had figured Mahomes and the high-powered Chiefs offence out but in the end, the best show in Missouri got the last laugh in a 27-23 win. On the bright side, the Broncos have a legitimate one-two punch at running back with rookies Royce Freeman and Phillip Lindsay, who both topped 60 yards and scored in the game. On the not so bright side, Case Keenum is looking like the Keenum we knew before he balled out for the Vikings last season. And that Broncos defence is not what it once was either so Keenum's mistakes are more exacerbated than for previous inept Broncos signal-callers. Denver's defence is definitely still good enough to wreak havoc on a rookie QB like Sam Darnold though, and they'll do just that when they head to the Big Apple this week.
Highlights of the Bucs trying to stop Mitch Trubisky and the Bears: pic.twitter.com/JK4CKYsf88

— NOTSportsCenter (@NOTSportsCenter) September 30, 2018
12 -Chicago Bears (3-1) (↑3) — How about those Bears huh? That QB they took at no. 2 last season is looking like a better pick every week. And has there been a trade in recent memory that has worked out so well for one team so fast? Shoutout Mack. Mitchy from the Buckeye State threw for six touchdowns against the Bucs. That's right, six motherf***ing touchdown passes from Mitch Trubisky. Is this just a case of the Bears taking advantage of a helpless Buccaneers defence? Or can the former Tar Heel really play with the big boys? Mitchy will get an extra week to bask in the glory and the free booze as Chicago takes its bye.
13 – Tampa Bay Buccaneers (2-2) (↓9) — The jig is definitely up on Fitzmagic and the Bucs, with the former getting benched at half and the latter losing embarrassingly 48-10 to the upstart Bears. With Jameis Winston back at the helm, expect the offence to be much less potent then when the gunslinger Fitzy was running things. In this day and age, you need to sling it to win it, especially when your defence is as bad as Tampa's. They'll have a week to regroup before heading out to Atlanta in Week Six to try and keep up with the high-flying attack down there.
14 – Minnesota Vikings (1-2-1) (↓4) — Your best guess is as good as mine as to why this once dominant Vikings defence has fallen on such hard times. Thankfully for Minnesota, they've prepared for this with an offence potent enough to keep up with most any opponent, except the one from Week Four, which beat them 38-31. The Viks have no time to relax as they face another tough test when they head to Philly to take on the defending champs this week.
ANDY DALTON TO AJ GREEN WITH SECONDS LEFT!! pic.twitter.com/XF1o0AAUhI

— CBS Sports (@CBSSports) September 30, 2018
15 – Cincinnati Bengals (3-1) (↑3) — The Bengals are probably the most surprising 3-1 team, especially after they squeaked out a last second win over the high-powered Falcons. The Andy Dalton-A.J. Green connection is as potent as ever, accounting for five touchdowns through four games, including the 13-yard buzzer-beating hookup to beat Atlanta. The Bengals will go up against  the Dolphins, another 3-1 team, in Week Six.
16 – Atlanta Falcons (1-3) (↓3) — The Dirty Birds lost another tough one in Week Four, this time allowing an Andy Dalton touchdown pass in the dying seconds. Matt Ryan has that offence humming even without running back Devonta Freeman (who will likely return this week in some capacity) but the Atlanta defence has been so brutal that the 29 points per game they're putting up just isn't enough. Expect another big shootout this week when they head to Pittsburgh to play a Steelers team that also has a great offence to go with a putrid defence.
17 – Carolina Panthers (2-1) (–) — The Panthers got a well-deserved rest in Week Four and will return locked and loaded and fully healthy (except Greg Olsen's foot of course) to host a floundering Giants team.
Corey Davis' first career TD catch is a WALKOFF 😏

(via @NFL) pic.twitter.com/8SheI9El3B

— Bleacher Report (@BleacherReport) September 30, 2018
18 – Tennessee Titans (3-1) (↑3) —  The Titans have been a pleasant surprise in 2018, first taking the Jags down in a defensive slugfest 9-6 then topping the defending champs in overtime 26-23. Not too shabby for a team that's being led by a QB who's dealing with issues in his throwing elbow. Derrick Henry seems to be a dud, but Corey Davis does not. You win some, you lose some. Marcus Mariota and the crew will look to win some more when they head to Buffalo to take on a struggling Bills team this week.
19 – D.C. Football Team (2-1) (–) — After a pleasant week off Washington and it's former number one defence will head to New Orleans on Monday night to face off with the Saints' tinder-box offence. You never know when that thing's gonna blow, but I'm betting D.C.'s defence won't be able to stop it when it does. Their only chance is if Alex Smith and Adrian Peterson can score enough points to keep up. Seems unlikely but hey, any given Sunday right. Especially in 2018.
20 – Pittsburgh Steelers (1-2-1) (↓4) — What is there to say about this Steelers team. They've got the sixth-best offence but the third-worst defence, they've got 13 sacks on D but they've given up 9 on offence. Hardly a recipe for success. Without the 2017 engines of the offence and defence (Le'Veon Bell and Ryan Shazier, respectively) this team just doesn't seem all in. Antonio Brown and Big Ben have been showing off some very negative body language towards one another of late. No doubt Ben is having a rough go and needs to look Brown's way more often, there's a reason people call him the best receiver in the league, and his contorting touchdown against the Ravens during a 23-14 loss proves that. Expect to see a much healthier dose of AB this week when the Steelers host the Falcons, another team with a great offence and a shitty defence. Should be a fun one.
21 – Houston Texans (1-3) (↑3) — DeShaun Watson finally got his first W of the 2018 season and it was definitely well-deserved. Watson remained calm, cool and collected throughout his first foray into overtime, leading two scoring drives to bring Houston a 37-34 win. After the Colts turned it over on downs, Watson calmly looked for and found his best playmaker DeAndre Hopkins for a 24-yard gain which was followed quickly by a relaxed spike to set up the game-winning field goal. It was just the Colts but it was a glimpse into the type of QB Watson could turn out to be. He won't just pad the stats, he's going to win games. And he'll look to make it two straight when the cross-state rival Cowboys come to town. 22 – Seattle Seahawks (2-2) (↑3) — The Seahawks could barely scrape by the only winless team in the league, the Cardinals, during a 20-17 Week Four win. The big story here though is disgruntled safety Earl Thomas, who leads the league in INTs, with three. After suffering a broken leg late in the game, Thomas was carted off the field after what was likely his last play as a Seahawk. The final member of the Legion of Boom took the opportunity to flip the bird at the Seattle sideline, proving once and for all that he is done with that organization. Teammates, such as Bobby Wagner, were still supportive of Thomas however, laying the blame more so at the feet of the Seahawks brass. Unlucky for Seattle, their first game after losing their best defensive back will be against the best offence in the nation. Good luck, with that.
GEORGE KITTLE.

82 yards to the end zone! #GoNiners #SFvsLAC

📺: CBS pic.twitter.com/jdcw26tOeC

— NFL (@NFL) September 30, 2018
23 – San Francisco 49ers (1-3) (↓3) — No Jimmy, no problem. Well, a little problem. The Niners were 12-point dogs this week but barely let the game slip away in a close battle with the Chargers they'd end up losing 29-27. The C.J. Beathard era has actually gotten off to a smoother start than expected and expect it to get even smoother this week when they host the only winless team in the league, divisional opponent Arizona.
24 – New York Jets (1-3) (↓2) — Sam Darnold had a great game in Week One but since then its all been downhill. To be sure, there's no reason to bench Darnold even when he makes mistakes because this was going to be a lost season all along. A building block that will hopefully (for the Jets) lead to success in the future. Darnold and the boys should expect more blowouts like the 31-12 loss they just suffered to the Jags. New York will take on the Broncos and their no. 3 rushing attack this week in the Meadowlands, a somewhat winnable game for the rebuilding Jets.
25 – New York Giants (1-3) (↓2) — Saquon Barkley has truly been a revelation this season but he hasn't had much help on offence despite the unit being supremely talented. The defence is terrible, so Eli Manning will need to step it up this season with teams passing for more yards and touchdowns than ever before. The Giants will look to get back on track on the road against a well rested Killa Cam and his Panthers.
26 – Dallas Cowboys (2-2) (↑2) — I don't know how they did it, but somehow the Cowboys have made it to 2-2. Actually scratch that, I know how they did it: they rode Ezekiel Elliott until the wheels came off, which they did not during his 240-yard performance. His 88 receiving yards were the second-highest single game total of his career and the display included a ridiculous (not to mention clutch) over the shoulder catch to set up the game-winning field goal (above) as well as a 38-yard catch-and-run touchdown. The o-line blocks well for Zeke but other than that, this team is a dud. They'll ride the Elliott wave into Houston this week where they will likely fall below .500 once again.
GOLDEN TATE TAUNT KING pic.twitter.com/GZmLyHadd2

— Isaac (@WorldofIsaac) September 30, 2018
27 – Detroit Lions (1-3) (↓1) — The Lions seemed like they had the game in the bag before Dak Prescott somehow lofted a perfect pass deep and right into the waiting arms of running back Ezekiel Elliott. Was there a more unlikely play in Week Four? The Cowboys would kick the game-winning field goal after that inexplicable Prescott-to-Zeke connection. The Lions even allowed Prescott to throw for over 200 yards for the first time in six games which is almost more embarrassing than the loss. On offence, Matty Stafford and his wideouts had a great rapport throughout the game and rookie runner Kerryon Johnson continues to show signs that he should be given the reins to the backfield. Golden Tate will look to do a lot more high-stepping into the end zone this week as the Lions host the division-rival Packers.
BREAKING: #NFL officials have released new video evidence showing Carlos Hyde was short of the line to gain. #Browns pic.twitter.com/okrxDFDxd2

— Randy Lee (@randella22) October 1, 2018
28 – Cleveland Browns (1-2-1) (↓1) — Oh so close, yet oh so far. The Browns lost an excruciating one to the Raiders 45-42 after a huge blown call late in the fourth quarter that would've iced the game for the Browns instead allowed the Raiders to send it to overtime. The Browns almost won back-to-back games for the first time since 2014. 2014. To give you an idea of just how long ago that was here's a few things that were going on around the time of the Browns' last back-to-back victories: some girl named Meghan Trainor had the number one song, the very first John Wick was just entering theatres—and our hearts, Macklemore was apparently the best new artist (where the f did he go right?), Ebola and ISIS were just beginning to rear their ugly mugs, Breaking motherf***ing Bad was just finishing it's historic run, the Legion of Boom was dominating the NFL and the infamous Russell Wilson goal-line throw was still a couple months away. Four years is a long time ain't it?
Nyheim Hines.

5'9.
Running back.
Awesome. pic.twitter.com/zGyPMeoAoV

— Sam Monson (@PFF_Sam) September 30, 2018
29 – Indianapolis Colts (1-3) (–) —  The Colts came as close as you can get to a win without actually getting one in Week Four as they lost 37-34 in overtime to the Texans. The Colts turnaround on a short week to take on the Patriots who are all of a sudden very hot, while Indy will likely be without it's best playmaker in T.Y. Hilton, sidelined this week with a hamstring injury.
30 – Oakland Raiders (1-3) (↑1) — Jon Gruden aka Chuckie finally got the first win of his second tenure in a wild and wacky 45-42 overtime triumph over the Browns. It wasn't the most impressive of wins but Oakland has to be relieved to finally have one under their belt. Derek Carr finally looked solid in the win as did Marshawn Lynch, who seems to be another ageless one as he looks rejuvenated after a tough 2017 season. The Raiders will look to ride this winning wave into the City of Angels where they'll take on the division rival Chargers.
31 – Buffalo Bills (1-3) (↓1) — It was only a matter of time before the Bills crashed back to earth and what better time than one week after their triumph over the mighty Vikings. Allen was a shell of his Week Three self as he was unable to get any points on the board while turning the ball over four times for Buffalo in a 22-0 loss. The Bills will host a surprising Titans team in Week Five.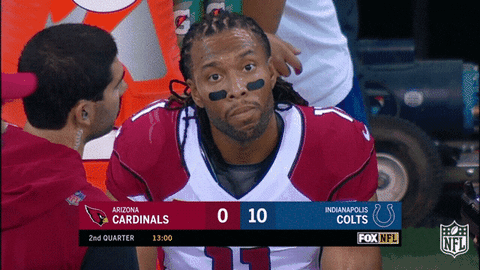 32 – Arizona Cardinals (0-4) (–) — What is there to say here. David Johnson's a great player. That's pretty much it on the positive front. This team is the only winless team through four weeks and they've gotten so bad they've got Larry Legend dropping passes. 'Nuff said.