Football has been something else this season. After seeing at least one OT game in each of the first three weeks (with two resulting in anti-climactic ties), we were treated to three extra periods on Sunday in Week Four. We saw upsets (hello, Titans), we saw Earl Thomas flip his own bench off (which I thought was whack but also hilarious) and we witnessed Mitch Trubisky slinging six touchdown passes like it was nothing. We saw teams crashing back to earth (sorry, Bills Mafia, Brownies) and AFC contenders bouncing back from ugly defeats (the Pats and Jags weren't taking any chances this week). There were also five other games that were decided in the last thirty seconds, add that up with the OT games and we had eight thrillers all in the span of about seven hours. Not a bad Sunday if you ask me.
Tyrell Williams' catch in slo-mo is ridiculous. pic.twitter.com/JRcMWgJJSb

— Chris Hayre (@chrishayre) October 1, 2018
WTF Play of the Week — There were more than a few wild plays on Sunday, some just because of the physical improbability of the play and some because of its implications in the grand scheme of that matchup. A.J. Green and Corey Davis both had very impressive grabs to secure wins for their respective teams and Golden Tate once again showed why he's the king of YAC. The WTF Play of Week Four however has to go to wideout Tyrell Williams of the LA Chargers. Williams hasn't been a big contributor for the Bolts so far this season, and even on Sunday in their win against the Niners he had only three grabs for 48 yards. But on one of those grabs, a 24-yard gain in the third quarter, I thought I was seeing shades of Randy Moss back on the field. Niners DB Jimmie Ward had perfect position but never turned around for the ball and Williams used that against him as the LA wideout nearly jumped right over the DB, leaning over the poor guy mid air and scooping the ball essentially off his back before wrestling the pigskin away from Ward and another Niner as they all came back down to earth. This was like the NFL equivalent of putting someone on a poster. We call that getting MOSS'D.
Celly of the Week — Celebrations have become one of my favourite things about football Sundays. Players have become so creative and clever with their celly's: they've got coordinated ones, ones with pop culture references, some impressive dancing and more Dragon Ball Z homages than you'd expect. This week though, the crown for Best Celly has to go to Bengals porcelain-made tight end Tyler Eifert. Eifert has had trouble throughout his whole career staying healthy—and he would suffer a gruesome injury that looked likely to be a broken ankle late in the Bengals win—but no one argues that he's one of the best at what he does when he stays on the field, and he showed why early on in a wild 37-36 shootout win over the Falcons. After snagging a lovely 15-yard touchdown pass from Andy Dalton complete with a lovely toe-tap, Eifert paid homage to the great Steve Austin beer chug. After hitting the back wall the big tight end walked back into the end zone, shook the ball like a beer, faux-smashed the ball on his noggin before holding it over his head for a nice chug. I guess for Eifert even Sundays are for the boys. I think Rattlesnake would approve.
Week Four's #TheGuy — Whenever a wideout gets drafted top five, like Tennessee Titans sophomore Corey Davis was last year, the decision will invariably be accompanied by many a nay-sayer. Wideouts are a dime a dozen in this modern NFL, they say, why waste such a high pick on a receiver when you could grab an anchor for your O-line or secondary? Tennessee's win on Sunday is exhibit A on why that decision could work out well when selecting the right player. With Mariota finally looking healthy, his connection with Davis has finally flourished, resulting in a huge nine catch, 161-yard performance in an overtime win over the Eagles. How did the Titans beat the defending champs in overtime you ask? Well it was none other than Week Four's #TheGuy Corey Davis who soared into the sky to snag a nicely lofted toss from Mariota in the end zone with just 10 seconds left in overtime.
Not only did Davis provide his squad with a huge and unexpected W, he also saved the rest of us from having to deal with yet another tie for the rest of the season. Imagine trying to figure out tie-breakers with six teams sporting ties in their records. It would be terrible. Davis saw a whopping 15 targets against Philly, leaving him as the 14th most targeted player in the NFL, just ahead of perennial Pro Bowlers Mike Evans, Keenan Allen and T.Y. Hilton. Davis' 14.2 yards per grab are good for 8th among wide receivers with at least 20 grabs too. Not counting that offensive dud in Week Three when the Titans essentially had no QB, Davis has been averaging about 90 yards and seven grabs on 12 targets per game this season. If Mariota can stay healthy, Davis has the physical capabilities and talent to become an elite receiver.
Rookie of the Week — The Patriots finally let their first-round pick, running back Sony Michel, run wild on Sunday, piling up 112 yards on 25 carries in a big win for New England. However, I think it goes without saying that he was out-performed by fellow rookie tailback (and best friend/former Bulldog teammate) Nick Chubb, who took just three carries for 105 yards and a couple of trips to pay-dirt in the Browns' OT loss. That home run hitting performance earns the former Georgia Bulldog Rookie of the Week honours here. Early on Chubb got a carry 63 yards away from the end zone, pounded it up the gut then broke a tackle and broke it outside before turning on some considerable jets to get into the end-zone. Later on in the fourth quarter with the Brownies nursing a one-point lead, Chubb again took it up the gut and again broke a few tackles before speeding into the end-zone for a 41-yard score.
NICK CHUBB TO THE HOUSE #CLEvsOAK pic.twitter.com/863bKmneGN

— FOX Sports (@FOXSports) September 30, 2018
Three carries. 105 yards. Two touchdowns. And who the hell knew Chubb could run like that? I thought Tyreek Hill had been traded to Cleveland before rubbing my eyes and realizing it really was really Chubb. Especially on the second touchdown trot it really seemed like many a Raider had a chance to snatch a piece of jersey or ankle to slow the kid down only to come up grasping at air. Carlos Hyde is definitely still the guy in the Browns backfield, but this performance will be hard for OC Todd Haley to ignore so expect to see Chubb getting a few more opportunities going forward.
Records & Milestones — Unfortunately Drew Brees fell about 100 yards short of catching Brett Favre for second on the all-time passing yards list while he and Tom Brady also stay about 10 touchdown tosses apiece from passing Favre for second on the all-time passing touchdowns list. Brees will be sitting behind only the Sheriff, Peyton Manning, on both of those lists by Week Seven at the latest. Brees' top pass catcher, Michael Thomas, did however continue to decimate the record books. Even with only four receptions, Thomas set a record for the third straight week, this time for most receptions in the first quarter of a season: 42 grabs in four games. Thomas will need just six grabs in game five to set another record.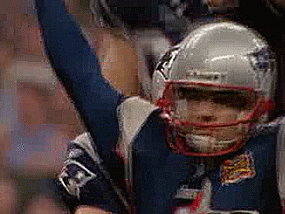 The Saints aren't the only ones on the record radar though, Colts ageless kicker Adam Vinatieri also etched his name in NFL lore during Week Four. The 23-year veteran (I know, I can hardly believe it) nailed his 566th career field goal in the first half of Indy's OT loss to the Texans to pass Morten Andersen to become the all-time kicking king, managing the feat in 38 fewer tries than Andersen. Vinatieri is no doubt one of only a handful of players to play in the league while sporting a touch of grey on the dome, but he's still just as reliable as ever. In his career Vinatieri has kicked for four Super Bowl winning squads, even winning two of them with last-minute boots. The guy has also played exclusively with greatness—well, almost: he has kicked for teams quarterbacked by Drew Bledsoe (1996-2000), Tom Brady (2001-2005), Peyton Manning (2006-2010), clipboard Jesus Charlie Whitehurst (2011) and finally the saviour, Andrew Luck (2012-present). Not too shabby.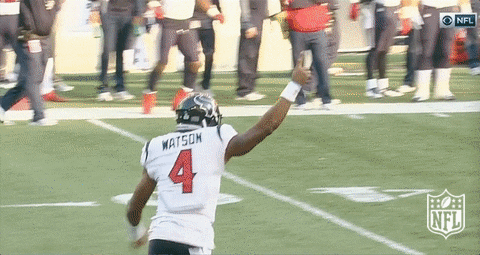 Ties? We Don't Need No Stinking Ties — It's already happened twice this season, and it's really the most disappointing way to finish any sporting event: the tie. It's like getting pump-faked or blue-balled. In other words, it's no fun. In Week Four we almost saw THREE more ties, but thankfully, Corey Davis and a couple of half-decent kickers had other ideas on September 30th. A divisional matchup between the underachieving Texans and Colts turned into a 70+ point affair that took nearly 70 minutes to decide. There were actually three scores in that short 10 minute overtime period at Lucas Oil Stadium: first the Kicker King Adam Vinatieri split the uprights, then he was matched on the next drive when DeShaun Watson set up kicker Ka-imi Fairbairn with an easy 29-yarder to tie it. The Colts then drove it to mid-field before failing on 4th-and-4 on in what will turn out to be a very, very questionable decision. Instead of punting for the tie, the Colts set up Watson at midfield. He proceeded to hit Nuk Hopkins for a 24-yard gain, spike the ball and look on as Fairbairn nailed the game-winning 37-yarder as time expired.
AJ GREEN CALLED GAME.

🎥 @NFLpic.twitter.com/Pu7nYnHYve

— SB Nation (@SBNation) September 30, 2018
Occurring almost simultaneously to that wild AFC South finish was A.J. Green's game-winning touchdown catch (above) with only a few seconds left to bring the upstart Bengals to 3-1 on the season while dropping the high-powered Falcons to 1-3. Also going down at the same time was another upset in the making in Nashville, as the Titans hung around just long enough to send their game with the Eagles to extra time, where once again the losing team started the period off with a field goal, this time courtesy of Jake Elliott. The boot was not enough as Marcus Mariota led his Titans on a 16-play odyssey that included a whopping three fourth-down conversions. It was capped off when Corey Davis soared into the sky to come down with the game-winning 10-yard touchdown catch as the final seconds ticked away in overtime. Two close calls, no ties.
.@BakerMayfield's first career TD pass goes 49 yards to @DarrenFells! #Browns #CLEvsOAK

📺: FOX pic.twitter.com/UedVjY62Yo

— NFL (@NFL) September 30, 2018
To cap the crazy day off, the Browns and Raiders took the highest scoring game of the week into overtime too. This was a game that included nearly 90 total points, well over 1,000 yards of offence, 13 20+-yard plays, 10 touchdowns and six turnovers.  We had fumbles and picks galore, a pick-six, a long touchdown toss, a Dragon Ball Z homage, a no. 1 pick's first TD pass (above), a few questionable calls, a couple of long touchdown runs and a 50-yard punt return. Needless to say this game was jam-packed with exciting and dramatic moments, none more so than those that occurred in overtime. Jon Gruden's Raiders won the toss (still looking for their first win during Gruden's second tenure as head honcho) and drove it up the field only to have their kicker miss a 50-yarder. Damn it, Chuckie thinks. But no matter, a Baker Mayfield 3-and-out and a couple of big Derek Carr tosses later, Matt McCrane was getting another crack at it, this time from 29 yards out. Aaaand he nailed it. This was a great chance for the Browns to get back-to-back wins and they squandered it: they haven't won two straight games since November of 2014. Nearly four years. Yikes.