Though the game ended in the least exciting way possible (a ten-second runoff) the Texans' 42-23 win over the Dolphins on Thursday Night Football, was still jam-packed with exciting plays and WTF moments. Here are three takeaways from Thursday night's action… 1 – We've all been thinking it for some time but I think it's become clear and undisputed that DeAndre Hopkins has the best hands in the league. He made his case late last season with a ridiculous juggling act on a fade in the end zone against the Steelers. He continued making arguments last week with his leaping one-handed grab over none other than Jalen Ramsey. On Thursday he made his closing argument. Though Nuk Hopkins made an impressive snag on a slant in the end zone and also showed off his sticky hands on a short third-down conversion on the sideline, it was a catch that wouldn't even count that sealed his argument. On a third-and-8 deep inside their own territory Texans QB DeShaun Watson let loose down the field looking for his most reliable target, and Nuk did not let him down: the All-Pro wideout shed a pesky DB that was clinging to him like a cat jumping out of the tub, then contorted his body in mid-air, impaled the rock with one hand and caught it up against his back-side as he somersaulted. It was called back on off-setting pass interference calls, and usually that penalty would doom Nuk's jaw-dropping catch to obscurity (like this absolutely re-DONK-ulous one-hander from 2014 that was called back). Thankfully, in this digital age we will not let an amazing feat like that fall by the way-side, one of the few perks of our non-stop social media-driven news cycle.
Will Fuller was WIDE OPEN

Touchdown #WeAreTexans pic.twitter.com/mihvl91UIE

— Def Pen Sports (@DefPenSports) October 26, 2018
2 – Thanks in large part to the blossoming connection between Nuk and his play-caller Watson, the Texans have completely turned their season around and I think the AFC South is now theirs to lose. After starting 0-3 a lot of pundits were quick to jump on the "DeShaun Watson's been figured out" band-wagon. Instead of listening to the critics and falling deeper into the hole, Houston turned on the nitrous and blew by everyone in the AFC South during an ongoing five-game winning streak. Bill O'Brien's boys' resilience is nearly unmatched in history: after 0-3 starts to a season, Houston's five-game win streak this year is topped only by a 6-gamer from the Giants way back in 1970.
When you leave @DeAndreHopkins this wide open…
It's gonna be a @HoustonTexans touchdown! #Texans #MIAvsHOU

📺: @nflnetwork + @NFLonFOX
📱+💻: https://t.co/DJUityQHC9 pic.twitter.com/w5n0K6nWBn

— NFL (@NFL) October 26, 2018
Watson has been up and down this season, and when the Texans stretched their streak to five wins on TNF he was definitely up, as the second-year man matched the streak with five touchdown tosses. Watson has been getting help from the aforementioned Hopkins (789 yards, six TDs) as well as running back Lamar Miller, who came out of hibernation last week and has now put up 233 yards and two touchdowns over his last two games. They've also got a top 10 scoring D down in Houston. Elsewhere in the AFC South it doesn't look as promising: the Andrew Luck of old is nowhere to be found in Indy, Jalen Ramsey talked so much smack in the summer that it somehow pushed Blakey Bortles (not to mention that defence) into an unthinkable regression and the Tennessee Titans are the most mediocre, identity-less team in the league. The Texans will play only one squad in their final eight matchups that currently has a winning record, paving the way from them to stroll onto the AFC South throne.
how do you throw a pass backwards lmao pic.twitter.com/SZ05IfznZ2

— Jordan Heck (@JordanHeckFF) October 26, 2018
3 – I bet he thought he was clever. Coming into Miami wearing a new number like we wouldn't recognize him. I think Brock Osweiler nearly tricked us into thinking he was a good quarterback again, but couldn't keep up the charade in primetime. Let's take a look at Osweiler's Odyssey shall we. First he came in as a big, tall, promising QB that usurped the legend—and 'the Sheriff while he was in Denver'—Peyton Manning's starting job in 2015, only to be himself usurped by said Sheriff before the start of a playoff run that turned into a Super Bowl. Moving on to one of the worst financial decisions in sports history, the Texans (whom he was shellacked by yesterday) then signed the Wizard of Os to a $72 million deal that offseason. After the big guy threw more interceptions than touchdowns for the Texans in his first year, the Wizard's spell wore off. At this juncture, Osweiler's story gets really embarrassing: the Texans have to trade a second and a seventh round pick just so the Browns would take Brock off their hands. A few weeks later, the Wizard was cut by the Brownies. Not even Cleveland wanted the guy. That fact alone should've made everyone realized this guy was a no-good, rotten QB. But the Broncos went in for more, starting him in four games in 2017 before once again snapping out of it and letting him go this past offseason.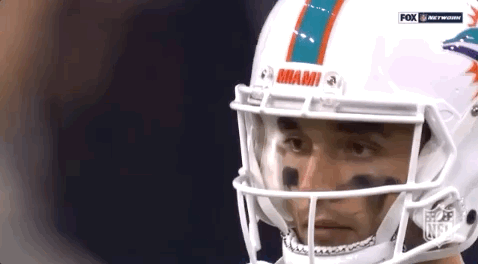 All of that bad history didn't stop the Dolphins from hiring him for another go this spring though. He was just there to be a backup mind you, but with Ryan Tannehill out once again it's been Brock in the driver's seat. In his first two starts he completed 67 percent of his passes for 619 yards and five touchdowns against just two INTs. People were scooping him up in fantasy, talking about how this Dolphins offence could be a problem with Brock at the helm. He was fooling us again. His tricks never last long though, and he was un-masked as the lanky, inaccurate, turnover-lover that he is and has always been on TNF. The numbers don't look terrible on paper, but it was a tough performance to watch no doubt. I'm sorry to say for South Floridians, but Tannehill still doesn't have a timetable for return, so they should brace themselves for a bumpy ride in the Wizard of Os' freaky balloon. Don't fall for it again Fins' fans.