The NFL was back in a pretty ordinary way in Week 1 of the 2017 season. After the Chiefs' huge Thursday night upset of the defending champion Patriots, Sunday's line-up of games was somewhat disappointing: just three of the 12 games were decided by one score or less and only three wideouts had 100+ receiving yards and three backs reached the century mark on Sunday. Thankfully we were treated to double trouble on Monday night with two entertaining and intriguing games featuring big performances from up-and-coming players. A lot happened this week despite the standard Sunday, here's what you need know.
Revolution of the Rookie Runners — In my preview last week I mentioned how loaded this year's rookie running back class was and those guys wasted no time impressing. Kareem Hunt (a third round pick) had one of the best debuts ever for a rookie runner despite fumbling on his very first NFL carry. If Hunt played for Bill Belichick—who's team he ended up torching—he likely would've been benched for the rest of the game.
Damn look how slow Kareem Hunt was on this 58-yard run. pic.twitter.com/luWfOmE8bj

— Clay Wendler (@ClayWendler) September 8, 2017
Instead Kansas City Chiefs HC Andy Reid stuck with the rook and was rewarded with a 256-yard, three-touchdown effort from his starting running back in the Chiefs' big 42-27 win over the Patriots. Hunt's debut—which included a 58-yard scamper and a 78-yard touchdown on a beautiful deep pass from Alex Smith, who had himself a day with 368 passing yards and a quartet of TD tosses—was the greatest in NFL history in terms of fantasy points. Not to mention just in real-life football, especially considering the mental toughness necessary to come back so strong after fumbling your first ever NFL carry. Hats off to Hunt.
The moment Adrian Peterson realized Dalvin Cook is probably a better option at RB for the Vikings than he is. pic.twitter.com/ca7Yiq8Jv0

— Jeff Eisenband (@JeffEisenband) September 12, 2017
The second leading rusher in the NFL so far this season, you guessed it, is another rookie. This one played on Monday night and broke Adrian Peterson's Vikings rookie debut rushing record with 127 yards on the ground. Dalvin Cook—a second round selection—had a rough go of it early but helped the Vikings seal a solid 29-19 win over the Saints with two 30+-yard rushes in the final frame. While Peterson's return to Minnesota was absymal, his rookie replacement there is already breaking AP's records in his debut. Mike Zimmer must be feeling prettty fucking good about how he handled his running back situation this offseason.
Five running backs reached 100 yards this week and three of them were freshmen in the NFL. There was Hunt, who ran roughshod through New England, Cook, who stole the show in Minnesota and of course, the prince who was promised, Leonard Fournette for Jacksonville.  The No. 4 pick in this year's draft ran the ball 26 times for 100 yards including his first career touchdown while getting involved through the air as well with three grabs for 24 yards in his team's 29-7 upset of the Texans on Sunday. Lenny showed both great speed and burst as well as supreme strength in knocking several hapless Texans on their asses on a couple of his runs on Sunday. Though the fact that JJ Watt was injured most of the game certainly helped Fournette, it was nonetheless a very encouraging debut for the rookie runner.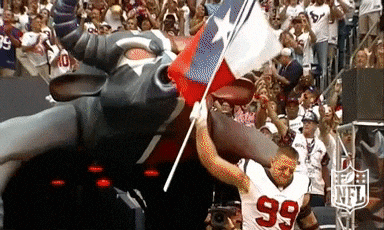 How Bout Them Jaguars — The Texans played with heavy hearts on Sunday but were ultimately thumped 29-7 by Fournette's Jaguars in Houston's first game since their city was devastated by Hurricane Harvey. It was also J.J. Watt's triumphant return to the Texans after missing all of last season due to injury. Unfortunately it didn't take the the three-time NFL Defensive Player of the Year long to dislocate his finger, which made him a non-factor in this one.
.@YannGetSacks91 Twitter handle checks out.@dantefowler scoops it up and returns it 53 yards for the TD!#JAXvsHOU pic.twitter.com/TXxJ38vYV3

— #Sacksonville (@Jaguars) September 10, 2017
You know who else was a non-factor? Blake Bortles, who put up a vintage Bortles performance as he went 11-for-21 for 125 yards and a touchdown. Despite his quarterback's continued incompetence, Fournette still put up solid numbers in leading his offence to victory. That defence was no slouch either. They tied for the most fantasy points among all defensive units (28 points on NFL.com) in Week 1 as they beat up on the Texans to the tune of 10 sacks, three fumble recoveries—one of which young standout linebacker Dante Fowler scooped up and ran back 53 yards in a convoy of Jags to pay-dirt—and one interception.
Calais Campbell got to Tom Savage 3.5 times all by himself before that confusing experiment ended at halftime and gave way to the Deshaun Watson Era in Houston. While Watson showed signs of things to come, he did still commit two turnovers (same as Savage) as the swarming Jags defence let loose on both QBs. Watson has been named the starter for the Texans going forward but with such a short week to prepare, even the Bengals might cause the young pivot some trouble.
Injury Report — JJ Watt, who suffered—and played through—a dislocated finger during his team's loss to the Texans, had a disappointing return to the field on Sunday. After leading the way in raising over $30 million and counting in relief funds for the people—many of which are Houstonians—affected by Hurricane Harvey through his website (which you can donate to at YouCaring.org) Watt dislocated a finger early in Houston's home opener and was of little effect in his team's 29-7 loss to the Jags on Sunday. Though Watt says he's fine because his "finger's still attached," don't be surprised if he's hampered again for the Texans when they play on Thursday. The biggest injury of the weekend though—to fantasy fuckers like me at least—was the one Cardinals RB David Johnson suffered to his wrist. He's gonna need surgery and he'll be out at least two months, if not three. It's murky fellas. CJ2K may make a return to glory but fantasy-wise I'd wanna generally stay away from that Arizona offence with Johnson out.
Allen Robinson is out for the rest of the season with a left ACL tear and won't have to deal with catching passes from Blake Bortles anymore. That's Fournette's offence now. In other injury news Danny Woodhead strained one of his balky hammys again so he'll be out for about 4-6 weeks; Steelers DE Stephon Tuitt (who just signed a fat contract) was thought to have a torn biceps but could end up missing just one week, if that; new Eagles corner Ronald Darby dislocated his ankle yet dodged any major ligament damage, which leaves him out for about a month and a half; Kevin White is made of porcelain and fractured another bone that could end his season yet again; the Niners' impressive rookie linebacker Reuben Foster may say he plans to play in Week 2, but if he did suffer a high-ankle sprain like they think, he won't be in that lineup; Orlando Scandrick will be back in the Cowboys' surprisingly stingy defence by Week 3 according to coach Jason Garrett; Dont'a Hightower suffered a mild MCL sprain in the Patriots' loss to the Chiefs on Thursday night but might even play next week; and finally—and most heartbreakingly—Chiefs safety Eric Berry's season was ended when he ruptured his achilles tendon in his squad's season-opening thumping of the defending champs. Not to mention he was shutting down the Gronk before the injury.
We need more things like this @Brice_Butler pic.twitter.com/avUnSiUSS5

— Anthony (@MrNFLRT) September 11, 2017
SNF Caps a Sorry Ass Sunday — Odell Beckham Jr. should be good to go next week, but he wasn't able to play for the Giants on Sunday. Ezekiel Elliott did though, because a Texas judge (odds that judge has rubbed elbows with Cowboys owner Jerry Jones?) gave Elliott a restraining order against the NFL. That means Elliott can likely play the entire season before the situation resolves itself through America's sluggish judicial system. In the meantime Zeke will continue to have a field day every Sunday behind his diminished yet still-premiere offensive line. He had 140+ yards from scrimmage on the day as the offence did just enough to beat the Giants while Dez was shutdown by Janoris 'Jackrabbit' Jenkins once again. Fortunately the Cowboys' passing offence was bolstered by a diving, lay-out grab from Brice Butler (two paragraphs above) and some ridiculous hand-eye coordination from Cole Beasley (above).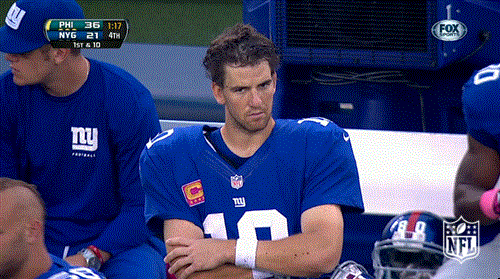 The Giants offence on the other hand was completely stifled by Dallas' suspect defence. Without ODB, Eli Manning couldn't manage much of anything as he threw for just 221 yards and an interception while Brandon Marshall, the Giants shiny new wideout, caught just one ball for 10 yards. Paul Perkins didn't do shit either. It'll be interesting to see what adjustments the G-Men make when ODB returns to the field and starts dominating the minds of opposing defences again.
Goff Off to a Fast Start — Jared Goff and the now Los Angeles Rams got off to a hot start with a win against an admittedly handicapped Colts team in Week 1. The Colts were without Andrew Luck (and will be without him for at least another week apparently) and started Scott Tolzien for some reason. Tolzien was predictably terrible as he threw two picks and completed just 50 percent of his passes on the day. Safe to say the Tolzien experiment did not work out well. But Goff's 2017 debut did. The second-year man posted the first 300-yard passing game of his career as he completed 21-of-29 tosses for 306 yards and a touchdown with a career-high 117 passer rating. Todd Gurley on the other hand continued his rough patch, a patch which has lasted ever since the end of his rookie season. He did however find the end zone to appease fantasy owners for one more week.
Fantasy Report — Speaking of fantasy, here are of unexpected standouts from Week 1. In that huge 46-9 Colts loss rookie RB (another one) Marlon Mack looked impressive, earning the same amount of touches (11) as starter Frank Gore. Mack also scored the only touchdown of the game for Indy and was completely robbed of another one on a 21-yard catch-and-run play (above) that was never reviewed or challenged because Chuck Pagano thinks he's a smart fucking guy. Instead of watching the replay and challenging the call (Mack would have certainly been given a touchdown) Pagano rushed to the line and proceeded to squander any chance of a Colts touchdown. They'd take a field goal. You already had strike one last year. This is strike two. One more chance Chuck. One. More. Chance.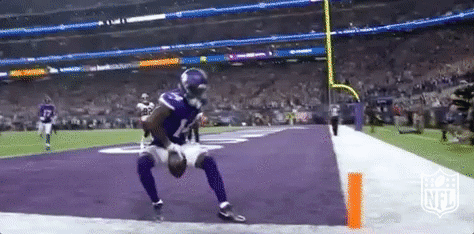 While Kareem Hunt stole the show on Thursday, the Patriots' Mike Gillislee was no slouch either as he quietly scored thrice from in close in the loss and put up 22.50 fantasy points in his New England debut. Meanwhile Adam Thielen was also overshadowed by star-in-the-making Stefon Diggs, who always seems to perform his best under the lights. Diggs went for 93 yards on Monday night, which included an amazing sideline tip-toe catch, some end zone twinkle toes and a tribute to Randy Moss (above) after his first touchdown catch. Thielen on the other hand somehow quietly went for 157 yards through the air on Monday night. Thielen finished with 10 targets, two more than Diggs, so he's definitely worth a look if Sammy Bradford can stay hot.
Tarik Cohen didn't steal Jordan Howard's job, but he certainly made a strong case for a committee backfield. Cohen, a rookie (another one), played only 28 snaps but made the most of them, putting up 113 yards which included a 46-yard scamper (above) and a 19-yard touchdown grab. The freshman did all his damage lining up everywhere from the backfield to the slot. This young Carolinian could be a solid flex option on many a fantasy team out there.
Matt Ryan finds Austin Hooper for an 88-yard TD. pic.twitter.com/4Yyy0dytmY

— SportsTalkFeed (@SportsTalkFeed) September 10, 2017
Cohen's opponents, the Falcons, had a fantasy surprise of their own as second-year tight end Austin Hooper somehow snagged both his targets against the Bears, one of which he rumbled with for 40 yards—taking a man's life with a stiff arm in the process—while the other he took 78 yards to pay dirt, doubling his stiff arm body count in the process (above). He's a popular fantasy pickup this week, but Hooper's two targets are not enticing, especially in a crowded offence like Atlanta's. If you're looking for a temporary or middle of the pack tight end replacement, look for Jason Witten. Tony Romo always relied on him and now so does Dak Prescott, which was made evident by Prescott's touchdown toss to Old Reliable on Sunday night.
The Eagles were also a gold mine of unexpected fantasy firepower this weekend. While LeGarrette Blount saved his day with a touchdown reception, Philly's other big offseason acquisition, Alshon Jeffery, was held to just 38 yards on the day. No matter, Nelson Agholor has matured and is apparently ready to finally be a reliable receiver for their young QB. Agholor had one more target than Jeffery (eight to seven) and turned his targets into 86 yards, which included a 58-yard touchdown bomb (above). Agholor isn't the only one Jeffery owners should be worried about though: tight end Zach Ertz also caught all eight of his targets (also one more than Jeffery) for a team-high 93 yards on Sunday. Maybe Ertz is finally a real fantasy option? I wouldn't count on it but he's never been more likely to prove me wrong than now.
Carson Wentz seems to be a solid backup fantasy QB option right now. Wentz topped 300 yards while throwing a pair of scores and one pick for a solid total of 19 fantasy points on Sunday, far outscoring his DC counterpart Kirk Cousins in the process. Wentz will be up against a stingy KC defence for his next game but keep an eye on him in the coming weeks. Did I mention the Eagles defence is as good a play as ever: they held a top-flight DC offence to just 11 points while sacking Kirk four times and forcing four turnovers, one of which was returned for a touchdown by stud D-end Fletcher Cox (above). That's a whopping total of 22 fantasy points.