For the last few years Thursday Night Football has become synonymous with games that can be described as sloppy and slow. These snooze-fests usually concerned teams at the bottom of the barrel such as the Browns, Jets, Cardinals and the like. Then last week at long last  we were treated to some Thursday night drama: Baker Mayfield finally made his debut for the Browns and brought them their first win in over 630 days. And he did so with a dash of flair and a dollop of excitement. This week we were treated to yet another uncharacteristically thrilling Thursday night matchup which saw the Rams and Vikings trading blows until the final whistle blew on a 38-31 Los Angeles victory. Here are three thoughts on that Thursday night matchup…
Todd Gurley was shot out of a rocket on that play. Caught Anthony Barr flat-footed.#MINvsLAR pic.twitter.com/fBjLaDgS53

— Allan Bell (@AllanBell247) September 28, 2018
1 – I think this kind of high-flying, high-scoring, high-octane game, jam-packed with big plays and eye-popping stats will become a norm around the NFL before long. In 2016 there was only one game during which a single QB threw 5+ touchdowns, through 3+ weeks the number for 2018 is already at three. There are currently seven teams scoring 29+ points per game while last season only the Rams scored more than 29 a game. Since 2009, every Super Bowl winning team has had an offence scoring in the top 10 in the league except the historic 2015 Broncos.
"To ensure consistency in officiating the roughing the passer rule," the NFL shared specific examples of legal and illegal contact on the QB. (via @NFLFootballOps) pic.twitter.com/BdWJ0GHg3E

— NFL on ESPN (@ESPNNFL) September 27, 2018
The saying goes that defence wins championships but in this day and age of CTE and advanced medical research, it's a team's offence that will often determine it's success. Last season every single division-winning team was in the top 10 in points scored and in 2016 two of the top three offences squared off in the big game. Through three weeks there are seven quarterbacks on track for 40 or more touchdown passes despite the fact that the league leader last season had only 34. The firm and sadly consistent implementation of the NFL's protective rules concerning QB safety are also giving offences and—QBs in particular—that were already running circles around defences that much more breathing room.
The last time there was a game with a total score of 79 or more points during the first three weeks of a season was in 2012. There has been one in each of the first three weeks in 2018. So far this year the NFL is on pace to break both the record for points per game per team (23.4) as well as touchdowns per team per game (2.7). There are defences that can still dominate such as the Jaguars and the Vik.. oh wait nevermind. I think the only truly dominant defence is the one down in Sacksonville, and I have very strong doubts that even that defence could put the clamps on offences like the Rams, the healthy Eagles and the red-hot Chiefs.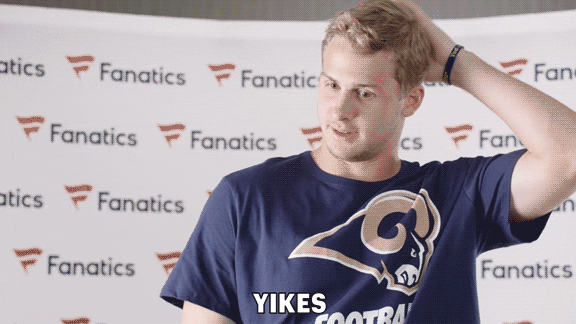 2 – On the subject of the top offences, I think the Rams proved last night that they have the best offensive unit in the NFL—and it's not even close. Against a supposedly elite Vikings defence Rams QB and MVP-favourite Jared Goff threw for career highs in yards (465) and TD passes (5) while leading six scoring drives and piling up 557 yards of total offence. The Rams rank second in the league in points per game (35), yards per game (468.5) and yards per play (7.4) while leading the league with 23 pass plays of 20+ yards. Even after having played an extra game, the Rams still rank tied for 6th in the league having allowed just five QB sacks so far this season. The LA hogs were ranked as top dogs by Pro Football Focus after Week Three as well.  Not to mention the sports darlings of LA have been bull-dozing their way to 127.5 rushing yards per game, good for seventh in the league. This is to say that the Rams offensive line is among the best in the game: they routinely give Goff what seems like the length of a Peter Jackson film to throw while opening up monster truck-friendly holes for All-World running back Todd Gurley.
See ya 👋

Jared Goff finds Cooper Kupp for a 70-yard TD #MINvsLAR pic.twitter.com/GYp9fKVOwz

— FOX Sports: NFL (@NFLonFOX) September 28, 2018
Did I mention that dude scored again on Thursday? Yeah, he still holds the lead in the league with 40 points to his name through four games. Gurley is no doubt the cornerstone of LA's weapons arsenal, the Rams' very own super-soldier, but he's far from the only weapon in that closet that can leave you mortally wounded. Against the Vikings' celebrated secondary, Goff was throwing it to fan-favourite Cooper Kupp, slinging it to 'fastest-player-other-than-Tyreek' Brandin Cooks and tossing it to overachieving Robert Woods with no problems. The three wideouts went for 162, 116 and 101 yards, respectively, and combined for four touchdowns on the night.
The Chiefs have a pretty good weapons cache for Patty Mahomes, the Saints have a couple of big threats too, but there's no comparison when you look at what Goff's packing. When it comes to weapons, the Rams are looking like the U.S of motherf***ing A., owning more weapons then the next 10 teams combined. It's like the Rams are playing with heat-seeking missiles and drones while the rest of the NFL is still trying to figure out how to work a damn musket. LA now has a top five QB and one of the best dual-skill offensive lines in the league to go with the most potent group of weapons I've seen since the 2013 Broncos. Looking at the Rams' schedule I don't see a team that can stay with them until November when they matchup with the Saints and Chiefs but I doubt even those offensive titans will be able to keep up.
3 – While Goff has been seeing protection fit for a president, Vikings QB Kirk Cousins has been getting jumped every single week like he's a hall monitor in middle school. I think the Vikings offensive line will hold them back from being a true contender in 2018. Even before getting into the stats denigrating Minnesota's hogs, and there are a lot of them, just use the eye test and you can see that this group is just awful. Twice during TNF's tilt with a star-studded Rams defensive line a defender was able to slip through and bring down Cousins as he handed the ball off. When your QB is taking hits on running plays, you've got to rethink some things. Even tuning in to the end of Minnesota's disastrous game against the Bills you almost felt bad for Kirk because the guy had all of one, maybe two, seconds (if he was lucky) to scan the field and find the open man before danger was afoot.
Former #Lions OT Riley Reiff has allowed the most pressures in the team.

Friendly reminder, not all Lions players that leave are great just because they go to winning team. https://t.co/caE3BLjwOy

— Logan Lamorandier (@LLamorandier) September 27, 2018
In that Bills game Buffalo outside 'backer Jerry Hughes, a good but not great pass-rusher, had a whopping 12 QB pressures on Cousins. 12, imagine that. The Bills only had four actual sacks during their win but watching the game you could tell there were only a handful of drop-backs where Kirk looked comfortable with time to go through his reads (he was pressured on 32 of his 60 dropbacks). Minnesota have given up 13 sacks through four games, tied for fourth in the league and on pace for an unimpressive 52 for the year, a figure that would put them in the company of the Cardinals and Browns porous offensive lines of last season.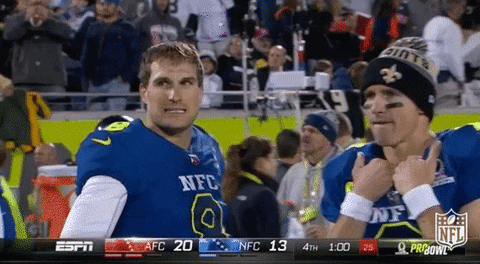 Cousins has also fumbled four times and lost three, a couple of which seemed like they could've easily been recovered by his o-line had they had any awareness of their surroundings whatsoever. Do guys not yell 'FUMBLE' on the field anymore? I digress. The Viks putrid protective unit has also allowed their pricey new QB to be hit 24 times through four games, good for third most in the league. Pro Football Focus isn't helping their case either as the analytics site ranked Minnesota's unit as the 27th-best offensive line after Week 3 (before they gave up four sacks to the Rams on Thursday night). Moreover, they ranked  Brett Jones as the fourth-worst center (53.7 rating), Rashod Hill the 13th-worst RT (58.2) and Mike Remmers the 10th-worst RG (60.6). That's not even the counting left tackle Riley Reiff, who was supposed to be blocking Hughes and could shoulder more blame for that embarrassing loss than perhaps any other Vikings player. Minnesota's got boat-loads of talent all over their roster, from offence to defence, skill players to DBs to linemen—just not offensive linemen.