Week 2 in the NFL is already in the books people. Is it just me or does football season seem to pass by way faster than the rest of the year? Either way, two weeks are through and we're starting to get at least an inkling of an idea about which teams are the real deal, which teams are on the cusp and which team is the worst in football. (Hint: it's the Jets.) This week was a little better than last as we saw seven games decided by a score or less. We still only saw five 100-yard receiving games and three of the rushing variety though. If you play fantasy football, that means it's slim pickens for you right now. Here's what you need to know and see from the past week in football.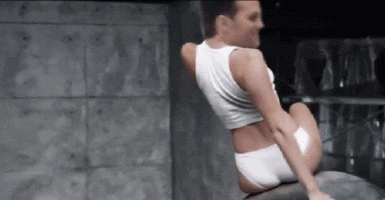 Must See Highlights & Top Performers — After a rough Week 1, Tom Brady was back in a big way this week, as he put on a classic Tommy performance in a 36-20 win over the Saints, tossing three touchdowns to three different receivers to go with 447 yards through the air on a 77 percent completion percentage. Safe to say the Patriots are once again the favourites for the Lombardi. That is, if their o-line can hold off Von Miller and the Broncos.
The boys out in Denver showed they are very serious contenders after a complete dismantling of the Cowboys at Mile High on Sunday. The 42-17 victory showcased both their dominant defence—they sacked Dak Prescott twice, picked him off twice, held 'Zeke to just eight yards on nine carries and kept the entire Dallas offence to just 268 yards—and their budding offence—Trevor Siemian threw for four scores while the running attack went for 160+ yards and a score. If Trev can keep up this pace, this team could be very reminiscent of the 2013 Broncos that lost in the Super Bowl.
Todd Gurley. STILL jumping over people…. this time he scored a TD pic.twitter.com/zcZGzVEwzn

— Def Pen Sports (@DefPenSports) September 17, 2017
Someone else who must've been reminiscing this week, was Rams running back Todd Gurley,  who was very reminiscent of 2015 Todd Gurley on Sunday. The third-year back was not only the perpetrator of the filthiest fucking hurdle I've ever seen (above), he also put up his highest single-game yardage total since Week 14 of 2015, as he went for 136 total yards to go with a couple of trips to pay-dirt. This performance begs the question: was last year just a sophomore slump, or was last week the fluke? That hurdle was so disgusting that I have to go with the latter. Look out for Gurley.
Did you guys realize the Niners actually almost beat the Seahawks this week? They were leading 9-6 in the fourth quarter before Russell Wilson pulled out some of his trademark late-game magic bullshit. They ended up losing 12-9 of course 'cause it's the Niners, but the main reason they even came so close was Carlos Hyde. One of the most underrated backs in the league, Hyde exploded for 143 total yards (124 of which came on the ground, Week 2's top individual total) on the Seahawks' vaunted defence. And did you guys see that 61-yard sprint? Who knew the man had wheels like that. Not me. Maybe he could be something for them to build around down in the Bay? I dunno, I'm just trying to find a positive for San Francisco so they don't completely give up and join the quest for Darnold early.
Let me turn quickly to college sports because not only does Boise State go unorthodox with the blue field, they went against the grain and hired a very good boy to be their kicking-tee fetcher. Above is a video of the young lad hard at work.
Mike Evans shows you how it's done pic.twitter.com/1jvNcKGD2n

— Sports Illustrated (@SInow) September 17, 2017
In other news we got two candidates for catch of the week (if not early entries for catch of the year) from one very likely and one very unlikely source. The first came from a very likely source in Bucs Pro Bowl wideout Mike Evans, who displayed the most titillating twinkle toe tandem in football (except for Stefon Diggs, that man was definitely a tap dancer in a past life) during a 13-yard touchdown grab in the first quarter of Tampa Bay's season-opening 29-7 win over the Bears. Evans would finish the day with very Evans-esque numbers: seven receptions, 93 yards, one touchdown. That Winston to Evans connection is going to be deadly this year and is definitely in dire need of a clever nickname. Any ideas? The unlikely candidate was Browns tailback Duke Johnson Jr., who made a mind-boggling one-handed grab way down the field (above) in Cleveland's 24-10 loss to the Ravens on Sunday. First of all, what the hell was a running back doing 35 yards downfield. Second of all, did Odell Beckham lowkey suit up for the Browns this week? And third of all, how the hell did that man catch that damn ball. We could have our catch of the year already ladies and gentlemen, so you can just tune out for the rest of the season…
Jokes, don't do that. The season will be lit thanks in large part toooo…
Kareem the Dream (and Other Rookie Runners) — There were no freshmen runners that topped 100 yards on the ground in Week 2 but there were still several that impressed. First and foremost of course is Kareem Hunt, who continued to be a fantasy darling after totalling 109 yards—on just 16 touches for some reason—while reaching pay-dirt twice, one of which came on a 53-yard sprint where he showcased his quickly-becoming-trademark wheels (above). His heroics helped his Chiefs to a 2-0 start, something that no other rookie tailback has been able to do this season. Not for lack of trying though.
We saw glimpses in the Seahawks' season opening loss last week in which he rushed six times for 39 yards, but this week the Seahawks really handed the keys to their backfield to their rookie seventh fucking round running back, Chris Carson. Look, he may be a seventh-rounder, but the guy can ball: he delivered this week with 21 touches for 100 yards as he was essentially the lone bright spot for the Seahawks' offence in their too-close-for-comfort 12-9 win over the 49ers. It's safe to say Carson is now the guy in the Pacific Northwest as Thomas Rawls was the only other back to carry the ball, which he did only five times for a meagre four yards. If you're struggling in fantasy football, pick up Carson A to the SAP.
While Carson and most other rookie runners have been impressing without reaching pay-dirt, the only other rookie tailback to find the end zone has been the main man, Leonard Fournette. Fournette didn't have a great game in Week 2 against the Titans—and neither did his team or quarterback in the 37-16 loss, which we all should've seen coming—but he did manage to snag a touchdown to go with his 40 yards (on just 14 carries) on the ground and salvage his fantasy day if not anything else.
Elsewhere Dalvin Cook had a rough start to his second week on the job, but still managed a respectable 64 yards—60 of which came in the second half—in Minnesota's 26-9 loss to the Steelers. The rookie was absolutely robbed of his first NFL touchdown, which should've come on a beautiful 26-yard scamper around right tackle in third quarter (above). Unfortunately they reversed the call, then the Vikings handed it to some guy named Ham for the touchdown. Guess you gotta wait another week Dalvin.
Christian McCaffrey has disappointed thus far and Marlon Mack will likely have to wait until the Inconvenient Truth goes down before he makes any real impact for the Colts. Redskins rookie halfback Samaje Perine on the other hand may have just slid into the starting lineup over in DC after starter Fat Rob Kelley suffered what looks like a fractured rib in Washington's 27-20 win over the Rams on Sunday. Perine earned 21 carries on the day and grabbed 67 yards with his plentiful chances. Not ideal numbers, but with Fat Rob likely out a few weeks, Perine will be the main runner for Washington.
Chris Thompson ladies and gentlemen. pic.twitter.com/t6ncpd35ml

— Zac (@DCzWall) September 17, 2017
Small Names Doing Big Things — While Fat Rob was rumbling toward his injury and Perine was trying to find his footing in the NFL, fifth-year scat back Chris Thompson shone like a diamond for the DC football team in their Week 2 win. Thompson took his six touches for nine, seven, 15, 10, four and 61 yards (above) in his team's Week 2 win. Thompson scored from both seven and 61 yards out as he served as the spark-plug for a somewhat stagnant Washington offence on the day. With Fat Rob sidelined for a few weeks and Perine not playing all that impressively in extensive action on Sunday, the main guy you will see back there with Kirk in the coming weeks will be Thompson more often than not.
There were several other 'no names' who made big impacts for their teams this week, such as Ravens running back Buck Allen, who rushed 14 times for 67 yards (including a 37-yard scamper) and caught five balls for 35 yards and a score in Baltimore's 24-10 win. Over in Kansas City Chris Jones topped his sack total from all last year in the Chiefs' Week 2 win, as the sophomore defensive end took Carson Wentz down thrice in KC's 27-20 win.
There was also speedy wideout JJ Nelson who had a big game out in Arizona with Smokey Brown missing time due to injury. Nelson actually led the league in receiving in Week 2, snagging five balls for 120 yards while also providing the Cardinals with their only touchdown of the game, a 45-yard bomb in he caught in double coverage in the fourth quarter. Rashard Higgins also made his case to be the guy in disappointing Cleveland, serving as the lone bright spot for the Dawg Pound in their loss as he grabbed seven balls for 95 yards. Raiders undrafted change of pace back Jalen Richard exploded (I guess he was playing the Jets, so it's not quite out of nowhere) for 109 yards and a touchdown on just eight touches and is apparently fast as fuck. In Oakland's whopper of a win over the Jets on Sunday the second-year man had both a 39-yard reception and a 52-yard touchdown. I wouldn't say Beast Mode needs to worry, but Richard has certainly earned himself some substantial snaps going forward.
Finally, I know he's not technically a small name, but did anyone else realize Julius Peppers is back in Carolina with the team that made him a superstar? I sure as hell didn't. But there he was on Sunday grabbing a pair of sacks (bringing him to within five of Chris Doleman for fourth all-time) and bringing me back a decade to the early 2000s Panthers glory days of Peppers, Delhomme, Muhammad and Smith. Who doesn't love a little nostalgia now and then? Beast Mode Homecoming — While his stat-line in Week 1 was more impressive, it's Week 2 that Marshawn Lynch will remember. After an injury-riddled 2015 season forced him into retirement, Lynch came out of that retirement with the sole goal of playing for his hometown team, the Oakland Raiders. Unfortunately, the Raiders decided to decamp from Oakland and move to Sin City right around the time Beast Mode was signed by the Raiders. He'll have this season with his hometown crowd though, and from the looks of it (above), that might be enough for Lynch. Lynch didn't play out of his mind during his homecoming but he definitely satisfied his fantasy owners by adding his first Raiders touchdown to his subpar 49 total yards on the day. As we've learned, Lynch doesn't need to do it all as the Raiders have a couple of great change-of-pace backs to take the edge off, such as the aforementioned Richard.
The Raiders as a whole handled business like they were supposed to against the worst team in football. They even got the chance to employ a petty, Lynch-inspired audible call at the goal line in the first quarter (above). With Lynch in the backfield on the goal-line, QB Derek Carr checked to the audible 'Seattle'—which ended up being a smooth as fuck fade touchdown toss to Michael Crabtree (one of a trio of TD grabs for Crabtree on the day)—in a nod to Seattle's still incomprehensible decision to pass on the goal line with Beast Mode in the backfield in Super Bowl 49.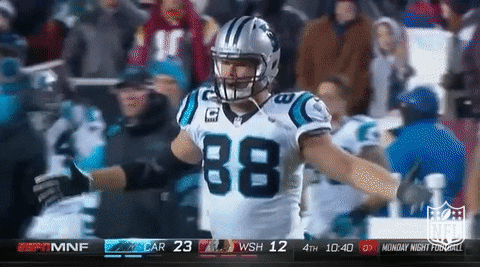 Injury Report — Week 2 was a rough one in the injury department as we saw a significant injury to a major player in nearly every game on Sunday. One of the biggest injuries from this week was suffered by Panthers tight end Greg Olsen, who fell victim to a broken right foot and will likely miss 6-8 weeks while he heels in a nice comfy boot. Ravens guard Marshal Yanda, a key cog in Baltimore's already beat-up o-line, also went down. He unfortunately suffered a broken ankle that will keep him out for the rest of the season. Tough break, but look for the Ravens to find outside help to replace him. Denver's lightning-delayed 42-17 blowout win over the Cowboys came at a cost, as they lost their first-round pick Garett Bolles, who's become their starting left tackle. It was thought that it was a high-ankle sprain, but the Broncos are claiming it to be just a bone bruise, which means the promising young tackle will miss only a couple weeks. If you're a Broncos fan or a Broncos player fantasy owner follow his progress throughout the next couple weeks.
Rob Gronkowski had a monster game this week, hanging 116 yards and a touchdown on the Saints secondary in just three quarters. The big tight end didn't play in the fourth quarter due to a groin injury, but it's unlikely he misses New England's Week 3 matchup. Injuries to other porcelain tight ends Jimmy Graham of Seattle and Jordan Reed of Washington ended up similarly benign as both are considered day-to-day and expected to suit up for their respective teams next week. Atlanta pass-rush specialist Vic Beasley suffered a hamstring injury as well on Sunday. Turns out that hammy is actually torn, so the Falcons will have to look for other pass rush help for the next month at least.
A few other major players suffered some health-related setbacks in Week 2, such as: Steelers rookie linebacker T.J. Watt, who suffered a minor groin injury that forced him from the game on Sunday, it isn't considered serious though and he should be back on the field in a couple of weeks; the Packers lost a key guy on offence (wideout Jordy Nelson, quad) and defence (defensive tackle Mike Daniels, hammy) on Sunday night, but apparently both injuries are minor and both players should be back for the Pack by Week 4; Fat Rob was going so hard between the tackles for Washington on Sunday that he cracked a rib that will keep him out at least week or two; and Bears halfback Jordan Howard was seen leaving the Chicago's game with his arm in a sling, which is an ominous sign for a guy who's job already seems to be slipping away. Meanwhile in Minnesota, head coach Mike Zimmer is giving us absolutely no idea about Sam Bradford as he's said the QB could be back next week, or in November. Case Keenum, Sam Bradford, they're tomato, tomato to big Zim.
Showdown: Smokin' Jay vs. Ranger Phil — What turned out to be the Dolphins season-opener as well as the Chargers' home opener also turned out to be a heck of a game. Younghoe Koo hit his first NFL field goal and Melzinho Gordon found pay-dirt early to give the Chargers an early 10-3 lead. That wouldn't last though because Smokin' Jay Cutler was on the motherfucker: shortly after Melzinho scored, you could see Jay taking care of bidness by firing an absolute laser of a pass in to Dolphins wideout Kenny Stills for the tying score. Ranger Phil Rivers wasn't going to be showed up by some guy named Jay on his home field though, so he marched the Bolts down and fired a touchdown pass of his own, this one to Antonio Gates. The TD reception propelled Gates past Tony Gonzalez for most touchdowns by a tight end in NFL history. Take a bow Antonio, ya fuckin' beaut. Aren't you glad you gave up hoops?
Anyways, you know Smokin' Jay didn't give a shit about that historic moment and he showed it by leading his team on three straight field goal drives after the Gates touchdown to put his team up 19-17. Those drives were sponsored by Jarvis Landry and his 87 catches on the day. (Okay, it was really 13 grabs for 78 yards on the day for Landry, which has got to be the lowest yardage total ever for that many catches. But I ain't mad and neither was Jay.) After all those field goals, the Chargers figured they ought to get one too, so Ranger Phil led the boys down the field and set up Young Ho for yet another game-saving field goal try. And wouldn't you know it, the guy missed.. Again. The young kicker has obviously grasped the Chargers' tried and true method: stay in the game, lose late.