The last undefeated team has been vanquished but not dethroned as my number one team this week. The Eagles jumped up to no. 2 and are threatening to take the top spot from the Chiefs, but will have to win a divisional matchup this week to do it. The Browns stayed consistent and stayed at no. 32 while the Steelers and Vikings hopped back into the top 10. Check out the rest of my rankings below.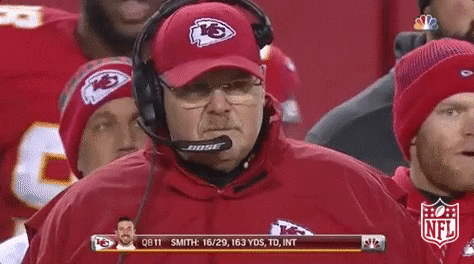 1. Kansas City Chiefs (5-1) (–) — The Chiefs' high-flying offence came crashing down to Earth Icarus-styles in Week 6 as the Steelers held Alex Smith and co. to just 13 points on the day. Kareem Hunt had only 21 yards on the ground, but put up 89 through the air, making him the first player to start his career with 100+ yards from scrimmage in his first six games. The defence was solid against the Steelers as well, holding them to 12 points if you don't count that bone-headed play by EJ Gaines that allowed Antonio Brown to score the game-sealing touchdown. The Steelers kind of have the Chiefs number too, as the Chiefs have gone 0-3 against the Steelers while going 17-3 against the rest of the NFL since the start of last season. KC is still the class of the NFL and they'll look to get back in the groove next week against a severely underperforming Raiders team.
2. Philadelphia Eagles (5-1) (▲2) — Carson Wentz is looking good. Like really fucking good. The kid's tossed seven touchdowns over the past two weeks and has led his team to a league-best (tied with KC) 5-1 start. LeGarrette Blount is cutting defences at 5.6 yards a gash and the Eagles receiving core is the best I've seen it since the Vick era. Especially Nelson Agholor and Zach Ertz, those guys are making the leap to star status this season. After their impressive win over a division leading team in Carolina, the Eagles will have 11 days to prepare for division-rival Washington, who will visit Philly for Monday Night Football in Week 7. I wouldn't be surprised if the winner of that game wins the whole division.
3. New England Patriots (4-2) (▲3) — I don't know what the fuck that ref was looking at but Austin Seferian-Jenkins scored on that damn play. How can something be ruled a fumble if the ball never even touched the ground? It boggles my mind. I'm not calling collusion on Tommy and the Pats but.. I think I'm calling collusion on Tommy and the Pats. I just can't see any other team getting that call not only in their favour, but overturned from what the call was on the field. Ridiculous. Either way, Tom Brady probably would've hit Rob Gronkowski for one more touchdown if they needed it to win. Congrats on your record 187th win Tom, though it is a little tainted.
4. Denver Broncos (3-2) (▼2) — What is going on up at Mile High? The Broncos supposedly stingy defence yielded 23 points to a team missing it's top three wideouts. To be fair, Denver's defence did have to contend with a brutal performance from the offence in which they turned the ball over thrice. And hey, Brock's back! The return of the prodigal son eh John Elway. I don't think it's gonna work out—maybe a certain former Niners QB could be the answer?—but you're bold John, I like bold.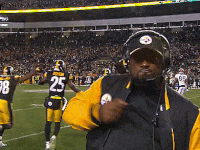 5. Pittsburgh Steelers (4-2) (▲6) — Talk about a full on 180 degree switch. Last week they were pummelled by the Jaguars 30-9 so hard in Week 5 that future Hall of Fame QB Ben Roethlisberger said he wasn't sure he still had 'it' anymore. He didn't really win the Steelers the game, but the guy's definitely still got some gas left in the tank. Le'Veon Bell and Antonio Brown are definitely running on full tanks though (they both went for 150+ and a touchdown, on the ground and through the air, respectively), and I think they might turn on the nitrous soon. The defence also held the NFL's most potent offence to just 251 yards in the win. Could it be? Is the Steel Curtain back?
6. Green Bay Packers (4-2) (▼3) — The Packers suffered a devastating blow this week as the mayor of Green Bay and owner of the Dallas Cowboys, Aaron Rodgers, broke his collarbone in the second quarter of the Packers' 23-10 loss to the division-rival Vikings. Brett Hundley will now lead the offence, but with a questionable running game and an even more questionable defence, I don't see the Packers sans Rodgers doing much the rest of the way. He could return though, last time he broke his collarbone he missed just seven weeks.
7. Carolina Panthers (4-2) (–) — Cam Newton and the Panthers were bested by a great Eagles team at home on Thursday night but remain in sole possession of first place in the NFC South nonetheless. Killa Cam has looked like a different man the last three weeks and will look to get back in the win column against the Bears this week.
8. Atlanta Falcons (3-2) (▼3) — These guys are the reason the Panthers could lose a game and retain first place. Somehow giving up a 25-point lead in last season's Super Bowl wasn't enough of a lesson for the Falcons in how important it is to never let up, because they blew a 17-pointer this week—to the Dolphins. That's right, Jay Cutler (mostly Jay Ajayi though really) led his team to 20 unanswered points in the Georgia Dome. And Matt Ryan threw an INT on the last drive just to throw some salt on the wound. A rematch of last year's Super Bowl looms for the Falcons this week.
9. D.C. Football Team (3-2) (▲1) — Washington was just barely able to slip by the Niners in Week 6 with a 26-24 win. Chris Thompson continues to be a revelation while Kirk Cousins' passing attack started to find its footing as well. The defence has been better than expected, though giving up 24 points to a winless team isn't a great mark on their record. Kirk and the boys will vie for NFC East supremacy when they meet the Eagles this Monday.
10. Minnesota Vikings (4-2) (▲2) — No doubt it's terrible for everyone to see a player like Aaron Rodgers go down, but the Vikings are definitely the team that benefitted the most from the injury. They finished off Brett Hundley after Rodgers went down, and with the erratic play of the Lions, Case Keenum's Vikings are looking good for the division title. They'll look to keep their mojo going this week when the Ravens come to town.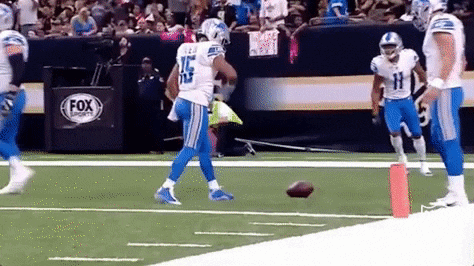 11. Detroit Lions (3-3) (▼3) — What a fuckin' game that was. Four defensive touchdowns and a punt return touchdown. A 35-point lead whittled down to just seven. Absolute bedlam. Unfortunately not even the People's Elbow (above) could save the Lions in the end, Matty Stafford couldn't quite finish off the comeback, as he was picked off in the end zone on the final drive. The guy had five turnovers, but he was also sacked five times. With Golden Tate now injured (did you see that touchdown!?) it'll be up to Marvin Jones Jr. (did you see that touchdown!?!?) and Ameer Abdullah to lend Matty boy a hand. That o-line could pitch in too. No pressure, they have their bye week to figure out the protection.
12. Baltimore Ravens (3-3) (▼3) — After finally going a game without a turnover in Week 5, Joe Flacco was Joe Flacco again in Week 6. The Ravens QB tossed two picks to bring his TD-INT ratio on the season to 4-8. Yikes. Alex Collins looked good though, and the special teams were on fire with two return touchdowns on the day as well. Expect Flacco to have a very rough go of it up in Minneapolis this week.
13. Seattle Seahawks (3-2) (–) — Russell Wilson and the lads took the week off but they'll be back this week to try and put Eli and the Giants back in their place. I don't have much confidence in Seattle at this point either though; they have no real playmakers on offence other than Doug Baldwin and the defence is good, but not as good as it once was. Russ needs weapons.
14. Los Angeles Rams (4-2) (▲3) — The Rams continued to impress this season with a win in Week 6 against the Jaguars. They got quite the boost when Pharoh Cooper returned the opening kickoff for a touchdown, but they put up another 20 points on an impressive Jags defence after that. The Rams will look to grow their division lead when they take on the division-rival Cardinals this week.
15. New Orleans Saints (3-2) (▲3) — What a wild ride that was. The Saints went up 35 largely on the strength of their defence, before allowing the Lions to come nearly all the way back. The Saints put up 190 yards on the ground in the Saints' 50-burger performance, but Drew Brees threw for just 186 yards. Can you remember the last time Brees even threw for under 200 yards in a game? It was in 2013. The last time the Saints won while Brees threw for under 200 yards? You gotta go all the way back to 2009, the year they won the Super Bowl. That season they had a complete team that allowed Brees to throw for under 200 and still get the win three times during the season. Foreshadowing or nah?
16. Buffalo Bills (3-2) (▼4)  — The Bills come off their bye this week to face a Jameis-less Buccaneers team that will be helmed by none other than former famed Buffalo magician Ryan Fitzmagic. Expect the Bills swarming defence to have a field day against their rusty old teammate.
17. Houston Texans (3-3) (▲2) — DeShaun Watson is forreal ya'll. This kid can ball. I know it was just the Browns, but damn. Watson threw another two touchdowns to bring his three-week total to 13 scores and even showed his soft side by throwing a touchdown pass to a Browns player too. What a nice guy. Meanwhile the fifth edition of Will Fuller has also been playing off the charts, with eight receptions and five touchdowns in just three games.  They'll enjoy a bye this week before heading out to Seattle for a real test of Watson's skill and poise.
18. Oakland Raiders (2-4) (▼4) — No Derek Carr? Problem. Derek Carr? Problem. The Raiders lost again this week, this time to Phil the Thrill and his Chargers. The Bolts and Raiders now have the same record. I can't believe I'm saying it either, but there it is. It doesn't get any easier as they host the best team in the league, the Chiefs, tonight on Thursday Night Football.
19. Los Angeles Chargers (2-4) (▲4) — The Chargers took care of business once again during a 17-16 win as they continue to exercise their late-game demons. Philip Rivers has been great over the past few games and Melvin Gordon has been even better. Melzinho is tied for the league-lead with seven trips to pay-dirt this season as he scored both of LA's touchdowns in Week 6. Next up is a tough matchup with a great Denver defence and an easy matchup with a shitty Denver offence.
20. Miami Dolphins (3-2) (▲2) — Somehow, Jay Cutler and the boys got another W under their belt in Week 6. They beat the defending NFC Champion Falcons in the Georgia Dome after scoring 20 unanswered points actually. So, not too shabby. The defence looked great and Jay Ajayi put up another 130 yards on the day. The Fins will look to keep the good times rollin' this week when the Jets come to town for a divisional matchup.
21. Tampa Bay Buccaneers (2-3) (▼6) — Somehow the Bucs went down 31-0 to the Cardinals last week and somehow they staged a comeback without their franchise QB Jameis Winston, who suffered a shoulder injury early in the game. Ryan Fitzmagic filled in capably, but they still lost 38-33. A team that was supposed to be playoff-bound, instead looks like it has taken a step back this season. Meanwhile, the Bucs are acting very shady in regards to Winston's injury, with his availability for their upcoming matchup with the Bills very much in jeopardy.
22. Dallas Cowboys (2-3) (▼1)  — The Cowboys didn't play this week, but they were still all over the news. Yes, Ezekiel Elliott has unfortunately been suspended again by the NF- oh wait, nevermind. They overturned it already. He'll be playing in Week 7 for the Cowboys when they head to the bay to take on the winless 49ers this week.
23. Jacksonville Jaguars (3-3) (▼3) — Leonard Fournette might have to start playing QB and WR as well because he's the only man on the offence doing anything. The Jacksonville defence is top ten in yards and points and leads the league in sacks (23), takeaways (16) and defensive touchdowns (2). Meanwhile Blake Bortles threw a pick for the third straight game while failing to reach 250 passing yards in a game for the sixth time this season. That's every game in case you didn't put that together. Lenny and the defence should be enough to get them the W in Indianapolis against the Colts this week though.
24. Cincinnati Bengals (2-3) (–)  — The Bengals had a bye in Week 6 but will be thrown right back into the action this week with a divisional matchup in Pittsburgh against the Steelers, a team that just took down the last undefeated squad. Pittsburgh's defence has been impressive, so hopefully Andy Dalton can keep it together for another week. Mark that down as doubtful.
25. Tennessee Titans (3-3) (▲1) — For a second there I was thinking, wow, the Titans really are this trash eh. But they picked up themselves up by their bootstraps and were able to get the win to get back up to .500. In a very topsy-turvy AFC South, they are still very much in the mix for the division crown. They will look to keep pace with the rookie sensations in Jacksonville and Houston this week when they visit the winless Browns.
26. Arizona Cardinals (3-3) (▲1) — All. Damn. Day. Adrian Peterson finally has a backfield to himself, and he wasted no time showing the league he's still got it. The greatest back of his generation, who put up 134 yards and a pair of scores, was joined in his resurgence by 34-year-old wideout Larry Fitzgerald, who snared 10 balls for 138 yards and a touchdown in the 38-33 win over the Bucs. I don't wanna jump the gun here so I'll just say this: the Cardinals are no pushover anymore. We'll see just how much of a difference Peterson has made this week when they visit the division-leading Rams in the City of Angels.
27. New York Jets (3-3) (▼2) — The Jets actually played a great game this week against the Patriots, but ultimately fell victim to one of the worst calls I've ever seen. The touchdown the refs took away ended up being the difference in a 24-17 loss, though the performance overall from the Jets was an impressive one. The Jets will take their talents to South Beach this week to battle it out with Smokin' Jay and his fish.
28. New York Giants (1-5) (▲3) — At last! Victory! How sweet it is. And not only did they get a win, they went into Mile High and put up 23 points on one of the premiere defences in the league without their top three wideouts or an established running back. The Giants 23-10 win over the Broncos was impressive, but it might've come too late. The Giants will play host to the well-rested Seahawks this week in an attempt to convince people that that first month was just a fluke. We'll see about that.
29. Chicago Bears (2-4) (▲1)  — Number 2 overall pick Mitchell Trubisky continued his middling debut season in Week 6, but thanks to another big performance from Jordan Howard and another shitty one from Joe Flacco, the Bears were able to get the OT win over the Ravens. The Bears will try to tame Killa Cam and his Panthers this week. Look for the Panthers savvy D to give the rookie Trubisky some trouble.
30. Indianapolis Colts (2-4) (▼2) — Though it seemed as though they might actually beat Marcus Mariota and the Titans on Monday night, in the end the Colts once again proved they cannot be taken seriously until Andrew Luck returns to the lineup. Who the fuck knows when that'll happen. In the meantime, the Colts would do well to continue feeding TY Hilton and getting rookie running back Marlon Mack some more reps. Frank Gore can't play forever.
31. San Francisco 49ers (0-6) (▼2) — These guys are doing a better impression of the Chargers than the Chargers lately. San Francisco has lost it's last five games by three points or less. Not by a score or less, by three points or less. Two of those went to OT and this week they only missed by two points in their 26-24 loss to Washington. They switched from Brian Hoyer to Cody Beathard midway through the game and still only lost by two! How the Bears and Colts have two wins and this team has none boggles my mind.
32. Cleveland Browns (0-6) (–) — Oh Browns. I cannot believe how you have unraveled in 2016. DeShone Kizer has already been benched for the possibly more trash Kevin Hogan and there's really nothing else to talk about with this team other than Duke Johnson Jr. Now that Lebron and the Cavs have started playing in Cleveland again, expect a heavy shift of focus for all sports fans in Cleveland. Go Cavs!