Week 9 in the NFL is in the books and just like that, Week 10 is upon us, with most teams having already played at least half of their games already. It looks like without DeShaun Watson at the helm, the Texans might join the dusters on the island of misfit teams down at the bottom of this list: Houston somehow lost to the Colts. Yikes. In other news, feeding your lead back is still proven to be an effective way to win, as once again 8/10 of the top rushers this week led their teams to victories. Like Week 3 was the Week of the Upset, Week 9 was NFL Fight Night, as we were treated to a couple of extra tussles after the fuckin' brutal but entertaining lineup of scraps the UFC gave us the night before. I think it's safe to say my guy GSP inspired a couple wide receivers on Sunday.. *cough* Mike Evans *cough cough* AJ Green *cough* As for this week's rankings, the top three remains the same as it should, while Drew Brees and his Saints hopped into the top five for the first time this season.
1. Philadelphia Eagles (8-1) (–) — Somehow the league's best team was allowed to get even better, as they added Jay Ajayi to their backfield last week, who promptly rumbled 46 yards to pay-dirt in his first game as an Eagle. Not to mention we saw new signee Alshon Jeffery play his best game of the season. Did I mention they dropped a fucking 50-burger on the Broncos' former no. 1 defence? Carson Wentz continues to pace the league with 23 passing touchdowns, which is four ahead of the next closest passer, the now-defunct DeShaun Watson. Philly finally gets it's bye this week, and no team deserves a vacation more than this group, which has now won seven straight games. The road to the Super Bowl and the MVP will run through Philly and Wentzy. That's North Dakota Strong baby.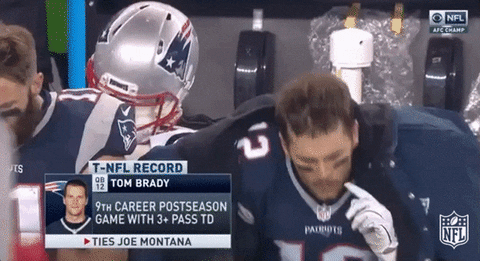 2. New England Patriots (6-2) (–) — Tom Brady and the boys took their bye in Week 9 and therefore retained their number 2 spot in the hearts and minds of football fans everywhere. Just kidding. But they're definitely no. 2 in my mind (not my heart). I think everyone can agree at this point that the Eagles are the best team in the league. But the team Brady plays for has always gotta be next up after that. We'll see just who is the more dominant offence this week when Tommy Gun heads to Mile High to take on a Denver defence coming off their weakest performance in a couple of years. Brady should have no problem out-duelling the Wizard of Osweiler. The Broncos are especially susceptible to the tight end, so expect at least two Gronk spikes before Sunday Night Football's final whistle.
3. Pittsburgh Steelers (6-2) (–) — The Steelers also took their bye last week, which was certainly much appreciated for a unit that has been good, but not as good as advertised. Their TD celebrations have been even better than advertised though, thanks in large part to the milennial ingenuity of rookie wideout Juju Smith-Schuster. Not only is Juju a master choreographer, he's a pretty good little football player too, as he scored on a 97-yard touchdown pass a couple weeks ago in the absence of the formerly-disgruntled Martavis Bryant. Bryant had been suspended for that game but will be back this week in a dream matchup with the Colts. Expect Juju to remain the second option in the passing game for now, but if Martavis can keep off the bongs and the tweets then he'll be back as Antonio Brown's complement soon enough. Either way, Le'Veon Bell is the motor of this offence, and if he's not givin' err, there's no way it can be a full send for the Steelers offence. Did I mention the Steelers are allowing the second-least points in the league? Keith's been coaching the boys up real fuckin' good lately.
4. New Orleans Saints (6-2) (▲2) — How about that two-headed monster at running back? Mark Ingram comes with the Thunder and rookie sensation Alvin Kamara (who's seen his usage go up in every game and will be the feature back soon enough) comes with the lightning. Drew Brees is Drew Brees every single year for the Saints. You know what you're getting when you got Drew under center. What's changed over the years, is the level of support Drew has gotten. And the last time he was getting this much run support (7th in the league in rushing) while at the same time boasting at least a middling defence (15th in the league), Drew threw the biggest party the French Quarter had ever seen, save Mardi Gras of course. They'll look to keep the good times rolling and snag their seventh win in a row when they head to upstate New York in Week 10 to take on the Bills.
5. Minnesota Vikings (6-2) (–) — Vikings fans are cheering in the streets as Minnesota was finally able to swap Teddy Bridgewater out of the IR and toss Sam Bradford in instead. This is still Case Keenum's offence though. And it's still the defence's team overall. Everson Griffen and Danielle Hunter form one of the best pass-rushing tandems in the league, Eric Kendricks and Anthony Barr hold down the heart of the defence like no other, and Harrison Smith and Xavier Rhodes are both top five at their craft (if not top 1 for Rhodes). The Vikings will look to continue leaving the rest of the NFC North in its dust when it visits the nation's capital where they plan to torment Kirk and the boys this Sunday.
6. Los Angeles Rams (5-2) (▲1) —The Rams picked up their third straight win in Week 9, it was also their third game of 40+ points this season, a league-high. Jared Goff has been great and Todd Gurley has been even better for the Rams this season. Goff and Gurley accounted for all of the touchdowns during the 51-point onslaught in Week 9, as per usual. This week the Rams will look to continue their offensive domination—they lead the league in scoring, averaging a whopping 32.9 points per game—this week when they host a Texans team in complete shambles, missing both its best defensive and offensive players for the rest of the season. Another 40-burger would not surprise me. 7. Kansas City Chiefs (6-3) (▼3) — The Chiefs continue to tumble down the rankings as they've now lost three of their last four contests after losing 28-17 to the Cowboys in Week 9. Kareem Hunt has slowed to almost a crawl as his production continues to go down on a weekly basis and the KC defence is fourth-worst in the league. Thankfully the Alex Smith to Tyreek Hill connection is still online, with Hill scoring on perhaps the strangest 56-yard touchdown grab of all-time (Hill's fourth touchdown of 30+ this season). The Smith to Kelce line is also open for business, as Travis Kelce has been the most consistent tight end in the league this season, leading the all tight ends in receptions (51) and yards (629) through Week 9. The Chiefs will take their bye in Week 10 and look to get back to their winning ways when they return in Week 11. 8. Carolina Panthers (6-3) (▲1) — The Saints have ridden a six-game winning streak to the top of the NFC South so the Panthers' matchup with the Falcons wasn't for NFC South supremacy per se, but more so for NFC South mediocrity. The Panthers won it 20-17 on the strength of 86 yards on the ground from Killa Cam Newton and the continued weakness of Matt Ryan's play in the clutch. It was a close game but Cam was having fun as usual, this week giving us a glimpse of would it would've looked like had he decided to toss the ball at a net rather than a receiver. I think it would've been sick, because watching him absolutely poster a Falcons DB on the goal-line was one of my favourite moments of the season so far. And you can't beat that smile. Next up for Killa Cam and his cats is a MNF date with the floundering Dolphins. Two of the most unpredictable teams this season are meeting so don't expect a prediction from me.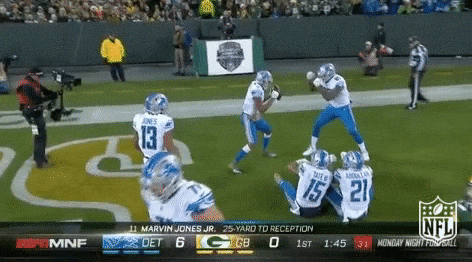 9. Detroit Lions (4-4) (▲4) — Without Aaron Rodgers in there, there was really no contest on MNF as the Lions dismantled the Green Bay Broken Collarbones 30-17. Marvin Jones Jr. continues to be superb even as Golden Tate looks to be at full strength once again, giving Matty Stafford quite the weapons cache over there in the Motor City. Both wideouts caught at least seven balls on Monday night and both took those seven balls for 100+ yards, while Marvin took care of the scoring for the both of them with two trips to pay-dirt. The Lions will leap back up over .500 this week when they welcome the Brownies to town for what can't be considered more than a scrimmage.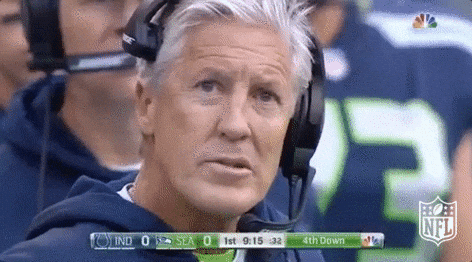 10. Seattle Seahawks (5-3) (▼2) — Soooo yeah, the Legion of Boom ain't shit anymore. It took Kirk Cousins only four fuckin' plays to go 70 yards for the game-winning touchdown. Four. Two of those were passes of 30+ yards, something the LoB is supposed to be morally opposed to allowing. Russell Wilson can't will this scrappy team to a win every week, some guys—and by guys I mean running backs and linemen—are gonna have to step up—and by step up, I mean play with a skill level higher than Peewee. One guy who did step up on Sunday was veteran d-end Dwight Freeney. Yeah, you read that right. Dwight fuckin' Freeney still plays football. In the NFL. And he didn't just play either. Nah, my grandpa's favourite player growing up had two fuckin' sacks on the day. Waitta stick it to us milennials ya fucken beauty, not to mention you're within one sack of legend Derrick Thomas on the all-time sack list. Old Man Freeney, Pete Carroll and his gum sponsor will look to stay relevant tonight when they head to the desert to try and stop Adrian Peterson and the lads.
11. Dallas Cowboys (5-3) (▲5) —Another week, and another whiff by Roger Goodell and the NFL. It's really starting to seem like Ezekiel Elliott will never be suspended. The NFL is trying to get err done again this week but somehow I doubt that they'll succeed. In the meantime, he'll continue to team with Dak Prescott to keep the Cowboys in the Wild Card race. I think we can all agree they're not winning that division. Prescott has really been the more impressive of Dallas' two sophomores this season, showing off his dual-threat capability as he's accounted for 20 touchdowns halfway through the season. During his Rookie of the Year campaign last season, he put up 29. Dak's good guys. The Cowboys will travel to the ATL this week to have a look at a real live Super Bowl Hangover.
12. D.C. Football Team (4-4) (▲5) — Kirk Cousins and the boys absolutely carved up the remains of that Legion of Boom didn't they? Sheesh. That had to be Kirk's easiest game-winning drive ever. That near-two-point return was also a thing of beauty, you gotta love that backyard football shit. Washington's offence didn't look great all day though, as they continued to try and force feed Fat Rob Kelley the football instead of getting it to Chris Thompson in space. They'll figure it out eventually. Hopefully. In other news Terrelle Pryor is still MIA, so if you get a tip on his whereabouts, be sure to contact D.C. immediately. Josh Doctson looked good though, so at least not all of their receivers have been flops this season. Kirk will have it a lot tougher this week when they host the Vikings and their swarming defence though. Will Xavier Rhodes shadow Pryor or Doctson? 13. Atlanta Falcons (4-3) (▼2) — Super Bowl hangovers can affect even the best of us. Just look at Julio Jones flailing around like a rag-doll trying to catch the easiest touchdown of all-time. If that isn't proof enough I don't know what to tell ya. Matt Ryan also continued to show his complete lack of a clutch gene as he failed once again to lead his team on a game-winning drive late in the fourth quarter. Only 16 rushes for their dynamic two-headed attack at running back isn't nearly enough either. Tevin Coleman and Devonta Freeman are playmakers, and they need to be seeing a lot more touches than they've been seeing. Get ready for a shootout in Georgia this week when the Cowboys come to town. But don't expect the Falcons to score the final touchdown, if ya know what I mean.
14. Buffalo Bills (5-3) (▼4)  — You just can't win with the Bills can you. When you think they're gonna shit the bed so you bet against them they let you down. Then when you think they've finally turned the corner and it's okay for you to start talking trash as a Bills fan they go back to their losing ways and let you down. Either way, the Bills are gonna let you down. They lost this week to the Jets, which isn't as bad as it seemed at the beginning of the season, but still isn't ideal. The Bills could've jumped into a tie with the dormant Patriots for first place in the division with a win, but not even that was motivation enough apparently. I thought the Bills defence was a top unit, but that can't be true unless the Jets offence is a top unit. Which it is certainly not. If the Jets 22nd-ranked offence can put up 34, I can't imagine what Drew Brees and his 2nd-ranked offence will hang on that defence.
15. Jacksonville Jaguars (5-3) (▲5) — AJ Green and Jalen Ramsey definitely watched UFC on Saturday night. They watched the 38-year-old bloody-faced GSP bash some guy's face in and decided they would try and get in on the gladiatorial fun. Like playing football wasn't enough. Ramsey gave Green nothing but a little shove and Green responded with the rear-naked choke. He obviously was having none of the second-year youngster's bullshit. The fight pretty much overshadowed a solid game from Blake Bortles in the 23-7 win over Cincy, another without Leonard Fournette to keep the pressure off him. It's a damn shame too because Bortles isn't putting up 24/38-259-1 lines with no turnovers every week. He isn't even doing it every year. Cheers Blake. Hopefully Lenny doesn't miss any menial bullshit team meetings this week and he can assist his team when they host Melzinho, Phil and the Chargers this week.
16. Baltimore Ravens (4-5) (▼1) —  The Ravens lost another close one and not even rookie running back Alex Collins could get anything going in the 23-20 loss to the Titans. Joe Flacco put up another two turnovers to bring his season total to a sparkling 11 in just nine games. But he won the Super Bowl five years ago so he's elite and you can't bench him right. Puh. This Ravens offence isn't going anywhere until they reconsider who's running their offence because 287 yards a game is not even going to come close to cutting it. If the Ravens wanna have a better second half to the season than their first, they need Flacco to figure his shit out or kick him to the pine. Hopefully they can make that decision during their bye this week.
17. Denver Broncos (3-5) (▼5) — Talk about a fall from grace. The Broncos offence had been brutal for a few weeks now, but the defence had still been so good that it held down the no. 1 spot in the league in yards allowed. No fuckin' longer. They gave up 419 yards and a fuckin' 50-burger in Week 9. Like damn. I know the Eagles offence is dope but 50-burgers don't grow on trees. They don't happen by accident. If they can't even count on their defence to hold it down, this Broncos team has no hope of finding a playoff spot. And Brock Osweiler is still shit you guys. Just in case you were wondering. Hopefully they don't give up another 50-burger when the no. 1 offence comes to town on Sunday Night. Don't expect Tom Brady to take it easy on them either.
18. Green Bay Packers (4-4) (▼4) — What can you say about this team. It wasn't that great with Aaron Rodgers leading them, and it's a goddamn mess without him. These guys cannot play. The defence has always been bad, so if they expect to win any games they'll probably have to score at least 20 points. I really don't know if Brett Hundley can lead multiple touchdown drives in one game, so if the Packers win another one, it'll be on the back of a return touchdown or fluke plays or Aaron Jones. They play the Bears and their rookie QB this week in the Windy City. Mitch Trubisky is just the type of mistake-prone youngster the Packers will need to take advantage of if they expect to get any Ws down the stretch. And feed Aaron.
19. Los Angeles Chargers (3-5) (–) — Melvin Gordon and the Chargers took the bye week to heal the wounded and will be back at full strength this week when they head to North Florida to tussle with the Jags, who, you've obviously seen, are not against the occasional scrap. There probably won't be another real scrap in this one, but I expect both teams to get after the opposing quarterbacks and cause turnovers, something both QBs are prone to committing. Whichever of the two teams is able to establish their running game first (and both are above average) will have a huge advantage.
20. Tennessee Titans (5-3) (▲3) — The Titans got a very tight 23-20 win over the Ravens in Week 9 even with Joe Flacco throwing his standard two picks. A win is a win though, and the Titans kept pace with the Jaguars at 5-3, so that's all that matters. The Titans would definitely love to see more production from their two talented running backs, who combined for just 45 yards on the ground on Sunday, but it's Marcus Mariota that really needs to pick up his game. His 6-5 TD-INT ratio leaves much to be desired, so hopefully he can improve on that mark when the Titans host the Bengals this week.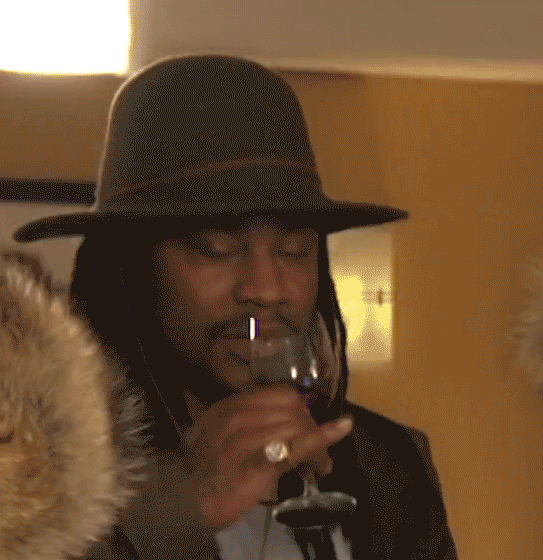 21. Oakland Raiders (4-5) (–) — The Raiders are an enigma to me. I mean they beat the Dolphins, but like, barely. And they beat the Chiefs? And they lost to the Ravens? I don't know. Marshawn Lynch scored a touchdown though so that's awesome to see. I fucking love that dude. How could you not? Definition of a beauty this guy. There's been some rumours swirling around about the Raiders offensive line letting Derek Carr get hit because of his political views, but I seriously doubt there's any basis to these claims. They were made by the wife of a Buccaneers cornerback so I'm not really sure why she would have inside info on the Raiders. But I digress. The Raiders will take the W and enjoy it for a little longer as they take their bye in Week 10.
22. Houston Texans (3-5) (▼4) — Helluva week in Houston sports huh. Astros win first World Series ever, Texans' Messiah tears ACL. That went from 100 to zero real fuckin' quick. Without Watson back there, the Texans lost to the fucking Colts. The Dreaded Duo of DeAndre Hopkins and Will Fuller still combined for 118 yards and a touchdown, but their combined numbers had nothing on TY Hilton's 175 yards and two scores for the opposing Colts. The Texans have been devastated this season with injuries to big contributors. So they might as well call this one a write-off and try to grab another top pick next year. Tom Savage isn't taking them anywhere nice believe me. The Colts travel to the City of Angels to take on the highest-scoring team in the league this week so you can expect an even worse result than the 20-14 loss they suffered this week. 23. Cincinnati Bengals (3-5) (▼1)  — You gotta think Jalen Ramsey had to have said something worse than that to make AJ Green react the way he did. But then again sometimes you just gotta rear-naked choke a motherfucker. You know the feeling I'm sure. Without their best player the Bengals were unable to do anything on offence and ended up losing to a Fournette-less Jaguars team. The Cincy defence even allowed Blake Bortles to put up a decent game against them. Yikes. Andy Dalton will surely be ecstatic to have his no. 1 wideout back this week when they travel to Tennessee, as Green and Ramsey were fined but not suspended.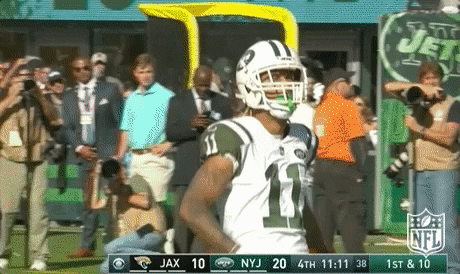 24. New York Jets (4-5) (▲4) — The New York Jets are actually.. pretty good. Isn't that weird? But it's true. Josh McCown has been great for the Jets and his receiving corps isn't too bad either: wideout Robby Anderson has now scored in three consecutive games. Matt Forte and Bilal Powell are a pretty fuckin' decent RB pairing too it turns out. The Jets just keep surprising us. They're no pushover anymore and are certainly not on the island of misfit teams any longer. They'll look to push another team, the Bucs, further towards the island this week when they go to Tampa Bay. 25. Miami Dolphins (4-4) (▼1) — So Matt Moore didn't cut it, why not bring back Smokin' Jay Cutler ferda? Cutler was chain-smoking darts so hard during the game that you could barely see the field at points. Or maybe that was fog. Either way Cutler balled the fuck up, tossing for 311 yards and a trio of scores without losing a turnover. The Dolphins finally have a working formula on offence, strange that Jay Ajayi's departure was the last part of that formula, but it worked pretty well on SNF. Not well enough to get the W, but well enough for the fish to have some hope when they head to Carolina for MNF this week.
26. Chicago Bears (3-5) (–)  — Mitchell Trubisky had an extra week to prepare for this week's matchup against the Packers so it'll be interesting to see how he does. The Packers defence is pretty trash so it's a pretty lucky team to get after a bye week for the youngster. Don't expect Trubisky to lead this offence though, it's still Jordan Howard's property.
27. Arizona Cardinals (4-4) (▲1) — Adrian Peterson is back and in full force boys. The Cardinals fed him a career-high 37 carries and Peterson responded with his highest single-game rushing total (159) since November of 2015. They'll host the Seahawks tonight and you can expect them to continue feeding the beast. Drew Stanton is decent but the Cardinals will need to lean on Peterson if they're gonna have any success down the stretch. 28. Tampa Bay Buccaneers (2-6) (▼3) — The Bucs are really falling apart now, after Jameis Winston went down he continued quacking from the sideline, which is when Marshon Lattimore took exception. But Mike Evans took an even bigger exception to that exception and absolutely pummelled the rookie. Winston will be down for the foreseeable future and Ryan Fitzpatrick isn't that bad, but the team as a whole is having a rough go of it lately. Not having Evans for next week is gonna make it even tougher for them to outscore Josh McCown and the Jets when they come to town this week.
29. Indianapolis Colts (3-6) (▲1) — Against all odds, the Colts got another win in Week 9, thanks in large part to TY Hilton snapping fro 175 yards and two scores (one from 80 and one from 45 yards out). They've beaten the winless Niners and Browns and now the Watson-less Texans, so their list of wins isn't all that impressive. I don't think anyone outside of Indianapolis is taking the Colts to win this week when the Steelers come to town either. Even Indianapolis probably isn't feeling too hot about the matchup.
30. New York Giants (1-7) (▼1) — The Giants are so far gone at this point. They just gave up a damn 50-burger—granted it was against the Rams—but it seems like they're really not even trying anymore. Evan Engram is a small bright spot in an otherwise very ominous Giants sky. There is a sunrise on the horizon though, as they finally have a winnable matchup in San Francisco this week.
31. San Francisco 49ers (0-9) (–) — The 0 and Niners still haven't won this season, but they have a great shot this week when Eli Manning and the Giants come to town. The Giants have won a game, but the Niners have looked a lot better as a team this season. Maybe we'll even get a Jimmy Garoppolo sighting this Sunday too.
32. Cleveland Browns (0-8) (–) — The Browns didn't lose this week, but that was only because they didn't play a game. They'll be back in action this week when they head to the Motor City to pick up another L.  Josh Gordon has been reinstated which is good news, but he's owned up to what it's really like to play for the Browns. You gotta be drunk and high motherfucker.