 1. Philadelphia Eagles (10-1) (–) — Carson Wentz and the Eagles just keep on rollin'. Their defense is playing off the chain now and their offense has been off the chain for some time now, boasting a weapons cache that would make Dick Cheney jealous. They also continue to be the masters of group celebrations, hitting a family photo, a bowling strike and the electric slide all in one game during the Eagles'  31-3 win over the Bears this past week. That coming on the heels of a 37-9 spanking of the Cowboys that bordered on domestic assault. Something the Cowboys know a lot about, coincidentally. The Eagles have essentially locked up the division and at this point they're just playing tic-tac-toe—literally. I know it was the Bears but last week Eagles players were literally playing tic-tac-toe on the sideline during the game. Every other time the Eagles have gone 10-1 before, they've made the Super Bowl (or won the NFL championship before there was a Super Bowl). So they've got that goin' for them. It probably doesn't hurt to have the odds-on favourite for MVP in Wentz (who's thrown a whopping 28 touchdowns on the season) calling the shots for ya. A visit to Seattle may come as something as a reality check for them this week though, as the Eagles' past five wins have come against teams that are now sub-.500.
2. New England Patriots (9-2) (–) — Tom Brady continues to be Tom fucking Brady and the Patriots continue to be the perfect fucking Patriots. A couple more 30+-point performances in wins over the Raiders and Dolphins over the last couple weeks kept the Patriots atop the league's offensive rankings as well as the AFC East. They've now essentially wrapped up the division (like there was ever any real doubt) for the 13th time in 14 years. You gotta love the parity right. Brady doesn't just dominate the AFC East though, in Week 11 he became the first QB to throw for 300 yards in three different countries (USA, UK, Mexico). Ya'll didn't know this guy's international now fam, check the stastistacs. Rob Gronkowski has also continued to be an utterly dominating force. The guy's a fuckin' juggernaut: since entering the NFL in 2010, the Gronk has caught more touchdown passes (74) than anyone else, despite having missed 25 games. Just imagine the numbers if his legs weren't made of porcelain. Expect another 30-point performance, if not a 40-burger, from Tommy Boy and the gang against a very suspect Bills defence. 3. Pittsburgh Steelers (9-2) (▲1) — The Steelers' struggles against terrible teams are well-documented so the fact they beat the State Farm insurance-less Packers by just three isn't that surprising. The took care of business against the division-leading Titans the week before and will look to make it eight straight wins when they head to Cincinnati for Monday Night Football. Le'Veon Bell (who leads the league in rushing) is still the motor of the offence, but Antonio Brown has been by far the best player on the Steelers' offence over the past month if not the entire season. Brown leads the league in receptions (80), receiving yards (1,195) and 20-yard receptions (20) and is tied for second in receiving touchdowns (8) and 40-yard plays (5). He's been the best wideout in the league this season but he's been on a next level over the past two weeks: in wins over the Titans and Packers, Brown combined for 20 receptions for 313 yards and five touchdowns. That one-handed Tyree-esque touchdown in the corner of the end zone against Tennessee is one of the best catches I've seen in a while. If there was still any debate about who the best receiver in the league is, that catch should put it to bed. On the defensive side the Steelers are still a top unit, ranking fourth in yards allowed and points allowed on the season. Cam Heyward won defensive player of the week this past week, so him and the league's second-best quarterback harassers will look to continue their assault on little Andy this Monday.
4. Minnesota Vikings (9-2) (▲1) — So I guess Case Keenum is actually pretty good at football. He's caught fire recently, putting up 289 yards per game since the Vikings Week 9 bye. He's also thrown seven touchdowns against just two picks during that time while hitting on 70 percent of his passes. He's had some help from Adam Thielen, who's been the biggest offensive surprise in the league this season, sitting at third in the NFL in receiving yards (1,005), sandwiched between Julio Jones and DeAndre Hopkins on the list. That's some pretty good company for an undrafted player like Thielen. Latavius Murray has been picking up the pace as well, putting up 82.3 yards per game with five touchdowns since the bye week. The Vikings really proved they're for real when they beatdown Goff and Gurley and the Rams a couple weeks ago. They kept their win streak alive again last week on Turkey Day after beating the Lions and will look to make it eight straight wins when they head to the Georgia Dome to take on a Falcons team that looks to have it all together after a rough start to the season.
5. Los Angeles Rams (8-3) (▲1) — After suffering a pretty resounding 24-7 defeat at the hands of the Vikings a couple of weeks ago, the Rams looked unfazed in handing the Saints their first loss since mid-September. Not only does that show that they have the talent to beat the Saints, but also that they have the maturity not to let the Minnesota loss linger. Todd Gurley continues to ball out as he's found pay-dirt a league-high 11 times while also stacking up 1,344 yards from scrimmage so far this year, tops for any player not named Le'Veon. Jared Goff has held up great under increasing pressure, as he's been sacked nine times in the last three games while only dealing with 10 sacks in the previous eight. Goff has performed great under the pressure, tossing for 354 yards and a pair of scores in the Rams' impressive win over the Saints last week despite getting sacked four times during the game. The Rams will look to get back in the saddle and hold off the Seahawks in the NFC West this week when they head to the desert to take care of the lowly Cardinals. 6. New Orleans Saints (8-3) (▼3) —  So after eight straight wins the Saints meteoric rise to the top hit a bit of a speed bump as they finally fell to the Rams 26-20 last week after nearly two months of Ws. Drew Brees has been his regular amazing self, throwing for the third most yards in the league so far this season. The defence has also been better than usual, which is not to say it's been good. The real catalyst for the Saints' success though, has been Alvin Kamara. This dude is without a doubt my new favourite player in the NFL. This guy is slippery, shifty, speedy all wrapped into one. Not to mention those hurdles I mean goddamn Alvin. Have mercy. Over the past three weeks third-round pick out of Tennessee has piled up 442 yards from scrimmage to go with four trips to pay-dirt. And every single one of those trips was beyond impressive, with Kamara slipping and sliding out of tackles before jumping up into the stands to celebrate his touchdown with his people. Mark Ingram (fifth in rushing) has been pretty good too I guess. The Saints won't have much time to wallow though as the also-8-3 Panthers come to town this week for a game that will likely decide who's a the 2-seed and who's the 5-seed in the NFC.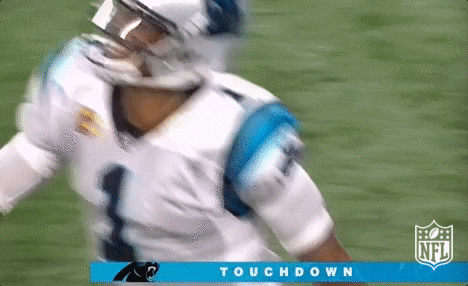 7. Carolina Panthers (8-3) (▲1) — The Panthers escaped the Jets with a closer-than-they-would-have-liked 35-27 win this past week. Thanks to the Saints first loss in what seems like eight years, Cam Newton and his squad are now tied atop the NFC South with the Saints. What better time for the two teams to meet then? Killa Cam will welcome Drew Brees and the Saints to Carolina this week for a matchup that will likely decide the fate of the NFC South—that is, unless the Falcons continue to snap and just leapfrog both of them. That'd be a tall order even for a guy like Julio Jones though. As always, whether the Panthers take control of this division or whether they fall into a very loseable fight with the Falcons for a wild card spot will depend entirely on which Cam the Panthers get this week. Hopefully it's Killa Cam.
8. Seattle Seahawks (7-4) (▲2) — Russell Wilson is truly a spectacle. He's magic. The things he does on a football field are just mind-boggling. He's accounted for all but one of Seattle's offensive touchdowns this season, which means there's only been one trip to pay-dirt on the ground that Russ didn't take personally. Every week he can be seen dipping and dodging and swerving around in the backfield before delivering bullets downfield for third-down conversions. He makes Fran Tarkenton look like a pocket passer. Wilson hasn't been the best player this season, but take him away, and I'm not sure this Seahawks team is any better than the Niners or the Colts. The defence still has some studs, but they also have a lot of injuries and weak spots. Thankfully, Wilson's a tough player and doesn't injure easy. They'll need Russel the Magic at full throttle this week if they expect to keep the Eagles from playing tic-tac-toe mid-game this week. Much less come close to winning the game. But hey, it's Russel the Magic after all, so I wouldn't even be that surprised if he somehow found a way to get the win.
9. Atlanta Falcons (7-4) (▲3) — It looks like the Falcons are finally all puked out. That Super Bowl hangover is over, and the Falcons look pretty darn threatening sitting at 7-4 and just now starting to play their best football. Julio Jones finally exploded last week, putting up 253 yards and two touchdowns in the Falcons in their third straight win, 34-20 over the Bucs. That's the third time Julio has topped 250 yards in a game, and he's the only guy to have even done it more than once. Not that they really missed him all that much, but Devonta Freeman is out of the concussion protocol and on track to start again this week when the Falcons welcome the Vikings to town. Tevin Coleman has been serviceable in his absence and will likely slide back into his dynamic change-of-pace role, one where he's thrived over the past two seasons. The Vikings have a pretty darn good defence so if Matt Ryan wants to keep up with the red-hot Case Keenum he'll need to try and take advantage of second corner Trae Wanes. Julio Jones winning his matchup with Xavier Rhodes wouldn't hurt either but don't hold your breath waiting for that to happen.
10. Jacksonville Jaguars (7-4) (▲1) — The Jaguars are like two teams. Theres the defence, which is elite in every way imaginable, breaking quarterbacks and stealing their lunch money while they pummel running backs at the line of scrimmage. On the other side you have a one-legged Leonard Fournette trying to drive a car with no motor. If Fournette doesn't get out and just shove that car down the road, the offence isn't going anywhere. That's why when the Cardinals keyed on Fournette this week and held him to just 41 total yards, the Jags offence couldn't keep up. To be fair the Cardinals did put up 27 points on the Jaguars vaunted defence, most they've given up since Week 2, but two fumbles by Jags players not named Bortles leaves Blake pretty much no margin error. And Blake needs a margin for error. He admirably led the team in rushing and ran two scores in himself, but he still threw for only 160 yards to go with no touchdown passes and one interception. Nonetheless, they still hold the top spot in their division and thankfully, they'll have a much easier home matchup with the Colts this week to get back in the groove after their first loss in five weeks.
11. Detroit Lions (6-5) (▼2) — After winning a way-too-close matchup with the Bears a couple of weeks ago, the Lions let their chance at staying in the race for the division crown slip away with a 30-23 loss to the Vikings on Turkey day last week. Marvin Jones Jr. continued to ball the fuck out, not even letting top cover corner Xavier Rhodes stop him, in fact mossing Rhodes and another Minnesota DB en route to the end zone. The Lions are still very much in the conversation for one of the Wild Card spots, but they'll need to win at least four of their last five games, which are all very winnable. They'll start by heading to Baltimore to take on the Ravens, who find themselves in a very similar position as the Lions only in the much weaker AFC. The Ravens won't be an easy out, but Joe Flacco is an easy bet for a couple of turnovers so as long as they can take advantage and turn those turnovers into points, the Lions should be able to get outta Maryland one win richer.
12. Kansas City Chiefs (6-5) (▼5) — Alright so all the MVP chants for Alex Smith are done now right? All the anointing of the Chiefs as the next big thing? That's all over right? Because the team that started 5-0 is now only one game ahead of the Chargers (who started 1-4) for the top spot in what has turned out to be by far the worst division in the NFL. Over the past six games since the end of Smith and the Chiefs' little honeymoon in football heaven, the former 'MVP-candidate' has been tossing for 247 yards a game, tossed just eight touchdowns against five turnovers while failing to reach 20 points since Week 8 and couldn't put up more than 230 yards and 9 points on the fourth-worst passing defence in the league. At this point, as a friend of mine says, the jig is up for Alex Smith, Kareem Hunt and Tyreek Hill. It was a fun first five weeks, but Smith didn't become an elite QB overnight, he's still the same game manager he's always been, and don't be surprised if Philip Rivers and the Bolo Tie Boys snatch the crown and the playoff spot from the Chiefs over the next couple of weeks. Did I mention Smith managed just 10 points against the same Bills team that gave up a 50-burger to Phil and the gang? The Chiefs are slipping and slipping fast. What would've seemed like a welcome matchup with the Jets in the preseason, is now being billed as a toss up, with the Chiefs only enjoying a 3.5 point advantage in this week's point spread. That should tell you something about the state of this team. 
13. Tennessee Titans (7-4) (▲2) — After a somewhat predictable loss to the Steelers a couple of weeks ago, the Titans got back in the saddle with a too-close-for-comfort win over the Colts last week. The Jags also lost last week so the Titans luckily were able to keep pace atop the AFC South. Marcus Mariota ain't done shit this year and if the Titans expect to win this division and make it to the playoffs they'll need some much improved play from the 2016 no. 2 overall pick. If Mariota can't even win a duel with Tom fuckin' Savage and the Texans this week, they're really in trouble.
14. Baltimore Ravens (6-5) (▲2) — Despite Joe Flacco's continued incompetency, the Ravens have now won two straight and are looking like a pretty solid bet to snag one of those two Wild Card spots in the weak-ass AFC. The first was a 23-0 drubbing of the Rodgers-less Packers (and it's interesting to note that the division-rival Steelers just barely squeaked out a 31-28 win over that same team last week) and last week they gutted out a 23-16 win over the Houston Savages. The Ravens defence has been one of the best two or three units all year. But it's been low, lowkey all season because of how trash Joe Flacco is: the defence ranked second in passing defence, seventh in overall defence, first in interceptions (18) and takeaways (26). The defence has been so damn good that despite the fact that they have Flacco tossing a few ducks every game, the Ravens still rank first in the league in turnover differential, a huge indicator of success. This defence is good enough to carry Flacco to the playoffs, but once there Flacco will need to show shades of 2012 if the Ravens have any chance of winning a playoff game. They'll look to stay in the mix for the Wild Card this week when they play host to the Lions.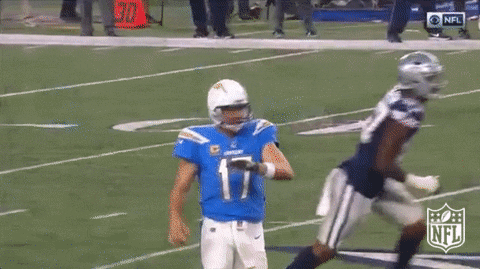 15. Los Angeles Chargers (5-6) (▲5) — Don't look now, but the Chargers are now sitting one measly game behind the Chiefs for the division lead out west. What many thought would turn out to be the best division in the league in 2017, has instead become the league's worst. The Chargers had a rough start to the season but have been very impressive over the past few weeks, stringing together two 20+ wins in a row. Philip Rivers has been the same gun-slingin', raw-doggin', bolo tie-wearin' leader he's always been, but he may have the most talented all-around team he's ever had this season. Melvin Gordon has been slightly disappointing, but he's a workhorse and he'll find his stride, Austin Ekeler has come on as a nice Danny Woodhead-type lately while Kenan Allen has been going absolutely ballistic the last couple of weeks, getting his mitts on 23 balls over the past two games for a total of 331 yards and three touchdowns. Phil's no. 1 guy is back and bidness is a-boomin ladies and gentlemen. The defence is also much improved as well, as the other Los Angeles team boasts the fourth-best pass-rush in the league with 32 sacks on the season, 19 of which have come courtesy of one of, if not the, best pass-rushing duo in the NFL in Joey Bosa and Melvin Ingram. The secondary has been almost just as good as the pass-rush, ranking seventh in passing yards allowed while picking off 14 passes so far this season, good for third in the league. Whether the pass-rush is making it easy on the secondary or vice versa I'm not sure, who knows whether the chicken comes before the egg, but I do know that teams should start worrying about the Chargers. Especially the Browns, who unluckily will fall under the anvil just as the Bolts are starting to heat up.
16. Dallas Cowboys (6-6) (▼3) — There is no doubt that the Cowboys miss Ezekiel Elliott. To think they can't win without him is a bit short-sighted however. The first two games of Dallas' recent losing streak were highlighted by the absence of both Elliott and All-World left tackle Tyron Smith. Tyron Smith was back during the Cowboys' pitiful 28-6 loss to the surging Chargers, but let's give the Bolts' defence some credit here: they're fourth in the league in sacks with 34 through 12 weeks, boasting two truly premiere pass-rushing threats in Melvin Ingram and Joey Bosa. This week the Cowboys looked a lot more familiar, creating offence through Alfred Morris and Texas' Great Wall, putting up 182 yards on the ground en route to a much-needed 38-14 win over Kirk and the boys in D.C. The race for the Wild Card spots in the NFC will be very tight, if the Cowboys were in the AFC they'd almost surely be in. But with the Panthers, Falcons and Seahawks all hovering at seven or eight wins, it might be a tall order for Dallas, as they still have Seattle and Philadelphia to play before they can punch their ticket.
17. D.C. Football Team (5-7) (▼3) — Washington had a huge chance to leapfrog the Cowboys on Thursday night this week. With the Cowboys reeling coming off of two terrible losses, Kirk really should've been able to beat up on Dallas, especially considering the short week. Just a few weeks earlier they nearly ended the red-hot Saints' winning streak before falling in the final minutes. So they have it in them to play with the big dogs, but then they go and put up duds like their Pyrrhic 20-10 victory over the Giants and that embarrassing showing against the Cowboys this week on Thursday night. After the latter, the Washington Racial Slurs are pretty much out of the NFC picture, which boasts way too many quality teams to have space for a team as erratic and injury-laden as Washington.
18. Buffalo Bills (6-5) (–)  — After their decision to bench a solid QB in Tyrod Taylor for a completely untested 5th round pick blew up in their faces worse than any I've seen in recent memory, T-Mobile got back under centre and was able to do enough to get the Bills a much needed 16-10 win over the reeling Chiefs. I don't know whether that result stems from the Bills bouncing back or the fact that the Chiefs are actually a dusty team, but Bills Mafia will take the W no doubt. Because of how weak the AFC has been this season, the Bills are actually right there duking it out with the Ravens and Titans for a playoff spot right now. The Bills play the Dolphins twice as well as the Colts over the final five weeks, but their playoff fates will likely hinge on whether or not the Patriots sit Brady and the boys in their Week 16 matchup. I think we can call this week's matchup with the Patriots a write-off for Buffalo though.
19. Green Bay Packers (5-6) (▼2) —  The Packers really could've used that upset win over the Steelers last week. They got the Steelers three times for huge touchdowns and the win would've gone a long way to keeping the Packers in the playoff picture until Aaron Rodgers returns in the last few weeks. Now they're likely too far gone to make a run for a Wild Card spot, though a win is definitely possible against the ailing Buccaneers this week. Ty Montgomery continues to be sidelined with rib problems, but it looks like Aaron Jones could be re-joining Jamaal Williams in the backfield despite his recent arrest for driving with too much loud in the car.
20. Oakland Raiders (5-6) (▲1) — After taking an L down in Mexico the Raiders came back to America swinging. Last season Michael Crabtree had his gold chain snatched by Denver DB Aqib Talib, so this year when the teams met he taped the chain to his chest. He should've known that wouldn't stop Talib, who still snatched the chain, sparking an enormous brawl that ended with fisticuffs between him and Crabtree as well as both players getting ejected and suspended for two games (later reduced to one). Denver hasn't won in ages so the W really isn't that impressive, and neither are the Raiders. They'll play host to the underachieving Giants this week, but I'd suggest just watching Marshawn Lynch's show instead. 'No Script' is without a doubt the best thing produced by a Raiders player all year. Except for that subway video after the win over the Chiefs. That shit was lit.
21. Cincinnati Bengals (5-6) (▲4) — The Bengals have picked up their bootstraps lately, stringing together two wins over possibly the two worst teams in the league right now (Denver & Cleveland). The run has come too little too late however, as they're still four games behind the division-leading Steelers (whom they'll host this week on MNF) and one behind the Ravens. They have a shot at a Wild Card spot, but that shot is very, very slim and their window of opportunity is closing. A loss to the Steelers this week would likely set the Bengals up for a date with their couches come January.
22. Houston Texans (4-7) (–) — Tom Savage and the boys haven't looked all that bad lately to be honest. It's obviously not the same without Watson, but they still nailed down a double-digit victory over the Cardinals and followed that up with a solid effort in a close loss to the Ravens last week. Savage is still a fuckin' joke, but he's a joke that can find a way to make the Texans respectable with him under centre. DeAndre Hopkins is still doin' what it do, putting up 312 yards over the past three games. I could be standing back there throwing ducks and Hopkins would still find a way to produce. Put any motherfucker back there and Nuke will make a play for you. Except Brock Osweiler. That did not work. At all. The Texans will head to Tennessee for an intra-division matchup with the Titans this in an attempt to stay relevant.
23. Denver Broncos (3-8) (▼4) — What can you say about the Broncos at this point. They've now lost seven in a row, and despite Aqib Talib's chain-snatching antics, it's been an ugly losing streak. They've lost some close games but they've also had some pretty ugly losses as well. The ultimate test of team shittiness comes this week when they take no talent down to South Beach to take on Smokin' Jay and his fish. If they can't best that Dolphins team, the Broncos have very big problems. I see more than a couple of turnovers going in the Broncos' favour this week however. This matchup is another dud that's sure to go down to the wire with no one watching but the Redzone guys who're forced to watch it by Scott Hanson. No one wants to see Broncos-Dolphins Scott, no one. Not even people from Denver and Miami wanna look at what their teams have become. Absolute shambles.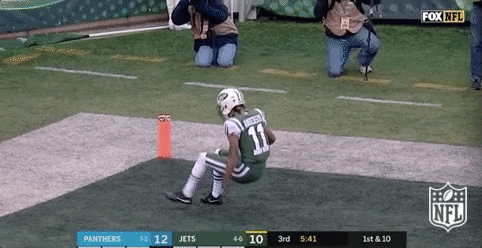 24. New York Jets (4-7) (–) — The Jets are no joke this season ya'll. Robby Anderson is a bonafide no. 1 receiver, putting up 231 yards and three touchdowns over his past two games. The Jets are no easy out, as evidenced by their very close losses to the Patriots early this season and the Panthers last week. I wouldn't even be surprised if these Jets take down the Chiefs when Alex Smith and co. come to town this week. The Jets also have three other games left against likely playoff teams, so look for them to try and play spoiler since the Jets' playoff chances have already gone from slim to none despite the fact that this season has been one of overachieving in MetLife stadium. For the Jets, not the Giants. Just wanted to make that clear. 
25. Tampa Bay Buccaneers (4-7) (▼2) — Jameis Winston's been out the last few weeks but I'm not entirely sure that the Bucs would've played that much better with him in. Ryan Fitzmagic is a more than capable backup and he led the Bucs to a win over Miami like he was supposed to then led Tampa to a loss in Atlanta like he was supposed to. The Bucs, who many thought could win the division this year, are now the only team in the division not in the playoff hunt, so don't be surprised if they just ride out the rest of the season with Fitzmagic calling the shots. The Bucs will head to cheese country to take on the similarly ailing Packers in what will likely turn out to be a tight but overall dusty game.
26. Arizona Cardinals (5-6) (▲1) — After a deflating loss to Tom Savage's Texans the Cardinals came out and put up 27 points on the best defence in the league en route to a win over the AFC South-leading Jaguars. Adrian Peterson hasn't been excellent for his newest team, but it's nice to see the best back of this generation holding the reins to a backfield again. Drew Stanton also went down recently and the next man up, unfortunately for the Cardinals, was Blainey Gabbert. He's been serviceable, but at this point there's no franchise, not even the Browns, that would be satisfied with having Gabbert as their every week starter. The Cardinals better enjoy that dub though, because I think we can all agree Goff & Gurley are too much for that defence to deal with.
27. Miami Dolphins (4-7) (▼1) — The Dolphins have been drowning for some time, picking their fifth straight loss last week in a 35-17 rout to the Patriots. Good ol' Smokin' Jay Cutler's back in the mix though, so that's something. Jarvis Landry is really the only bright spot on what is otherwise a wasteland of a roster. DeVante Parker hasn't lived up to the hype and the Fins' replacement fish for Jay Ajayi haven't been anything special. The defence isn't doing them any favours either, allowing the third most points per game in the league, behind only the lowly Colts and the hapless Browns. It's been a hot minute since the Dolphins won a game, but it's been even longer for the Broncos, who haven't won in seven weeks. If Miami was gonna get another win this season, this is probably their best shot.
28. Chicago Bears (3-8) (–) — It's gotta suck to be going full send against a team, only to have them go up 31-3 and start playing tic-tac-toe on the sidelines. That shit's rough. That's not even mentioning the electric slide Philly's defenders did after a late interception. The week before they actually showed some fight in a close 27-24 loss to the Lions a couple weeks ago, with rookie Mitchell Trubisky showing some signs. Trubisky hasn't been excellent, but he doesn't exactly have an ideal supporting cast behind him. Jordan Howard is a solid back, and Tarik Cohen has been a pleasant surprise as a scatback/slot guy, but they'll need to supplement them by next season. This was always going to be a lost season for the Bears, but they can keep some of their dignity with a win against the listless Niners.
29. Indianapolis Colts (3-8) (–) —  After their bye the Colts looked pretty solid in giving the Titans a run for their money in what eventually ended as a 20-16 loss for the Colts. Jacoby Brissett has been more than serviceable for the Colts as they wait (and wait, and wait, and wait) for Andrew Luck's shoulder to improve. TY Hilton hasn't made a peep in about a month now and I'm starting to get a little worried. Someone's gotta ask him if everything's okay at home. I know he's boom or bust but this is getting ridiculous. Frank Gore continues to churn the best he can: old reliable needs only 50 more yards to pass LT and the Bus to grab a spot in the top five on the all-time rushing list, behind only Emmitt, Walter, Barry and Curtis. Take a bow Mr. Gore, you've been anything but inconvenient for your team throughout your career. You're a consummate pro and it's a goddamn shame you have to spend the twilight of your career toiling on a shitty Luck-less Colts team. It might take a couple weeks for Frankie to get those 50 yards though, as he goes up against the stout front of the Jaguars this week in Jacksonville.
30. New York Giants (2-9) (▲1) — The Giants got another amazingly surprising win a couple weeks ago when they somehow outlasted the Chiefs in a 12-9 win that would've seemed like a battle of winless teams to someone who didn't know any better. Even after Eli somehow led the Giants to that win with this skeleton crew of old, shitty parts, Ben McAdoo's pedo-lookin'-ass still benched him for this week's upcoming matchup with the Raiders, which is a completely winnable game by the way. McAdoo offered Manning the first snap to keep his 210-game streak alive, but Eli rightly declined, giving way to.. wait for it… GENO SMITH. Yes. Another player. Is getting benched. So Geno Smith. Can play. Seriously. Geno fucking Smith. And he just went crosstown, he didn't even leave New York. He's in the same stadium as last season. What do the Giants think Geno was holding back in his two horrific seasons with the crosstown Jets? This decision is nearly as mind-boggling as the Tyrod Taylor-whatever that white guy's name was fiasco in Buffalo a couple of weeks ago. It's arguably worse to bench a guy who's likely a future Hall of Famer when there's really nothing to left to lose this season. No, nevermind, it's not arguable. They're benching him for Geno fucking Smith. This is way worse. It seems the Mara fam has officially snapped.
31. San Francisco 49ers (1-10) (▼1) — The 49ers lost to the Seahawks last week, but the loss might've been a blessing in disguise, as CJ Beathard went down late in the game. This gave way to what they've been waiting weeks for all over the Bay Area: Jimmy fuckin' G's debut. And he impressed. He came in with only about a minute and a half left, but that was enough time for Jimmy to go 2-for-2 for 18 yards and a touchdown pass to go with a 4-yard scramble to convert on a third down. I'm gonna throw caution to the wind and predict that the 49ers are about to be a much better team for the final five weeks of the season. No offence CJ. Expect to see Carlos Hyde with plenty of room to run this week against the Bears as the defence will no doubt be tossing and turning at night at the thought of dealing with Tom Brady's protege.
32. Cleveland Browns (0-11) (–) — I really really thought the Browns could pull one over on the Jags a couple weeks ago, but in classic Browns fashion, they turned it over on their attempted game-winning drive. Then after allowing a field goal DeShone Kizer fumbled again, and this time the Jags recovered it in the end zone. The Browns lost again last week to the Bengals and will likely lose again this week to the upstart Chargers. The Browns have a trio of very winnable games after that against the Packers, Ravens and Bears before finishing the season against a Steelers time that could be resting their starters by that time. Put me on record saying that these 2017 Brownies will grab a win before this season is over. And hey! Flash Gordon is active again and when asked if America's Top Pothead would be starting, head coach Hue Jackson said "Heck, yeah bud." Okay, I added the 'bud' in there but you get the picture. Gordon will be in the lineup and it looks like there will be no holds barred for the former Pro Bowler.