The NFL begins Week 11 on something of a strange note, as tests on some former NFL players have been confirmed and made public within the last couple days that represent a big step in doctor's ability to diagnose CTE in living brains, something no one's been able to accomplish yet. If they ever figure out how to find the disease in living brains, depending on the results they end up finding in NFL players, it could be a positive thing, but will more than likely bring some very dark results with some very dark implications. The players' health should always be top concern so the more progress they make in the diagnosis of CTE will always come as good news to me. Roger Goodell and the NFL can't be happy about these findings either way. They're a secretive bunch if you didn't know already.
The NFL did get a small win this week though, as they finally succeeded in suspending that pesky running back down in Dallas, who also finally decided to serve his suspension in full, no more appeals. He pinky swears. See ya in five weeks Zeke. On the field in the NFL, solid running backs are still coming at a premium. But it pays to have a solid running attack, as all three backs that topped 100 yards this week played for winning teams. It'd be tough to call it coincidence at this point, as 44 of the 50 100-yard games this season have come in a win. Two of those from Week 10 came from the Saints, who won their seventh fuckin' game in a row, the last few coming on the strength of that dual-rushing attack. This week in the rankings Saints jumped into the top three, the Niners won their first game of the season and finally went up a spot and the Jags and Falcons will have to knock on the top ten's door another week because none of the them lost in Week 10.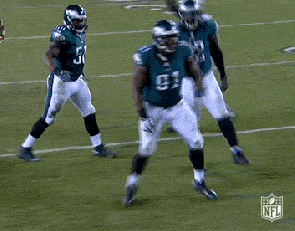 1. Philadelphia Eagles (8-1) (–) — A week went by and the Eagles didn't play, but nothing happened while they lied dormant to convince me that they're not still the team to beat in the NFL. They'll return to action this week on Sunday Night Football to take on a Cowboys team that suffered a very discouraging loss to the Falcons last week and that will be without Ezekiel Elliott and more importantly as we learned this past Sunday, might also be without All-Pro left tackle Tyron Smith. The Eagles sack the QB about as often as the Falcons, who took Dak Prescott down eight times and forced two fumbles as well. The outlook is even better on offence for the Eagles, where Carson Wentz and his 31.4 point per game offence are set to feast on the Dallas' middling defence in primetime.
2. New England Patriots (7-2) (–) — With the Broncos and their vaunted defence reeling, Tom Brady sent them into an even deeper tailspin, hanging 41 points on the Broncos at Mile High. It's tough to use the game to gauge much about the Patriots considering how god-awful the Broncos' offence is and how shitty their defence has been lately, but a 41-16 victory on the road is impressive nonetheless. Tommy Two Shoes continued to display his greatness on Sunday night, tossing three touchdowns on a 74 percent completion rate like clockwork. The Pats will continue their road-trip this week when they head to the bay to play the Raiders. From the Patriots I'd expect nothing less than a resounding defeat of a team that has been as erratic as any this season.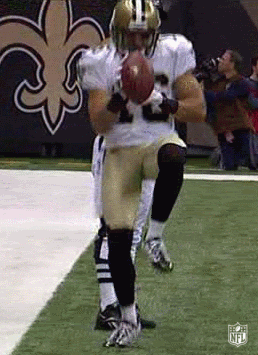 3. New Orleans Saints (7-2) (▲1) — Make it seven muthafuckaaa. Drew Brees and the Saints seem unstoppable right now after pulling off their seventh straight win in a 47-10 rout of the Bills in Week 10. Drew didn't even need to toss a touchdown for his Saints to drop a 40-burger. He did sneak in on the ground for the boys, but it was the two-headed monster at running back that is emerging as one of the top rushing attacks in the league that won it for the Saints. Not only did both Mark Ingram (131 yards, 3 TDs) and rookie Alvin Kamara (106 yards, 1 TD) top 100 yards in the same game, they were the only backs to do it all Sunday in the entire NFL, and they're also the first pair of teammates to rush for 100+ in a game since Week 9 of 2015. A Bills defence that was supposedly top-notch was completely thrashed by the Saints and all Drew Brees had to do all day was sit back, drink an iced tea and take a casual stroll into the end zone to close it out. That should scare the entire NFL, most specifically Kirk and the boys out in D.C. who'll have to go into the belly of the beast this week when they head to New Orleans to try and stop the Saints from grabbing their eighth-straight win.
🦁🦁We got a tunover !!!! Time for a Family Photo!!!🦁🦁 #shalieve #steelers #turnover #wethemboys #grind pic.twitter.com/eVwo3giDwQ

— Ryan Shazier (@RyanShazier) November 12, 2017
4. Pittsburgh Steelers (7-2) (▼1) — The Steelers won this week, but with the Saints picking up win no. 7 in a row and the Steelers just barely squeaking by the fucking Colts on a last-second field-goal, I felt the switch in positions was necessary. The Steelers defence looked great aside from two mental errors that unfortunately resulted in two 50+ yard touchdowns. Unfortunately the secondary was hit with a couple of key injuries too, losing cornerback Joe Haden (out indefinitely) and safety Mike Mitchell (unclear). The Steelers defence has had to pick up the slack for a grossly underachieving offence all season, allowing only one opponent over 320 yards—the Lions, who gained 482 yards but didn't find the end zone once in a Pittsburgh victory—and giving up 20+ points in only two games this season, both of which were Pittsburgh losses despite the fact that the opposing QBs were held to 101 yards or less. The defence ranks second in the league in points allowed (16.4), yards allowed (284.4), passing yards allowed (181.8) and sacks (29). Studs like Cam Heyward and the hairless wonder Ryan Shazier—who came up with the TSN Turning Point in the form of an INT on a screen that put the Steelers inside the Colts' 10, I told ya'll he was a star—have been performing as they're supposed to, but come playoff time, Big Ben Roethlisberger will need to figure out his passing game and Maurkice Pouncey and the o-line will need to start making holes for Le'Veon Bell with more consistency if the Steelers expect to make a deep playoff run this season. They turn around to host the Titans on a short week on TNF, where you can expect another healthy dose of L. Bell all night long.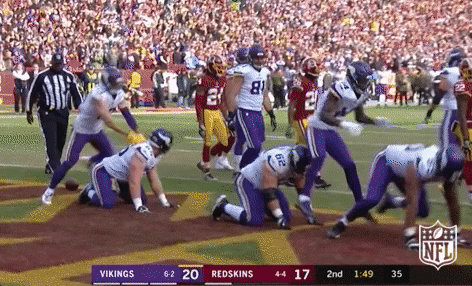 5. Minnesota Vikings (7-2) (–) — The Vikings won what surprisingly turned out to be quite a shootout against Washington this past Sunday. Fortunately Case Keenum was up to the task for the Viks, tossing four TDs on the day. One of those went to Adam Thielen, who grabbed eight balls for 166 yards against D.C. and is quietly sitting at third in the league in receiving through nine games. This dude is for real. I think the Vikings' whole offence is for real, and I really believe Keenum is the guy to lead it for now at least. It was uplifting to see Teddy Bridgewater shedding tears of joy for his first active game in nearly two years, but he's never going to be able to lead a high-powered offence. His passion is unquestionable, but his arm strength is very much questionable. Keenum will need to prove me right this week if the Vikings expect to continue winning; if Kirk Cousins and the boys can put up 30 on the Minnesota defence, I'm betting Jared Goff and his no. 1 Rams offence will be able to see the 30 and raise them at least a touchdown. 6. Los Angeles Rams (7-2) (–) — The Rams offence is no joke this season, after kicking the Texans 33-7 while they were down, the Rams have now topped 33 points in six of their nine games this season. They've also scored at least two touchdowns in every game but one this season. Jared Goff has been a big play machine this season, tossing a league-high nine passes of 40+ yards through Week 10. Goff's lucky number seems to be seven too as he's sitting at seventh in passing yards, touchdowns and passer rating while leading the league with 8.5 yards per toss so far. Todd Gurley has arguably been the best player in the league this season, if not surely its most productive, as he currently leads the league in both total touchdowns (10) and total yards from scrimmage (1,160). The fact that those two have been so stellar is what makes the emergence of wideout Robert Woods (8 receptions, 172 yards, two TDs this past Sunday) so scary for opposing teams. The offensive line has been stellar as well, allowing the eighth-least sacks this season, though they will have their hands full this week when they visit the 7-2 Vikings, who've taken the QB down 25 times already this season.
7. Kansas City Chiefs (6-3) (–) — The former top team in the league took their bye last week after having lost three of their past four following a 5-0 start. Kareem Hunt hasn't scored since Week 3 either. I think it' safe to say, the Chiefs are not hot right now. So who better to visit on the road than the Giants, the best hosts in the game this year (they're 0-4 at home in 2017). The Chiefs may have been going through some problems over the past month, but you can bet that Andy the Walrus will have the boys ready to go for a rip against the one-win Giants after two weeks preparation. I expect to see a resurgence for Kareem the dream as well as his team when they hit MetLife on Sunday.
8. Carolina Panthers (7-3) (–) — The Panthers finally played like people expected them to on MNF when they embarrassed the Dolphins 45-21 on the strength of one helluva night from Cam Newton, who's now put up two or more touchdowns in more prime time games than any QB in history. Killa Cam love love loves the spotlight ya'll: Newton tossed for 254 yards and four scores while running all over those fish for 95 yards, the bulk of which came on a 69-yard gallop that showed his graceful gait in full effect. The Panthers defence has quietly been the top unit in the league so far as well, allowing just 278 yards per game (1st in the league), 18 points per game (t-3rd) and 29 sacks (t-2nd) through 10 games this season. The Panthers will take a week off to enjoy their victory as they take their bye in Week 11.
9. Detroit Lions (5-4) (–) — The Lions stay stagnant this week after a rudimentary trip to Cleveland to pick up a W. They're now above .500 again and could be in serious contention for a Wild Card spot this season. Golden Tate continued to make opposing defenders look like damn fools this past Sunday, this time on a 40-yard catch-and-run touchdown. Whether it's Marvin Jones Jr. or Golden Tate, Matty Stafford has had a solid target to throw to week in and week out this season. They'll look to continue down this path next week when they visit the Windy City for a showdown between Matty and the Chicago kid Mitch Trubisky. Expect the Lions to force the rook into at least one mistake, probably a fumble—they've caused 10 this season. The Lions will also need to get a solid game out of their middling rush defence against Chicago's top ten rushing offence, which is bound for a bounce back game after an off week last week.
10. Seattle Seahawks (6-3) (–) — The Seahawks also snagged themselves an easy win against a less-than-mediocre opponent. And that is what the Cardinals are, I don't care how much love and respect you have for Larry Fitzgerald and Adrian Peterson. The Seahawks will likely chalk up their tough 22-16 win over the Cardinals to playing on the short Thursday week. They won't be able to use that this week though, as they get yet another extra day to prepare for the Falcons on MNF this week. The Falcons seemed like a hungover uncle who's stayed past his welcome but they started to sober up last week in a resounding 27-7 defeat of the Cowboys. Russell Wilson once again willed the Seahawks to victory, scrambling and swerving all over the place for the umpteenth week in a row before somehow finding a way to lead Seattle to victory. The running game is fuckin' shit, straight up. There's nothing else to say. Cheeseburger Eddie said fuck it and put in his application at the local burger joint and Thomas Rawls and JD McKissic are just as bad but without the gut (3.5 ypc last week). The 23 sacks the o-line has allowed aren't the worst total out there but it's not exactly encouraging to have your QB getting hit this often when he's the only one producing for the team.
Jaguars get a TD on a successful fake punt as Corey Grant weaves his way for 56 yards 😳pic.twitter.com/iQvScit1pn

— Def Pen Sports (@DefPenSports) November 12, 2017
11. Jacksonville Jaguars (6-3) (▲4) — The Jags got their third straight win to keep pace with the Titans atop the AFC South, but they juuust got it by the skin on their chinny-chin-chin, scoring the game-winning field goal with just over three minutes left in overtime. They narrowly missed a tie with the Bolts thanks in large part to a very well-timed fake punt play that Corey Grant took 56 yards all the way to the house. And they needed that, because the Jags running game looked like Leonard Fournette was inactive again (he wasn't, he played and had just 33 yards on 17 carries). Blake Bortles of course threw another two picks. Just when he broke his streak of turnover games, he gets right back on the horse and starts a new one. Short memory Blakey, atta boy. Blake will need to play well this week if the Jags don't want to suffer a barrage of chirps for the rest of their days. They're facing a winless Browns team with a defence that could cause Bortles stress because what defence doesn't. Throw the Edmonton Eskimos defence in there and he'll still get rattled. Not to mention the Browns have been giving up just 87 yards rushing per game this season, which is Lenny and the Jags' favourite thing to do. If the Browns were gonna win a game this would be it, so stay on high alert Jacksonville.
12. Atlanta Falcons (4-3) (▲1) — Who the fuck is Adrian Clayborn? Did anyone know who this guy was before he went apeshit on the Cowboys for a team-record 6 sacks in the Falcons 27-7 win last Sunday? This guy had only 22.5 sacks in his whole career before Sunday and he got six in one game? Is Tyron Smith really that good? Clayborn was going straight Liam Neeson in Taken on Dak Prescott's ass lookin' for that $750k incentive bonus. And he found the fuck out of it. He had two sacks going in, needed eight for the bonus, did some quick maths and decided he was getting that bonus right then and there. I don't know if he'll make anymore noise down the stretch, but why couldn't he? In the meantime everyone in the Atlanta offence except Tevin Coleman—who took 21 touches for 88 yards and a touchdown and who will finally get a shot at being a feature back this week with Devonta Freeman likely out with a concussion—was pretty mediocre in the surprising win. Matt Ryan threw a pick and 215 yards, only 58 of which went to Julio Jones. Jones is fifth in the league in receiving but he's been very quiet this season. Look for him to break out in the second half of this season as the Falcons fight for a Wild Card spot in the competitive NFC. Maybe it'll even happen against the depleted Legion of Boom this week on MNF.
13. Dallas Cowboys (5-4) (▼2) — The unthinkable finally happened in Week 10: Ezekiel Elliott served a week of his suspension. And it seems like he's gonna take some time to vacation and think for the next five weeks, because he's done fighting the behemoth that is the NFL. It was a nice try and we really wanted to see David win this one—not really—but Goliath is Goliath for a reason. Elliott wasn't nearly as missed as All-Pro left tackle Tyron Smith though, as his absence opened the floodgates for 8 sacks by the Falcons which led to a meagre seven points on the scoreboard for Dallas. Smith could return for their big matchup with the Eagles this week, but he's missed practice on Wednesday and Thursday, so don't be surprised to see him sidelined again. Without him this Sunday Night Football matchup with Philly could get ugly.
14. D.C. Football Team (4-5) (▼2) — Washington's offence came in and did what they had to do against a superb Vikings defence, putting up 30 points but still losing the game. The D.C. defence took the week off and allowed Case Keenum to steal their lunch money while they were gone, as Keenum snagged four touchdown passes in Washington's 38-30 loss. I've said it before and I'll say it again: give the ball to Chris Thompson. The guy is averaging 7.9 yards a touch and still Jay Gruden forces it down the throats of Samaje Perine and Fat Rob Kelley, who've averaged 3.7 and 3.2 yards per touch this season, respectively. They gots to go. They GOTS, to go. Jamison Crowder and Vernon Davis have re-emerged as solid weapons over the past couple of weeks for the Washington offence as well. Terrelle Pryor, we'd love to see ya buddy. We miss ya. The run game was lacking so much that Kirk Cousins had to take it in himself—twice, and that still wasn't enough. Kirk will have to play out of his mind this week in the SuperDome if his team want's any kind of chance at beating the scorching hot Saints and their 30-point a game offence.
15. Tennessee Titans (6-3) (▲5) — The Titans didn't get a particularly impressive game from their quarterback Marcus Mariota or the team in general for that matter, but they still managed to hold off the Bengals for the 24-20 win, their fourth straight win. They now sit atop the AFC South despite a mediocre first half of the campaign from Mariota and some very up and down games from their duo in the backfield. They'll have it tough this week when they head to the Steel City on a short week to take on the Steelers and the league's no. 1 receiver, no. 1 rusher and no. 2 defence. Good luck Marcus.
16. Baltimore Ravens (4-5) (–) —  The Ravens took the week off and will come back to a very cold but very winnable matchup against the Packers up in Lambeau. It'll be frosty, but Joe Flacco is prone to mistakes in all different climates really. If the Ravens can ride rookie running back Alex Collins, open up some holes for him and let him run wild, the Ravens should be able to win this game. I doubt anyone will be watching this outside of Baltimore and Wisconsin though, the Ravens have a solid defence and are likely gonna shut the Packers down, and a Flacco offence is a fucked offence. Don't be surprised if the total final score is below 20 in this one.
17. Green Bay Packers (5-4) (▲1) — I guess I should give Brett Hundley some credit considering he did win a game with both of his top running backs out. He even threw for 215 yards, a touchdown and no picks on a 72 percent completion percentage. That's not too shabby. Let's not forget it was the Bears though, so don't get too excited. Their matchup with the Ravens can go either way this week, it really just depends on which defence/offence makes the biggest gaffe. This game will either be chilly field goals all day or a return or untimely turnover will give one team the touchdown they need to win. We've learned that Hundley is not completely incompetent, and that receiving corps of his is still pretty darn good, maybe Jamaal Williams could even chip in a little something with the other backs all ailing. Could the Packers really go to 2-2 without Aaron Rodgers? With Mr. State Farm's recovery apparently coming along swimmingly, he could even come back to a team in a fight for a playoff spot. If he comes back in time that is.
18. Buffalo Bills (5-4) (▼4)  — The Bills really know how to let ya down eh. Bills mafia doesn't care because they're used to it but it really is confusing how they can look so good for a second, then right at the moment you start believing in them they crash and burn just like they always do. Buffalo followed up their embarrassing defeat to the Jets on TNF with a 47-10 blowout loss to the Saints. To be fair, the Saints have been playing pretty damn good. But even they haven't been beating all their opponents by 37 points. Wasn't this defence supposed to be premiere now? What were they doing sending away Marcell Dareus? He wasn't as good as he was last season sure, but Mr. Big Stuff was still a solid player and they shipped him off for peanuts. Now look at this defence. They even benched Tyrod Taylor for some unknown fuck named Alan Greenberg or some shit. Hopefully they can get their shit together before Phil Rivers and the Chargers come to town to take a turn at the Bills' reeling defence.
19. Denver Broncos (3-6) (▼2) — I think it's safe to say this Broncos season is lost. They have a lot of great players on both offence and defence. But they aren't good enough to support the Pop Warner-caliber QBs the Broncos have on their roster. They should really call it a season and try to find a way to sneak Saquon Barkley or another top young quarterback early in next year's draft because they are really a decent quarterback and some slight improvements on the offensive line away from being Super Bowl caliber again. Hopefully the Broncos can come out on defence and scare Andy Dalton into some turnovers early this Sunday when the Bengals come to town. They'll need to return those for touchdowns like they used to because Brock Osweiler can't be trusted to lead any touchdown drives in this lifetime. If they can jump to a lead maybe CJ Anderson and Jamaal Charles can run well enough to hold a lead so Brock doesn't have to try and play quarterback. 20. Los Angeles Chargers (3-6) (▼1) —The Chargers know this feeling all too well. They hadn't had to deal with it for about a month but the nail-bitingly close losses are back, as the Bolts suffered another this past week, 20-17 in overtime to the Jags. Melvin Gordon was out-shined by rookie Austin Ekeler, who put up 119 yards and two touchdowns from scrimmage for the Chargers, most of which came through the air. I'm sure the Chargers would be ecstatic if they'd found themselves another Danny Woodhead type back to add to their trove of weapons. This week they'll be hosting the good-but-maybe-not-so-good Bills defence down in LA. The Bills' supposedly top tier D has given up 81 fuckin' points over the past two games—one of which was against the Jets—so I think Phil Rivers and the bolo boys should have no trouble hanging up at least another thirty on the reeling Bills defence.
21. Oakland Raiders (4-5) (–) — The Raiders took their bye in Week 10 and I hope they used the extra time wisely because Tom Brady and the boys are coming to town this week. The Raiders have been a pretty unpredictable team this year, but I have a feeling this matchup is gonna end up how we all expect it to. The Raiders haven't really figured it out on offence, the Patriots have made slight improvements on defence. The Oakland defence is absolutely porous, sitting at seventh worst in the league in yards allowed while giving up 23.8 points per game. Meanwhile the Patriots offence, I mean, come on, Tom Brady's gonna shred these guys up. The Pats defence isn't great, but it doesn't need to be when it's got the league's number one offence (409.4 yards per game) to back it up. Hopefully the ACDC or MCDC connections can come up big and give the Raiders an enormous upset win, but somehow I doubt it.
22. Houston Texans (3-6) (–) — Welp, there goes that. Without DeShaun Watson it seems like the Texans are gonna fall to one of the worst records in football, as they followed up their loss to the Colts by getting spanked by the Rams 33-7 in Week 10. DeAndre Hopkins was unaffected by the quarterback conundrum as per usual putting up 111 yards, but the rest of the team is in shambles. I don't even know if I'd be confident picking them to win over the Cardinals at home this week. Great wide receivers can only take you so far as we've seen in Indianapolis, Miami and Cincinnati this season. Hopefully I'm wrong and Tom Savage can keep the Texans competitive but we all saw how fast they turned to DeShaun Watson when they tried him out in the season opener. Not too hot.
23. Tampa Bay Buccaneers (3-6) (▲5) — The Buccaneers must be absolutely pumped up that they squeaked out a win with just 15 points, but the Jets are still the Jets sometimes and after a 34-point output against the Bills a couple weeks ago, the Jets managed only 10 in the 15-10 loss to Tampa in week numero dix. They actually didn't have Jameis Winston or Mike Evans, so the Winston-Evans express was completely out of commission on the weekend and the Bucs still somehow got to destination W. The Bucs will look to squeak out another sneaky win against a very susceptible Dolphins team this week when they head to Miami, this time with Evans, but still sans Winston. Just try to avoid the snow while you're down there eh boys.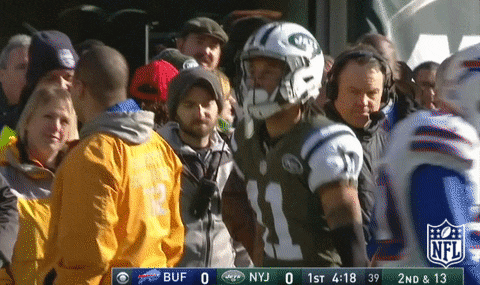 24. New York Jets (4-6) (–) — The Jets just aren't meant to reach .500 this late in the season it seems. The best team playing in MetLife this season had a great chance at hitting 5-5 against a Jameis Winston-less Buccaneers team but were unable to muster more than 10 points against a very suspect Bucs passing defence (29th in the league). Robby Anderson scored again and has now scored in four straight games, not to mention he's a top 20 receiver now who's big play ability has landed him t-4th in 20+-yard receptions (12), t-8th in TD receptions (5) and 10th in yards per grab (16.2). The Jets will take their bye this week which will allow their banged up backfield to come back stronger and healthier, it also gives Josh McCown an extra week to work on his quickly improving rapport with his receiving corps.
.@ajgreen_18 goes ALL THE WAY… 70-yard TD for the @Bengals! #Bengals50 pic.twitter.com/Hmx3umc7pn

— NFL (@NFL) November 12, 2017
25. Cincinnati Bengals (3-6) (▼2)  — Well at least the Bengals are finally getting it to their beastly All-Pro wideout AJ Green, who came back after TKO'ing Jalen Ramsey last week to snare five receptions for 115 yards, including a vintage AJ 70-yard touchdown. Unfortunately Andy Dalton still had two turnovers and Vontaze Burfict was ejected from yet another game. Why that scum is still allowed to be in the league is beyond me. Either way, AJ Green isn't enough on his own to win a team a football game. Well, sometimes, but not often enough. Joe Mixon continues to underperform, gaining just 40 yards and a touchdown on his 10 touches. That's actually a pretty good game for the former Norman restaurant boxer considering the rest of his body of work this season. Cincy will look to get back in the win column this week when they head to Mile High to take on a pretty fuckin' brutal Broncos team.
26. Miami Dolphins (4-5) (▼1) — Though the 45-21 loss the Dolphins suffered at the hands of the Panthers was a less than ideal outcome, it did have some positives. Smokin' Jay Cutler threw only one pick, which is pretty good for him. He spread the ball around decently and even got some dynamic play from running back Kenyan Drake, who scored on an impressive 66-yard touchdown in the third quarter. The Dolphins have some impressive playmakers on the offensive side and it seems like Jay might be able to get the ball to them decently enough for the Fins to get an early pick in next year's draft. Hopefully that pick will be a quarterback if they wanna be like the Rams and not the Browns. This week they've got a much better shot at winning as they host one of the only team's to underachieve harder this season than Miami, the Buccaneers.
27. Arizona Cardinals (4-5) (–) — The Cardinals played a solid game against a tough Seahawks team last Thursday, but ultimately couldn't escape the magic of Russell Wilson, losing 22-16 in the end. Adrian Peterson didn't look as good as he did the previous game but Larry Legend made up for it with 113 receiving yards on the night. Unfortunately one 100-yard game from a wide receiver isn't enough to win a game. Actually strike that. Against a DeShaun Watson-less Texans team, that might just do the trick. Drew Stanton will take his birds out to south Texas to take on the Texans in Houston this week.
28. Chicago Bears (3-6) (▼2)  — Mitchell Trubisky looked solid in his first game throwing extensively but couldn't outgun Brett Hundley and the Packers, who lost both their running backs during the game. Mitch looked good but the fact that he—along with a potent rushing attack that took a week off—couldn't lead the team over a Hundley-led one is pretty disappointing. It won't get any easier this week when the Bears head to Ford Field to deal with Matty Stafford and his high-flying, play-making wideouts in Detroit.
Chester Rogers splits the #Steelers defense and takes it to the house! #PITvsIND pic.twitter.com/jzjErl9MN9

— NFL Updates (@NFL_Updates13) November 12, 2017
29. Indianapolis Colts (3-7) (–) — The Colts led the Steelers for the entire game until the very last seconds of the game of a 20-17 loss last week. Jacoby Brissett looked great in taking advantage of a few busted coverages while spreading the ball around well in the loss. While the Colts played great in the loss, I think the close score was more a case of the Steelers offence having not quite meshed fully yet. The Colts will take their bye in Week 11 after which hopefully intriguing rookie back Marlon Mack will start getting the lions' share of the snaps out of the backfield. It's nothing personal, Frank.
Today, 49ers WR Marquise Goodwin and his wife lost their unborn baby due to complications.

Later, he scored an emotional TD for his team. pic.twitter.com/Zfuv2uswAX

— FOX Sports: NFL (@NFLonFOX) November 13, 2017
30. San Francisco 49ers (1-9) (▲1) — Praise lord baby Jesus, the Niners got a win muthafuckas. Seeing them celebrate their 31-21 win over the Giants, their first of the season, like they just won the Super Bowl was both hilarious and endearing. That's what you call a bunch of lovable losers, and of course they're from the Bay, the quirkiest place on earth. There was also a heart-wrenching and poignant moment during the game: San Francisco wideout Marquise Goodwin (who's recently been thrust into the no. 1 role after a season-ending injury to Pierre Garcon) scored on an 83-yard touchdown and completely broke down in the end zone as he pointed toward the sky and cried on his knees for the his infant son, who'd been stillborn that morning. I can't even believe he was playing in the game, but everyone grieves in different ways, and my thoughts go out to Marquise and his wife, Morgan. Thankfully Goodwin has a bye this week, so he can spend more time with his family. The rest of the Niners haven't won a game in about a year, so you best believe they gon' get sillay this week. 31. New York Giants (1-8) (▼1) — I really still can't believe the Giants are sitting at no. 31 in my and most peoples' power rankings in Week 11. This is for real, and the Giants are absolutely atrocious. Like these guys are bad. They've had some tough injuries at wideout, but no offence, wide receiver is one of the least important positions out there. Sterling Shepard looked more than up to the task last weekend, snagging passes with one hand and breaking ankles afterwards. But there's no o-line, therefore no running game, therefore no play-action, therefore no big plays, which is exactly what an offence with limited playmakers needs to bank on. Landon Collins and the defence have been the biggest disappointment though, allowing the second most yards in the league after showing so much promise just one season ago. They need to give up and boot that creepy-lookin'-ass Bob McAdoo out of the driver's seat and hire a temp to ride out the season.
32. Cleveland Browns (0-9) (–) — Another day another dollar another night to make Browns fans hollaaaa. The Browns came off their bye to play another game and yup you guessed it, they finally won. Yes, you read that right, and I'm obviously not serious. You should know by now that the Browns could never win a game. C'mon man. The Browns turned the ball over twice more to bring their turnover differential to a paltry -13 on the year. DeShone Kizer once again tried to play football but was knocked down on nearly every other play, getting sacked four times in total on the day. If there's anyway they win a game, they'll need to get lucky against a real shit-box of a QB, and they've got one on the docket this week in Blake Bortles. I don't see the Browns winning, but Blake Bortles is like the Browns of quarterbacks so really anything is possible. And they're at home! Dawg Pound advantage? Right? No? Okay.