Week 5 is in the books in the NFL and so are the first week of byes. Going into Week 6, things are starting to clear up a tad on these power rankings.. Just kidding, teams are still jumping and falling at an alarming rate. The Packers and Eagles jumped into the top 5, the Steelers fell out of the top 10 after Big Ben's brutal performance and the Seahawks earned the Big Hop of the week with a six spot jump to no. 13 after asserting their NFC West dominance against the Rams.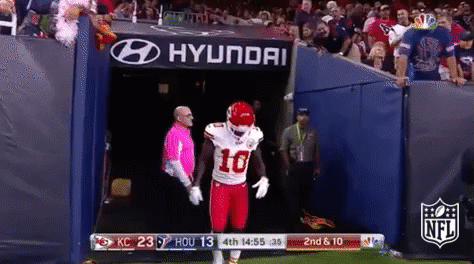 1. Kansas City Chiefs (5-0) (–) — The Chiefs only won by eight in Week 5 on SNF against DeShaun Watson and the Texans, but that score doesn't indicate how much KC outplayed their Houstonian opponents. Alex Smith is playing better than ever, Kareem Hunt is still in full throttle and Tyreek Hill is still fast as fuck. Like really fast you guys.
2. Denver Broncos (3-1) (–) — The Broncos took the week off but fell just a little bit further behind the Chiefs while gaining a little ground on the Raiders, so it evens out. The Broncos will play Eli and the winless Giants this week in what could turn out to be turnover town for the Denver D. We'll see.
3. Green Bay Packers (4-1) (▲5) — Aaron Rodgers is the man, man. I hate the Packers and I can even admit that. And it's especially easy to admit it when he's breaking the hearts of Cowboys fans everywhere for the second time in as many years. The Pack now sit alone atop the NFC North and will get the chance to open up an even bigger lead when they visit the division rival Vikings this week.
4. Philadelphia Eagles (4-1) (▲2) — Boy do these Eagles look good. I know it was just the Cardinals, but still. Carson Wentz has been on point, LeGarrette Blount is busting off his classic bowling ball runs left and right, the receiving corps is coming into its own and the defence is opportunistic as ever. They'll have their hands full with a short week and a visit to Killa Cam in his den on TNF though.
5. Atlanta Falcons (3-1) (–) — The Falcons didn't play this week but they still lost their lead in the NFC South thanks to a Panthers win. Matt Ryan and the Falcons offence will look to kick into high gear this week against a Dolphins team that's just got finished with an epic coke bender. With Julio back and the running backs already givin' err, this offence should have a field day in the Georgia Dome this week.
6. New England Patriots (3-2) (▲1) — The Patriots came away with a win, but one could argue that the Buccaneers outplayed them in New England's 19-14 win on TNF. The defence looked much improved though, which is huge for a team that has Tom Brady on the offensive side. If the Pats D can keep teams below 20 points a game, they won't lose many games.
7. Carolina Panthers (4-1) (▲2) — Killa Cam Newton is back and he's looking like his old MVP self again. He's throwing lasers off his back foot, he's scramblin' around, he's dancing and he's having a good time. And so are the Panthers. They've got a short turnaround and a tough Eagles team to prepare for on Thursday though so no time to celebrate.
8. Detroit Lions (3-2) (▼5) — The Lions were no pushover against Newton and his Panthers, Matty Stafford and the offence stayed in the game but the defence had several hiccups that led to huge plays for Carolina. Now back in second place in the competitive NFC North, they will look to get their groove back when they visit the Big Easy this week.
9. Baltimore Ravens (3-2) (▲4) — The Ravens played much better in a 30-17 win over the Raiders a week after getting run over by the Bell Train in Pittsburgh. They'll look to make it two straight Ws when the Bears come to town this week. Hopefully Joe Flacco can go two straight games without throwing a pick for the first time in 50 weeks. Cross your fingers Ravens fans.
10. D.C. Football Team (2-2) (–) —  Kirk Cousins and the lads took the week off but they couldn't have been happy with what they saw from the division-rival Eagles this week. Philly moved even further ahead of the competition in Week 5 but with an easy matchup against the winless Niners at home this week, Kirk, Fat Rob and the squad should stay within striking distance of the Eagles division lead.
11. Pittsburgh Steelers (3-2) (▼7) — Wow, was that a debacle. Ben Roethlisberger hasn't thrown that many interceptions in one game in nearly a decade, and it adds him to the list of QBs with 5+ INTs this season alongside division-mates Andy Dalton of the Bengals, Flacco of the Ravens and DeShone Kizer of the Browns. Pittsburgh needs to figure out what the fuck is up with its offence, because there's no way they keep up with the high-flying Chiefs this week if not.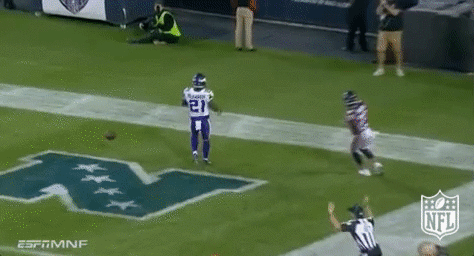 12. Minnesota Vikings (3-2) (▲3) — Sam Bradford in. Sam Bradford out. Case Keenum in. Case Keenum out. Sam Bradford in. Sam Bradford out. Case Keenum IN. I think we saw the last QB change for the Vikings on Monday night. Bradford looked absolutely mortified to be on an NFL field on Monday and Keenum sparked a comeback win along with RB Jerick McKinnon. They'll battle it out for NFC North supremacy with the Packers this week.
13. Seattle Seahawks (3-2) (▲6) — People have been real hot on the Rams and their top-ranked offence so far, but no longer. The Seahawks allowed them only one touchdown on their way to a 16-10 win that re-asserted Seattle's dominance over the meagre NFC West. Russell Wilson and the boys will take a rest in Week 6.
14. Oakland Raiders (2-3) (▼3) — The Raiders really aren't what we thought they were. Even with Derek Carr they didn't seem to have the same explosive play ability and killer instinct late in games as they did last season. Carr is supposed to be back this week for their matchup with the Chargers, but expect it to be a close game, one the Raiders may even lose.
15. Tampa Bay Buccaneers (2-2) (▼1) — The Bucs outplayed the Patriots on TNF but were unable to take advantage of New England's many mistakes—partly because of kicker Nick Folk's complete breakdown. He missed three kicks in a row. One from inside 40 yards. You won't beat the Patriots leaving that many points on the board.  The 19-14 loss will be a tough pill to swallow, but they'll get back on track this week when they trek to the desert to grab an easy W from the Cardinals.
16. Buffalo Bills (3-2) (▼4)  — I really thought the Bills were on a roll there, they beat the Broncos and then the Falcons in Atlanta in consecutive weeks, but Andy Dalton they couldn't handle? I just don't understand it. The Bills probably don't understand either, so they'll take their bye this week to figure it out.
17. Los Angeles Rams (3-2) (▼1) — That high-flying Rams offence sure came crashing down to earth fast. They managed just one touchdown against the Seahawks, though they nearly got the win with a last-second toss from Jared Goff which wideout Cooper Kupp dropped in the end zone. The Rams are still an enigma to me, and this week they'll go up against the Jags, another enigma. No idea what'll happen there. Maybe a shootout? Maybe not.
18. New Orleans Saints (2-2) (–) — The Saints traded away dead weight during their bye week in sending Adrian Peterson to the desert. That leaves more space for electrifying rookie running back Alvin Kamara to run free in Drew Brees' wide open offence. Willie Snead will make his season debut at WR for the Saints this week when they host the Lions as well. Expect a high-scoring one there.
19. Houston Texans (2-3) (▼2) — It seems as though DeShaun Watson has found his footing in the NFL after posting his second straight five touchdown performance in an MNF loss to the best team in football. Watson should have the game of his life this week when a Browns team in shambles comes to town.
20. Jacksonville Jaguars (3-2) (▲2) — The Jags and their owners' mustache are looking very good after that 30-9 defeat of the Steelers last week. The defence looked off the fuckin' chain, but without a meaningless 90-yard touchdown run by Leonard Fournette at the end of the game, the offence put up just 231 yards. That probably won't be enough to keep up with the Rams this week so they'll need some more big plays from the defence to get the W this week.
21. Dallas Cowboys (2-3) (▼3)  — Jerry Jones didn't even sell the Cowboys, Aaron Rodgers just came in guns blazing and took the damn franchise from him for the second straight year. The Cowboys need Rodgers insurance, good thing Rodgers can help them with that through All-State. The 'Boys will get to stew in that heartbreaking 35-31 loss for an extra while they take their bye in Week 6.
22. Miami Dolphins (2-2) (▲1) — The Dolphins kind of had to go up because they got a win this week. But it was the worst win I've ever seen, you can bet the Dolphins players and coaches weren't too pumped up about it either, they were probably just trying to raise the spirits of the team  when they resorted to snorting coke. Either way, expect a blowout when they go to Atlanta this weekend, we might even get a Matt Moore sighting before all is said and done in Week 6.
23. Los Angeles Chargers (1-4) (▲1) — Finally! A win! Huzzah! Philip Rivers finally found a way to win with a little help from a couple of beauties named Melvin. Mr. Ingram's strip-sack-scoop in the last three minutes was the TSN turning point, and Mr. Gordon's touchdown afterwards sealed the deal. Ranger Phil and the boys will venture into the Black Hole in search of win No. 2 this week.
24. Cincinnati Bengals (2-3) (▲4)  — So I guess Andy Dalton is still a decent QB, though it definitely helps to have a superhuman force on your side like AJ Green. Either way the Bengals have now won two straight and thanks to the inadequacy of the AFC North, are one game out of the division lead. Unfortunately they can't ride the high they got off beating the upstart Bills 20-16 last week as they drew a bye in Week 6.
25. New York Jets (3-2) (▲1) — The Jets won their third straight game. No you didn't just get in a time-machine and return to the glorious Chad Pennington days. This is now. This is Josh McCown. The Jets actually have the same record as their opponents this week, the Patriots, though I have a feeling the two teams are about to go on very diverging paths from this week on. The Jets are 3-2 though, so let's let them enjoy this feeling of above .500 while it lasts.
26. Tennessee Titans (2-3) (▼6) — Though the team is saying Marcus Mariota could be back this week for the Titans' MNF date with the Colts, Tennessee really doesn't seem that confident. They just lost to an embarrassingly bad Dolphins team and without Mariota they'll probably lose to the Colts too. That's rough.
27. Arizona Cardinals (2-3) (▼2) — The Cardinals are terrible. The defence got shredded by Carson Wentz and the offence is nothing to write home about. Enter Adrian Peterson, who's looking for a second second rebirth after his first rebirth didn't go so well. We'll see a little All Day AP this week against the Bucs, but expect to see him full go in Week 7 after getting a better grasp of the playbook.
28. Indianapolis Colts (2-3) (▲3) — Somehow the Colts squeaked out another dub. Marlon Mack was back in the lineup and he did what all rookie running backs have done this year: ball the fuck out. Mack scored a touchdown and set up the game-winning field goal in OT. Did I mention TY Hilton's 177 yards? If Mariota doesn't play, the Colts could be headed toward their *gasp* third win of the season this week in Nashville.
29. San Francisco 49ers (0-5) (▼2) — I'm genuinely surprised the Niners are still winless. Not as surprised as I am about the Giants, but I'm regular-level surprised. They've been in several games but Brian Hoyer, Carlos Hyde and the offence just can't seem to close any of them out. The defence isn't doing them any favours either, though their defensive rookies have looked good. Expect them to have a rough go of it against a surprisingly all-around solid Washington team this week.
 30. Chicago Bears (1-4) (▼1)  — Mitchell Trubisky is in people. The Bears finally gave the reins to their no. 2 overall pick and boy did he have an average day. I mean he was down right mediocre on MNF against the Vikings defence. The youngster started fast and finished in shambles. He'll probably be somewhere between DeShone Kizer and DeShaun Watson in terms of rookie skill at the quarterback position, though I know that's quite a wide range of possibilities. The running game in the Windy City is very good though, so maybe they can bust off a couple of big ones to outscore a very mundane Ravens offence this week in Baltimore.
31. New York Giants (0-5) (▼1) — If anyone had told me before the season that these Giants would have no wins midway through October I would've laughed my ass off. But here they are now at 0-5, the only winless team along with the Browns. The Browns are not good company, just ask the Jets. The Giants lost because of injuries (ODB and Brandon Marshall are both out for the season) and a terrible turnover late in the game last week, expect more of the same next week at Mile High.
32. Cleveland Browns (0-5) (–) — The Browns just can't seem to get lucky when it comes to drafting quarterbacks. I know it's early, but the Browns have had to replace DeShone Kizer twice so far this season. And it seems this was the last time they will replace him this season, as Chris Hogan has been named the starter going forward. (Why not Kaep?) At least they have Duke Johnson right? And how about Myles Garrett grabbing a sack on his first snap? That must've been fun for Browns fans. It's all about having fun right.