It was no Week 3, but Week 4 still delivered some thrilling games and awesome upsets. The Steelers jumped back into the top 5 after riding the Bell train to a convincing win over the rival Ravens, the Chiefs are now the only unbeaten team, the Jets somehow won again aaaand the Lions are very quietly in the top 3 after a solid win over the Vikings last week.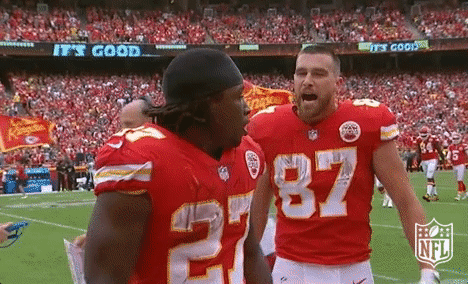 1. Kansas City Chiefs (4-0) (–) — I really thought Kirk Cousins and the boys were gonna be the ones to take down Kareem the Dream and his team on MNF last week but fortunately Alex Smith had just a little too much magic in his back pocket. And so did Justin Houston. We'll see if the Houston 57's can take em down a peg next week.
2. Denver Broncos (3-1) (▲2) — After a surprising loss to the Bills in Week 3, the Broncos got a tough 16-10 win against the Raiders this week, but Trevor Siemian didn't bounce back quite as well as the Broncos faithful might've liked. Denver will enjoy an early bye this week.
3. Detroit Lions (3-1) (▲2) — Low key, the Detroit Lions could be a playoff team this year. Golden Tate is no Megatron but he's been doing more than enough to make Matty Stafford look good. Ameer Abdullah looks like he might be turning into a true no. 1 back and the defence has allowed the fourth-least points in the league so far this season. Let's see if they can tame Killa Cam's Panthers this week.
4. Pittsburgh Steelers (3-1) (▲2) — After an embarrassing loss to the Bears in Week 3—and a generally rough three-week start—the Steelers got back on track with a big 26-9 win over the division-rival Ravens on Sunday. They rode All-World running back Le'Veon Bell from dusk till dawn during the game and look far-and-away like the best team in the AFC North right now.
5. Atlanta Falcons (3-1) (▼3) — The Falcons were the latest victims of the upstart Bills, losing to Buffalo 23-17 last week. The Buffalo D shut everyone on the Atlanta offence down except Tevin Coleman, who only got 13 touches. The Falcons will take their bye this week and hopefully use it to regroup and get healthy, as they lost their top two receivers during their home loss to the Bills.
6. Philadelphia Eagles (3-1) (▲3) — The Eagles were the latest team to steal a win out from under Philip Rivers' bolo tie. Carson Wentz was impressive once again, but even without Darren Sproles, the running game was humming right along as well. The Eagles should breeze to 4-1 against the Cardinals next week and keep their seat atop a surprisingly mediocre NFC East.
7. New England Patriots (2-2) (▼4) — The Patriots' defence needs to phone a friend or grab a life line or stop sending their best linebackers away for peanuts before the Bills win the AFC East. Tommy Boy Brady lost to a struggling Panthers team in Foxboro. That's a bad sign. Thanks to a short week, I doubt the Patriots will find a fix for their shit-ass defence in time for their TNF date with Famous Jameis and the Bucs.
8. Green Bay Packers (3-1) (–) — The Packers got a very solid W this week, but they stayed at No. 8 because the team they beat was the Bears, it doesn't sound like Ty Montgomery's ribs are in tip-top shape and they likely lost their no. 2 receiver Davante Adams for a while to a head injury after he took a disgusting and illegal hit from Danny Trevathan. The Pack will look to keep pace with the Lions next week when they visit Jerry Jones' house.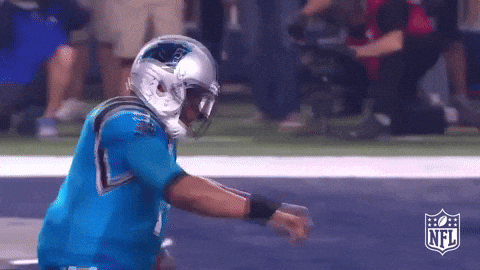 9. Carolina Panthers (3-1) (▲4) — Thats the way you bounce back, atta baby Cam Newton! After a horrid performance against a maybe-not-so-bad Saints defence in Week 3, Newton exploded all over New England's peewee D. Cam went for 360 total yards and four total touchdowns as he duelled the fuck out of a goat. Killa Cam and his cubs will look to keep the good times rollin' next week against the upstart Lions. Hopefully Cam's big mouth won't get in the way.
10. D.C. Football Team (2-2) (▼1) —  It looked like Fat Rob, Kirk Cousins and a surprisingly staunch defence were gonna hand the perfect Chiefs their first loss, but the defence bent a little too much and allowed a field goal in the final minute before Captain Kirk and the offence glitched and allowed Justin Houston to walk into the end-zone so that the Chiefs could cover the spread. Think Kirk and the boys took the Chiefs to cover too?
11. Oakland Raiders (2-2) (▼1) — EJ Manuel came in and did a decent job in place of the injured Derek Carr in an intra-division 16-10 loss to the Broncos last week, but I don't he can't be a consistent starter for an NFL team. With the offensively challenged Ravens coming to town this week, hopefully the offence sans Carr can do just enough to get by with a W.
12. Buffalo Bills (3-1) (▲5)  — Those Bills just keep on rollin' eh? After a big win against one of the top teams in the league, Buffalo went into the Georgia Dome and beat the defending NFC Champs and the reigning MVP 23-17 last week. T-Mobile has been just good enough and that defence has been overachieving like a motherfucker.
13. Baltimore Ravens (2-2) (▼2) — The Ravens do not look good right now. The offence is obviously terrible but I really thought they had something on defence before the Massacre at Wembley Stadium. They obviously don't and probably won't even be able to stop EJ Manuel's Raiders this week. Could Elite Joe Flacco's days be numbered I wonder.
14. Tampa Bay Buccaneers (2-1) (▲2) — Famous Jameis looked better in a tight win over the Giants last week than he did the week before when he committed five turnovers, so that's an improvement. I see a very big game for Jameis Winston this week against the Patriots on TNF though. New England's D is in disarray on normal weeks so I can't imagine how bad it'll be on a short one.
15. Minnesota Vikings (2-2) (▼1) — No Sam Bradford, no problem. No Dalvin Cook, little bit of a problem. The Vikings star rookie running back unfortunately suffered a fully torn ACL on a non-contact injury this past week and will be out the remainder of the season. Latavius Murray will have to show what he can do this week under the bright MNF lights against the Bears. Expect at least four turnovers for the Viks D against a QB in his first ever start. 
16. Los Angeles Rams (3-1) (▲4) — Jared Goff's lookin' good and Todd Gurley's lookin' better. The Rams are just lookin' good right now. Their division is weak as fuck so that helps but they're ahead of even the Seahawks after that upset win in Jerry's house. We'll find out who the kings of the NFC West really are when Russell and the Seahawks come to LA this week.
17. Houston Texans (2-2) (▲6) — That was a beatdown of absolutely epic proportions. 57-14, you just don't see a score like that every year. Even every few years. 50-burgers are rare as fuck, especially one's that are accompanied by just 14 points from the other side. Houston will take that good mojo and take their shot at the Chiefs on SNF this week.
18. New Orleans Saints (2-2) (▲3) — So is the Saints defence actually good now? Or is Jay Cutler that shit? The latter seems more likely but I am inclined to believe it's actually the former. The Saints also gave Killa Cam fits in Week 3 so maybe they are on to something. The last time Drew Brees was playing with the semblance of an NFL defence he won a Super Bowl so, watch out.
19. Seattle Seahawks (2-2) (▲3) — The Seahawks took care of bidness against the Colts because they were supposed to take care of bidness against the Colts. It's the Colts. Seattle will probably have to drop another 40-burger this week when they play a red hot Rams offence.
20. Tennessee Titans (2-2) (▼8) — Yikes. That is what I call a fucking beatdown pal. Marcus Mariota was out for the second half, but that's still no excuse for the defence to allow 57 points. Not to mention five touchdowns to a damn rook. C'mon cuh. The Titans and their new QB—surprise! it's not Kaep, it's Brandon Weeden. I wonder why..—will try not to embarrass themselves again this week against Smokin' Jay and the boys down in South Beach.
21. Dallas Cowboys (2-2) (▼3)  — I know on defence they say "bend but don't break", but I think the Dallas D took that mantra to the extreme last week in a 35-30 loss to the Rams in which Greg the Leg Zuerlein nailed seven fucking field goals. Like boys we're happy to see you bending and not breaking but there's a limit. It's not getting any easier for the Cowboys this week with Aaron Rodgers riding into town on a block of cheese.
22. Jacksonville Jaguars (2-2) (▼7) — Talk about crashing back down to earth. After the euphoria of their London win, the air was probably a little fresh back over here on this side of the Atlantic, because the Jags couldn't even beat the Jets. If the Jags can't beat the Jets, I don't like their chances this week against the Steelers. But then again, the Steelers just lost to the No. 29 Bears, so ya never know.
23. Miami Dolphins (1-2) (▼4) — I don't know if we can put all the blame on Jay Cutler, but he definitely deserves some. After barely scoring a touchdown in a loss to the Jets, Cutler couldn't get even one measly point on the board in a 23-0 loss to the Saints last week. They did fare better than the Titans did though, who they'll play this Sunday. Give Jay one more chance guys, he won't let you down.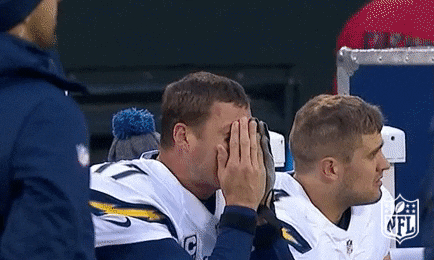 24. Los Angeles Chargers (0-4) (–) — Writing about how the Chargers lost a tight game in the dying moments is becoming the most consistent part of my week. Every week I write the same thing about Phil Rivers and his heartbreak, and the only detail I really need to change is who they lost to. The Chargers are the best 0-4 team you'll ever find, trust me. And trust that I'll be back saying the same shit next week after they lose a nail-biter to Eli and the Giants. Cheers to the bolo, Phil.
25. Arizona Cardinals (2-2) (–) — The Cardinals beat a winless team in overtime. Give them a fuckin' gold star. The Niners are better than their 0-4 record but a win against them isn't impressive unless you play in Indianapolis or Cleveland. Shoutout Larry Legend for his heroics, but he won't be able to save them this week when they play an impressive Eagles squad.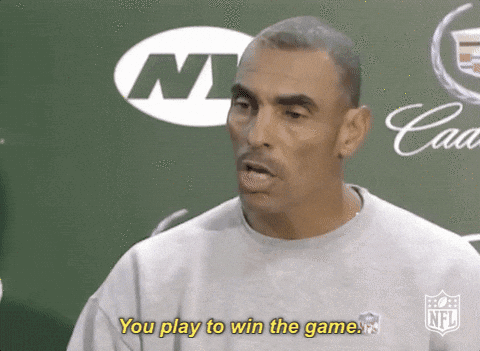 26. New York Jets (2-2) (▲2) — I'm just as confused as you are man. The Jets have won two straight. I don't know what's happening. The schedule is doing them some favours with some real easy matchups, but even still I don't think many, if any, people had them winning either of those games. Do not be surprised if they get a third win in a row this week against the Browns, who we all correctly predicted would be right where they are.
27. San Francisco 49ers (0-4) (▼1) — What a crushing defeat. After driving for a field goal in OT, the Niners watched as Larry Legend lived out his name with a game-winning, diving touchdown grab for the Cardinals. The Niners are getting close, they're knocking on victory's door and this week in Indianapolis they're gonna bust through it.
28. Cincinnati Bengals (1-3) (▲2)  — The Bengals finally got their first win in a satisfyingly big blowout of the Browns last week. Andy Dalton looked much improved and guys like Gio Bernard and Tyler Kroft were making ridiculous plays, but the Bengals may not be as bad as they seem. Only slight better than that. But probably not. I'm interested to see if Dalton can keep it up against that feisty Bills defence this week.
29. Chicago Bears (1-3) (▼2)  — After their big OT win against Pittsburgh in Week 3 the Bears came crashing back down to earth on TNF last week. The short week probably didn't help either. Good news for Bears fans though, they've finally decided to end the Mike Glennon Project and start the Mitch Trubisky Experience. Should be interesting seeing the rook start his first game against that amazing Vikings D. Good luck young fella.
30. New York Giants (0-4) (▼1) — Shake. My. Goddam. Fucking. Head. I don't know how this team is 0-4 but there it is. Odell Beckham hasn't been quite as jaw-droppingly amazing as usual but he's been great and Janoris Jenkins is still shutting down number 1 receivers. Eli Manning hasn't even been that bad, with a 6-4 TD to INT ratio and a solid 90.3 passer rating. These guys are hungry for a win and knowing the Chargers (their opponent this week) the New York Football Giants will probably squeak out their first win of the season just by the skin on their chinny-chin-chin.
31. Indianapolis Colts (1-3) (–) — What did you expect? The Colts to really challenge the Seahawks in prime time? Nah man. Not yet. The Colts got slapped but not as bad as the Titans got slapped so their 46-18 loss went kind of under the radar this week. They have another juicy opportunity to steal a second win this week when the Niners come to town. I am taking the winless Niners to win in Indianapolis though, and don't be surprised if its a blowout.
32. Cleveland Browns (0-4) (–) — I really thought this would be the year the Browns became competitive for the first time in a decade. But alas, the Dawg Pound let Nas down with a brutal 31-7 loss to the Bengals that proved the Browns are still one of (if not the) worst teams in the league. It seems as though the Browns have set up shop here at No. 32, and I don't think they're giving up their spot anytime soon.