We got a little bit of everything during the NFL's Divisional Playoff weekend; we saw a dull upset in Philly, one of the most predictable routs in playoff history in Foxboro, a wacky and wild upset in Pittsburgh and to top it all off we saw the first game-winning, buzzer-beating touchdown in playoff history in Minneapolis. Not to mention there were definitely a fuck-ton of demons being exorcised in Minnesota as the Minneapolis Miracle can most likely be classified as the only football miracle to ever occur in their favour. Soak it all in Vikings fans, you could also become the first team to play the Super Bowl on your home-field. I'm sure 99-year-old OG Vikings fan Millie Wall would be absolutely jacked up if it was Case Keenum and the Vikings that she got to watch with her free Super Bowl tickets as she sipped on her patented game day screwdriver. But first Case must defeat his former brother-in-arms while with the Rams and under the unpolished tutelage of Jeff Fisher, Nick Foles.
The first game of the weekend was surprising, but not all that entertaining, as we surprisingly saw a defensive showdown in a game that featured Julio Jones, Devonta Freeman, Alshon Jeffery, Jay Ajayi and Zach Ertz. It was one of those defensive showdowns that didn't even have that many exciting moments though, with neither QB throwing a pick—and Nick Foles' legendary accuracy on display, as he hit on 77 percent of his passes on the day—there were only a handful of sacks and 20+ yard plays, and both turnovers (two Eagles fumbles) were recovered with not much coming of them. Julio Jones and Tevin Coleman were really the only guys that had big games on offence, and Coleman saw only 11 touches even though he took them for 93 yards. Devonta Freeman on the other hand took 15 touches for just 33 yards. I just don't understand, isn't their backfield all about riding the hot hand? And Terraun Ward in the game on those last few plays? Why even have these other two Pro Bowl caliber backs if you're gonna put them both on the bench in the most crucial moments of the game? But hey, it's not like this is the first time we've seen bad coaching in the playoffs from the Falcons, am I right or am I right. That game didn't have many marquee moments but it did kinda go right down to the wire so we at least got an exciting finish out of it. The Titans visit to New England on the other hand, did not supply us with any kind of reason to believe the Titans were there to take care of business. The Titans arrived in New England two hours later than expected because of a multiple hour delay with their flight (well played, Bill) but they never really had a chance from the beginning. Though they were up 7-0 for for a second there (and what a catch by the rookie Corey Davis on that touchdown) at the end of the first quarter, the 21-point onslaught they endured from the Patriots in the second quarter really left no doubt in anyone's mind who would win that game. Davis had another pretty twinkle toe touchdown to close out the game but the Titans were already out of this one as Marcus Mariota and Davis were very much outgunned and outmatched by the firepower of Tom Brady, Danny Amendola and the Gronk Smash.
It also turns out a playoff win isn't even good enough to keep your job safe these days, as the Titans fired their head coach Mike Mularkey earlier this week. Like a different head coach would've made a difference in this one, c'man. I feel like this is one of those things where a ton of people tune in at first but after like half the show they're already sick of it so they switch to an episode of The Office they've already seen 12 times because that will still provide more suspense and thrill than the second half of the Titans-Patriots game. I'm not saying I did that.. I'm just saying.. I think it's one of those things. Now onto Divisional Weekend Sunday, which turned out to be one of the best days of football I've ever had the pleasure of tuning in for in a long, long time. First, a game between the 2nd and 5th ranked defences in the league which featured just two turnovers and two sacks, but brought us 11 offensive touchdowns, 87 points overall and 923 yards of total offence. The NFL Playoffs are a mysterious realm, where highly touted defences disappear and mediocre-at-best quarterbacks start carvin' up top five defences like it's Turkey Day.
The last time the Jags and Steelers met, Sacksonville picked off Big Ben Roethlisberger five times and beat on him so badly that he publicly considered retirement. When you're meeting the team that beat you the worst you've been beaten all season you're not gonna overlook them right? Well Mike Mitchell and Le'Veon Bell of the Pittsburgh Steelers did just that in the week leading up to the game, talking about a meeting with the Pats before they'd taken care of the Jags, like defending Blake Bortles as a starting QB hadn't put a big enough chip on the Jags shoulders already. Bell did walk the walk as well as he talked the talk (155 yards and two wily touchdowns) but Mitchell did not (several missed tackles and generally just sucks at playing football). The Jags definitely used the remarks as extra fuel but one guy who didn't care about any of the talk and who's been outed as a time traveller is Jags defensive end Calais Campbell, who literally predicted this exact outcome in the week leading up to the game: "I'll take it 2-0 if it comes that way, I'll take it 45-42 if it comes that way." The jig is definitely up buddy.
This time around, Big Ben was focused on not turning the ball over and keeping the Steelers in the game early. He failed quite spectacularly in that endeavour. After Bortles dipped and ducked his way to an easy first possession touchdown, Big Ben led drives that ended in a punt, an interception in his own red zone and a turnover on downs for which the blame can be laid solely at the doorstep of a Mr. Todd Haley, who is currently on the job market after being shown the door following the play-calling fiasco that ruined a perfectly good Sunday afternoon. After that there was the 50-yard fumble return for a touchdown by Jags All-World linebacker Telvin Smith that stifled another attempt at a Steelers comeback. After a bunch of punts to start the second half, the Steelers got a fourth and short call by Haley that somehow rivalled the stupidity level of his previous fuck-up. When you've got a tough, 6'5″ 250+ pound QB, you run the QB sneak on fourth and inches, they teach you that the first day of offensive coordinator school, right after they teach you that All-Pro running backs need more than 16 carries and right before they explain why wide receiver screens aren't always the answer to all your problems. I guess Haley missed that day. Good riddance. The Steelers kept trying to get back in the game with some of the most ridiculous touchdown catches I've seen from all three of their Killa Bees (two from Bell, two from Brown, one from Bryant) but it just wasn't enough to match the offensive output of a Blake Bortles. Blake Bortles sliced and diced the fuck out of the no. 5 defence in the league like he just picked up an energy sword in Halo 3. Every time Antonio Brown, Le'Veon Bell or Martavis Bryant did something amazing to keep the Steelers in the game, Bortles would respond with a maddeningly calm, cool and collected touchdown drive of his own. Three times in the second half in fact. Two of the Steelers' touchdowns came on fourth down too: Antonio Brown's ridiculous swooping 43-yard touchdown snag on 4th and 5 and Martavis Bryant's amazing over-the-shoulder 36-yard touchdown catch on a Big Ben bomb on 4th and 11 just before halftime.
Big Ben with his 3rd touchdown pass of the game, this to LeVeon Bell & #HereWeGo only trail 28-21 #NFLDivisionalRound #JAXvsPIT

— Sports Degens (@TheSportsDegens) January 14, 2018
That's before even mentioning Brown's one-handed, defender-draped-all-over-him 23-yard touchdown grab in the first half, Bell's marvelous 19-yard catch right in Telvin Smith's face (who'd pointed at Bell and gotten penalized for taunting on his TD earlier) or Big Ben's wonky and wacky 8-yard lateral pass to Bell for another touchdown. None of that mattered, because Blakey B wasn't gonna let his team down. His stats (14-for-26 for 214 yards and a touchdown) aren't exactly stellar, but he didn't commit any turnovers, used his legs when the opportunity rose and leaned heavily on Lenny Fournette (100+ yards and three TDs on the day) and the running attack like he's supposed to.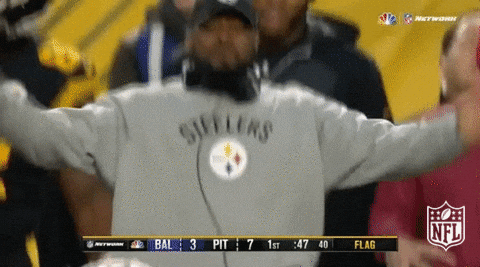 You can't help but wonder what in the fucking world Mike Tomlin was thinking when he went for that onside kick to set up what turned out to be the Jags' game-winning field goal late in the game. Maybe he was thinking about getting back home and making sweet love to his wonderful wife, or maybe he was thinking about that time that guy stole his lunch out of the fridge at work even though his name was obviously written on it. I don't know, these are just guesses. But I do know he was not thinking about the game at hand, or even football when he made that decision. It was such a bone-headed move by  Mike that some people were actually calling for his head in Pittsburgh. And Mike is pretty well fuckin' liked in Pittsburgh. Now Blakey B and his time travelling bodyguard Calais Campbell have taken the torch and will head to Foxboro to take on the Pats in what I truly hope will be a closely fought battle unlike the one the Jags' division mates gave us against the Patriots this past Saturday.
CASE KEENUM TO STEFON DIGGS FOR THE WALK-OFF TOUCHDOWN TO BEAT THE SAINTS + TITANIC MUSIC #NOvsMIN pic.twitter.com/fdTvHRS9DV

— Matt Allaire (@AllaireMatt) January 15, 2018
While that Jags-Steelers game was kinda close and featured a shitload of highlight reel plays, it still didn't hold a candle to the final game of the weekend, which could go down as one of the greatest games in NFL history if not as the greatest finish in NFL history. Like we seem to keep seeing more and more lately, the Vikings 17-0 lead over the Saints had been whittled down thanks to a Marcus Williams interception (yes, that Marcus Williams) and a blocked punt which set up Drew Brees' second and third touchdown passes of the day and gave New Orleans their first lead of the game, 21-20.
After Offensive Rookie of the Year frontrunner Alvin Kamara's touchdown catch put the Saints up, it was time for Case Keenum to really show he had some cajones. Down 1, three minutes left, game on the line, how would a former Jeff Fisher protege fare? Pretty darn well it turns out. He led the Vikings into field goal range with plenty of time to spare (just the right amount actually, as it turns out) and Kai Forbath booted the Viks back into the lead 23-21 with a minute and a half remaining for Dr. Drew Brees and the Saints. Even the Vikings All-World defence couldn't stop Drew as he patched together a field goal drive in under a minute despite missing on three straight throws at one point. Will Lutz' 43-yard field goal put the Saints back up 24-23 and left just 25 seconds and one timeout for Killa Case and the lads to work with. After a penalty, a 20-yard gain and two incompletions, the Vikings sat at their own 39-yard line with 10 seconds left and nothing but a prayer for a win.
Enter the Minnesota Messiah, Stefon Diggs, who had made that 20-yard catch earlier in the drive and who's always performed at his best on the biggest stages. Though he was outshined all year long by Adam Thielen, Sunday night was Diggs' night. It was Minnesota's night. The team that has time and time and time again broken the hearts of Minnesotans everywhere, from Gary Anderson's miss in '98, to Drew Pearson's bullshit '75 Hail Mary, to the Viks' four Super Bowl losses in the '70s, Brett Favre's boneheaded play in '09, Darrin Nelson's drop in '87, Vick's magic in '02 and Josh McCown's in '03, all the way to Blair Walsh's absolute travesty of a 27-yard miss in 2015, the Vikings have been getting metaphorically punched in the nuts for a while now. Since 1966, no team has lost more playoff games that they were predicted to win than the Minnesota Vikings.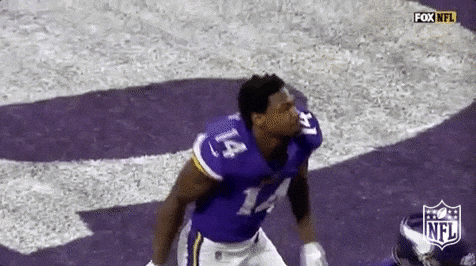 Now, in 2018, after failing to run out the clock with some running plays and allowing Dr. Drew Brees to run the field on them in just over a minute, it seemed another heartbreak was inevitable. If not for the perfect storm of Case Keenum taking a shot, Diggs making the grab and having the awareness to stay inbounds and rookie Marcus Williams (the same one who'd had a pivotal INT earlier in the game) whiffing on one of the worst whiffs I've ever seen in any sport, including baseball, the Vikings would've added another heartbreak onto their fat stack. But Hallelujah praise lord baby Jesus. Stefon Diggs was there. Case Keenum saw him. Case Keenum ripped it. Marcus Williams FUCKED up. Stefon Diggs caught it. And Stefon Diggs, was gone. Elation in Minnesota. The Minnesota Vikings are finally on the winning side of a legendary NFL play. If you witnessed the Minneapolis Miracle, you witnessed (and heard Paul Allen's, below) the exorcism of the Minnesota Vikings. Soak it the fuck in Minnesota fans, moments like these don't last forever.