The NFL season is now five weeks old and I still don't know what the fuck's going on. Of the 14 matchups this weekend, seven were won by underdogs. Which teams are actually good? Which owners are not actually assholes? Which players can actually ball?  I feel like the only things anyone can know for sure about the NFL at this point in the season are: the Chiefs are good, Antonio Brown is great, the Cowboys O-line is still good, Colin Kaepernick deserves a job and Roger Goodell is a piece o' shit. That's all you can know for sure. Teams and players have been so up and down from week to week, so until I see some consistency, like Jon Snow, I know nothing. Like Snow though, I don't really know nothing. I know some stuff.
Like, I know that success in the running game continues to lead to success in the win-loss column. Four of the five players to rush for 100+ yards this week were on winning teams and seven of the top eight rushers were victorious as well. 23 times this season a player has rushed for 100+ yards in a game, and 21 times that player's team won the game. If a team had a player in the top 10 in rushing in a given week this season, 80 percent of the time that team won. It's even better if your back is a rookie: all eight times a rookie has rushed for 100 yards this season, their team has won. Sure, half of those came from Kareem Hunt, but still. This may be a passing league, but it still pays to run and this season, that's especially true if your running back is a rook.
This @DeseanJackson11 toe-tap catch… 👀

SO GOOD. #TNF #NEvsTB #Bucs pic.twitter.com/4Zl7cENZr7

— NFL (@NFL) October 6, 2017
You Gotta See This Shit — Every week guys in the NFL test the boundaries of what is generally thought to be possible given the limits of the human body, though this week was light on such plays, there were definitely a few that are worth a second look. Week 5 started on TNF, so I will too: DeSean Jackson can still ball y'all. He must have been trying to take Stefon Diggs' title for best twinkle toes in the league because he showed his toe drag swag not once but twice on the night on his way to racking up 106 yards in a 19-14 loss to the Pats. On the first one, it's literally like he shuts his body off after he secures the catch, allowing his toes to fall limply inbounds. Bravo. Next up we surprisingly have a play from the snoozefest that went down between the Titans and Dolphins this week. It was a boring game, but this one play had everything: a bone-crunching—and very legal—hit, a turnover and a touchdown. After Kiko Alonso laid into Matt Cassel as he was trying to toss it somewhere maybe close to a Titans player, Dolphins safety Reshad Jones didn't have to do anything but scoop, sprint and score. The Dolphins D will need more explosive plays like this if they expect to beat many other teams this season with Dart Boy Jay Cutler at the helm. In an equally mundane game between the Ravens and Raiders, underrated cover corner Jimmy Smith also returned a fumble for a touchdown from 47 yards out. What I just said about the Dolphins definitely applies to the Ravens' D too, since they have Joe 'Elite' Flacco under center.
Cincy fan throws beer at former Bengals WR Brandon Tate after scoring the game-tying TD for the Bills. pic.twitter.com/vwY9LrFFw2

— Prescott Rossi (@PrescottRossi) October 8, 2017
Not only is this section for impressive feats of athleticism, it's also for impressive feats of idiocy. And who could be a bigger idiot than a Bengals fan. After Brandon Tate (who had a great game for Buffalo and used to play for Cincy) of the visiting Bills scored a touchdown some dusty drunk dad decided to dump his damn draught on Tate as he celebrated. In the end, the joke's really on the duster who wasted a whole $27 beer and didn't score a touchdown.
.@DukeJohnson_8 turns on the jets #NYJvsCLE pic.twitter.com/y7g7fQQfSj

— Cleveland Browns (@Browns) October 8, 2017
What would a week in the NFL be without an explosive and athletic display from the Lone Star of Cleveland, Duke Johnson Jr. Once again Johnson served as the only spark for the Browns—other than no. 1 overall pick Myles Garrett, who secured a sack on his first play and finished with two in his debut—this week he did it with a 41-yard bobbing, weaving and tackle breaking touchdown on a screen pass. But of course despite Duke the Browns lost 17-14 to the Jets. That's just how the Browns be. This guy Duke is a real talent though and it would be awesome to see him on a competitive team making these plays in crunch time. And what would the NFL be without some fun group celebrations? Sam Bradford is the biggest waste of NFL talent and money anyone's ever seen so the Vikings went to Case Keenum on MNF. Case promptly led his squad on a long touchdown drive and even got in on the duck, duck, goose celly with his guys afterwards. Look at you already making friends Case, proud of you bud. The Eagles arguably came up with a better and more well-coordinated celly though, going with a baseball reference in a nod to the MLB playoffs. The play before the celebration was also more impressive: a 59-yard bomb from Carson Wentz to Torrey Smith.
Wentz threw many bombs on this day though. He also found Nelson Agholor on a 72-yarder during which Agholor completely undressed the corner covering him (I won't say his name so no one bullies him) before leaving him in the dust and taking a satisfying Nestea plunge into the end zone. Agholor isn't the only who made a defender look like a damn fool this week, Theo Riddick got in on the mockery too. After catching a short pass out of the backfield, Riddick put the moves on All-World Carolina LB Luke Kuechley, sending Kuechley on his rump with a savage combo of juke and stiff arm. Riddick then juked another couple Panthers for good measure before going down after a 21-yard gain. Not too shabby.
Introducing: The Leg Guitar pic.twitter.com/nf8P2Jpp7t

— ESPN CollegeFootball (@ESPNCFB) October 7, 2017
I don't usually watch college football, partly because I don't give a fuck and partly because the whole NCAA enterprise is fucked. But I have to admit the games can be very entertaining. When Miami took on Florida State in an intra-state matchup, Hurricanes DT Kendrick Norton sacked FSU QB James Blackmon. As they lay on the ground feeling complete opposite emotions (happiness, frustration), Norton decided to celly his big play by taking Blackmon's leg and strumming it like a guitar while the two were still on the ground. Celly of the week forsure.
Tavon Austin is so fun. pic.twitter.com/EBImKqaF6N

— JustWinBaby (@Future_NFL_GM) October 8, 2017
Moving back to the NFL, where players are paid for their labour, we go to a matchup in the Pacific that was quite the disappointment. The no. 1 offence scored just one touchdown against the Seahawks defence, but it was a doozy. With all the attention Jared Goff and Todd Gurley have been getting, I almost forgot Tavon Austin was a person. He's still kickin' around and showed his full range in a matter of six game minutes on Sunday. First, the Rams snagged an interception on a fuckin fail of a fake punt to set the Rams up, then Tavon glided gracefully through the Seattle D—hitting Kam Chancellor with a filthy high-step on the way—for a 27-yard TD, then Tavon fumbled the next Seattle punt but was then saved when Russell Wilson threw a pick. A hectic series of events, but not enough to get the Rams over the hump, as they lost to Seattle 16-10. Last but not least we come to MNF, where Mitchell Trubisky made his NFL debut. The youngster started out well enough but ended up having a pretty rough game against a great Vikings defence. He made many mistakes, but he—and the Bears coaching staff—also impressed the shit outta me with their two-point conversion play. It was truly a play I don't think I've ever seen before: Trubisky took the snap in shotgun and handed to RB Jordan Howard like a draw, who then flipped it to TE Zach Miller who was running across the formation, who then flipped it back to Trubisky on the outside, who then walked into the end zone. Wow. Now all the Bears need to do is make the rest of their playbook as good as that play and they'll be all set.
Cheese vs. America — I used to not be able to tell who really owned the Cowboys: is it Jerry Jones and his oil money? Or is it Aaron Rodgers and his cheese empire? If I was undecided before, Mistah Rodgers decided for me with his performance this week, another in a string of crazy-ass wins over "America's Team". Rodgers had only 221 yards but he did throw a trio of touchdown passes, two of which were to Davante Adams, who was somehow playing after taking a vicious hit last week that I honestly thought could end his career. I'm not sure whether it's impressive or stupid that he was playing. Either way, Rodgers was more than fine so he figured he'd scramble all over that Cowboy star for another 32 yards during a come-from-behind 35-31 win in Dallas. By the way, watch his game-winning touchdown set to Celine Dion's "My Heart Will Go On", it's goosebump-inducing even if you hate the Packers.
Dallas Cowboys lead thanks to a Touchdown run by Dak Prescott 31-28 over Green Bay Packers #GBvsDAL pic.twitter.com/LVBJmHbcmu

— 👻Phenomenal One J👻 (@PhenomenalOneJ) October 8, 2017
Let's get one thing straight: these defences both suck. This allowed both Rodgers and Cowboys QB Dak Prescott to move the ball up and down the field at will. It was a shootout until Green Bay DB Damarious Randall made a great play on the ball for a pick and a trip to the end zone. That put Green Bay up 28-24 with about 10 minutes left. So what does Dak do? He methodically moves the ball down the field and scores the go-ahead touchdown with 78 seconds left on one of the best option fakes I've ever seen. Kudos, Dak. The Cowboys must've thought they were being pretty clever leaving Aaron Rodgers with just 78 seconds and one timeout. How wrong they were. It was almost as if this wasn't the same Dallas team that lost to the Packers in miraculous fashion in last year's playoffs.
Aaron was laughin' with 78 seconds. The Wisconsin Messiah quickly completed two passes of 14 yards apiece that took just 25 seconds off the clock and fooled the Dallas D (I know that's not tough, but still) with a draw play for 15 yards before scrambling for 18 himself and hitting Adams with a damn beautiful touchdown toss from 12 yards out. He didn't even take all 78 seconds you left him Dallas. He threw those last 11 seconds back in your face and challenged you to do something about it. The Cowboys need to get an exorcism going involving B-list actress Olivia Munn, some cheese and maybe an All-State guy or their Aaron Rodgers nightmare will never end.
Kareem the Dream (and Other Rookie Runners) — This guy just doesn't quit does he. Well neither does his team, so I guess it makes sense. 2017 third-round pick Kareem Hunt and his Chiefs continued their scorching start to the 2017 season with a 42-34 win on SNF over the upstart Texans. Hunt had his slowest game of the season, 116 yards from scrimmage, in another win for KC in primetime, their third so far this season. Though he hasn't found pay-dirt in a couple weeks, Hunt continued his streak of five straight games of 100+ yards from scrimmage. How long will he keep that streak going? Who knows, but next week he plays a Steelers defence that gave up 220+ yards to the Jags on Sunday. Anyone think he'll make it six? Hunt continues to lead the league in rushing by a wide margin, but with fellow rookie Dalvin Cook out for the season, who will step into that no. 2 role? Well where did you think the bulk of that 220+ yards on the ground for the Jags came from? None other than Leonard Fuckin' Fournette. I told you it was only a matter of time, and that time came on Sunday in Pittsburgh. The 2017 no. 4 overall pick, Fournette was just having a run of the mill Lenny game, piling up 91 yards and a beautiful soaring touchdown on 3.4 yards per carry. Then, right before they were supposed to kneel the game away, Fournette busted off for a 90-yard touchdown that said: I'm here motherfuckers. Also, check out Jags owner Shahid Khan's mustache, it's somethin' else.
So damn smooth by Aaron Jones. pic.twitter.com/6MenyxyThl

— Jake (@SeedsofJake) October 8, 2017
Lenny now sits at no. 2 in rushing on the season after his league-leading 181-yard performance this week. You'll never guess what the no. 2 rusher this week was though. Well a rookie of course! This is 2017 in the NFL and if you're having any kind of success, you're doing it on the back of a rookie running back. The man in question now is the Packers' 2017 fifth-round pick, running back Aaron Jones out of UTEP. With Jamaal Williams and Ty Montgomery either ineffective or injured, Jones got his shot in Jerry's House against the Cowboys. And he took full advantage of that shit just the way you're supposed to. The young gun took his 19 carries for 125 yards and showed off impressive hands on a nine-yard grab before plunging into the end zone from seven yards out. He just didn't give any other back a chance, sprinkling in five 10+ yard runs throughout the game, including a career-high 22-yarder.
#MackAttack for #USF fans to enjoy today. Marlon Mack looks so good for the #Colts pic.twitter.com/2V4zYGvhQF

— Chris Torello (@TorelloSports) October 8, 2017
After two big plays in Week 1, we hadn't seen 2017 fourth-rounder Marlon Mack for three weeks. He was back in Week 5 though, taking just nine carries for 91 yards, including a 22-yard touchdown scamper and a 35-yard run that sealed the game for the Colts in OT. The inconvenient truth of the matter for Mack though is that, Mr. Frank Gore is still in the building and chugging right along. We'll have to wait another year to see Mack really take over that backfield, but not so with Cincy second-rounder Joe Mixon. The young buck didn't have his best game this week, but he did score his first career touchdown from five yards out, a score that ended up being the game-winner. Mixon hasn't been awe-inspiring, but he's certainly taking over the backfield, taking about 60 touches over the past three weeks compared with a combined 35 for Gio Bernard and Jeremy Hill during the same timespan.
The Bears showed off their shiny new rookie QB Mitch Trubisky on MNF at the expense of their elusive fourth-round pick Tarik Cohen. Cohen had a quiet game against the Vikings stingy defence, but he was leading all RBs in receptions through the first four weeks, with 24. Fourth-round pick Wayne Gallman looked solid in a completely depleted Giants offence this week; the rook went for 82 total yards in his first NFL start. The no. 8 pick has barely started a majority of his games but Christian McCaffrey is a huge part of the Panther offence as he sits at fourth among all RBs in receiving yards after Week 5, during which he scored his first career touchdown. In New Orleans, the Saints had a bye but 2017 third-round pick Alvin Kamara's stock still went up as the Saints sent the failed experiment that was Adrian Peterson to the desert, where the Cardinals cut Chris Johnson to make room.
Great catch by @TYHilton13 ! pic.twitter.com/WCd4sLfW0u

— uSTADIUM (@uSTADIUM) October 8, 2017
Who Else Balled Out — Well TY Hilton also balled the fuck out. That's who else. The Colts wideout went for 177 yards, including gains of 16, 26, 46 and 63 yards. This is the second time in two weeks that TY has dropped 150+ yards with a 60+ yard reception. This guy is 'explosive play' personified.
Hilton had a great fuckin week this week, but Big Ben Roethlisberger did not. He played so god-awfully fuckin terrible that after that game he was quoted as saying "Maybe I don't have it anymore." I mean yeah, five picks sucks Ben but c'mon man, keep your chin up. The Jags deserve some credit for their performance—which included two pick sixes—because they're a great secondary that made a lot of great plays, but Ben needs to bounce back. Hearing your QB saying that he doesn't have it is definitely not gonna make Steelers fans feel good about their future. But hey, the last year Ben threw five picks in a game (2008) was also the last year the Steelers won the Super Bowl. So there's a silver lining for ya Steeler Nation. Cheers.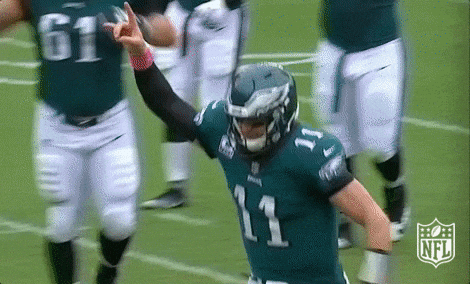 There's a young pivot in his second season that has been compared to a non-terrible Roethlisberger very often. He plays in Philadelphia and his name is Carson Wentz and he is an absolute beauty. Wentz is bringing the Eagles back to relevance and he's doing it with flair, tossing two 50+ yard touchdowns this week as he racked up 304 yards to go with his quartet of touchdown passes. The Eagles are lookin' pretty darn good over there. The Eagles aren't the only surprising team out there right now, Killa Cam Newton and his cats are 4-1 too and they just beat the upstart Lions 27-24. Without G-reg Third Leg Olsen in there at tight end, Cam said no problem, I got my boy Eddie on the muthafucka. And was he ever, veteran tight end Ed Dickson went for 174 yards with two 50+ yard receptions to boot. Cam spread it around though, going 26 for 33 for 355 and three touchdown passes. There's just something about watching Cam launching those canons off of his back foot. It's positively mind-boggling.
Tyreek Hill PEACE pic.twitter.com/mJDgdRWSE7

— Steve Noah (@Steve_OS) October 9, 2017
Tyreek Hill is another mind-boggling phenomenon in the NFL. For the second time this season Hill was so far and away faster than everybody else on the field that he had the time to tell them he's peacin' the fuck outta there on his way to pay-dirt. This week Hill sealed the Cheifs fifth straight win with an 82-yard punt return touchdown. The second-year man added another 68 yards through the air because why the hell not. Chiefs kingdom.
Jerick McKinnon breaks free for a 58 yard TD run!pic.twitter.com/eV4g1qFaAU

— NFL Update (@MySportsUpdate) October 10, 2017
He may not be Tyreek Hill fast, but boy is Jerick McKinnon a fast little fucker up there in Minnesota. The Viks have never given the young scatback the chance to do it all, but they may have to after his huge performance on MNF in Minnesota's first game without Dalvin Cook. The fourth-year man racked up 146 yards on the night and showed off his near-Hill-esque speed on a 58-yard touchdown in the third quarter of Minnesota's 20-17 win.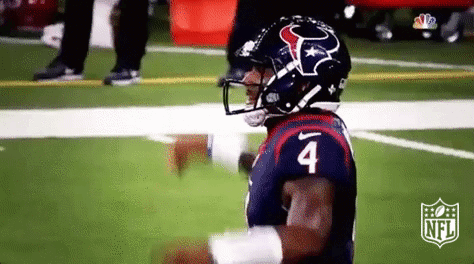 DeShaun Watson literally did everything he could in that SNF loss to the Chiefs, but with JJ Watt and Whitney Mercilus both going down, there was just no shot. No one could've kept up with the Chiefs that night. Though Watson tried his damnedest, passing for 261 yards and a whopping five touchdowns. That's the second week in a row that the rook has totalled five touchdowns. Fantasy waiver wire anyone?
Deja Vu — Though I am partial to the running game because of it's current underdog status, the league has definitely been pass-first for a few seasons now. 2015, the most high-flying season in NFL history, featured more yards gained in total and through the air than any other season, ever. In 2017 it's still a passing league, but in 2015 was when the wideout was at the peak of his powers. A record 26 players surpassed the coveted 1,000-yard mark that year, three of which were Antonio Brown, DeAndre Hopkins and AJ Green. They were 2, 3 and 8 in receiving, respectively, with Brown and Hopkins putting up career years. The trio were pretty much unstoppable that season and we saw shades of '15 from all three this week, after which they are 1-2-3 in receptions on the season.
Playing man on AJ Green pic.twitter.com/OY0XghflxX

— Who Dey Nation (@WhoDeyNationTM) October 8, 2017
Sometimes we forget, but AJ Green has been doing this for quite some time now. Cincy's resident freak of nature is now in his seventh season, but that didn't stop him from scoring his longest touchdown—a 77-yarder he easily took to paydirt—this week while putting up 189 yards, his highest total since September 2015. He did it all on just seven catches, adding two gains of 15 and one of 47 yards on the day. Green has resurrected his QB and his team, and now sits second in the league in receiving yards.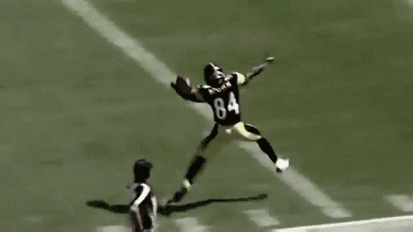 Antonio Brown sits in first because he is as consistent as they come, having recorded at least one reception for the 104th straight game on Sunday. He actually grabbed 10, the third time this season he's reached double-digits in receptions, to go with his 157 yards. There was a lot of talk about the talent of Jalen Ramsey and the Jags secondary (which played very well, snagging five picks), but Brown nonetheless caught eight of his balls for 115 yards while being guarded by Ramsey. DeAndre Hopkins has been less consistent, he stunk it up last season, and has been slightly above average this season. This week he found pay-dirt thrice however, showing a great rapport with his rookie quarterback Watson. As Watson improves, expect Hopkins' numbers to return to 2015 form and expect many, many more trips to the end zone for Nuke and his glorious dreadlocks.
The Real and the Fake Toilet Bowl — There was another Toilet Bowl this weekend, supposedly the Giants-Chargers battle of winless teams, but the real Toilet Bowl ended up being between the Jets and Browns. But was that really surprising? The Jets and Browns are both brutal, as evidenced by the first 10 possessions of their game which, predictably, went like this: punt, punt, punt, fumble, punt, missed FG, interception, interception, fumble and missed FG. If those aren't the makings of a Toilet Bowl I don't know what is.
The Chargers and Giants on the other hand are way too talented to be winless, and now heading into Week 6, the Chargers are not. Though it did start like a Toilet Bowl—with an embarrassing safety for the Chargers—it didn't take long to pick up. Orleans Darkwa showed out with a 22-yard touchdown rumble down the right sideline after that, though he did play second fiddle to the rookie Gallman in the Giants backfield on this day. After a touchdown from Melvin Gordon gave the Chargers the lead, Eli Manning came back with an absolute beaut of a throw on a 29-yard touchdown to Roger Lewis in the third quarter. But after Philip Rivers hit Hunter Henry for a 25-yard score, the Giants needed another spark. And who else but ODB Odell Beckham Jr. to provide that spark. Somehow the Chargers don't cover him and he's able to slip behind the coverage for the easiest 48-yard touchdown you'll ever see. And you know Odell had to put a little seasoning on that touchdown with a new ball CPR to ball spike celebration, which I thought was pretty entertaining. CPR may have helped his touchdown ball, but it will not be able to help his leg, which was broken on a gruesome play in the fourth quarter and which will keep him out for the remainder of the season. Eli had to play on though. He had to look strong for the boys. Unfortunately he did not.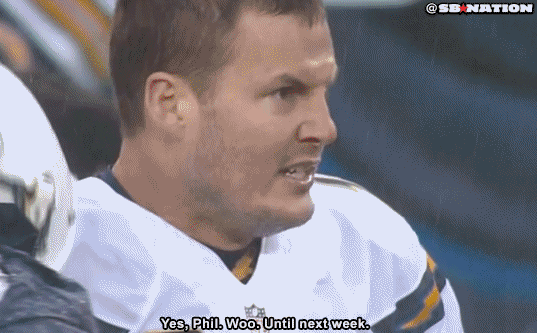 Up 22-20, Eli rolled out for a pass and pretty much just dropped the ball as he was sacked by Melvin Ingram—who joined fellow Chargers LB Joey Bosa with two sacks apiece on the day. Kudos to Ingram for getting the sack-strip-scoop combo there too. That play was classic Giants, but it's also usually classic Chargers. Not today said Melvin Gordon. Melzinho would cap off his 163-yard day with his second receiving touchdown of the game with under three minutes left that would seal the Chargers' first win in LA, a 27-22 victory. Now you can relax, Phil. Wooo.