Another week, another barrage of upsets in the NFL. Though with the sheer volume of 'upsets' so far this year, can they really even be considered upsets anymore? Either way there were seven more this week, as the Steelers handed the Chiefs their first loss of the season while the Giants snagged their first win of the season in a shocker at Mile High. Rushing the ball continued to lead to success, as nine of the top ten rushers this week led their teams to victory, including Le'Veon Bell of the Steelers, and Orleans Darkwa, of the Giants. In other news we lost one of the brightest stars in the game to a broken collarbone (Aaron Rodgers), while we also saw the return of another of the NFL's best players thanks to a little change of scenery (Adrian Peterson). It was a wild week with some ridiculous catches and runs after catches, not to mention we were blessed with the first two kickoff return touchdowns of the season in a span of about five minutes on Sunday afternoon. And what an afternoon it was. Oh, and Ezekiel Elliott was suspended again—and un-suspended again.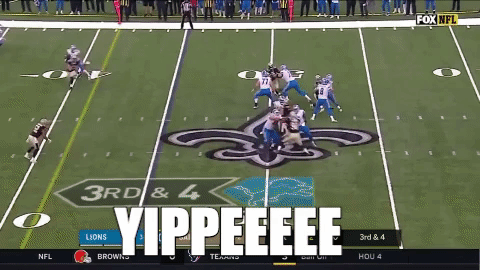 You Gotta See This Shit — Starting us off is the king of YAC himself, Mr. Golden Tate. While this play got kind of lost in the shuffle after all the pick sixes that went down in the Big Easy, it was one of the most impressive feats of athleticism of the day. And in vintage Tate fashion, the wideout flipped into the end zone after losing the last of the four or five would-be tacklers he embarrassed on the play. Tate was able to add 51 yards to that 45-yard touchdown but did end up also suffering a shoulder injury that kept him out of most of the second half and all of practice this week so far. Hopefully Tate comes back fast because I wanna see more of that shit. The hurdle is back and thriving this season thanks in large part to Todd Gurley, but this week the best hurdle was hurdled by Saints' scatback Alvin Kamara. Kamara has been great this season for the Saints and while he was outplayed on this day by Mark Ingram (114 yards, two TDs), the rookie Kamara was no slouch either, taking 10 carries for 75 yards during the contest. None better than that hurdle run though gad damn. That shit was nice, guy's gotta have a little rabbit in em don't you think? In what amounted to be Tom Brady's record-breaking 187th regular season win, Brady really didn't play like Brady. The Jets led for much of the game and really should've had the game tied on a short four-yard touchdown pass to Jets tight end Austin Seferian-Jenkins. They were playing the Patriots though so somehow the refs were convinced ASJ fumbled the ball out of the end zone even though the tight end never dropped the ball to the ground…… That's a tough pill to swallow but hey, if anyone can deal with this heartbreak it's the Jets.
Eagles DE Chris Long is donating the rest of his year's salary to increase educational equality. https://t.co/kL3amoBp84

— SportsCenter (@SportsCenter) October 18, 2017
Not all must-see plays happen on the field. Eagles defensive end Chris Long, who already donated his first six game checks to Charlottesville scholarship causes in the wake of white supremacist riots there, will now donate his last 10 game checks of the season to support educational equity in several communities in which he's been a player. Even after seeing all the studies about concussions and CTE, Mr. Long is essentially putting his body on the line for zero personal gain this season so that he can help people who need his salary more than he does. You're a true hero Mr. Long. Thank you. Now let's take a quick sojourn to the backwards world of the NCAA where young men continue to do astonishing things athletically, things that bring huge financial benefit to the universities that refuse to pay those same young men making them all their money. Maybe that fucked up situation is what Tennessee tailback John Kelly was thinking about when he absolutely obliterated a defender with this here stiff arm. Not to mention he dropped a d-lineman with a baby version right before that. Good gracious John, I know you're mad you're not getting paid, but that hapless defender ain't getting shit either. The amazing things these guys in the NCAA can do on a football field extends even to the post-secondary punters. Marshall's punter Kaare Vedvick that flew seventy fucking yards in the air. Seventy. Not only that, this coffin corner fuckin' beauty Vedvick booted the bitch so nice that it rolled right to the one-yard for em. This guy wants out of the NCAA so bad he just punted the damn ball 99 yards people. Let's get this guy (and the rest) paid, A to the SAP.
Cordarrelle Patterson 47-yard end-around run for the TD! #SpeedKillspic.twitter.com/av5S6Pgj2J

— NFL Update (@MySportsUpdate) October 15, 2017
Back in the NFL the players are paid, but strictly to pay football. Any attempt to use their their fame or platform to speak about anything other than football, like say, oh I don't know, the pressing issues of social and racial injustice, will not be tolerated. Sigh. What will be tolerated however, are wily end-around touchdowns, like this one from Oakland's Cordarrelle Patterson, whose 47-yard touchdown represented his second 40+-yard rushing touchdown of the season. He can't really play football very well, but man is that guy fuckin' fast. Patterson's old team, the Vikings, seem to have found a new wideout to make ridiculous plays for them. Laquon Treadwell doesn't have nearly the speed Patterson does, but apparently he knows how to bring down one-handed catches with the best of them, as he showed on Sunday. You just don't see one-handed catches like that everyday in the National Football League.
EXCEPT WHEN YOU DO. With Golden Tate sidelined for much of the second half, Marvin Jones Jr. took charge for the Lions with six grabs for 96 yards, which includes this absolutely redonculous one-handed touchdown grab with a defender draped all over him. Jones kind of cradles the ball with his whole arm, but he uses just the one arm, while Treadwell spears the ball with just his hand, but brings it down to his other mitt to secure the grab. I can't decide which one's better, so they both win for silliest snag of the day.
The Return of the Return Touchdown — Oh, no kickoff returns for the first five weeks of the season? POW, how about two in five minutes bitch. Oh, the NFL's still not exciting enough? YEET, here's TWELVE, count em, TWELVE other return touchdowns in ONE weekend of football. Shit was lit this week ya'll.
Early front runner for weirdest TD of the day goes to Bobby Rainey pic.twitter.com/fj60sPugeU

— Barstool Sports (@barstooltweetss) October 15, 2017
The first kickoff returned for a touchdown of the 2017 season didn't even seem like a touchdown at first. While it looked like Ravens return man Bobby Rainey was tackled at about his own 30-yard line, the play was not blown dead, and Rainey got up and jetted off to pay-dirt for the first of two Ravens return touchdowns on the day (Chris Campanaro returned a punt 77 yards to the house later on). Upon further review, it was obvious to see that Rainey was actually taken out by his own teammate on the play and that he was completely untouched by the Bears. That's a wonky touchdown if I ever saw one.
103 yards! 🏃💨💨💨@KingTutt_chdown takes the opening kickoff for six! #LAvsJAX pic.twitter.com/wfjHU4Ite5

— Los Angeles Rams (@RamsNFL) October 15, 2017
But not two real-time minutes later, the Raiders kicked off to Rams' return man Pharoh Cooper who decided to return a ball he caught three yards deep into the end zone. Most players wouldn't even return this, but Cooper did and it looked like a terrible decision at first. But then Cooper makes a spin move and in the blink of an eye he has nothing but daylight ahead of him. Long live the kick return.
Adrian Amos picks off Joe Flacco and takes it 90 yards to the HOUSE! pic.twitter.com/UnyCG2wZWj

— NFL Update (@MySportsUpdate) October 15, 2017
But like I said, there were TWELVE other fuckin' return touchdowns this weekend. The Bears' Adrian Amos somehow brought his interception all the way home from 90 yards away, bobbing and weaving and bobbing again through the Ravens' offence. Out in Houston Jonathan Joseph had himself an 82-yard return touchdown during the Texans' 33-17 rout of the Browns. The Browns were playing so bad that DeShaun Watson figured he'd give them a hand so he threw them a touchdown too, a 56-yard pick six to Jason McCourty. Lavonte David also returned a fumble 21 yards to pay-dirt during his squad's furious but failure of a 27-point 4th-quarter comeback attempt, the Rams added to their kick return touchdown with an 8-yard blocked punt returned for a touchdown and even the Colts got in on the fun, as linebacker John Simon took a pick 26 yards for a touchdown.
JAMAL AGNEW!!! pic.twitter.com/o8LKUzp2v3

— In The Stands (@inthestandspc) October 15, 2017
Those games had nothing on what went down in the Big Easy though. This was just one of those games where both teams were gonna score by any means necessary. The teams put up 726 total yards, 90 fuckin' points, eight turnovers and FIVE damn return touchdowns. That's what I fuckin' call a fuckin' game boys. The Saints' Kenny Vaccaro started off the scoring with a fumble recovery in the end zone which was followed later by a Marshon Lattimore 27-yard pick six. The Lions were down 35 points at that point, but this game was just gettin' fuckin' rollin'. After scoring two quick touchdowns, the Lions were down by just 21 with 11 minutes left. That's when Jamal Agnew gave Detroit new life with a Dante Hall-esque 76-yard punt return touchdown. Four and a half minutes after that, Drew Brees was throwing a two-yard pick six to 322-pound A'Shawn Robinson. And one and half minutes after that, in vintage Lions fashion, Matty Stafford was throwing a pick six to Cameron Jordan in the end as if to say, "Beat that Drew!" Fortunately for New Orleans, Drew did not beat that and instead led the Saints above .500 for the first time in four fucking years. Yikes. Good win though boys. The Running Back Resurgence Continues — The Saints won because of a lot of big turnovers but Drew Brees only had 186 yards on the day. The Saints really rode the running game to victory—just like everybody else. Eight of the nine 100-yard rushers this week were victorious, including: the Bears' Jordan Howard, whose 167 yard effort included a 53 yard rumble in OT that set up the game-winning field goal (the second time he's essentially won Chicago a game in OT); Mark Ingram of the Saints, who took 25 carries for 114 yards and a pair of scores in a 52-38 win over the Lions; in Miami, where Jay Ajayi torched the Falcons for 130 yards on the ground in the Fins' stunning 20-17 win over the defending NFC Champion Falcons; Pittsburgh's Le'Veon Bell, who snapped on the undefeated Chiefs for 179 yards and a score on the ground, including seven runs of 10+ yards, as Pittsburgh handed KC their first defeat of the season; Todd Gurley, who rushed for 116 tough yards in LA's win over the Jags; and Orleans Darkwa, whose 117 yards led the New York Football Giants to their first win in god knows how long.
Leonard Fournette 🔥🔥🔥💯💯⚡️⚡️⚡️🐅🐅🐅 pic.twitter.com/jKGYvgMQGG

— Tiger Bait (@TigerBaitLSU) October 15, 2017
While Darkwa was able to carry his underachieving offence to victory, Leonard Fournette was unable to do so for the Jaguars this week, despite busting off a 75-yard touchdown sprint in the first quarter that should've set the tone. Lenny ended up with his most impressive performance of the season in my opinion though, adding an 18-yarder later in the game for his first multi 15+-yard run game of the season. Fournette's 130 yards were not enough to best Gurley and the Rams, but they were a positive sign for Lenny.
And this is why you keep feeding Derrick Henry pic.twitter.com/D63tG37QAp

— The Titans Wire (@TheTitansWire) October 17, 2017
The other back to score a 70+-yard touchdown—though this one was at the very end of the game instead of the very beginning like Lenny's—was Derrick Henry of the Tennessee Titans. And, unsurprisingly, his team won too. His 72-yard touchdown was the equivalent of an empty-netter in hockey, but that shouldn't diminish it. Henry went for 131 yards on the day, his first career 100-yard game. How much longer until he gets that backfield all to himself?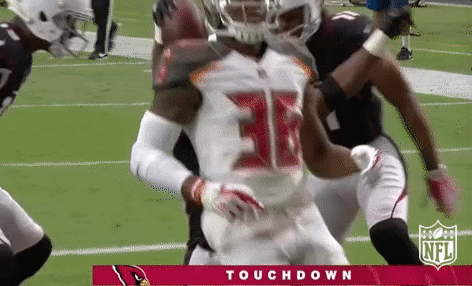 Adrian Peterson no longer has that worry. He went from a three-part timeshare in the Big Easy to full ownership of the backfield out in the desert. After being traded to the Cardinals early last week, Peterson ran for 134 yards and two scores with just a few days to study the playbook. That right there is impressive. That's a smart man. And a strong one too. And he still looked pretty damn fast on that 27-yard touchdown run. Watch out David Johnson, AP is coming for your job young boy. All. Day.
In today's NFL though, one doesn't need to rush for 100 yards to be a big factor in a team's win. Though he didn't rush for 100 yards during DC's 26-24 win over the 49ers, tailback Chris Thompson did pile up over 100 yards receiving (105 to be exact) for the second time this season. Thompson also took yet another short pass a long way on Sunday, this one for 49 yards. His two 40+ yard catches this season are tied for 5th in the entire NFL. So that's chill.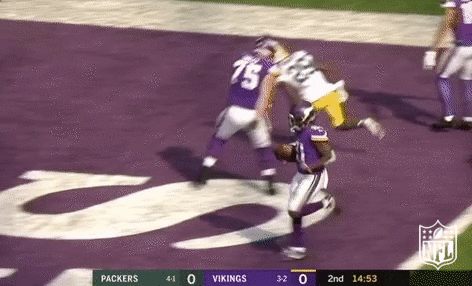 Melvin Gordon didn't top 100 yards in either receiving or rushing, but he stacked up 150 total yards to go with his two touchdowns, which brings his season total to seven, tied for tops in the league. In Minnesota, where collarbones snap like wishbones, Jerick McKinnon avoided nearly all contact on a 27-yard touchdown catch. The shifty Vikings back totalled 99 yards on the day and found pay-dirt twice, essentially ripping the starting job right from Latavius Murray's grasp. Sorry, cuzzo. Everybody's Gotta Lose Sometime — Larry Csonka and the boys are toasting once again. For at least one more season, the '72 Dolphins will be the only perfect team ever. This year the Chiefs lasted until just 5-0 before their juggernaut of an offence met the immovable object that is Le'Veon Bell. The Steelers rode Bell to a win for the second time in three weeks (why don't they always ride Bell?) and my guy responded with 191 total yards and a touchdown during the Steelers' 19-13 upset victory at Arrowhead one week after a complete debacle at home against the wily Jaguars. The Steelers got lucky early as the Chiefs sent their first snap through the end zone for a safety, but after that Bell controlled the pace for most of the rest of the game as the former All-Pro RB/Rapper used his patented patience to slither in for a touchdown early on before giving the goalpost a what for and being flagged for his admirable theatrics. The touchdown gave the Steelers a 9-3 lead they would not relinquish, though it did seem like they might for a minute there. After seven straight possession that ended on a punt or on downs, the Chiefs finally found a spark with six minutes left on a wild 57-yard touchdown pass from Alex Smith to the super-speedy speedster DeAnthony Thomas. But if you thought that was wild, you have no idea. That put the Chiefs down just 12-10—despite Kareem Hunt having a relatively quiet day—so the Steelers really needed to run some clock. And even after Bell's best showing of the season, the Steelers elected to throw on a crucial 3rd and 2 from midfield. Big Ben Roethlisberger, who earlier in the week had said he wasn't sure whether he had 'it' anymore, floated one to the left sideline that slipped through Chiefs DB EJ Gaines' mitts, careened off his cage and landed quietly in none other than Antonio Brown's arms. I bet you were wondering when his name was gonna come up. Well there it is. Brown caught the ball, avoided a hit, then jetted off to the promised land for the game-sealing 51-yard touchdown. Brown went for 155 yards on the day and his 700 yards lead the league by nearly 200 yards, but that catch was the real testament to his all-around skillset: focus, hands, agility and sweet, sweet speed. After that there was nothing left to do but watch as the World's Strongest Man James Harrison came away with the sack that really ended it. Remind any Chiefs fans of last year's divisional playoffs? Cheers.